---
Answers to Frequently Asked Questions about Fluid Art
Author: Dana McGorlick-Appelman Date Posted:13 July 2021
Fluid Art, which is also known as flow art, liquid art or acrylic paint pouring, is a fun and popular abstract painting technique that involves the use of fluid art mediums, such as free-flowing acrylic, or very runny acrylics, powdered pigments or inks. Acrylic Pouring and Fluid Art use these mediums to create gliding organic and hypnotic free-flowing abstract compositions. Acrylic pouring is a stunning technique that's accessible and easy for everyone, so you too can create beautiful fluid works in your very own home!
Whether you're just starting out in Fluid Art or looking to hone your skills, keep reading to discover answers to frequently asked questions about Fluid Art.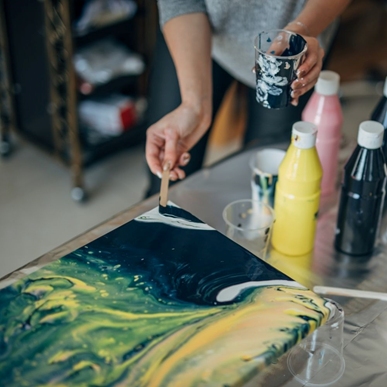 What materials do I need for acrylic pouring?
Silicone oil to create cells

Cups

Pop sticks to stir the paint

Something to raise your canvas while it dries (cups or bowls work well)

Drop Sheet to protect your space

Gloves

Heat gun (for creating cells and popping air bubbles)

Tape (if you want to protect the edges of your canvas)
Palette Knife- optional, useful for some techniques
How do I make fluid art/acrylic pours?
Watch this TikTok Video for a quick demo, or read this blog for a step-by-step tutorial on how to create stunning pours.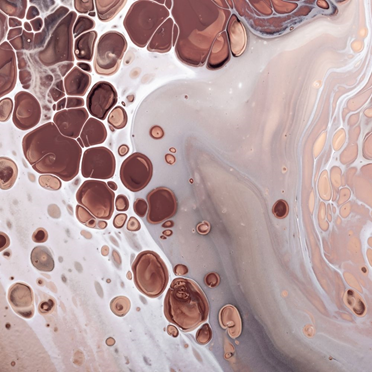 How do I get a resin finish without resin?
SPRAY VARNISH: Spray varnish by brands like Micador Gloss Picture Varnish or the Krylon Triple Thick Crystal-Clear Varnish are great for a resin-like finish.
For a brush on varnish, choose a high gloss brush on varnish for a resin-like finish.
TIP: be sure to clean off any silicone oil before adding varnish.
Do I need a pouring medium to create fluid art?
You need to mix pouring medium with acrylic paint to create a flowy consistency, however, you can find pre-mixed pouring paints that are ready to use. Mont Marte's range of Premium Pouring Acrylic Paint will make creating your acrylic pours a breeze. This ultra-flowy paint is pre-mixed in a 240ml bottle for you so you don't need to focus on recipes and ratios and can get straight to creating! This easy-to-use product comes in a variety of bright, highly-pigmented colours and a lucid, easy-pour formula that flows seamlessly creating stunning marbled effects.
What is a good paint consistency for acrylic pouring?
When mixing your paint with pouring medium, a good indication of a nice consistency is when you lift your pop stick after string, the paint will create a slight peak when falling back into your cup of paint
What are some good acrylic pouring mediums?
Simply add this fluid medium to your acrylic paints to make them ultra-flowy for pouring or, add just a little to improve the flow of your paint in regular acrylic brush painting. This versatile medium goes on and dries clear so is suitable for any colour paint. Also available in a 1L bottle.
The Liquitex Pouring Medium is another great, easy to use choice for mixing with acrylic paints and pouring. It creates even puddles with ease and does not crack or hold bubbles, retaining an ultra-glossy, wet appearance when dry. This medium does not alter the colour or opacity of paints when mixed and is flexible, non-yellowing and water-resistant. To use, simply mix with your acrylic paint of choice (we recommend a free-flowing one like Atelier Free Flow Acrylics) in the required amounts and pour!
Floetrol Acrylic Paint Conditioner is a water-based paint conditioner added to acrylic paints improving paint flow and workability. Floetrol Paint Conditioner allows you to make acrylic paints thinner and easier to apply without sacrificing the integrity, colour or hold of the paint. The consistency Floetrol Conditioner creates lends itself perfectly to painting styles such as pouring.
How do I make my own pouring medium?
For a DIY pouring medium, mix 50% water with 50% PVA glue. You can read more about creating your own pouring medium here.
How much pouring medium should I mix with acrylic paint for fluid art?
Mix around 1/4 acrylic paint to 3/4 pouring medium, depending on the consistency of the acrylic paint you are using.
Is there pre-mixed acrylic pouring paint?
The acrylic pouring paint sets by Mont Marte are an ultra-flowy acrylic paint that is pre-mixed with a flow medium, creating a lucid, easy-pour formula that flows seamlessly creating stunning marbled effects, so you can get straight to creating. This easy-to-use product comes in a set of 4 highly-pigmented, bright colours such as the 60ml in Aurora, Celestial, Cosmic, Ethereal, Flamingo, Rainforest, Symphony and 120 ml Sets in Coral, Golden Beach, Metallic, and Marina. These premixed acrylic pouring paints also come in individual 240ml bottles, which are great for creating larger-scale works or for experimenting with your own colour combinations, and are available in an array of bright, highly-pigmented colours.
What surface/base do I need for acrylic pouring?
You can create fluid artworks on a variety of surfaces, however, the best base for acrylic pours and resin art is a wooden painting board.
The Mont Marte Premium Wooden Painting Board is the perfect support for a range of painting and mixed media art applications, made with a smooth, solid blonde coloured plywood panel with pine bracing ensuring a strong and warp-resistant painting support, making them a particularly good choice for acrylic paint pouring and resin art.
Canvas panels are good budget-friendly option when you are trialling techniques for practice, however they can warp with time and are not suitable for professional works.
Can I use a large canvas for acrylic pouring?
For large scale canvases, put something underneath your canvas to prevent the paint from pooling inwards.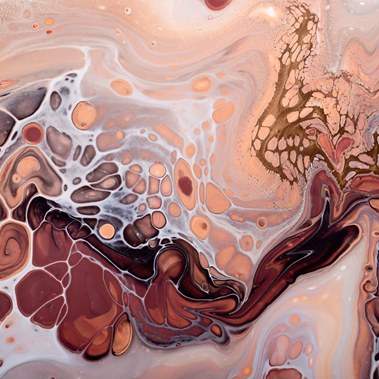 How do I create cells in fluid art?
For creating unique and stunning pattern effects in your fluid works try adding some of this Mont Marte Acrylic Silicone Oil Medium. This premium oil medium creates cells and other stunning effects in acrylic paint so is the perfect thing to add that wow factor to your work. This Silicone Oil Medium is totally clear and transparent so won't alter the colours of your paint. The top of the 60ml bottle is fitted with an easy-pour nozzle for precise and controlled application. For best results, apply the heat of a blow torch or heat gun to your paint once the oil is mixed in and watch the patterns and cells form before your eyes.
Another fantastic silicone oil option is the Helmar Silicone Oil, a lubricant and dispersing agent that is widely used by artists to create cells in acrylic pouring and fluid art. This Silicone oil can be dropped into the paint before pouring or dropped onto the surface after the paint is applied to create interesting cellular details.
How do I do the flip cup/dirty pour technique?
Layer your paints in a cup and flip over onto the canvas. Then tilt the canvas to move the paint around.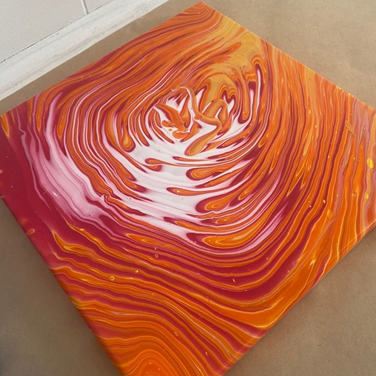 What is a ring pour in fluid art?
To create a ring pour, layer colours gently in the cup, the pour slowly in a back and forth or circular motion. Opt for more opaque paints to prevent colours from blending and to create a more defined ring.
TIP: Use a cup with a spout to make the ring pour easier
What is a swipe pour in fluid art?
To create a swipe pour, pour your base colour all over the canvas and spread it all over the canvas (Don't add silicone to the base colour)
Then, layer colours in a line on top of each other.
Finally, swipe the top colour over the other paint
Tip: You can use a paper towel, card, or sheet of acetate for swiping. Use a Palette Knife for smaller swipes. The base and top colour will be more dominant.
How do I do a Dutch pour in fluid art?
To create a dutch pour, pour your base colour all over the canvas and spread it all over the canvas (Don't add silicone to the base colour)
Pour your paints on top of each other making puddles, and surround your colours with your chosen base colour around the puddle.
Finally, blow the paints, you can use a hairdryer or straw, and can use a palette knife as well.
How do I create a string pull effect in fluid art?
You can find out how to make a string pull effect in acrylic pours here
Why is my acrylic pour muddy?
If you have muddy paint - this may be because: the paint is too thin, the paint has been moved around too much, or a better colour selection is needed. You can read more about this here.
Can I use oil paints to make fluid art?
The consistency and slow drying of nature of oil paints mean they are not suitable for fluid art. Opt for acrylic paints or inks to create your fluid art.
How do I make Resin Art?
You can find a step-by-step guide to create stunning fluid artworks with Epoxy Resin here.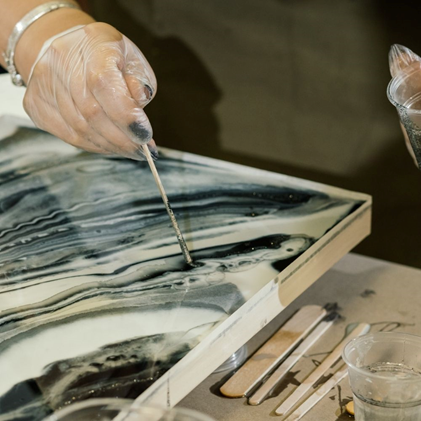 Can I mix pigments with resin?
Pigments work well with resin. You can shop pigments here.
Can I mix alcohol inks with resin?
Alcohol Inks mix quite well with resin and can create stunning effects, and are available in a variety of colours and finishes.
Can I mix acrylic paint with epoxy resin?
You can mix acrylics with epoxy resin. Alternatively, you can also create your fluid artwork via traditional acrylic pour techniques, and varnish it with resin.
What surface do you need for resin art?
Resin is heavy, so you'll want a surface for your art that is strong, non-porous and non-absorbent, like a Wooden board. You can also use plexiglass, glass or metal, or household objects like cutting boards and wooden bowls, tables and kitchen benchtops. Wooden Art Boards make the perfect introductory surface for resin art, offering a smooth and solid support. These painting boards are made with a smooth blonde coloured plywood panel with pine bracing, ensuring a strong and warp-resistant painting support.
Don't forget to show us your Fluid Art creation by tagging us on Instagram @artshedonline for your chance to be featured!
Got questions? Send us an email at customerservice@artshedonline.com.au and our friendly team of artists will do their best to assist you. Happy creating!
---
Comments (1)
Varnishing coasters or resin.

By:

Kerri Harding

on 2 August 2021

Good morning, I am new at acrylic pouring I am making coasters and some canvas art as well. I was wondering is the Liquidex High Gloss varnish alright for drink coasters. Alternatively should I use resin instead for the heat tolerance. Thank you for your prompt delivery I always receive my products with the week.
---
Leave a comment