---
Upcoming Events, Demo's & Classes
Art Demos, Workshops and Classes
Art Shed is the ultimate destination for art enthusiasts! Located in Moorabbin, just a short distance from Melbourne, we offer an exciting range of art demos, classes, and workshops that cater to artists of all levels. Our vibrant community of artists is at the heart of everything we do, and we're committed to providing an exceptional experience that will ignite your creativity.
Whether you're a beginner or a professional, our demos are designed to spark your imagination and help you unleash your inner artist. Our expert staff is always on hand to offer helpful advice and guidance, ensuring you have everything you need to create your next masterpiece.
Check back regularly for updates on our upcoming events, and join us for an unforgettable artistic journey. There's no need to RSVP - come along and join in on the fun. With Art Shed, you'll discover a world of creativity you never knew existed.
FREE DEMONSTRATIONS
Gel Plate Printing - Sunday 5th November 1pm
Hosted by: Kirrah
Explore the fascinating world of Gel Plate Printing!
Join us as we learn all about Gel Plate Printing! We'll share with you how to use a gel plate to transfer images plus all the advantages for using a gel plate compared to other printing methods. These plates are perfect for mixed media artists, textile printing and more!
Gel Plates offer a contemporary twist on classic gelatin printing and they are so much fun to use, so come and see what all the fuss is about.
It's Polymer Clay making time! - Sunday 19th November 1pm
Hosted by: Kirrah
This is a make and take event! Take home your creations with you :)
Let's make some cute Christmas charms with Polymer Clay! Explore the enticing world of polymer clay with expert insights on brand differences, how to store your clay, jewellery making how to's, baking guidelines and sealing techniques. Whether you're a seasoned pro or just starting out, we've got you covered! Plus, whatever you make you can take home with you! How good is that!!

SAVE THE DATE - Friday 1st December 5.30pm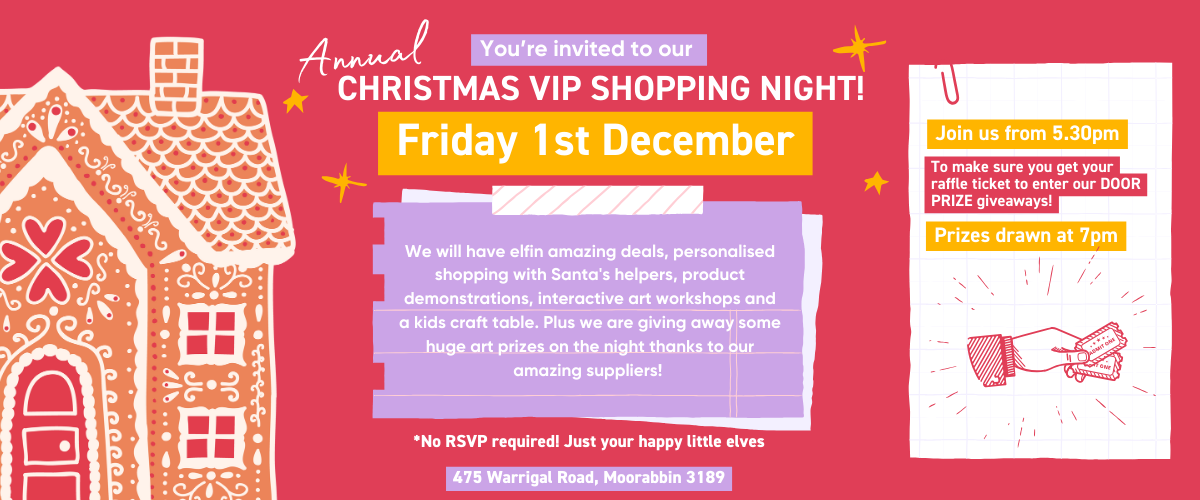 Get gilded with a Gold Leafing session - Sunday 3th December 1pm
Hosted by: Kirrah
Add an extra level of luxe to your creations with Gold Leaf
Leafing is a tricky medium, but we're here to take the finicky mystery out of this age old practice! Join us to learn how to achieve a flawless finish on your artworks, how to seal your gold leaf and so much MORE!!
Classes & Demos are run at Art Shed Moorabbin.
475 Warrigal Rd, Moorabbin 3189 VIC