---
Author: Dana McGorlick-Appelman Date Posted:13 July 2021
Welcome to the wonderful world of Acrylic paint! Acrylic paint is a great option for beginner painters to explore and experiment with, and we have an array of options for budding creatives. Keep reading to discover answers to the most commonly asked acrylic painting questions.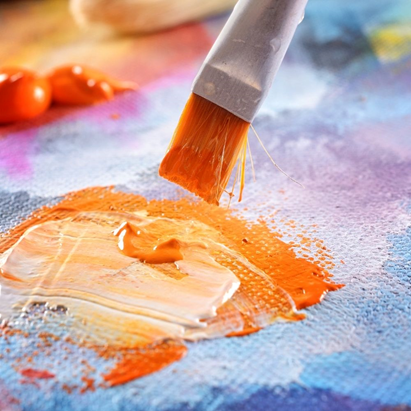 What do I need to start out in acrylic painting?
When starting out in acrylic painting, you will need:
A pre-primed canvas, canvas panel, or canvas pad

A selection of acrylic paints (The primary colours are a good starting point. You can also get a great variety of sets with pre-mixed colours to make things easier)

Synthetic (Taklon) brushes

A palette to mix your colours

An easel

Brush cleaner

Varnish to protect your finished artwork
What are some good acrylic paint brands?
There are heaps of great acrylic paint brands, but some notable ones include: Matisse, Amsterdam, Mont Marte, Liquitex, Atelier, Jo Sonja
Do acrylic paints dry darker?
Some acrylic paints can actually dry a shade darker than they appear when wet. To determine what shade the final dried result will be, do a test patch on a canvas pad, panel or acrylic painting pad.
Does acrylic paint dry fast?
Acrylic paint is naturally very fast drying, so it's important to develop a habit of painting quickly. Remember that once the paint is dry, it cannot be re-activated.
How long does it take for acrylic paint to dry?
Acrylic paint is very fast drying, especially when compared to oils. It can dry as fast as 20-30 minutes, depending on the thickness of the paint applied, and the temperature and humidity of the room. That being said, you should wait a few days for the paint to fully dry before varnishing to avoid cracking.
What surface should I use for acrylic painting?
Acrylic paints look fantastic on canvas, however, one of the best things about acrylic paint is that it can be used on practically any porous surface that has been prepared. This includes Paper and Cardboard, Wood, Fabric, Metal and Glass.
What is acrylic paint made from?
Acrylic paint is made from pigment and plasticisers and acrylic polymer emulsion, and are water-based, and are typically water-resistant once fully dried.
Can I remove dried acrylic paint?
Once acrylic paint has dried, it is very hard to remove. However, you can try to remove paint stains by soaking the area with Isopropyl alcohol, and scraping the paint once absorbed.
Is acrylic paint non-toxic?
Acrylic paints are safe to use and are not typically toxic, however, some colours do contain toxic chemicals, such as cobalt, cadmium and manganese. When using acrylic paints, you should always work in a well-ventilated room, and avoid getting these paints on your skin.
How do I paint a portrait in acrylics?
You can learn how to paint a portrait in acrylics here.
How do I create texture with acrylic paint? What should I use?
To create texture and dimension in your works, use an impasto medium with palette knives to create expressive, heavy-bodied "thick" looking paint strokes. Impasto is a clear drying medium used to create texture and retain brush strokes, and can be mixed with acrylics directly and will not change the effect of the final colour. This is a great way to create visual interest in your works and experiment with different textures and techniques.
What are palette knives?
Palette knives, also known as painting knives, are super handy tools for mixing colours, as well as applying heavy applications of paint and impasto. They come in a variety of shapes and sizes, as well as materials, but are typically made from stainless steel, wood or plastic.
I want my acrylic paint to be runny, what do I use?
A liquid medium will help thin and extend your paint without losing the opacity and intensity of the colour. Liquid mediums such as Atelier Clear Painting Medium, or Jo Sonja's Flow Aid medium helps the paint move more freely across the canvas. You can also use a flow medium like this one by Mont Marte, or this one by Liquitex.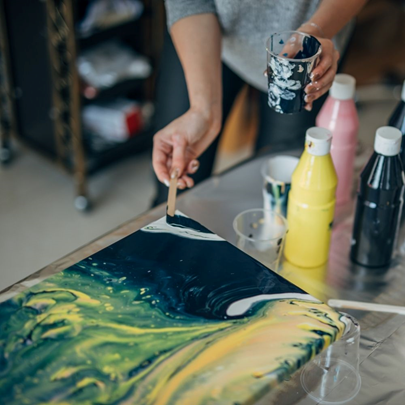 What acrylic paints should I use for pouring or fluid art?
You can use any acrylic paint mixed with pouring medium for fluid art, however, if you are looking for a pre-mixed, ready to use acrylic pouring paint, the Mont Marte Acrylic Pouring Paint Range is fantastic and available in a wide variety of colours and sets. These are easy to use and be poured straight from the bottle. You can find the range here.
How do I prime my canvas?
To help stiffen your canvas and prevent your acrylic paint from being absorbed into the canvas, use gesso. Gesso is applied before painting to help paint adhere to the surface and add a slight tooth to better hold the paint.
How do I protect my finished acrylic painting?
To finish off your artwork and protect it from dirt, tarnish, wear stains, moisture and more, use Varnish. The Micador spray is a super easy option that's great for beginners and is available in gloss, matte or satin finish, simply to spray onto your finished artwork as a final protective barrier.
How do I slow the drying time of acrylic paint?
You can extend the drying time of acrylic paints with a retarder. You can also spray the paint with water to keep the paint moist on your palette. You can also use a palette wetting spray to prevent the paint from 'skinning over', or an acrylic paint retarder to delay the drying and keep your paints workable for longer, and improves colour blending.
Are there any acrylic paints that can be re-activated after they have dried?
Atelier Interactive handles just like a conventional acrylic, making it a popular choice for normal fast drying techniques and slow drying techniques, however, it is also the world's first acrylic paint that gives you a new option; Controlled Drying Techniques. You can 'delay' the drying process and 'control' the paint's open time for as long as you want, simply with water, from a few minutes to hours you have the control. Whenever you are ready you can then choose when it will dry rapidly again simply by withholding water. It's that simple - and only possible with Interactive's patented formula. There is another unique benefit… Atelier Interactive's patented formula allows you to magically re-activate touch-dry paint using Atelier Unlocking Formula to once again return to wet-in-wet blending techniques.
How do I mix paint colours?
Understanding colour theory and how to mix colours is fundamental for any artist of any skill level. Using a Colour Dial makes learning about colours and colour mixing a breeze - simply select your colour, line it up with another and see the colours you can make.
Can I mix oil and acrylic paint?
You should avoid mixing oil paints and acrylic paints together, however you can paint your base with acrylic paints, wait for them to dry, and paint over them with oils.
Can I mix acrylic paint and watercolour?
As both acrylic paint and watercolour are water-based, you can use them together by laying down your watercolour paint, waiting for it to dray, and then painting over it in Acrylic.
Can you paint on metal with acrylics?
You can use acrylic paint on metal, although it works best when the metal has been primed. A primer like the

Jo Sonja 250ml - All Purpose Sealer

or the

Matisse 250ml- Clear Sealer

are great options.
Can you use acrylic paint on fabric?
You can use acrylic paint on fabric, although it will often dry quite stiff. To enhance the workability of acrylic paint on fabric and reduce stiffness, use a fabric medium like this one by Liquitex
What colours should I get?
When starting out in acrylic painting, a good selection of colours is Cadmium Red, Phthalo Blue, Cadmium Yellow, Titanium White, Mars Black, Burnt Umber, Phthalo Green, Orange and Purple. You can also get a great variety of curated sets depending on the aesthetic you are hoping to achieve.
For a more comprehensive guide on choosing your paint colours, click here
What brushes should I use for acrylic painting?
Acrylic paint is best used with synthetic brushes rather than natural animal hair brushes. Taklon brushes in a variety of sizes are great for acrylic painting.
What brush should I use for details?
To create small details, use a liner brush. Liner brushes feature long, thin bristles, and enable you to control the placement of details and emphasize lines and highlights.
How do I clean my brushes?
Never leave your brushes sitting in water and this can loosen the glue holding the bristles in the ferrule. To clean your brushes, use a brush cleaner and water. After cleaning, be sure to also dry your brushes with a paper towel or cloth.
What type of paintbrush should I get?
Flat brushes feature a flat ferrule with a square end.

Bright style brushes feature a flat ferrule with a square end. It has a shorter hair longer than the flat style and is great for making distinct definite marks.

Filbert style brushes feature a flat ferrule with rounded hair end. This is a versatile brush style that gives a softer finish than the flats or bright.

Round style brushes feature a round ferrule with round pointed hair. A very popular brush (as are the filberts) with tonal painters.

Fan-shaped brushes are great for adding highlights in grass and foliage. They are also good for blending.

Liner brush styles are fantastic for small details and are characterized by their long, thin bristles.

Large brushes

are great for large, expressive,

abstract expressionist

style works.
How do I give acrylic paints a gloss finish?
How do I give acrylic paints a matte finish?
How do I store my finished acrylic painting?
Once your work has been varnished and is ready to be displayed, you should hang your work in a climate-controlled, dry room away from natural lighting where possible. If you have created your piece on canvas, avoid leaning it on an angle, as this can lead to warping of the canvas.
Where can I find painting inspiration?
There are so many places to find inspiration for your acrylic painting. If you're feeling creative block and need some inspo, check out our Instagram, Pinterest and TikTok for more.
Don't forget to show us your acrylic painting creation by tagging us on Instagram @artshedonline for your chance to be featured! Got questions? Send us an email at customerservice@artshedonline.com.au and our friendly team of artists will do their best to assist you. Happy creating!
---
Leave a comment