---
Author: Dana McGorlick-Appelman Date Posted:14 July 2021
What is watercolour?
Watercolour is a type of water-soluble paint, that is slightly transparent in appearance and typically used on paper. It is made of fine particles of pigment suspended in a water-soluble binder often made from glycerine, gum arabic, glucose and wetting agents.
Watercolour is often used for its naturally luminous finish, and comes either in a liquid state or in cakes of dry paint, and can be applied with a variety of techniques.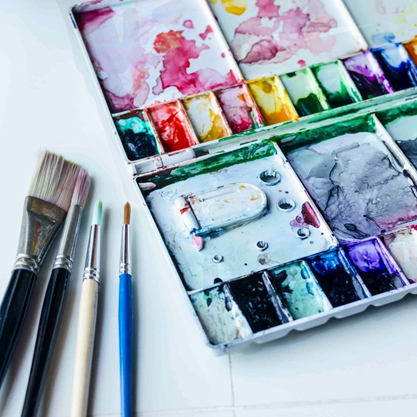 What do I need to start out in watercolour painting?
When starting out in watercolour painting, you will need:
Watercolour paints, pans or pencils

Watercolour brushes

Water

Watercolour paper

A Palette if using watercolour paint
What brushes should I use for watercolour painting?
Watercolour brushes come in a variety of shapes and sizes. Watercolour brushes made from sable are widely used by professional watercolour artists. Squirell, goat and synthetic brushes are also commonly used. For beginners, a watercolour brush set is a good starting point. Other great watercolour brush options include:
Winsor & Newton Cotman Watercolour Brushes
Winsor & Newton Cotman brushes are a range of high quality pure synthetic watercolour brushes. By blending fibres of differing thicknesses, the Winsor & Newton brush makers have applied over a century of knowledge to create brushes of the highest standard.
Water Brushes are perfect for use with watercolour pencils and watercolour pans, enabling you to dilute the colour as necessary. Fill them up with water and gently squeeze the barrel to control the flow - they make blending and delicate brushwork easier than ever. Perfect for artists on the move.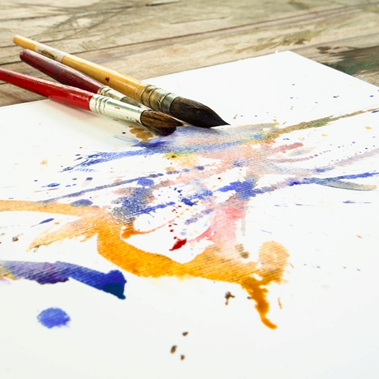 What surface should I use for watercolour painting?
Watercolour paints and pencils work best on watercolour paper.
What is the difference between watercolour papers?
Watercolour paper is available in a variety of shapes, sizes and thicknesses.
Made from cotton, watercolour paper often comes in either a smooth tooth with an even finish (hot pressed) or in a medium to rough tooth (cold-pressed) to suit every artist. A higher gsm is good if you don't want your work to buckle once water is added.
Watercolour paper is measured by the weight of 500 sheets of paper at Imperial size (20"x30"). The basic premise is the bigger the number, the thicker the paper. A 90lb (190gsm- Metric) paper is quite thin, akin to the thickness of two sheets of photocopy paper. 140lb (300gsm) is a medium thickness suited to general-purpose usage and 300lb (638gsm) is as thick as cardboard.
If you plan on using a lot of water (washes) then aim for thicker paper.
Whatever paper you choose, use the heaviest sheet you can afford, for the simple reason that it will be more robust and less likely to be bent in long term storage.
What is the difference between hot and cold-pressed watercolour paper?
Watercolour paper traditionally comes in three surfaces: Hot Pressed (HP), Cold-Pressed (CP) and Rough.
Hot Pressed is the smoothest variety and is made with heat as the name suggests (think of an Ironed surface)
Next comes Cold-Pressed, a medium texture.
Rough is, like the name suggests, the roughest texture.
What does gsm mean?
"GSM" stands for "grams per square meter." Generally, the higher the gsm, the thicker the paper.
How do I stop watercolour paper from warping?
If you intend to use a lot of water in your watercolour painting, then it is important to stretch your paper before starting to avoid warping - this is where the sheet wrinkles and forms ridges that are almost impossible to remove when substantial amounts of water are used. The benefit of stretching your paper is the freedom to use as much water as you want when you want. You can learn how to stretch watercolour paper here.
How do I keep my watercolour paints fresh on the palette?
Ever stop working on a piece halfway through and come back to finish it only to find your paint has dried up? This is a scenario many artists can relate to so our friends at Mont Marte have devised a quick and easy solution - the Mont Marte Air Tight Watercolour Palette. This large palette features 18 colour wells for laying out your paint as well as a removable tray for easy brush cleaning and two mixing areas all in a lockable airtight container. The impenetrable seal on the container ensures your paint maintains its fresh-from-the-tube consistency and colour so you can stop and start again whenever a creative mood strikes. This palette is a must-have for watercolourists of all skill levels and will become your new go-to paint pal.
How do I protect my finished watercolour artwork?
Once you have finished your watercolour work, it should be kept out of direct light, and protected in a frame behind glass. You can also mount your work on acid-free mat board to prevent discolouration.
How do I clean my watercolour brushes?
When you've finished painting, simply rinse your brushes with water, reform the tip of the brush, and allow it to dry on a flat surface.
What is the difference between Watercolour and Gouache?
The main difference between watercolour and gouache paint is that gouache is significantly more opaque than watercolour, while watercolour is more transparent.
Is watercolour paint non-toxic?
Most watercolours are non-toxic; however, you should still avoid contact with skin.
How long does it take for watercolour paint to dry?
Watercolour paintings can dry in as fast as 15 minutes to a few hours, depending on the temperature and humidity of the room. A warm, dry room will speed up the drying process.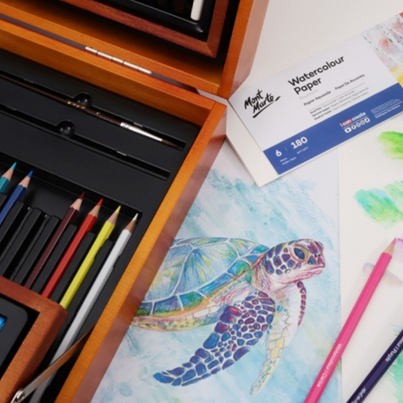 What is the difference between watercolour paint and watercolour pencils?
Watercolour paint is a fluid form of watercolour that can be diluted with water to produce painterly effects. Watercolour pencils, on the other hand, can be used to create more detailed works, and then dilute with a water brush to create traditional watercolour effects.
Is there metallic watercolour paint?
How do I remove washes of watercolour from paper?
Winsor & Newton 75ml - Watercolour Lifting Preparation: This medium allows colour washes to be removed more easily from paper, once applied to the paper and left to dry it will allow washes of paint to be easily removed with a wet brush or rag.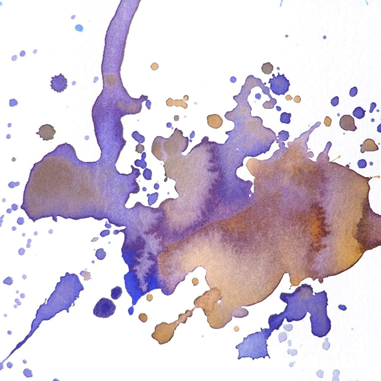 Where can I learn different watercolour techniques?
You can learn a variety of watercolour techniques here.
How do I create a mottled effect in watercolour?
This Granulation medium is used to increase the granulation of colour, giving your artwork a mottled appearance through colours that are otherwise a smooth consistent wash. For the best effect dilute colour generously with the medium alone.
How do I give my watercolour painting an iridescent finish?
This Iridescent medium when applied achieves a glitter or pearlescent effect to your watercolour paintings. Great for darkened backgrounds.
What is the difference between Loose Watercolour Paper vs Watercolour Pad vs Watercolour Block vs Watercolour Board.
Loose Paper is available in sheets or in rolls that the artist cuts (or tears with a rule) to size.
Pads are either spiral bound or glued along one edge with a card cover. The cover is often emblazoned with the manufacturer's branding and should also inform the buyer of the specification of the paper.
A block is glued around all four edges with a small section left unglued, usually in one corner. Once the painting on the top sheet has been completed, the artist inserts a blade into the unglued part and slides the blade around all four sides, revealing a fresh sheet underneath.
Boards are Watercolour Paper fixed to a bit of card. There is no need to stretch the boards, but they also cannot take as much water as a stretched sheet as the board itself can swell.
How do I slow the drying time of watercolour paint?
Gum Arabic is a watercolour medium that is used to increase the brilliancy, gloss and achieve areas of transparency in your paintings. Adding Gum Arabic gives an artist the ability to create depth in each colour, whilst also slowing down the drying time of the paint allowing for increased workability.
How do I get inspiration for watercolour painting?
There are so many places to find inspiration for watercolour. If you're feeling creative block and need some inspo, check out our Instagram and Pinterest for more.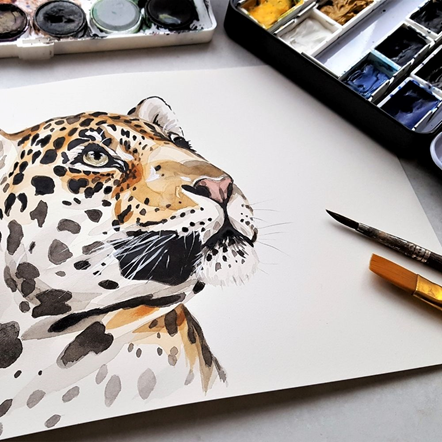 Don't forget to show us your watercolour works by tagging us on Instagram @artshedonline for your chance to be featured!
Got questions? Send us an email at customerservice@artshedonline.com.au and our friendly team of artists will do their best to assist you.
Happy creating!
---
Leave a comment