---
How to create beautiful fluid artworks using Alcohol Inks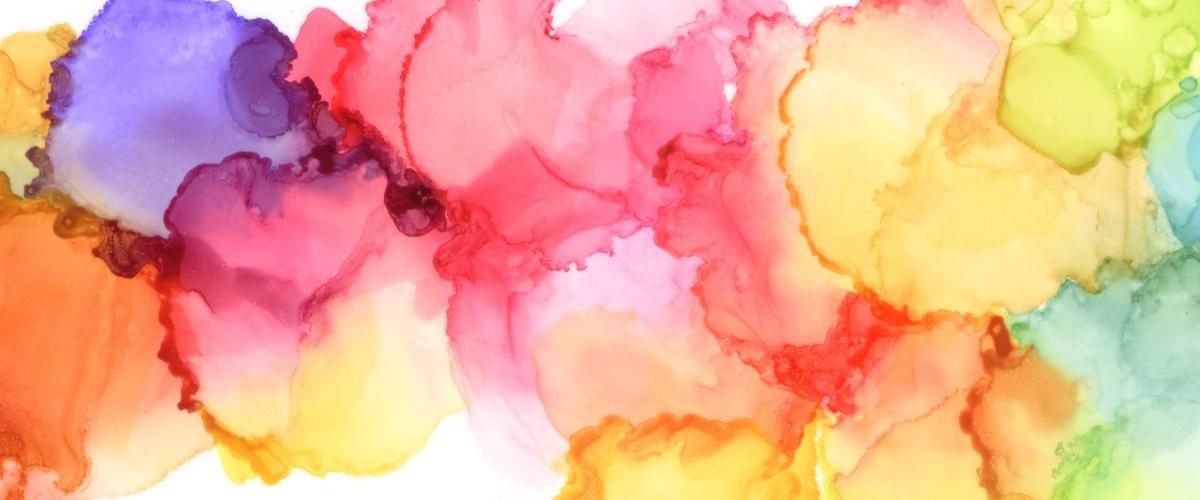 Alcohol inks are gentle, vibrant and a joy to create with.
Alcohol Inks being made of alcohol and very high pigments is why we create such vivid effects and designs.
How these beautiful Ink colours are translucent fast-drying and can be used on various non-porous surfaces.
They are available in a variety of brands such as Amersterdam, Copic, Jacquard Pinata, and Couture creations ink all with a fantastic range of colours, including glitters, metallics and pearls. Art Shed's range of Alcohol Inks leads us to be spoilt with lots of choice of colours and finishes and are great for creating incredible fluid forms. With a variety of techniques and tools, both stunning abstract artworks and realistic renditions of a variety of subjects can be achieved!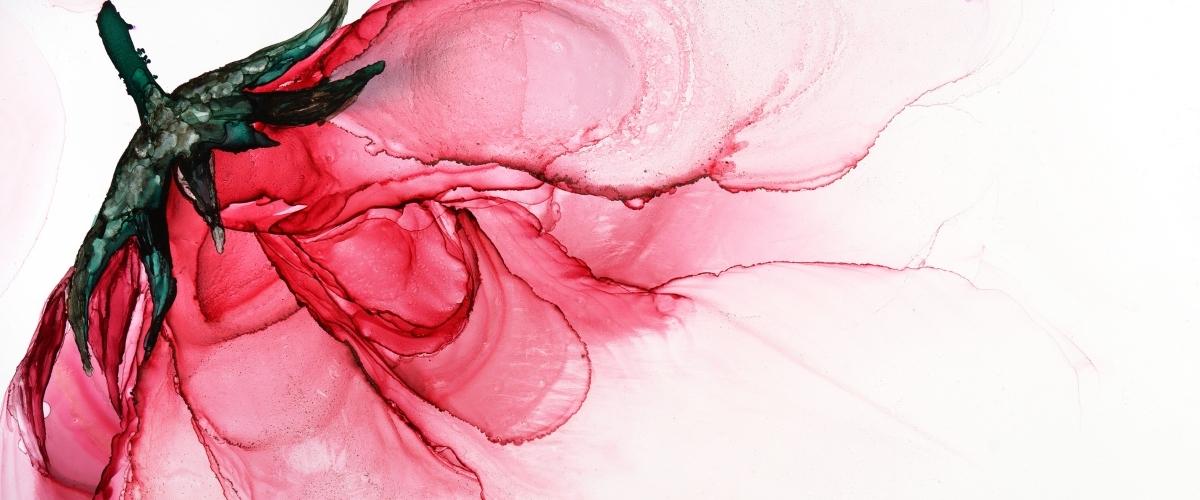 Introducing our range of Alcohol Inks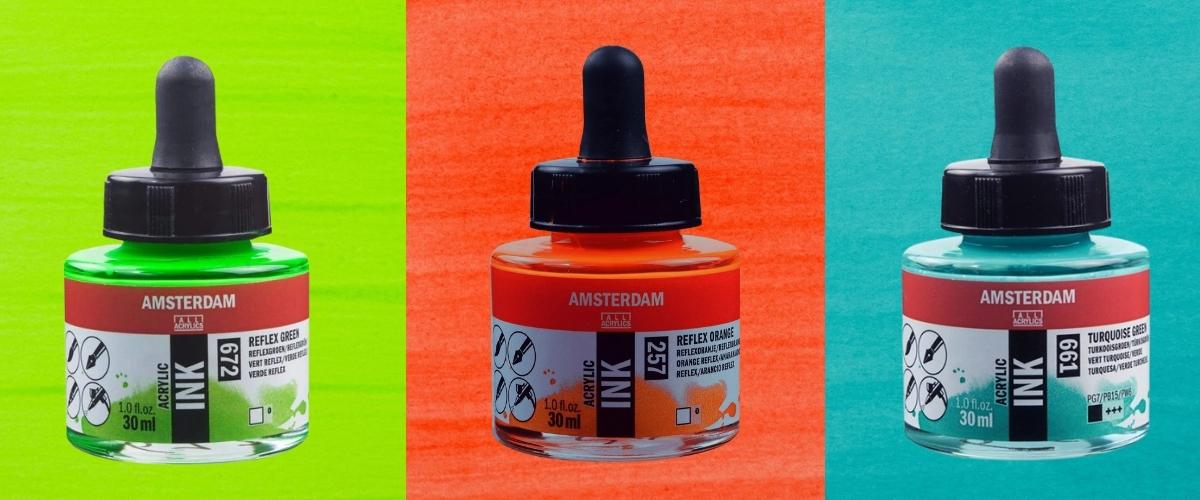 Amsterdam Alchol Inks
Amsterdam inks are highly pigmented ink and extremely lightfast.
The ink is based on acrylic resin and is odourless and waterproof when dry.
The ink comes in a 30ml bottle with an eyedropper pipette attached to the lid.
The bottle doesn't just have a pipette but also has a wide opening for use of brushes or dip pens.
They can also be used with acrylic paint and mediums.
Ideal for a wide range of techniques like calligraphy, fluid art, watercolour, and airbrush and can be used with technical pens.
Also, can be used on many surfaces such as watercolour paper, cardstock, wood, canvas and more.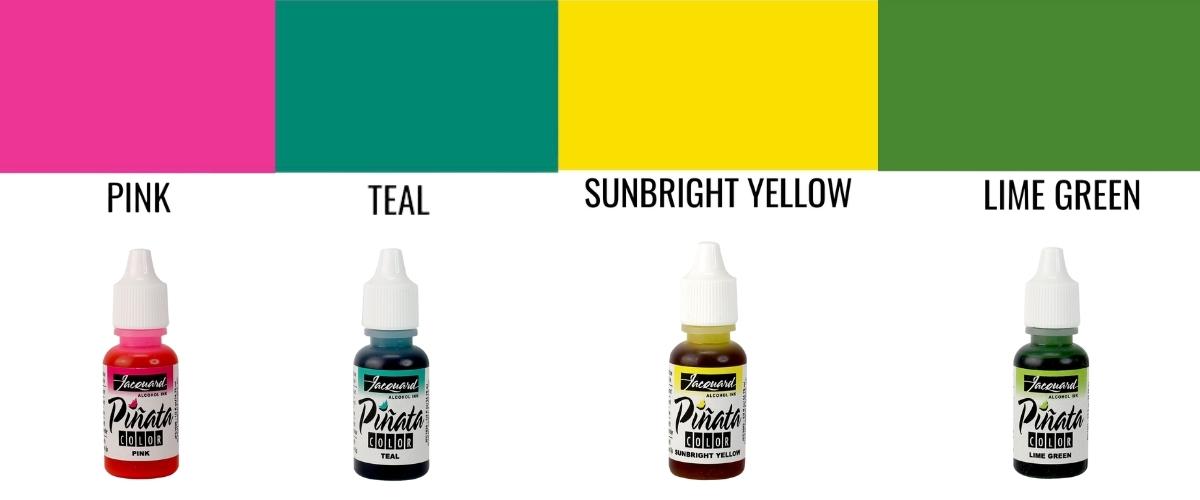 Jacquard Pinata inks
Pinata Colours are a heavily saturated and fast-drying alcohol ink for application on a variety of surfaces including non-porous surfaces, such as glass, metal, plastics and ceramics.
These inks are indelible and not affected by water once dry. Pinata alcohol inks are cleaned up with alcohol and re-wet themselves which in turn allows the artist to create unique fluid effects.
Pinata Inks are Dye-based and highly transparent. The outstanding adhesive properties of this ink teamed up with the extremely lightfast dyes used in each colour make it the ideal choice for fluid art on non-porous surfaces.
Great for Fluid Art and creating cells and swirling effects.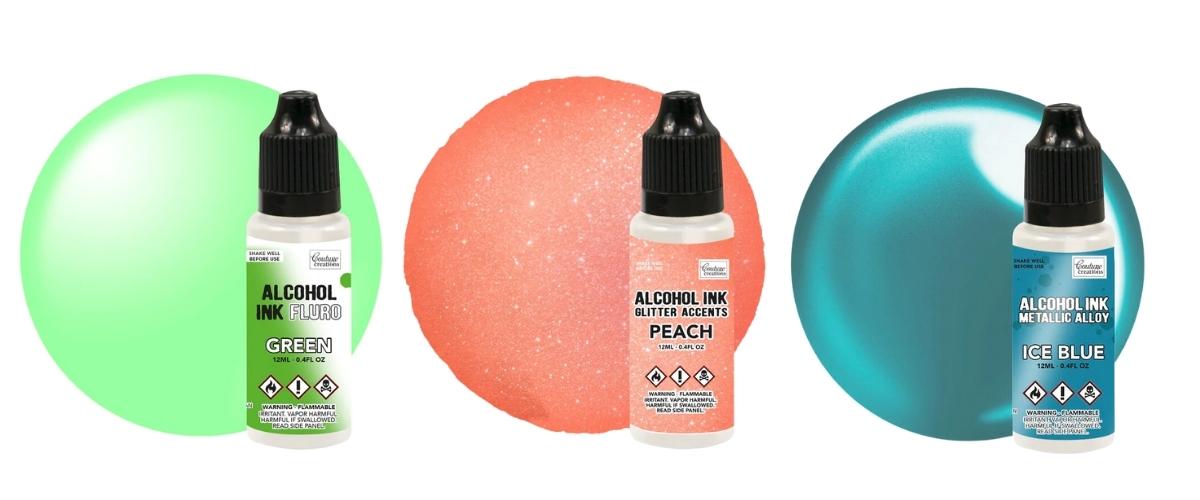 Couture Creations Alcohol Inks are permanent, translucent, and fast-drying dye ink designed to create brilliant effects on a variety of surfaces such as glossy paper, Yupo paper, glass, metal and more.
Available in a range of vivid colours and finishes, these Couture Creations Alcohol Inks are the ideal way to create bright and polished effects, vibrant backgrounds and colourful elements on a plethora of non-porous surfaces.
Alcohol Inks can be used in a variety of projects, from creating stunning free-flowing techniques or using the inks in mixed media projects such as fabric dying, jewellery making, prints, stamps and on furniture.
Couture Creations Alcohol Inks come in a variety of beautiful finishes and tones, including Fluro, Glitter, Metallic and Pearl.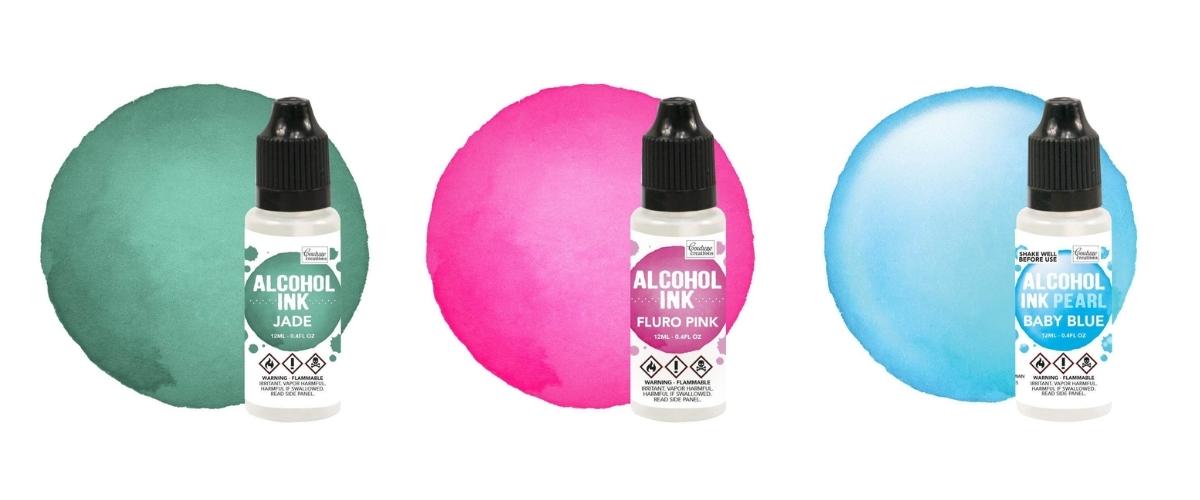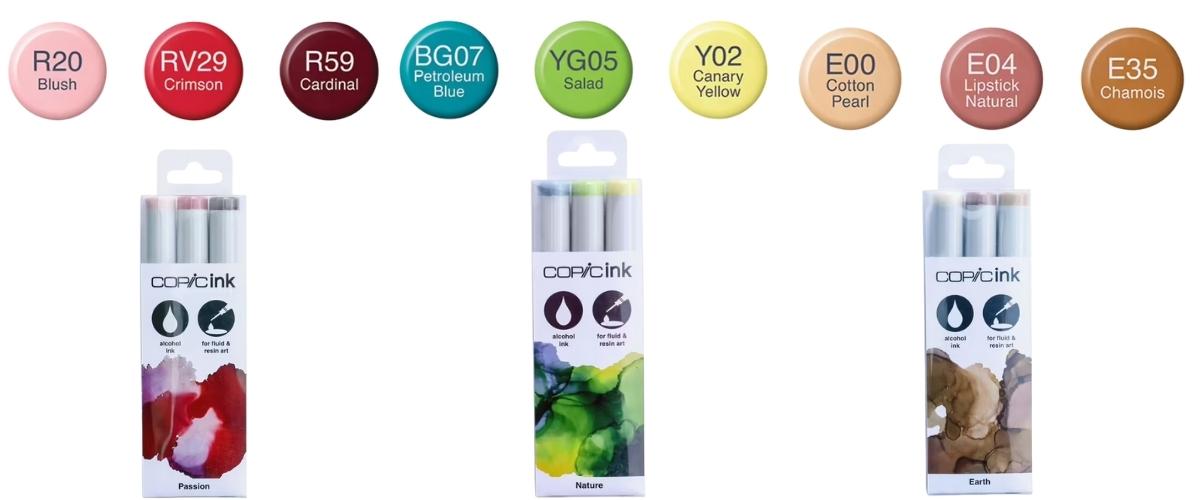 Copic Markers are the world's leading alcohol-based ink markers, well known for their high-quality markers and inks and used by artists and illustrators. Copic Marker Ink Refills can be used to refill any of the Copic Markers which are refillable. Copic Marker Alcohol ink can also be used on its own to create hand lettering using a brush, or for mixed media art, and fluid art. Copic Marker ink is an alcohol-based formula, it is non-toxic and also acid-free for long-lasting results.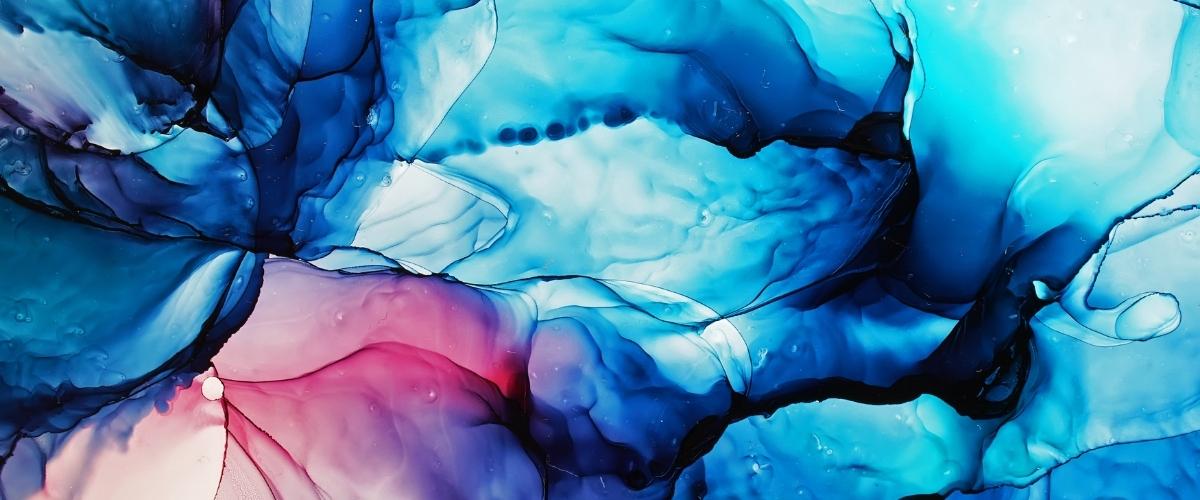 Choosing the right surface
Alcohol inks are special in that they cannot be used on normal paper as it is too porous.
To create artwork with alcohol inks, you will require Yupo paper, metal, ceramic or glass to produce those vivid, swirling effects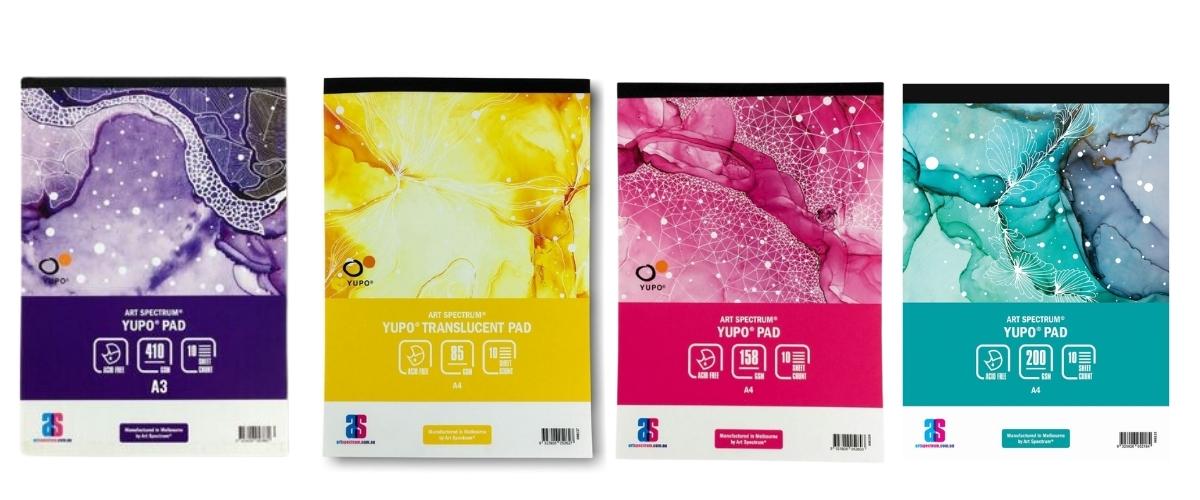 With its own unique texture and lustre, Yupo paper is quite different from that of traditional paper and gives a distinctive stunning look to your works. It is made of 100% synthetic polypropylene and is waterproof, stain-resistant and very durable. Yupo is characterised by its super smooth and plastic surface that holds ink with precision. It is the support of choice for artists working with alcohol inks, as you can get interesting effects on this smooth polypropylene-based material. It's also recyclable!
Art Spectrum Yupo Paper Pad A4 200gsm 10 Sheets


The Art Spectrum Yupo Paper Pad is a speciality pad ideal for inks, watercolours and acrylics. This pad contains 10 sheets of superior-quality Yupo paper which is a Japanese synthetic paper made from 100% polypropylene. Each sheet has an ultra-smooth, bright white finish and is a sturdy 200gsm weight so won't buckle or warp. The acid-free formulation of the paper means it won't tarnish or discolour over time and won't alter the colour or integrity of the medium you apply. The A4 size makes for easy transport and compact storage. Also available in

A3 size

.




Art Spectrum Yupo Paper Pad A4 410gsm 10 Sheets


This A4-sized Pad of Yupo paper is made synthetically using biomass resin sourced from plants such as sugar canes, reducing CO2 emissions, and creating a sleek canvas for your next creations. It has a non-porous surface that repels water, with a non-absorbent, ultra-smooth finish and superior strength. The paper is a sturdy 410 gsm in a bright white colour, making it suitable for alcohol and spirit-based inks, watercolours, and acrylics. Yupo® is 100% tree-free and fully recyclable, as the waste can be reclaimed as resin.




Art Spectrum Yupo Paper Pad A4 Translucent 85gsm 10 Sheets
This Yupo paper is 85 gsm and translucent and is suitable for alcohol/spirit-based inks, watercolours, and acrylics. It's A4 in size, making it great for creating flyers or small posters.Yupo® is 100% tree-free and fully recyclable, as the waste can be reclaimed as resin. Also available in A3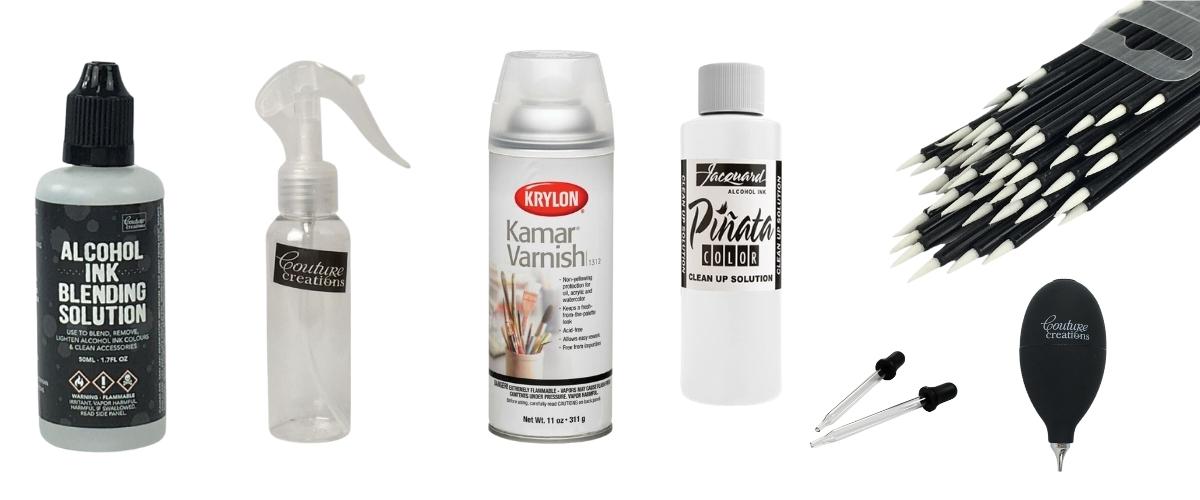 Handy tools


DIY Alcohol Ink Artwork, Art Shed's 9 easy step method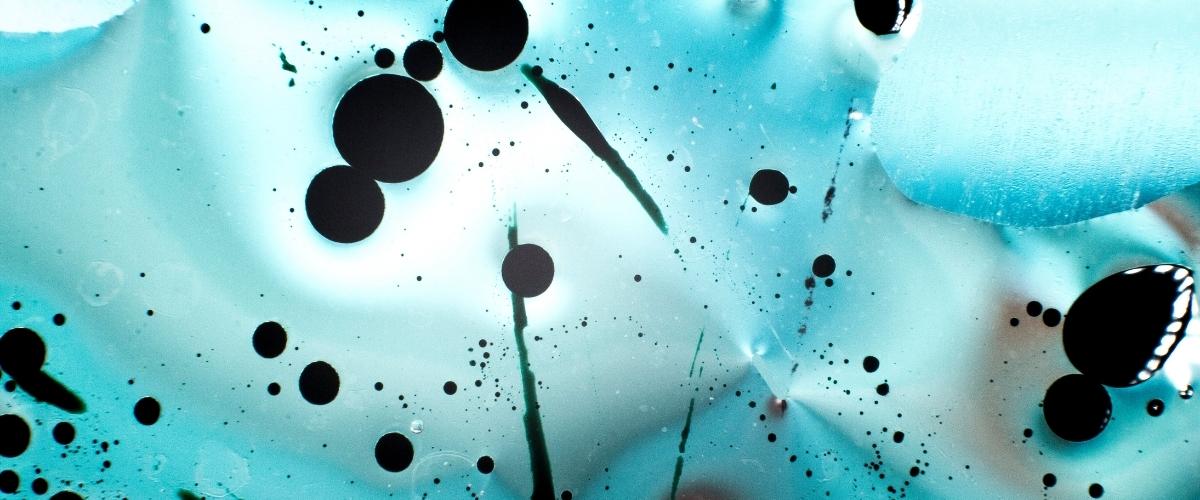 We need to organise a workspace that is functional and prepared so.. ..let's tick off a few things...

1. Prepping your workspace with your inks, blending solution, tools and Yupo paper.
Keep in mind we must work in a well-ventilated area to ensure we don't inhale any pigments and we always encourage using a mask.
Now we have prepped our area and wearing a mask, we must also keep our hands safe and clean so rubber gloves are always best, two reasons we suggest this, one so your not staining your surface with grease stains from your hands and secondly we don't stain our hands... literally!
2. Prep your surface and ensure it is free of any dust or dirt with the Jacquard Pinata Alcohol Ink 118ml - Clean-up Solution
3. Add a drop of ink to the Yupo paper and watch what happens as the ink spreads across the paper's smooth surface.
4. Add another colour to the paper. Allow yourself to watch and experiment with various techniques and tools to create a unique abstract composition.
5. Add a drop of blending solution to create a colourless form that will spread and help move these colours around the page.
Use an Ink blower to create waves of colour and gradients without adding moisture or extreme pressure.
You can also slowly use a hairdryer on a cold air setting roughly an arm's length from the piece to avoid blowing the ink off the paper.
6. Once you're happy with your piece, allow it to dry.
7. You can also add decorative elements like line drawings with a marker once dried.
8. Alcohol ink is extremely light-sensitive, so it is important to use a varnish-like the Krylon Spray - Kamar Varnish Spray 311g to seal and protect your work from UV light once dry.
9. Frame and display your work as desired!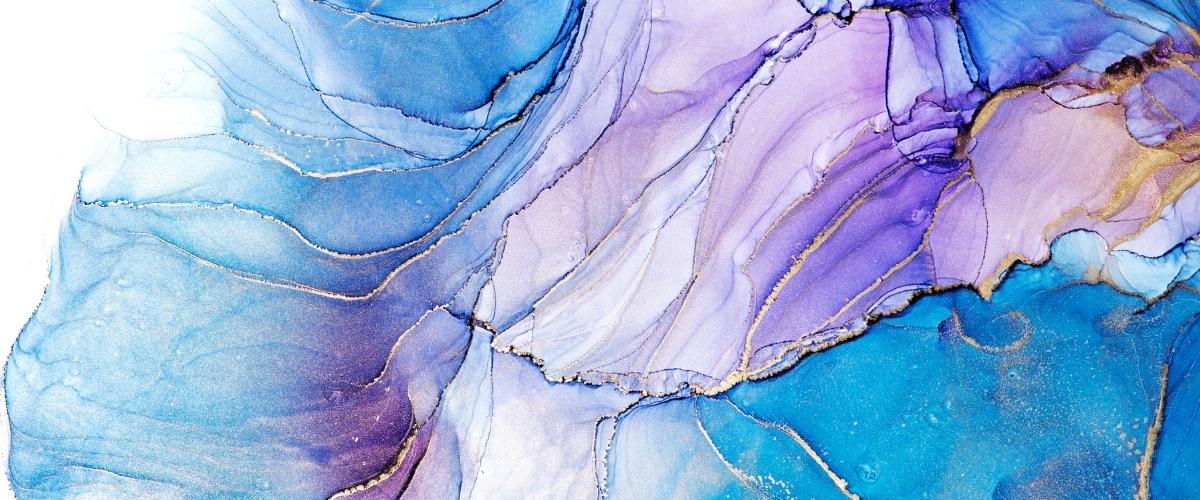 Well, that is Art Sheds guide to how to choose, apply and create with Alcohol Inks.
If you have any questions or have made your own Alcohol Ink Piece please send us an email as we would love to see and love to help our budding Artist.
customerservice@artshedonline.com.au and our friendly team of artists will do their best to support you!
Or show us your creation by tagging us on Instagram @artshedonline
Happy creating!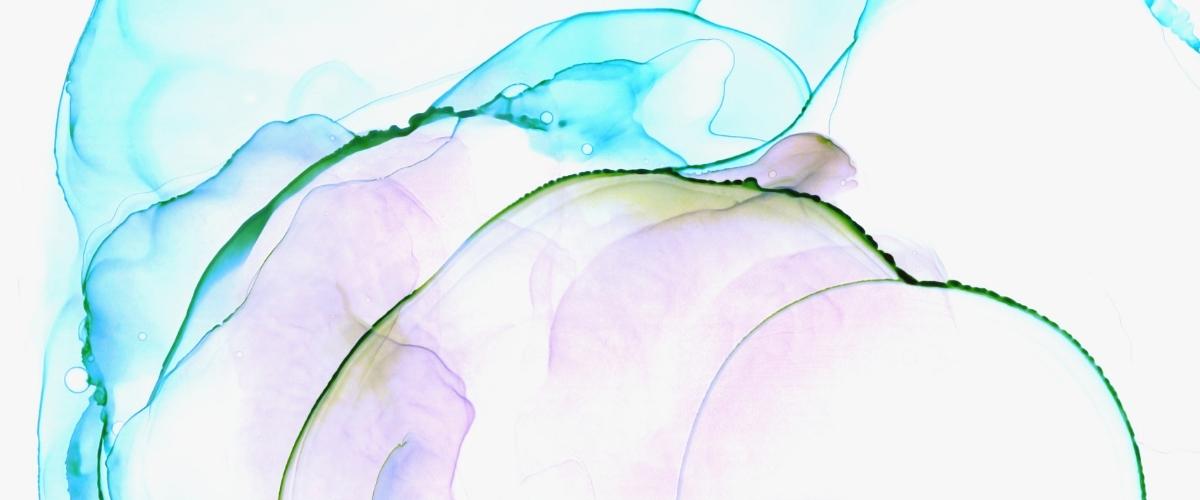 ---
Comments (1)
Beautiful

By:

Mukund kishore

on 21 September 2021

Interesting and beautiful blog
---
Leave a comment