---
How to create beautiful fluid artworks using Alcohol Inks
Author: Dana McGorlick-Appelman Date Posted:13 January 2021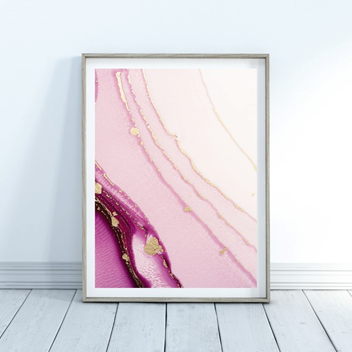 Alcohol inks, like the name suggests, are an alcohol-based ink that is translucent, fast-drying and that can be used on various non-porous surfaces. They are available in a variety of colours and finishes and are great for creating incredible fluid forms. With a variety of techniques and tools, both stunning abstract artworks and realistic renditions of a variety of subjects can be achieved!
Essential Supplies for creating Alcohol Ink Art
Some great Alcohol inks include:
Pinata Colours are a heavily saturated and fast-drying alcohol ink for application on a variety of surfaces including non-porous surfaces, such as glass, metal, plastics and ceramics.
These inks are indelible and not affected by water once dry. Pinata alcohol inks are cleaned up with alcohol and re-wet themselves which in turn allows the artist to create unique fluid effects.
Pinata Inks are Dye-based and are highly transparent. The outstanding adhesive properties of this ink teamed up with their extremely lightfast dyes used in each colour make it the ideal choice for fluid art on non-porous surfaces.
Great for Fluid Art and creating cells and swirling effects.
Couture Creations Alcohol Inks are a permanent, translucent, and fast-drying dye ink designed to create brilliant effects on a variety of surfaces such as glossy paper, Yupo paper, glass, metal and more.
Available in a range of vivid colours and finishes, these Couture Creations Alcohol Inks are the ideal way to create bright and polished effects, vibrant backgrounds and colourful elements on a plethora of non-porous surfaces.
Alcohol Inks can be used in a variety of projects, from creating stunning free-flowing techniques or use the inks in mixed media projects such as fabric dying, jewellery making, prints, stamps and on furniture.
Couture Creations Alcohol Inks come in a variety of beautiful finishes and tones, including Fluro, Glitter, Metallic and Pearl.
Copic Markers are the world's leading alcohol-based ink marker, well known for their high-quality markers and inks and used by artists and illustrators. Copic Marker Ink Refills can be used to refill any of the Copic Markers which are refillable. Copic Marker Alcohol ink can also be used on its own to create hand lettering using a brush, or for mixed media art, and fluid art. Copic Marker ink is an alcohol-based formula, it is non-toxic and also acid-free for long-lasting results.
Supports
Alcohol inks are special in that they cannot be used on normal paper as it is too porous. To create artwork with alcohol inks, you will require Yupo paper, metal, ceramic or glass to produce those vivid, swirling effects.