---
Brand Spotlight: Liquitex
Author: Dana McGorlick-Appelman Date Posted:6 June 2022
Liquitex is a brand loved worldwide by professional artists. They specialize in creating exceptionally high-quality acrylics and mediums, from heavy body acrylics, to spray paints, markers, inks, speciality mediums and varnishes. Keep reading to discover the history behind the brand, and a guide to their product range.
Liquitex was developed in 1955 by a colour chemist named Henry Levison. In 1956, Henry launched the world's first water-based acrylic medium viscosity artist colour. In the 1970s, Henry created the first machine to test paint for lightfastness, and also introduced the world's first acrylic cadmium replacements. Liquitex was also the first paint to be labelled for ASTM standards, for toxicity, quality and lightfastness.
Liquitex art materials comply with the highest social and environmental standards on the market. They have continued to reduce their total global CO2 emissions each year and they're part of SEDEX (Supplier Ethical Data Exchange), the largest global platform for managing ethical data. The brand also continues to support artists and the larger creative community through residencies, donations and awards
Products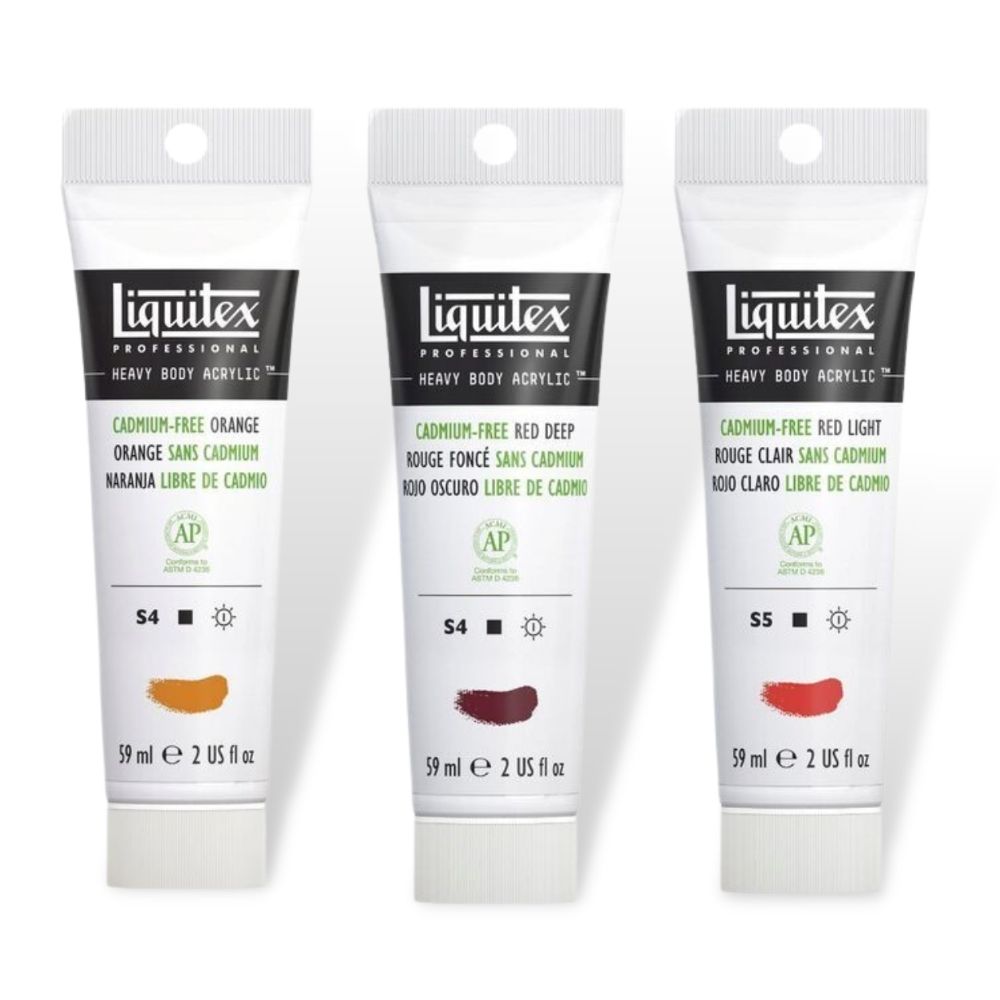 Heavy Body Artist Acrylic Paint, previously referred to as High Viscosity, has a thick consistency for traditional art techniques using brushes or knives, as well as for experimental, mixed media, collage and printmaking applications. Impasto applications retain crisp brush strokes and knife marks. Good surface drag provides excellent handling and blending characteristics with increased open working time. A high pigment load produces rich, brilliant, permanent colour.
Exceptionally smooth, thick buttery consistency

Retains brush strokes and palette knife marks

Great for thick/impasto applications and painting techniques

Flexible when dry; thick films remain free of cracks and chips

Compatible with Liquitex spray paints and paint markers
USES AND TECHNIQUES
Liquitex heavy body acrylic paints are great for Impasto, Traditional Acrylic Painting on canvas or panel, Experimental Acrylic Painting, Collage and Mixed Media, as well as Acrylic Printmaking: Screen Printing, Mono Prints, Block Prints
Liquitex Professional Paint Markers are an outstanding range of professional water-based acrylic markers for artists. Lightfast and permanent, Liquitex Professional Paint Markers offer the widest selection of brilliant colours and a choice of sizes with precision nibs for ultimate control.
Suitable for both indoor and outdoor use, Liquitex Professional Paint Markers can be used on a wide range of surfaces, including primed canvas, wood, masonry, metal, and glass.
All of the colours in the range match the Liquitex colour spectrum and are compatible with other Liquitex products, including Heavy Body Acrylics, Soft Body Acrylics, Professional Spray Paints, Mediums, and Varnishes.
Using only the highest artist grade pigments to ensure maximum light fastness and permanence, this broad spectrum includes the opaque colours demanded in paint markers as well as transparent, fluorescents and iridescent to offer limitless creative possibilities.
Liquitex Professional Paint Markers use a proven ball and pump valve system to optimize paint mixing and flow. Available in a choice of 4mm and 15mm sizes, the nib shape provides the flexibility to achieve multiple line thicknesses and the high-quality replaceable nibs ensure precision control on application.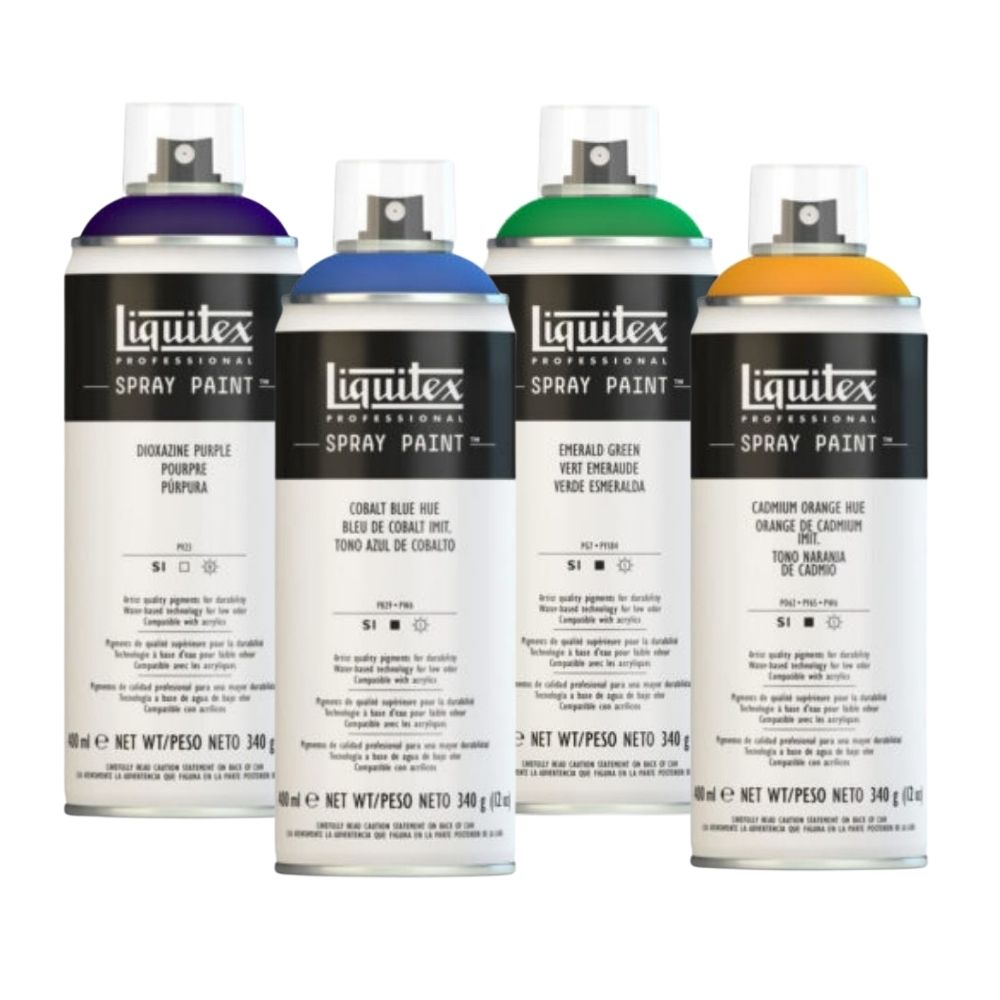 Combining artist grade pigments with revolutionary water-based technology, Liquitex Professional Spray Paint offers colour brilliance, lightfastness and durability in a unique low odour formulation. Liquitex Professional Spray Paint is ideal for interior and exterior use. Liquitex Professional Spray Paints is the first aerosol to meet the needs of both the traditional fine artist and graffiti artists in one.
• Lightfast
• Water-Based Technology
• Low Odour
• Durable and Permanent
• Professional Quality
• Versatile
• For Use on Multiple Surfaces
USES AND TECHNIQUES
• Large-scale artwork, Intermixing with acrylics, Outdoor and Indoor murals, Underpainting, Stencilling and Mixed Media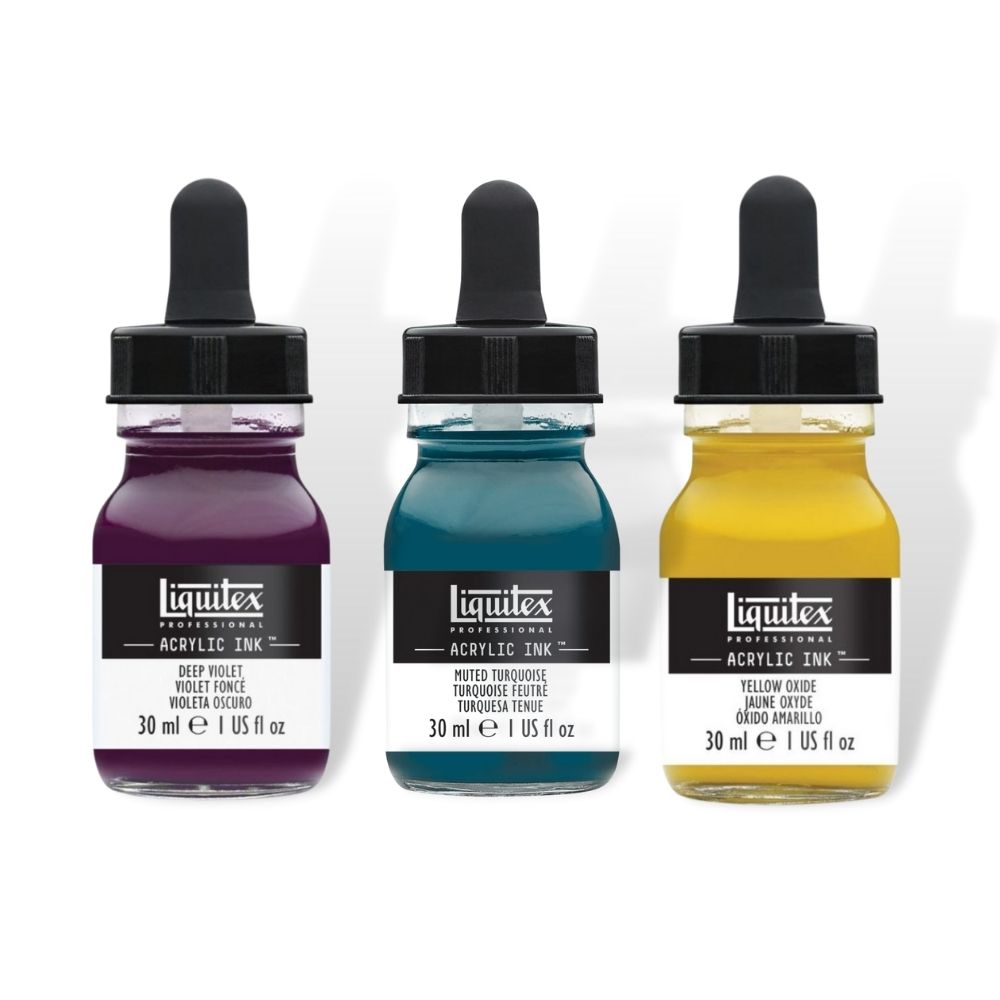 Liquitex Professional Acrylic Ink! is a range of extremely fluid acrylic paints that use super-fine pigments in a state-of-the-art acrylic emulsion. They dry quickly, are permanent, water-resistant and non-clogging, which makes them ideal for a variety of techniques from watercolour effects to stamping.
They're available in a range of intense, bold, lightfast colours and are extremely fluid, no need to dilute for airbrushing or calligraphy. These inks are intermixable with all other Liquitex acrylics and mediums, and are ideal for watercolour effects, colour blocking and underpainting.
USES AND TECHNIQUES
Liquitex acrylic inks boast a multitude of uses and techniques, including use with a Dip Pen, brush, Technical Pen, Stamping, Ink Brayer, Screen Printing, Fabric Painting, Calligraphy, Stippling, Photo Tinting, Airbrush, Drybrush, Stencilling, Pouring, Watercolour and Collage.
Varnish:
Available in satin, matte, gloss and high gloss. The high gloss varnish is perfect for a resin like finish.
Varnishes are applied over dry paint films to protect the painting surface from the environment and protect the pigments from ultraviolet light. Varnishes are also used to change or unify a painting's surface sheen. Liquitex varnishes are either permanent or removable and can be applied to both flexible and rigid supports.
Liquitex varnishes are translucent when wet, clear when dry, low odour, permanent and durable. They can be used with Spray Paint, Heavy Body, and Soft Body acrylics to protect the colour from the elements, and resists discolouring (non-yellowing, non-fogging) due to humidity, heat and ultraviolet light. Liquitex varnish dries to a non-tacky, hard, flexible surface that is resistant to dirt retention, and is archival, non-yellowing and water-resistant when dry.
The Professional gloss medium is an all-purpose medium, formulated to be mixed into all Liquitex acrylic paints and mediums. Mix into any acrylic paint to enhance the depth of colour intensity, increase transparency, gloss, ease flow of paint and add flexibility and adhesion of paint film. Translucent when wet, transparent (clear) when dry. Dries to a non-tacky, hard, flexible surface that is resistant to dirt retention. Applicable for any surface (flexible and inflexible) including canvas, paper, wood, Plexiglas, etc.
The Liquitex pouring medium is perfect for fluid art and pour art. It creates even "puddles," poured sheets, and flowing applications of colour, and does not craze, crack, or hold bubbles in the paint film upon drying. It retains high gloss and wet appearance when dry, and will not add transparency when mixed with colour. Flexible, non-yellowing and water-resistant when dry.
Textured Effects Medium - Glass Beads:
Liquitex Glass Beads medium is an acrylic medium body gel that contains clear, round aggregates that dry to a semi-gloss, reflective ("bubbly") surface. For most dramatic reflective effects, mix with transparent or translucent colours or apply straight from the container over dried paint.
Iridescent/Pearl Effect Medium:
Liquitex iridescent/pearl effect medium produces a range of iridescent or metallic colours when mixed into acrylic colours. Opaque when wet, transparent to translucent when dry. It also will not oxidize.
Liquitex Glazing Medium Fluid Painting Medium is ideal for creating brilliant, jewel-like glazes with acrylic artist colours. It dries quickly for rapid layering. You can mix this medium with any amount of acrylic colour; however small quantities of colour provide the most transparency. It can be applied to any material or surface that will accept traditional acrylic media, such as canvas, paper, wood, etc.
Liquitex flexible modelling paste is a 100% polymer emulsion that dries more slowly than other modelling pastes to a hard yet flexible surface. Modelling paste is used to build three-dimensional forms and heavy textures on supports that may be subject to flexing or movement, and adheres to any non-oily, absorbent surface. When mixed with acrylic colours it will act as a weak tinting white, while increasing thickness and rigidity.
Slow Dri-Fluid Retarder Additive:
The Liquitex Slow Dri-Fluid Retarder Additive increased the 'open' (working) time of acrylic paint, and has a fluid consistency that thins all acrylic paint and mediums. It increases blending time, making the blending of colours and detail brushwork easier, and reduces paint skinning-over on the palette. Mix with Liquitex acrylic paints and mediums to retard drying time up to 50%.
Liquitex fabric medium enhances the workability of acrylic paint on fabric. It prevents uneven application of paint to rough-textured fabrics, and reduces stiffness of dried acrylic paint on fabric. Eliminates the need to scrub or abrade rough-textured fabrics to enable paint to adhere or penetrate surface. This fabric medium also does not require heat setting.
Liquitex Airbrush Medium is specifically formulated to thin acrylic colours for airbrush application. Mixing colours with Airbrush Medium will ensure that the colours do not lose their flexibility, durability and adhesion.
Textured Effects Medium - Natural Sand:
Liquitex Natural Sand medium is a finely textured gel that dries to a surface similar to glossy "beach sand". It also makes a very effective ground for acrylic and oil paints, oil pastel, pastel and graphite when delicate marks and blending are necessary.
Liquitex Ceramic Stucco medium is a thick, low lustre, gel with a fine texture, that dries to a light grey matte stucco finish. It is excellent for producing thick 3-D effects, as well as thinly coating surface, and makes an excellent ground for acrylic and oil paint, oil pastel, oil bars, pastels and graphite.
Textured Effects Medium - String Gel: A self-levelling gel with a syrupy, honey-like consistency. This medium enhances depth of colour and increases transparency and flow. Dries glossy and transparent. Permanent, non-yellowing, flexible and water-resistant when dry
Got questions? Send us an email at customerservice@artshedonline.com.au and our friendly team of artists will do their best to assist you.
Happy creating!
---
Leave a comment