---
How to Paint like Vincent Van Gogh
Author: Dana McGorlick-Appelman Date Posted:13 December 2021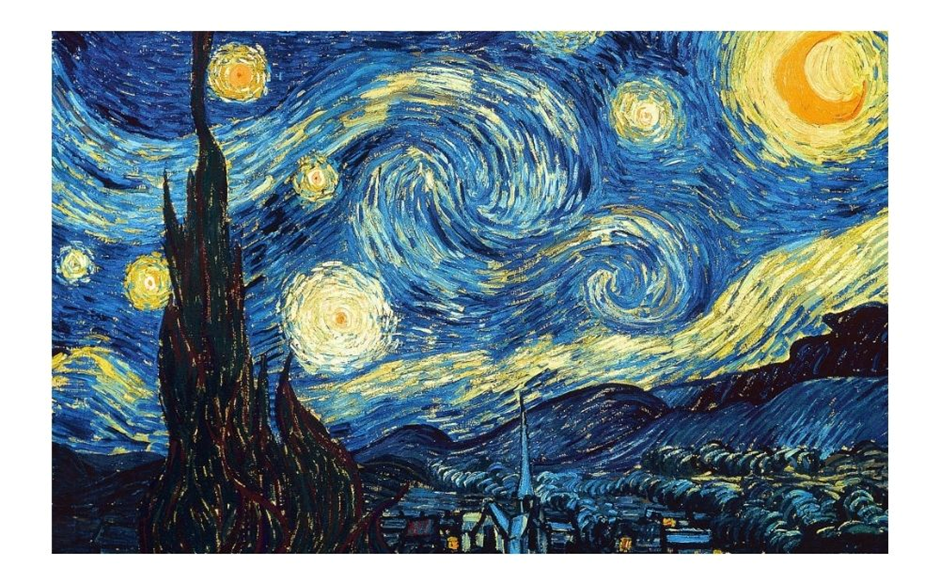 "If you hear a voice within you say "you cannot paint," then by all means paint and that voice will be silenced." - Vincent Van Gogh
Here at Art Shed, we are consistently inspired by artists so we have carefully curated a list of essentials so you can paint like the iconic Van Gogh himself!
Essential supplies and techniques to channel your inner master painter
Van Gogh exclusively used oil paints, straight from the tubes with no mediums added. He applied the paints in this way to have an impasto effect, which creates exaggerated texture to express emotions and give movement to his paintings.
Oil paints are a slow drying, permanent and lightfast paint that have been used by artists for hundreds of years. Nowadays, oil paints are available in wide range of colours and by a variety of brands.
If you're not sure where to start, an oil paint intro set is a fantastic option. These come with a variety of pre-selected colours and help take the guessing work out of the process.
While Van Gogh used paint straight from the tube without mixing any mediums like linseed oil or turpentine, you can opt for a medium to help with underpainting and to speed up the drying process.
Turpentine is useful for thinning your paints for underpainting layers, as well as cleaning your brushes once your painting session is complete. If you're looking for an odourless, modern alternative to turpentine, you could also opt for an odourless solvent.
When it comes to choosing your canvas, opt for a high-quality canvas like the Mont Marte Professional Series Canvas. This canvas features a high-density weave, and is suitable for a moderate application of paint. It is also triple coated with a universal primer and ready to be painted on.
When it comes to choosing your paint palette for mixing colours, for a traditional oval wood palette is a great option.
To mix your paint colours and apply your paint in thick, textured, gestural motions, opt for a palette knife.
When choosing your paintbrushes, opt for a hog bristle brush when working with oils. These are available in a variety of fantastic beginner sets. This type of brush is naturally stiff allowing for optimum control of thick and buttery paints. Each bristle is naturally split into two or three at their tip called flags allowing for greater paint retention and smoother application.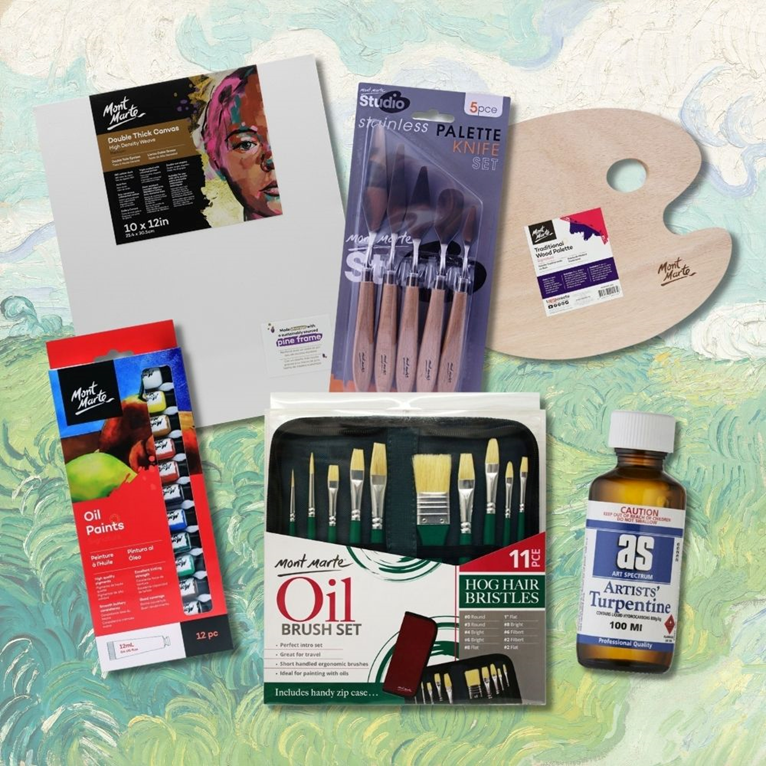 This Art Shed exclusive bundle has everything you need to start out in impasto oil painting, and includes:
Mont Marte Palette - Oval Wood
Art Spectrum 100ml - Artists Turpentine
Mont Marte Studio Series - Palette Knife Set 5pce (Stainless Steel)
Mont Marte Paint Set - Oil Paint 12pc x 12ml
Mont Marte Signature Paint Brush Set - Oil Hog Bristle In Wallet 11pc
Mont Marte Professional Series Canvas Double Thick 10" x 12" - 25.4 x 30.5cm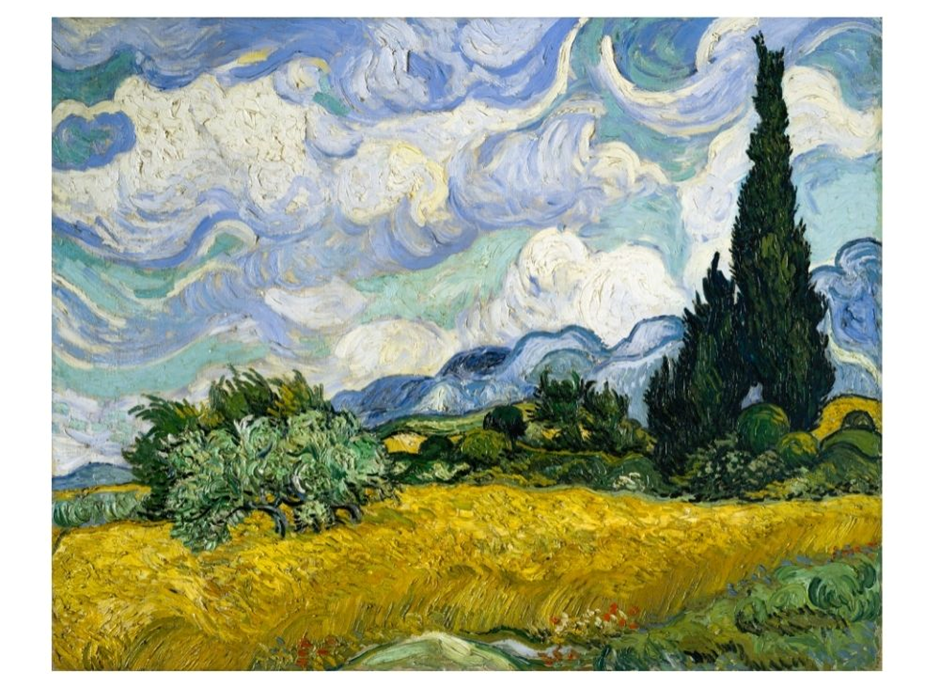 Oils not your thing? Luckily, you can recreate Van Gogh's signature impasto style with Acrylic Paints.
Van Gogh exclusively used oil paints, however with the Mont Marte Dimension series acrylic paint you can achieve the same impasto effects due to the ultra-thick consistency of the paint. When applied with palette knives and brushes, just like Van Gogh did, you can create exaggerated texture effects that will dry hard and hold shape while still maintaining flexibility and smooth flowability.
You can also opt for paints such as Matisse Structure and Liquitex Heavy Body Acrylics for this.
Another way to create textured paint is by mixing an acrylic impasto medium with standard acrylic paint. You can then apply this with a palette knife or paint brush for thick, textural effects akin to the impressionists.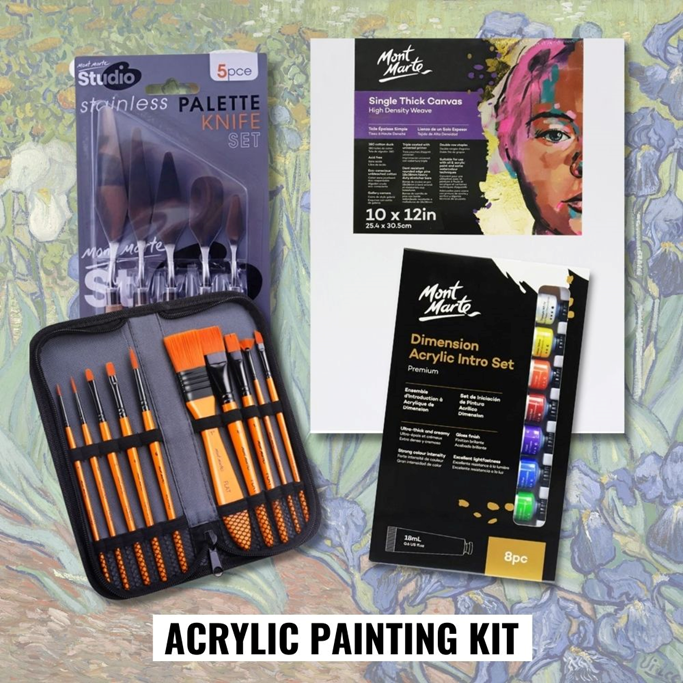 Looking for a beginner-friendly kit? This Paint like a modern Van Gogh Acrylic Paint bundle is ideal for both kids and adults who are inspired by Van Gogh's work - even if you are an absolute beginner.
The set includes:
1x Mont Marte Intro Paint Set - Dimension Acrylic Paint 8pc x 18ml
1x Mont Marte Professional Series Canvas Single Thick 10" x 12" - 25.4 x 30.5cm
1x Mont Marte Studio Series - Palette Knife Set 5pce (Stainless Steel)
1x Mont Marte Signature Paint Brush Set - Acrylic Taklon Bristle In Wallet 11pc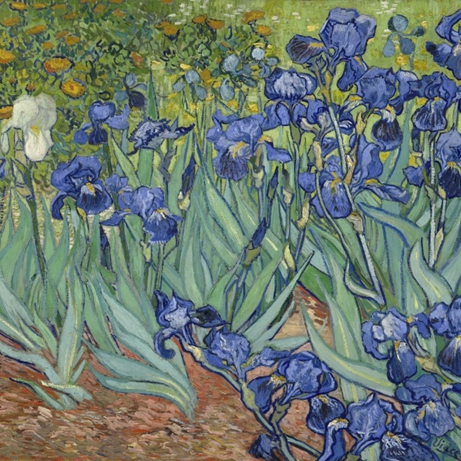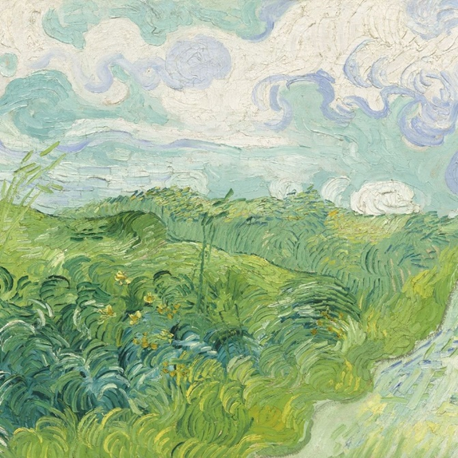 Don't forget to show us your Van Gogh inspired by tagging us on Instagram @artshedonline for your chance to be featured!
Got questions? Send us an email at customerservice@artshedonline.com.au and our friendly team of artists will do their best to assist you.
Happy creating!
---
Leave a comment