---
Author: Dana McGorlick-Appelman Date Posted:3 August 2021
Want to add an extra bit of shine to your works and really make them pop? Then you'll definitely want to give gold leaf a try. The use of gold leaf dates back to the Egyptians, when it was used to embellish sculptures, and has been used throughout art history to adorn artworks and give a stunning elegant metallic finish.
Real gold, silver and bronze leafing can be quite costly. Luckily, contemporary art suppliers have created Imitation Gold, copper and silver leafing that looks just like the real thing. Imitation leaf can be added to a variety of surfaces, including canvas, wood, plaster, glass, ceramics, leather, metal and plastic. Keep reading to discover how to use Gold leaf and add shine to artworks, décor and more!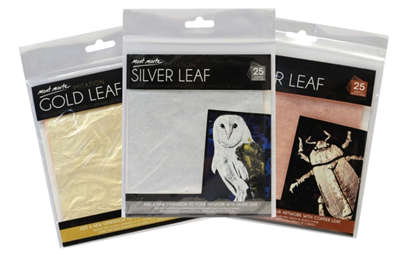 You will need:
How to apply gold leaf:
Ensure your work surface is clean and free from dirt, dust or oil

Use a soft brush to apply a thin, even coat of gold leafing size (adhesive) to the area to be gilded

Allow the adhesive to set until tacky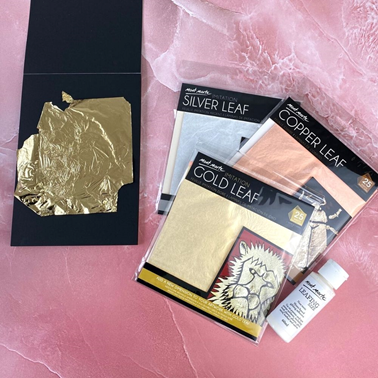 Carefully hold the leaf sheet from the corners and lay it over the sized surface, use a soft brush to smooth out the leaf.

Gently brush off any excess leaf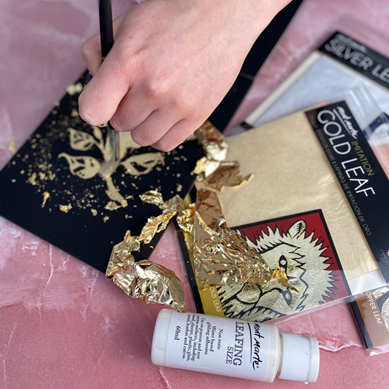 Varnish with Damar varnish when complete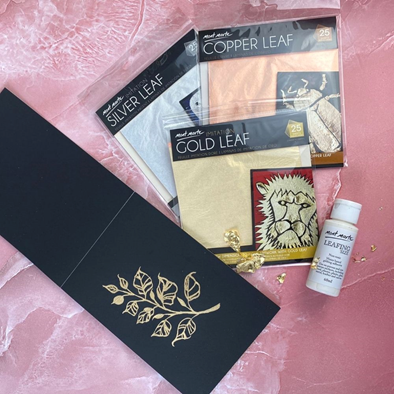 Tip: Use Cotton gloves when handling the leaf, to help avoid scratching or tearing. You can also lightly dust your gloves with talcum powder to prevent this.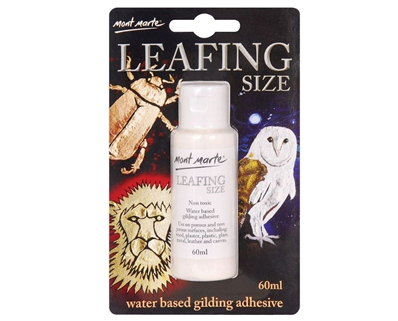 Mont Marte's leafing size is a non-toxic and water-based gilding adhesive. It dries to a translucent finish and cleans up with water, and can be used on wood, plaster, plastic, glass, metal, leather and canvas.
How to use Mont Marte leafing size:
Ensure the proposed surface to be leafed is free of oil and dust.

Apply a thin layer of the size with a soft brush onto the area that is to be leafed. Wash the brush immediately with water.

Allow 25 mins for the size to develop tack and apply leaf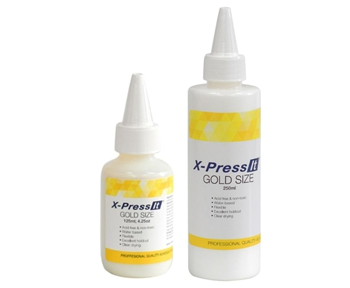 X-Press It Gold Size is the perfect adhesive for applying gold leaf or glitter to your projects. Can be used on paper, cardboard, wood, textiles, glass, ceramics and more. It's fine nozzle tip and squeeze bottle helps to apply control. It is an acid-free, non-toxic adhesive that dries clear.
Available in 125ml and a larger 250ml size.
How to use X-Press It Gold Size:
Apply a thin even coat with a brush, over the basecoat

Allow 5-10 minutes curing time before applying leaf

Once the size changes colour from white to clear, apply the leaf to the surface.

Depending on the thickness of application, the open time is approximately 10-12 hours.

The applied size is cured when the surface tack dulls.

Apply leaf to all applied areas as the size will remain tacky.

Wash brushes or applicators with water immediately after use.
How to protect the gold leaf from tarnishing
After applying your gold, silver or brass leaf, always varnish it to protect it from tarnishing. An oil-based varnish-like Damar varnish is a great option for this.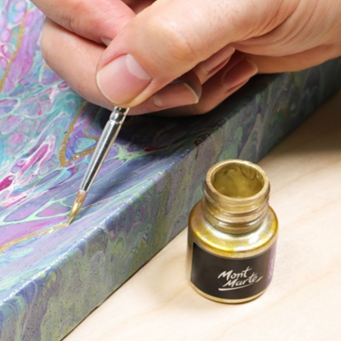 Add a glimmering touch to your works with the ultra-special Mont Marte Foil Paint. This premium paint is your very own potted secret weapon for taking your works to the next level. This shimmering paint is highly pigmented so a little goes a long way and the finished results are just amazing. This paint looks stunning added to your marbled fluid artworks but can be used on just about any other painted works. To avoid colour mixing, be sure to only apply when your other paint is completely dry.
This stunning paint is available in Silver, Gold and Iridescent. Use one colour across your works for uniformity or, why not try a little of all to really make your works shine?
How to use foil paint:
Use a paintbrush to apply gold details to your acrylic artworks once dry

Add several coats for a more intense colour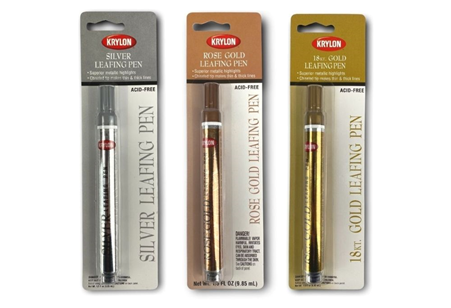 When you want more control and to create stunning intricate and elegant details to your home décor and artworks, opt for the Krylon Leafing pen in Gold, Rose Gold or Silver. The pen dispenses a fast-drying, acid-free, metallic paint for highlighting any art, craft or home decor project. The special chisel point allows you to vary the width of your paint strokes and is ideal for calligraphy. Use on wood, metal, ceramics, glass, rigid plastic, fabric, paper and canvas.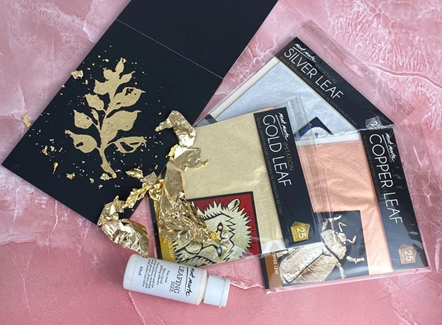 Don't forget to show us your shiny new creations by tagging us on Instagram @artshedonline for your chance to be featured!
Got questions? Send us an email at customerservice@artshedonline.com.au and our friendly team of artists will do their best to assist you.
Happy creating!
---
Leave a comment