---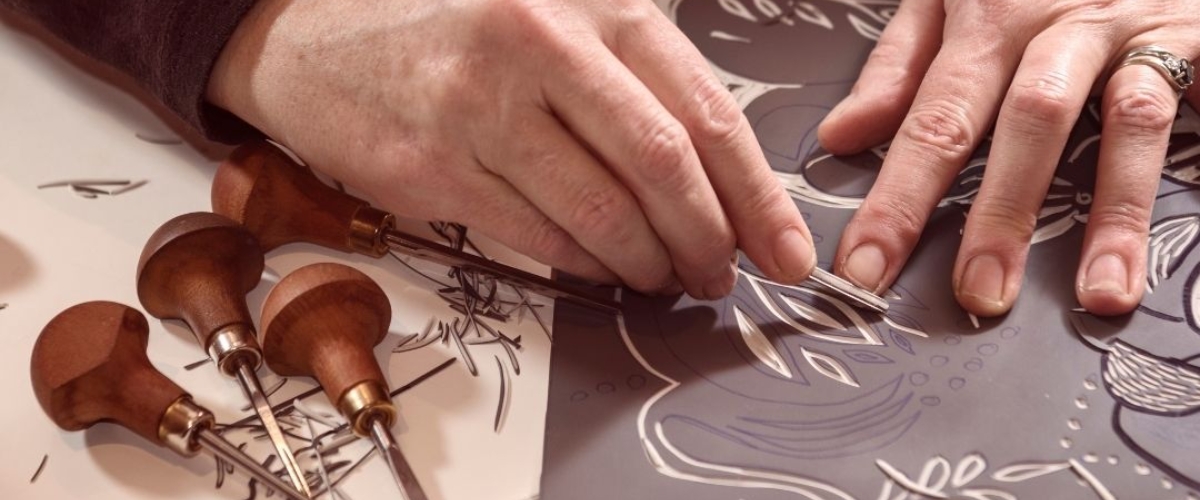 What is lino printing?
Lino printing, also known as Linocut, or Linoleum art, has become a popular art form in recent years, characterised as a fine art printmaking technique adopted by artists as an easy-to-carve, printmaking alternative to wood. Similar to woodblock printing, it involves creating a type of relief made from Linoleum, a material traditionally used as a floor covering that is made from linseed oil and cork. "Lino" is typically grey in colour and rubbery in texture, though in recent years a variety of lino blocks have become available, from traditional lino to vinyl, transparent and soft-cut lino. The printmaking process involves creating a design and carving it into the linoleum with a gouge or chisels, which is then coated with ink, with paper placed over it, which is then pressed or rolled by hand or in a printing press to transfer the ink and design onto the paper.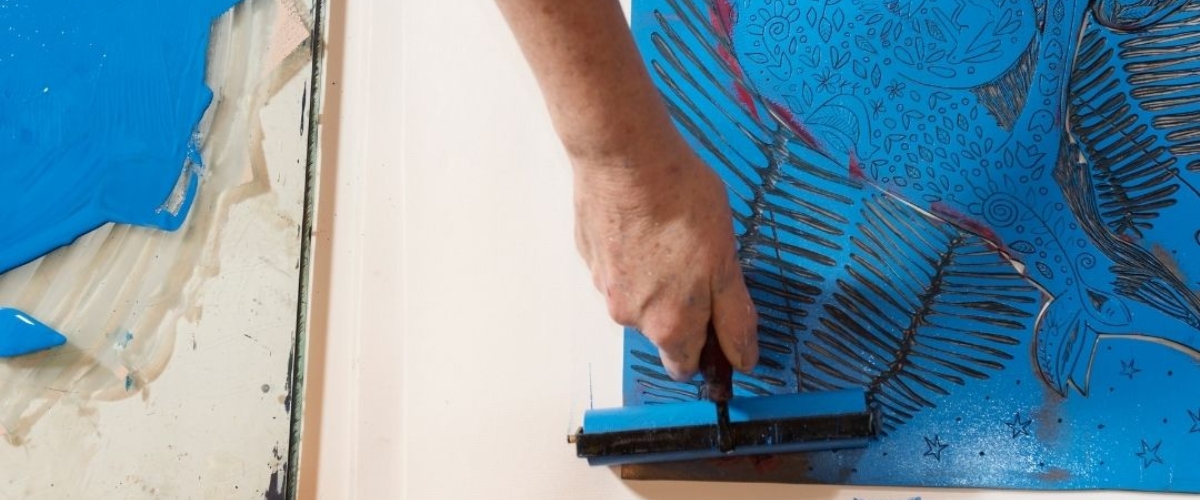 Lino printing history
Linoleum was invented in 1860 by Fredrick Walton, by heating linseed oil in thin layers that then thicken and rubberise, which is then held together with a mesh constructed of strong threads. Lino printing became a popular art technique with artists in the Twentieth Century, primarily with the German Expressionists, Russian Constructivists, and renowned artists such as Picasso and Matisse adopting the medium.
Tools to do the job
There are a few tools you'll need to get started with Lino printing, including:
Linoleum:

The

Nuart Easy Cut PVC Lino 12 x 12 Inch (30.3 x 30.3cm)

or the

Vinyl Relief Plate 200 x 300mm

are both great options for carving your design into.
Lino Tools with various sized blades such as the

Mont Marte Premium Wood Carving Tool Set 12

or the Micador Lino Carving Tools -

Easy Grip
Block Printing Ink (You can water-based or oil-based ink, but bear in mind that oil-based ink will take longer to dry than water-based ink. Water-based inks are also easier to clean up and don't require the use of solvents). The

Derivan Block printing ink

is a fantastic non-toxic, water-based ink that is available in a variety of colours and can also be mixed to create customised colours.
Roller/Brayer: (A hard brayer will allow the ink to sit on the surface of the cast, while a soft brayer will allow ink to run into the carved-out areas as well as the top of the design).
Paper: (A heavyweight, printmaking paper or

mixed media paper

is best, however, you can experiment with different papers for different effects)
A Baren or a clean Brayer for pressing the ink onto the paper
Newsprint

to protect your art station and for lying your prints to dry on.

Glass or a clean, flat and non-porous surface for rolling out the ink.

Safety Hand Guard

(Not essential, however, it is useful for keeping your hand safe and cut-free)

Box cutters

for cutting the linoleum down to your desired size and shape.

A Cutting Mat

the

Cutting Mat A2 - 600 x 450mm

to protect your workbench.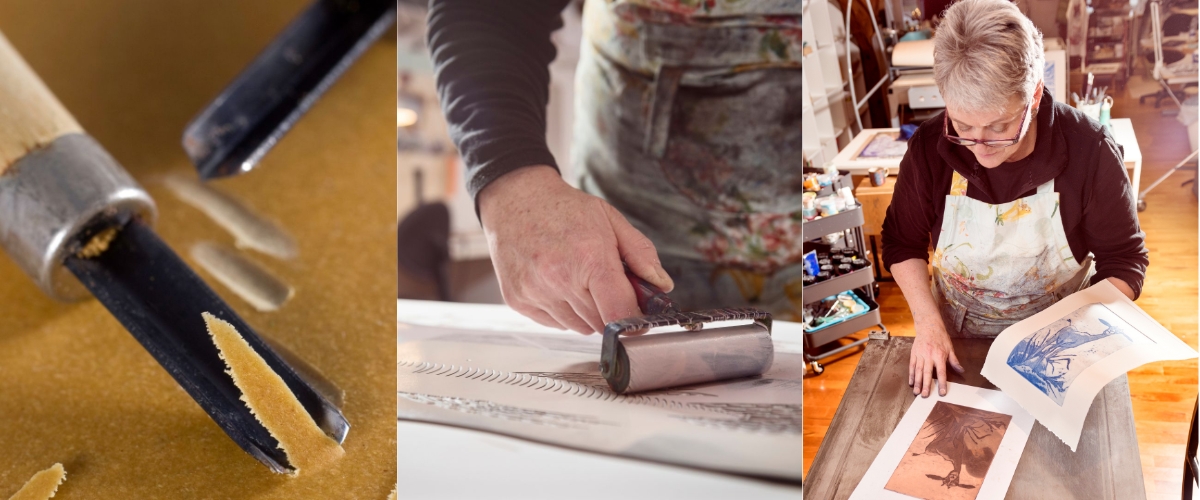 How to create a Linocut print in 10 easy steps
Cut the lino to your desired size using box cutters and a ruler

Draw your design onto the lino with a pencil, bearing in mind that the areas that are cut away will not be printed, and the design will be printed in reverse, leaving a mirrored image. Warm lino is considerably easier to cut, so placing it in the sun or near a heater can help soften it up.

Carve the areas you don't want to be printed. Try pushing the blade forward rather than down to create a groove, one that's not too deep and also not too shallow. U-shaped blades are best for removing large areas, and sharp v-grooves are better for creating details. Remember to always carve away from your hand.

Roll out your ink on a piece of glass or another non-absorbent, smooth flat surface to help evenly distribute it.

Evenly coat the roller/brayer in ink.

Roll the brayer across the lino to cover it fully. Avoid over-inking so it doesn't seep into the crevices.

Align your paper with the lino, and using a bare, clean roller or print press, carefully burnish the design onto the paper. A heavyweight printmaking paper with a smooth absorbent surface is ideal, however, any paper can be used. When printing, choosing a paper size that is larger than the design/lino is also handy, as it will leave a border that you can trim to size if you choose.

Gently remove the paper.

Clean the ink from the lino with warm water and allow it to dry. If you would like to re-carve the design, allow the lino to dry, carve and then re-ink.

Allow the prints to dry, and voila! Your artwork is ready to trim to size, frame and display.

How to create a reduction Linocut/ Multicolour Print


A reduction lino print (or a print with multiple colours) is created by applying ink to the lino with one initial colour, then cutting away areas and inking it again for each new colour in your design. You can also create multi-colour linocut prints by using separate lino plates for each colour.

Got questions? Send us an email at customerservice@artshedonline.com.au and our friendly team of artists will do their best to support you!
Show us your lino printing creation by tagging us on Instagram @artshedonline
Happy experimenting!
---
Leave a comment