---
How to fix a ripped canvas (before you start painting on it!)
Author: Tessa Date Posted:20 June 2023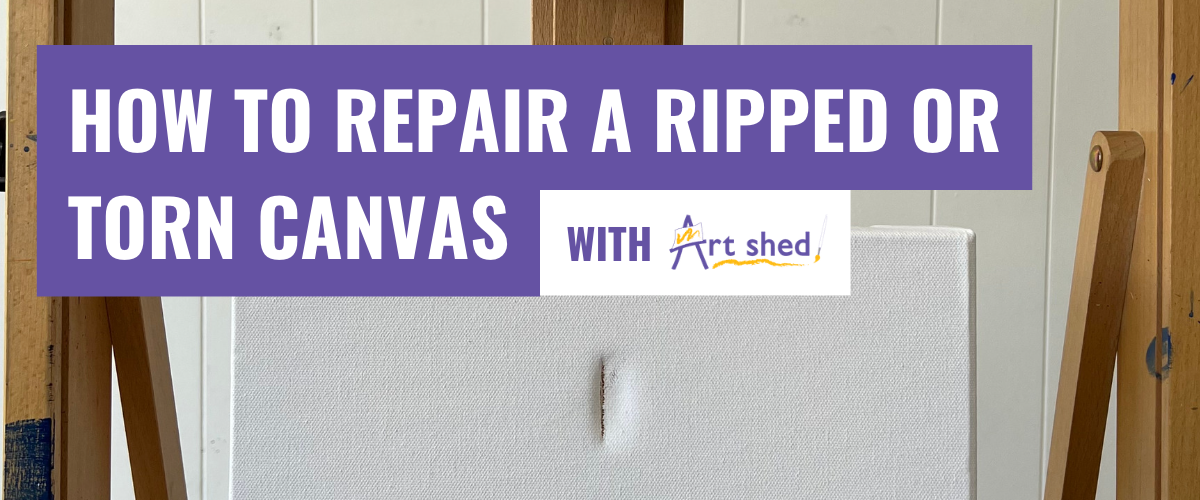 If you're a thrifty artist and are happy to repair a damaged canvas here and there, then this blog post is for you!! We often have ripped and torn canvas available for sale in the clearance section of our store at 475 Warrigal Road, Moorabbin. If you're not afraid of a challenge, or have an old ripped canvas lying about that you want to repair and use again, then look no further! This is how we would bring back to life those sad, ripped canvases.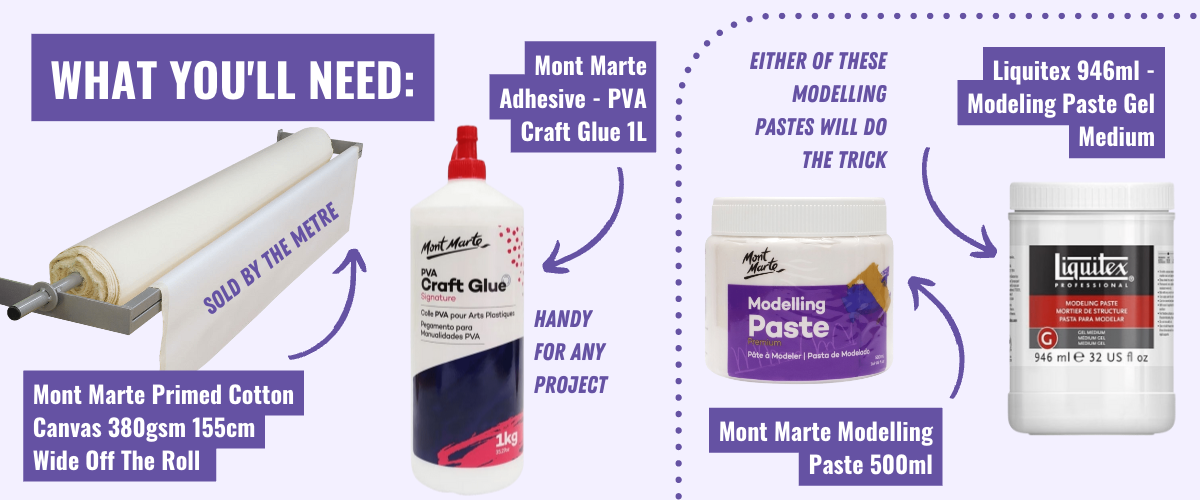 Here's what we used to repair our torn canvas:
Step 1:
Cut yourself a patch of canvas that is large enough to cover the tear or rip with about 3cm extra on each side of the hole. Place some baking paper (in this case, we used a sheet of tear-off palette paper with the waxy side facing up) and place your canvas facing down on top of the paper.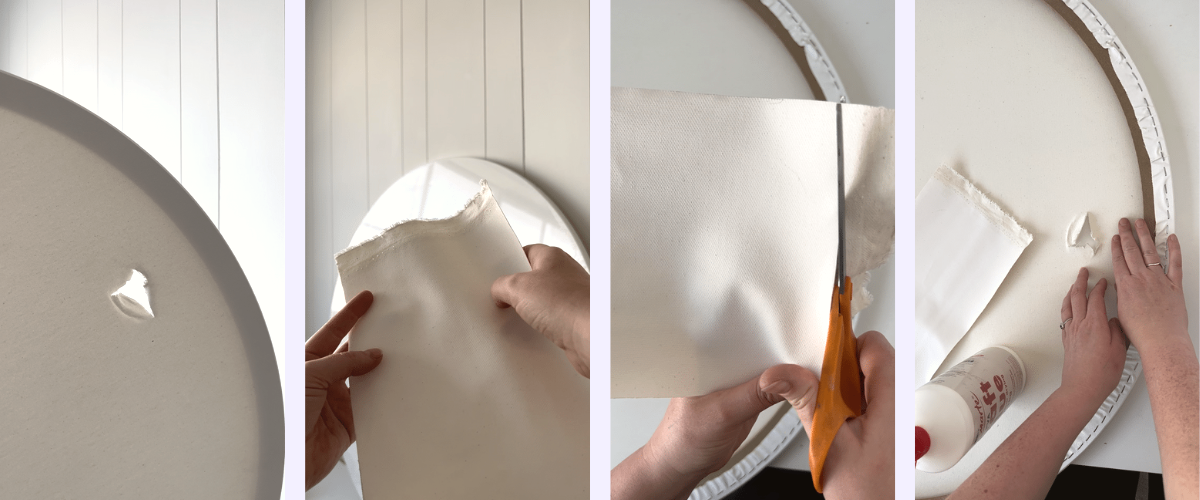 Step 2:
Use a generous amount of PVA glue on the primed surface side of your patch of canvas. You can use a Taklon bristle brush to help spread the glue out nicely and evenly.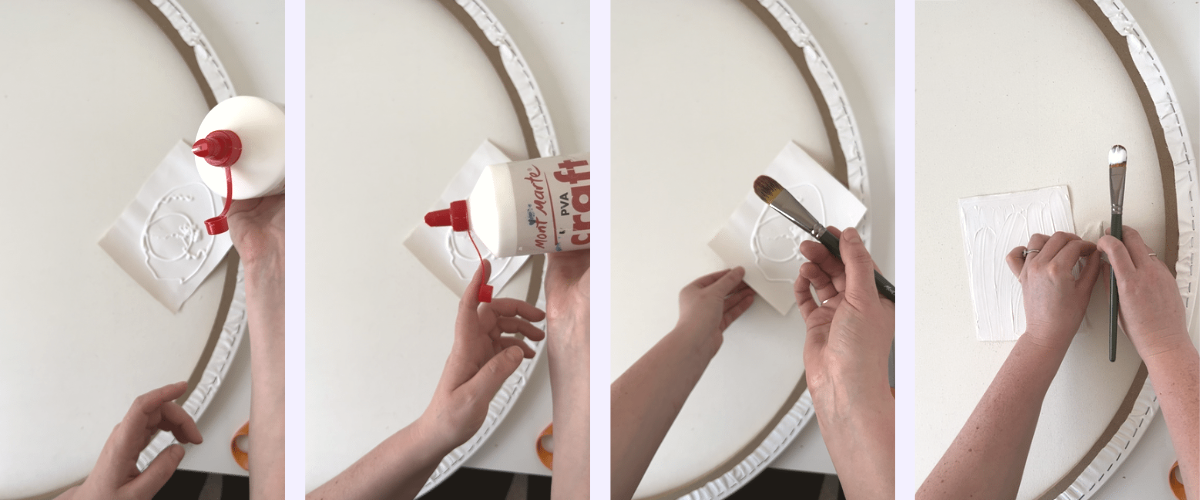 Step 3:
Pinch together the tear as tightly as possible and carefully place your patch down over the hole in the canvas. Make sure you apply firm and even pressure as you attach the piece of canvas to the damaged back of your stretched canvas. Make sure there are no air bubbles or areas where the patch is loose and unattached.
Step 4:

We placed a pile of heavy books over the patch for about 10 minutes before flipping the canvas over and allowing the glue to dry for about 30 minutes. Once the glue has dried, it's time to fill in the gaps on the front of the canvas with modelling paste. We chose to use the Liquitex 946ml - Modeling Paste Gel Medium for this project. As it dries, it has a beautiful matte, slightly granular, textural finish. We applied one layer, allowed it to dry, sanded it back and then applied another layer.
Step 5:
On this final layer of modelling paste, we tried a wet sponge to smooth out the surface even more. It definitely helped when it came time to give it the final sand.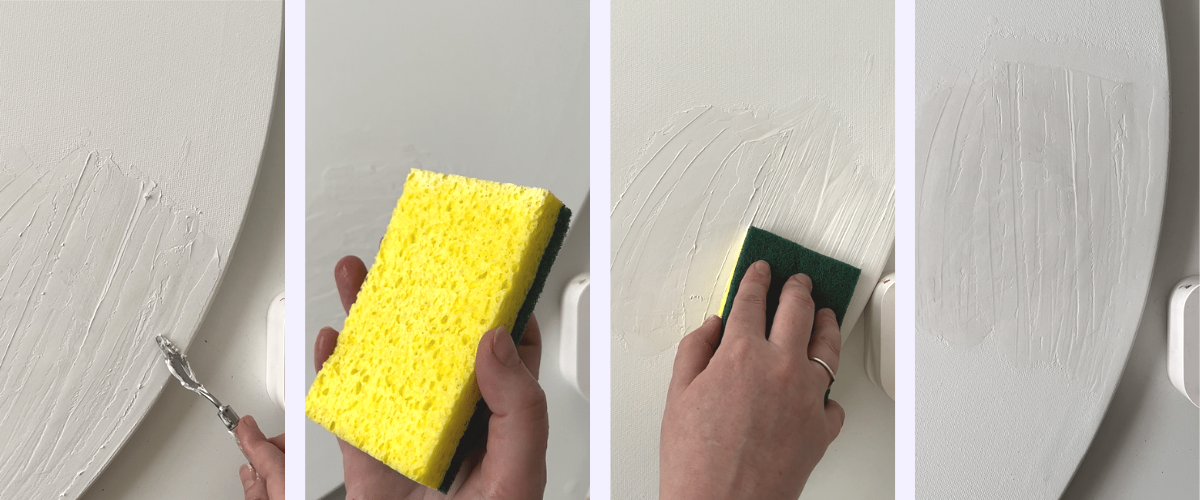 Step 6:
Once you are happy with the surface of the modelling paste, you can begin applying a fresh coat of gesso to the canvas. The gesso really helps to blend the surface of the modelling paste back into the surface of the canvas. We used the Mont Marte Taklon Abstract Expression Paint Brush - 50mm to allow a textural build-up of brushstrokes on the surface of the canvas. If you don't want this effect in your final painting, we suggest sanding in between coats of gesso until you achieve the desired finish.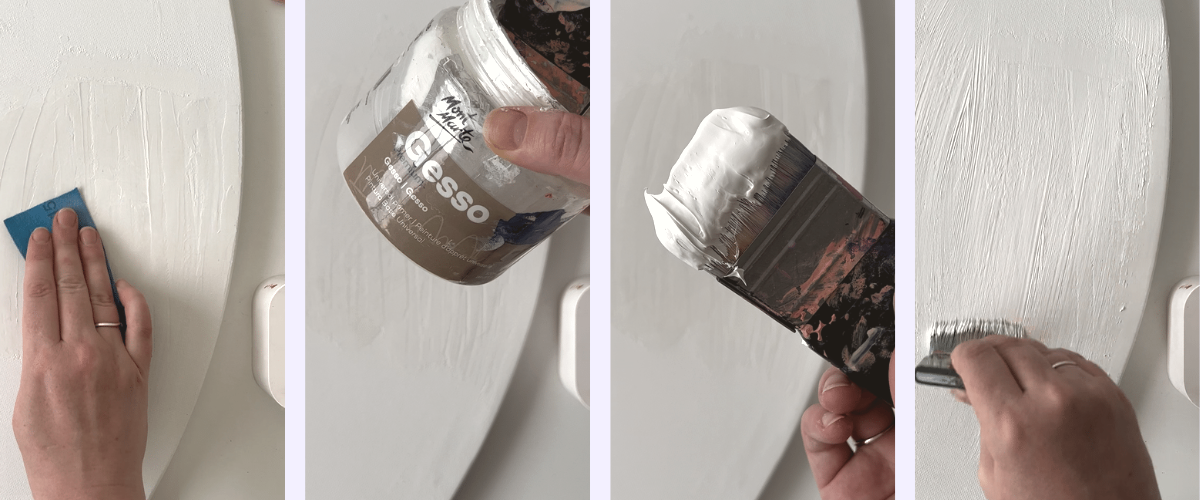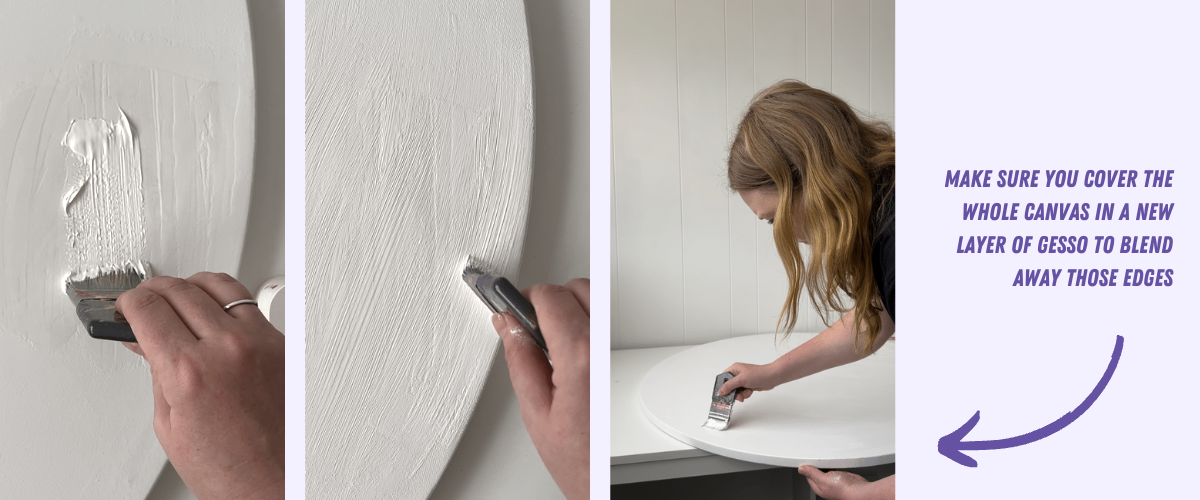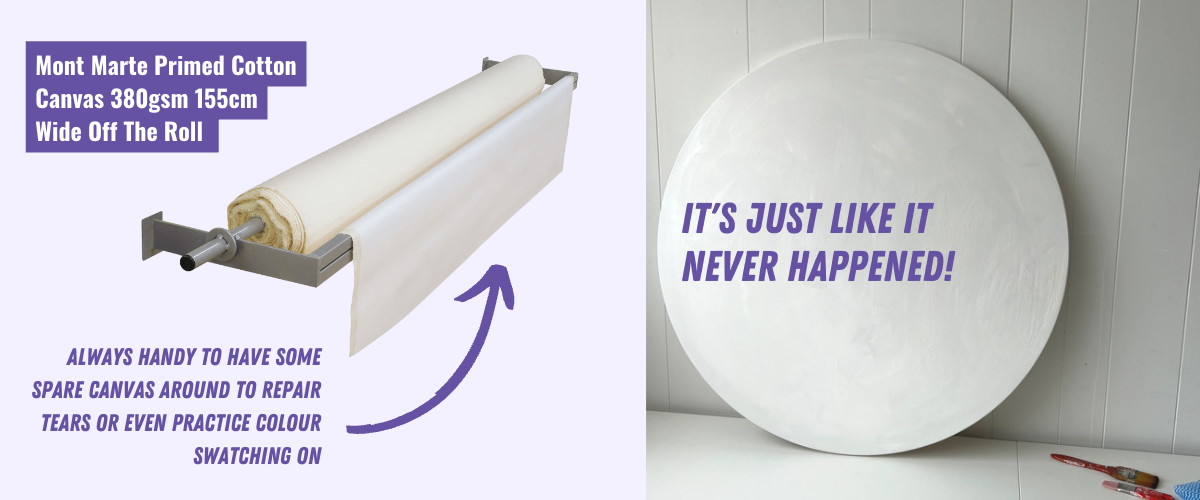 We hope this helps you patch up those dodgy canvases and gives you some more surface areas to create on. Don't discount the damaged goods bins ;) As always, stay creative, and don't forget to tag us @artshedonline
---
Comments (2)
Canvas repair

By:

carolyn bowman

on 29 January 2023

Very helpful advice for a blank canvas. How would you go about repairing one that is painted on? I don't want to lose the painting but can't do much with it as it has a small tear in one side. Any help would be very gratefully received.





Art Shed Online Response
Hi Carolyn, thanks for watching! We are so glad you found it helpful. It would depend on the painting, it may not be possible to repair a tear invisibly on the painted side. In order to repair a painted canvas, you would follow the same steps until the piece of canvas has adhered fully to the back of the painting. Then you would apply a small amount of gesso, or primer. Once it is dry mix your colours and patch up the tear on the painted side, using the same paints and techniques. Use a very small brush, and build up the colour in layers. Best of luck!
---
Great tips

By:

Lisa Walkerden

on 27 January 2023

I love the tips you give on all the little 'how to do stuff' it's very helpful So much appreciated thanks Lisa





Art Shed Online Response
We are so happy to hear that Lisa, thanks for watching!
---
Leave a comment