---
A guide to Painting Portraits with Acrylic Paints
Author: Dana McGorlick-Appelman Date Posted:19 January 2022
If you're looking for a fun and creative date night activity for you and your partner, look no further. This portrait painting activity is sure to make for an unforgettable date night experience, or a fun activity to share with friends!
Portraiture dates back over 5000 years to ancient Egypt, and has since evolved over the years from expensive paid commissions that signified wealth, beauty and status, to the documentation of the artist's muse.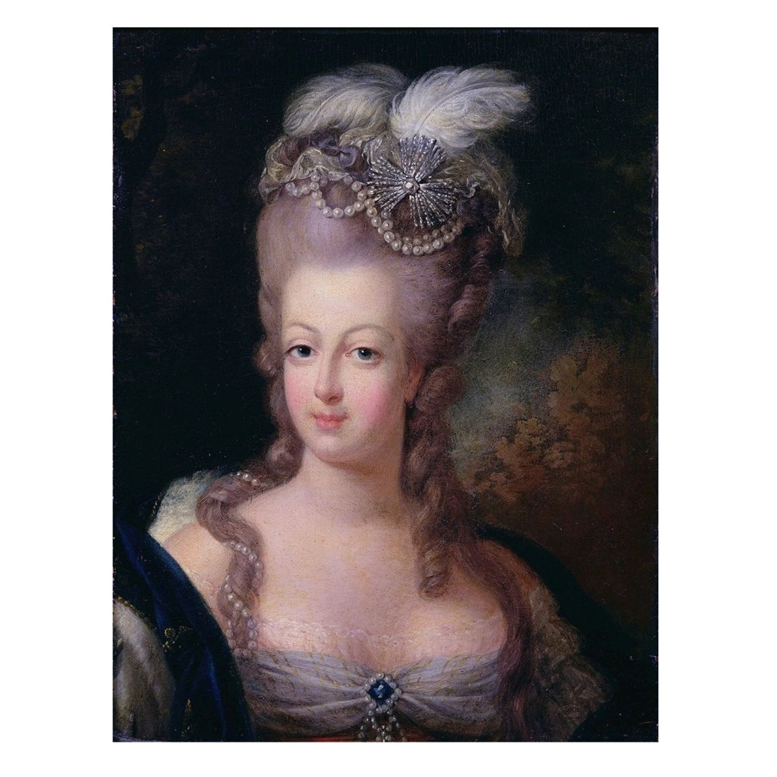 Paired with a glass of wine, portrait painting makes the perfect creative bonding activity for artists and couples of all skill levels, from complete beginners to seasoned pros.
There's no need to take these portraits too seriously, the more laughs the better!
How to Paint a Portrait in Acrylics
You will need:
A desk easel
A pre-primed Canvas
A palette to mix your paint colours
Set of Acrylic Paints in colours of your choosing
Synthetic Taklon Paint Brushes in a variety of sizes (Acrylic paint is best used with synthetic brushes rather than natural animal hair brushes)
If you're not sure which brush styles to choose, a curated brush set is great starting point. Alternatively, you can choose your own brushes depending on the style and level of detail you are hoping to create. If you're not sure where to start:
Flat brushes feature a flat ferrule with a square end

Bright style brushes feature a flat ferrule with a square end. It has shorter hair length than the flat style, and is great for making distinct definite marks.

Filbert style brushes feature a flat ferrule with rounded hair end. This is a versatile brush style that gives a softer finish than the flats or bright.

Round style brushes feature a round ferrule with round pointed hair. A very popular brush (as are the filberts) with tonal painters.

Fan-shaped brushes are great for adding highlights in grass and foliage. They are also good for blending.

Liner brush styles are fantastic for small details and are characterized by their long, thin bristles.

Large brushes are great for large, expressive, abstract expressionist style works.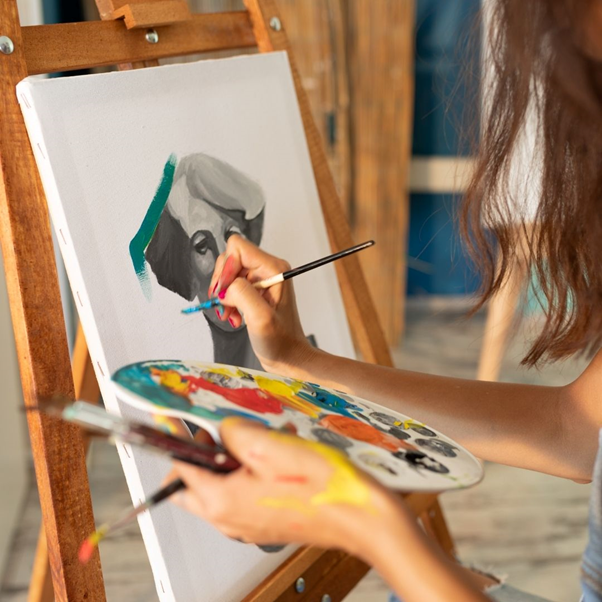 Things to remember:
Acrylic paint is naturally very fast drying. Remember that once the paint is dry, it cannot be re-activated. It can dry as fast as 20-30 minutes, depending on the thickness of the paint applied, and the temperature and humidity of the room. That being said, you should wait a few days for the paint to fully dry before varnishing to avoid cracking.
Now onto the fun part, painting your portraits!
Set up your workspace with your easels and canvas facing your partner.
Your portraits can be as realistic or abstract as you like. It can help however to lay down a quick sketch before you pick up the paintbrush to figure out the areas that you'll be painting first.
It's a good idea to start with the background of your piece first, and laying down blocks of colour before adding details in future layers.
You can also experiment by mixing your own colours- you don't have to stick to realism!
If you're not sure how to mix your own colours, a Colour Dial makes learning about colours and colour mixing a breeze - simply select your colour, line it up with another and see the colours you can make.
Remember to have fun! Art and creativity is all about experimenting and trying new techniques and styles. Don't be afraid to experiment with different methods, mediums, colours and supports to discover your own acrylic painting style.
Looking for a guide on how to create an abstract portrait of your partner? Let Art Shed Tom show you how!
Cleaning up
Once your paint is fully dried, it's very hard to remove. Remember to clean up with your paint is still wet using water.
You can also rinse paint from your brushes with running water while it's wet when you want to change colours. You can also dry your brushes with paper towel or cloth.
Protecting your finished portrait
To finish off your artwork and protect it from dirt, tarnish, wear stains, moisture and more, use Varnish. The Micador spray is a super easy option that's great for beginners and is available in gloss, matte or satin finish, simply to spray onto your finished artwork as a final protective barrier.
Need inspiration for your portraits? Use these artworks as a creative guide: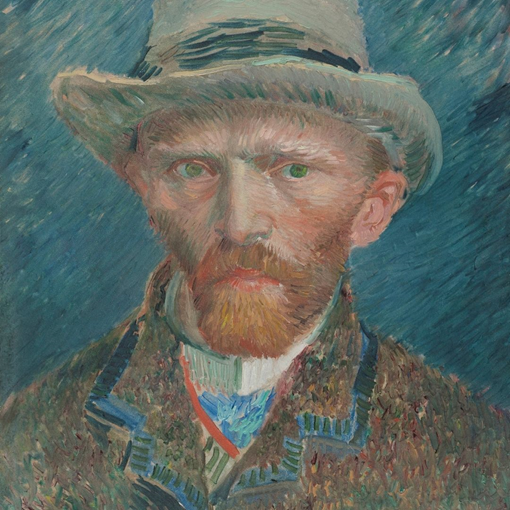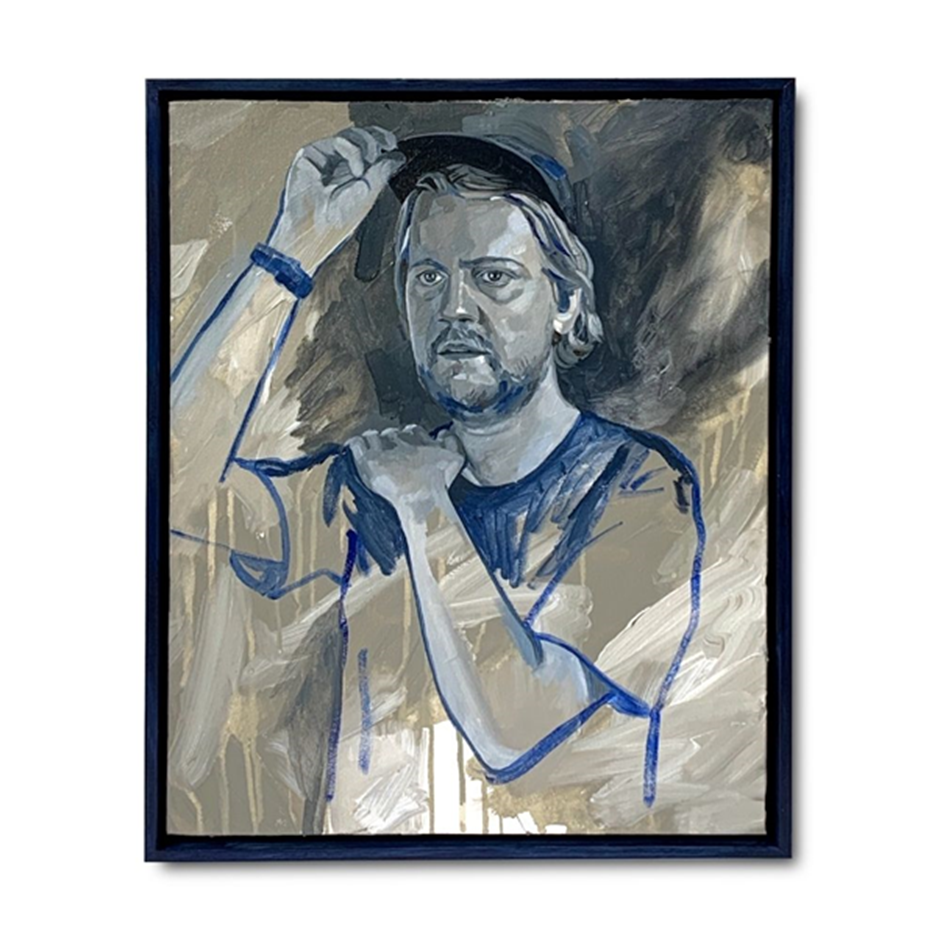 Artwork by Tom Parsons for the Art Shed Self Portrait Competition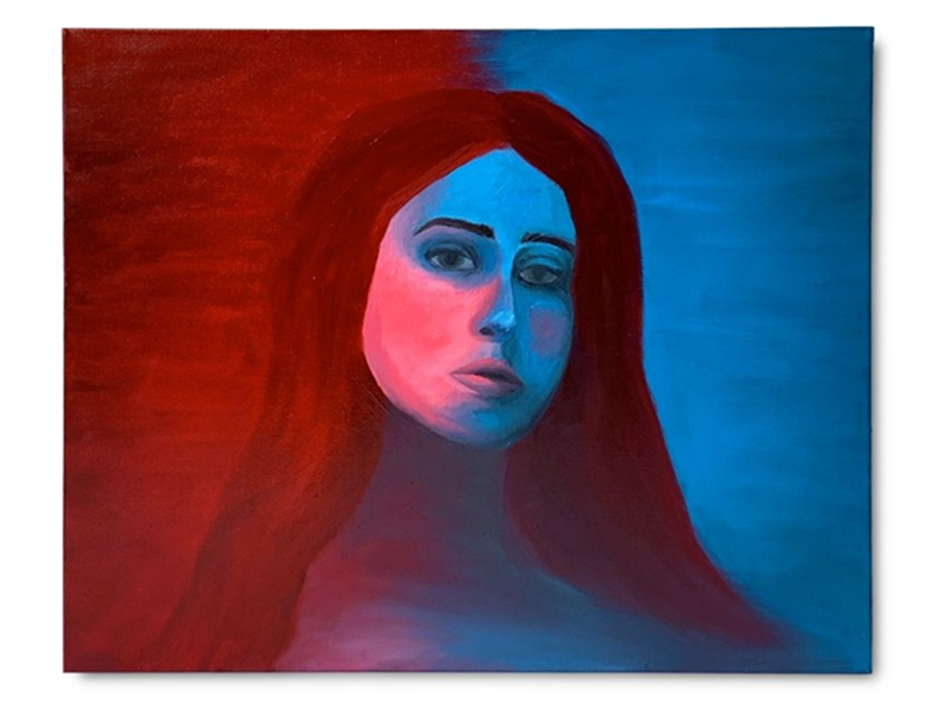 Artwork by Alysse Tyquin for the Art Shed Self Portrait Competition
If you're looking for further information on acrylic painting, check out our blogs on A Beginners Guide to Acrylic Painting, Acrylic Painting FAQs and 10 Acrylic Painting Tips.
Don't forget to show us your portrait paintings by tagging us on Instagram @artshedonline for your chance to be featured!
Got questions? Send us an email at customerservice@artshedonline.com.au and our friendly team of artists will do their best to assist you.
Have fun, and happy creating!
---
Leave a comment