---
Protecting your artwork: A Guide to Choosing Varnish
Author: Dana McGorlick-Appelman Date Posted:10 February 2022
How to choose the best varnish to protect your acrylic painting, oil painting, polymer clay, drawing, and more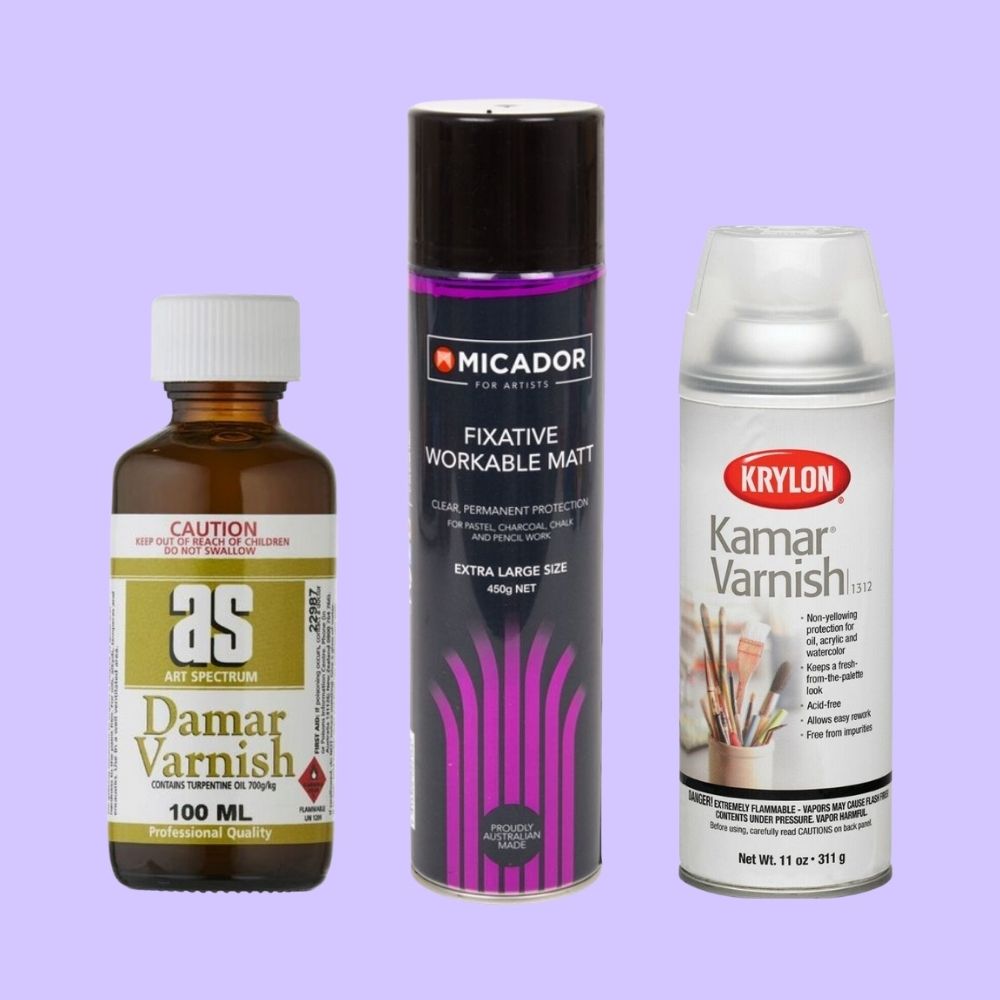 How to choose the best varnish to protect your artwork
How do I protect my Acrylic Painting?
To finish off your artwork and protect it from dirt, tarnish, wear stains, moisture and more, use Varnish. The Micador spray is a super easy option that's great for beginners and is available in gloss, matte or satin finish, simply to spray onto your finished artwork as a final protective barrier.
Some other great varnishes for acrylic paint include:
What is the Best Varnish for Oil Painting?
Once your work is finished, be sure to store your work out of direct sunlight, in a space that is somewhat temperature controlled. Once your work is fully dried, you'll also want to varnish your work to protect it. For this you can use:
Damar Varnish is a traditional varnish that can be used to finish oil paintings. Damar varnish gives a gloss finish and is applied as a permanent final coat to protect artwork from dust and other harmful residues.
Krylon Spray - Kamar Varnish Spray 311g
Krylon Spray Kamar Varnish can be used to provide a clear, long-lasting protective coat for oil, acrylic and other water-based mediums. The synthetic acrylic formulation of this varnish has been designed to protect like traditional damar varnish without the impurities, and therefore will not yellow over time. Dries to touch in 15 minutes and is fully dry in 2 hours. Coverage: 15 – 20 sq ft
Available in Gloss, Satin and Matte
Gamvar matte picture varnish saturates colours in your painting and gives your work a unified and protective surface.
Gamvar stays water-clear and can be easily removed with Gamsol. It is odourless and can be applied when the thickest areas of your work are dry and firm to the touch. Can be brushed onto oil, alkyd and acrylic works.
The Matisse Turpentine Based Gloss Varnish can be used once your painting is dried to give it a protective gloss coat. As the Varnish is turps based it can be used over acrylic or oil paintings to impart a glossy finish to your work. Multiple coats can be applied to achieve the level of sheen required.
This Varnish is best applied with a soft-bristled wide brush such as the Mont Marte Taklon flat brushes.
This Art Spectrum varnish is a satin-matt varnish made from beeswax and natural resin and suitable for oil paintings. It can be rubbed on straight from the tin, or brushed on if heated first by placing tin in a container of very hot water. It can also be buffed-up to a sheen with a lint-free cloth, and is removable with gum turpentine if necessary.
How do I protect my Pastel/ Charcoal/ Pencil Drawings?
Once your artwork is complete, the best way to protect your drawing after it's done is by using a fixative such as the Micador Workable Mat fixative, the Nuart fixative, or the Krylon Workable Fixatif. You can use tissue paper as a divider when storing artwork, and can also frame your work and keep it behind glass for added protection.
What is the Best Varnish for Alcohol Ink Art?
Krylon Spray - Kamar Varnish Spray 311g
Krylon Spray Kamar Varnish can be used to provide a clear, long-lasting protective coat for alcohol ink works, alongside oil, acrylic and other water-based mediums. The synthetic acrylic formulation of this varnish has been designed to protect like traditional damar varnish without the impurities, and therefore will not yellow over time. It dries to the touch in 15 minutes and is fully dry in 2 hours.
How do I protect my acrylic pour artwork?
There are so many options for varnish for acrylic pouring, however some great options are:
This Liquitex Gloss varnish is low odour, permanent and durable. It dries clear, resists discolouring (so it won't yellow), and dirt and water resistant, so it will protect your acrylic colour from the elements.
The Boom Gel Gloss Sealer can be used as a final coat on your Boom Gel Stain Artworks - as a final varnish.
Create beautiful resin coated fluid artworks with a two-part epoxy resin kit create perfectly clear glass-like finishes over the top of paintings- the finish is equal to many coats of traditional varnish applications. Just mix the two parts and pour or brush onto the surface.
How to protect my finished Gouache painting?
As Gouache can be reactivated with water, even years after painting, it is important to varnish with a spray fixative or frame your work with glass once finished to protect it from damage. A spray varnish in your desired finish such as the Krylon Spray - Kamar Varnish Spray 311g, the Krylon Spray - UV Archival Gloss Varnish 311g, the Micador Spray 450g - Satin Picture Varnish or the Micador Spray 450g - Mat Spray will all help protect your work.
How do I protect my finished watercolour painting?
Once you have finished your watercolour work, it should be kept out of direct light, and protected in a frame behind glass. You can also mount your work on acid-free mat board to prevent discolouration.
How do I protect Decoupage?
This Jo Sonja Decoupage varnish is a heavy-bodied formula for a thick lacquer-like coating especially formulated for decoupage artists to hide cut edges. 8 -10 coats of this varnish is equivalent to 35-40 coats of thinner varnishes, making it perfect for protecting Decoupage.
Mod Podge, available in both a gloss and a matte finish, is a milky white liquid that dries transparent in less than 10 minutes. It is the original all-in-one glue, sealer and finish, and is the decoupage glue of choice! The all-in-one sealer, glue and finish, Mod Podge is perfect for use with paper, wood, fabric and other porous surfaces. As a glue, it dries clear, holds tight, is non-toxic and can be cleaned up with soap and water, making it great for kids. As a sealer, it protects acrylic paints, stains, découpage and fabrics. As a finish, it may be sanded between coats for an ultra-smooth surface.
What is the best varnish for Polymer Clay?
When it comes to protecting polymer clay, opt for a varnish such as the Fimo Finishing Varnish- Available in

Gloss

and

Semi-Gloss
Water-based

Dries transparent (clear)

Touch dry after 20 minutes, fully dry after 24 hours

Solvent-free

Will protect from damage, fading and water

Suitable for Polymer Clay, Air Dry Clay and for sealing Metal Foils
What is a good sealer for works that are going outdoors?
Jo Sonja 250ml - Gloss Varnish
Polyurethane provides the toughest finish available. All varnishes have excellent brushing qualities and may be used inside or out to provide maximum, long-term protection. These varnishes dry clear and are non-yellowing. They have excellent corrosion, chemical, scratch and wear resistance. The three types of finishes available are Matte, Satin and Gloss.
Jo Sonja's All-Purpose Sealer is a surface 'primer' and will seal a wide variety of items in preparation for painting. Pre-priming with All Purpose Sealer or Gesso will ensure good paint adhesion and will prevent moisture loss into absorbent surfaces. Use All-Purpose Sealer rather than Gesso on items which require sealing without 'tooth' or opaque colour Suitable items for sealing include: wood, MDF (Fibreboard), cardboard, paper, canvas, metal, unglazed bisque and terracotta. Test for suitable adhesion on unusual surfaces. All-Purpose Sealer will assist adhesion to some plastics, soaps and wide candles where flames will not come in contact with the design. A light sanding is recommended to promote the adhesion of paint to any of these surfaces.
Got questions? Send us an email at customerservice@artshedonline.com.au and our friendly team of artists will do their best to assist you.
Have fun, and happy creating!
---
Comments (1)
Gesso over Kamar varnish

By:

Sandra Henderson

on 25 November 2022

Does anyone know if it is okay to completely gesso over an existing acrylic painting that has been sprayed with two coats of Kamar varnish and then do a new acrylic painting on top? I want to incorporate the old texture into my new painting.





Art Shed Online Response
Hi Sandra, great question! You can paint over varnished paintings, you just need to prepare the surface properly. We recommend you sand the painting lightly before applying the Gesso, and make sure you let it dry fully before starting your new painting. It is possible it could lead to cracking, as you have multiple different formauls underneath, but it is definitely worth having a go! Let us know how it goes!
---
Leave a comment