---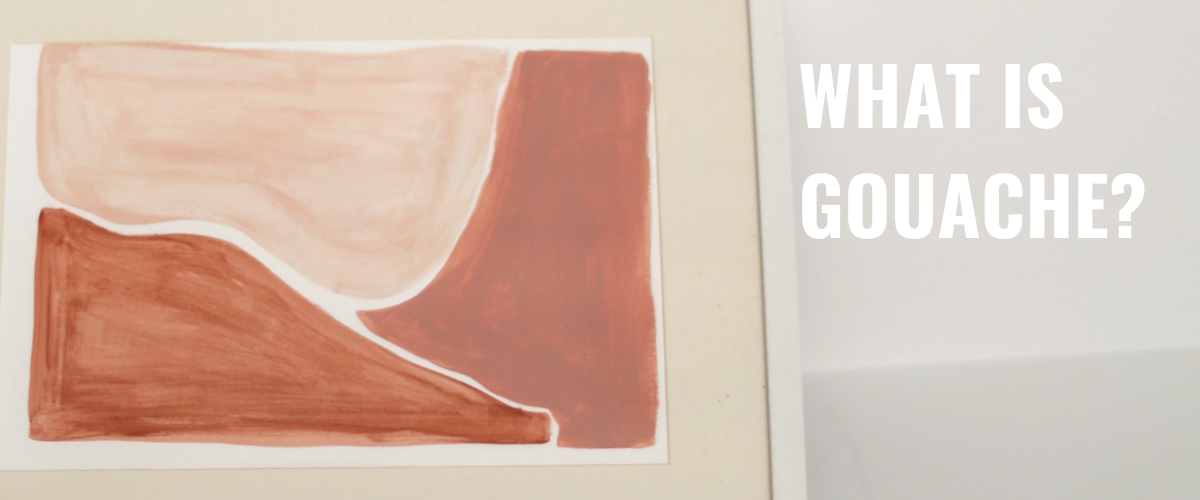 Gouache is a pigment that looks like the middle ground between watercolour and acrylic paint, with an opaque, matte finish. For this reason, it is often also called "opaque watercolour", though it boasts significant differences to watercolour paint, which we will discuss later in greater detail.
Gouache is made from a mix of synthetic or natural pigments and binding agents such as gum arabic or yellow dextrin, with chalk sometimes added to give the paint more body. Gouache is perfect for both large washes of colour as well as finer details and can be reactivated with water, even years after initial application.
It is also easy to photograph due to its matte finish with no light reflection and is water-soluble so it won't cake onto your brushes and is easy to clean up. Gouache can be used in a multitude of ways and with various techniques, making it great for both those new to painting as well as seasoned artists.
How to pronounce Gouache
While the style has been around for thousands of years, the word "gouache" originated in France in the 18th Century, and is pronounced gwash. It was created in homage to the technique of "guazzo", an Italian painting technique that has a similar matte yet muddier finish.
History of Gouache
Opaque, water-based paints have historically been used by artists for thousands of years, dating back to ancient Egypt where pigments were bound with honey. Persian Miniature paintings created in the middle ages also used a medium similar to Gouache, and famous artists including Albrecht Durer and Francois Boucher have relied on Gouache to create their masterpieces.
The French impressionists often relied on Gouache during the 19th century for their landscape "en plein air" works, and by the 20th century, Gouache was adopted as a quick-drying, medium of choice for commercial artists for posters, animations and comic books. Henri Matisse's iconic "Blue Nudes" series were also created using decoupage and gouache.
How is Gouache different from Watercolour and Acrylic paint?
While they may seem similar, there are a few main differences between gouache and watercolour paints. Gouache is a heavier bodied paint than watercolour, with larger, denser particles that leave a "flat" and opaque, rather than transparent, finish. Gouache is quick-drying and is perfect for expressive, experimental or gestural works on paper, and unlike other paints such as acrylics, it can be reactivated with a damp brush. It cannot be watered down to be more translucent like watercolour however, and also dries faster and darker than watercolour. It's heavier texture also makes it more suitable for canvas as well as paper.
What you'll need for Gouache Painting
Want to start experimenting with gouache? All you'll need is gouache paints, brushes, a mixing tray and a support such as watercolour paper (as well as some water).
Paints
A gouache paint set with a variety of pre-selected colours such as the Reeves Paint Set - Gouache 12 x 10ml, Reeves Paint Set - Gouache 18 x 10ml or the Mont Marte Paint Set - Gouache Paint 18pc x 12ml will be perfect for starting out. You can also view our range of individual gouache paint tubes here.
Brushes
For your Gouache kit, you'll need synthetic or natural fibre gouache brushes, which can also be found in a convenient brush set such as the Mont Marte Signature Paint Brush Set - Gouache Mixed Bristle In Wallet 11pc, the Mont Marte Detailer Paint Brush Set - Taklon Bristle Detailer Collection 15pc or the Mont Marte Premium Brush Set - Brush Wallet 15pc. You'll also want to keep the brushes wet when in use to move the paint around the paper.
Mixing tray
Gouache paints are housed in tubes of singular colours, however, to broaden the range of colours at your disposal, a mixing tray such as the Mont Marte Palette - Air Tight Watercolour Palette Large 18 Slot is what you'll need. Simply add a small amount of pigment to one of the wells, and add another colour and some water until you achieve your desired shade.
Support
Watercolour paper, thick drawing paper or even canvas are all suitable supports for Gouache. The Mont Marte Premium Cotton Watercolour Paper A3 300gsm 5 Sheet will provide an excellent base for your gouache creation.
Varnish
As Gouache can be reactivated with water, even years after painting, it is important to varnish with a spray fixative or frame your work with glass once finished to protect it from damage. A spray varnish in your desired finish such as the Krylon Spray - Kamar Varnish Spray 311g, the Krylon Spray - UV Archival Gloss Varnish 311g, the Micador Spray 450g - Satin Picture Varnish or the Micador Spray 450g - Mat Spray will all help protect your work.
How to use Gouache
Gouache can be applied in a variety of ways, including with a dry brush, however, the most common application is done by diluting the paint with water until it resembles a "yoghurt" like consistency and then applying it to watercolour paper or canvas.
Some common techniques used in Gouache painting include:
Wet on Wet
Wet on Wet is a process that will help you achieve softened shapes and lines or for backgrounds. Simply dampen the paper, and then add wet Gouache to it.
Opaque layers
To achieve a vivid, opaque colour, apply the Gouache with a very minimal amount of added water. This is perfect for filling in any areas that you want to be bold and stand out.
Stains
To create a thin, stain like consistency, mix Gouache with water to then spread it across the page. This can be particularly useful for backgrounds or in landscape painting.
Blooms
Blooms (irregular puddles of colour), can add a beautiful abstract watercolour style aesthetic to your work, and can be achieved by soaking your brush in water and adding a little amount of paint, then blotting onto paper.
Texture
To achieve feathered textures in your Gouache painting, add slightly wet gouache to your brush, then wipe it on a paper towel until roughly thirty per cent of the paint is left, and apply the remaining paint to your work.
Reactivating dried paint
Gouache can be reactivated even years after it has been left to dry with water, allowing you to continually re-work and style your piece and achieve unique effects.
Show us your creations on Instagram by tagging us @artshedonline
---
Comments (1)
Let me at this medium

By:

Devone Jones

on 19 July 2021

Found your comments on the history and how to use this medium gouache, to be very enlightening, makes me want to rush to a canvas now. Have used most types of paint, at the moment having a love affair with Alcohol Inks, but am very excited to change direction once again.
---
Leave a comment