---
How to choose your desk easel
Author: Dana McGorlick-Appelman Date Posted:1 June 2021
Looking for a desk easel but not sure which one is right for you? Mont Marte has an incredible range of desk easels, perfect for beginners through to professional artists!
Desk easels are perfect for the artist short on space or on the go, and are great for showcasing small paintings. They're designed to placed on a desk or table and can be used while standing or seated at your table. These are the perfect choice if you don't have much space to store a larger sized easel, and pack neatly away under beds or in cupboards. Easy to assemble, these are great for beginners wanting to get started in painting or drawing: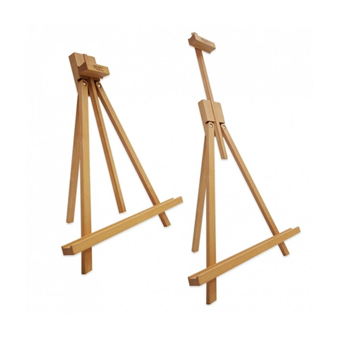 MEA0013- Mont Marte Artists Display Easel 40 x 50cm
The Mont Marte Beechwood Table Display Easel assembles with ease and can be stored flat when not in use. It is perfect for displaying artwork or signage. It holds a single thick (18mm deep) canvas up to 50cm in height. It sits 40cm wide, 27cm deep and 45-77cm tall.
MEA0014- Mont Marte Mini Display Easel 40.5 x 22cm
This Mont Marte Mini Display Easel is made of Beechwood and is superb for showcasing smaller paintings. This easel is perfect for displaying signage in retail spaces, showing your work at markets, or for displaying your favourite paintings at home. It holds a canvas approximately 40cm high, and sits 22cm wide, 13cm deep, and 40cm high.
MEA0023 – Mont Marte Desk Easel – Compact Tabletop Easel w/Drawer Pine Wood
The Mont Marte Table Easel is a small and functional easel with adjustable angled canvas support (up to 60 degrees) and a spacious sliding drawer for accessories such as paint and brushes. It folds up for easy storage and has a convenient carry handle for transporting. This easel is a great easel for a beginner, or for someone wanting to work on some small painting on holiday etc. Made from lightweight Pinewood and hand finished with oil and brass plated steel fittings. It folds up for easy storage to 26 x 33.7 x 6.4cm.
MEA0038- Mont Marte Aluminium Table Top Easel
Mont Marte Aluminium Table Top Easel is a compact, lightweight and high-quality little easel perfect for the artist short on space, or who is always out and about. The Split back leg of the easel allows the angle to adjust, and the rubber feet help the easel from not slipping and sliding. This easel is great for artists on holidays or those who like to work in the field and require a portable solution. It would also be a great option for small art classes or for displaying artwork. Made from a lightweight black aluminium. Features a bag for storage and transport. It holds a thin edge canvas (20mm thick) up to 50cm in height
MEA0039- Mont Marte Tabletop Box Easel Med – Beechwood
Mont Marte's classic tabletop easel is made of beech wood and boasts a compact design with internal storage for your paints and brushes. This easel is ideal for those working on a smaller scale or with limited space who still require a quality easel to support their canvas. With an interior compartment, this easel is also a great storage solution for your paints and tools. The smooth beechwood finish gives a sleek and classic appeal to this desk easel. And the leatherette handle makes transporting this easel really easy. The canvas rest and adjuster can hold a canvas up to 2cm deep and canvas up to 52cm high. When collapsed, the easel measures 36 x 27 x 9.5cm.
MEA0035- Mont Marte Signature Desk Easel – Large Tabletop Box Style Beech Wood
Create art out and about with the Mont Marte Signature Table Top Box Easel. Featuring plenty of space to store all of your art supplies such and paint, pencils brushes and more, this easel has a foldable design allowing you to take it with you wherever you may feel creative. This box easel is also a great solution for creative artists who have minimal storage space at home or in their studio. Open it up, paint or create and pack it away, easy and 1-2-3. Holds a canvas up to 70cm high and 2cm deep. Folded up, 45 x 33 x 13.5cm
MCG0007- Mont Marte Pine Desk Easel – Small Reclinable Tabletop Style
This compact Pine Table Easel is a great entry-level easel for someone who is new to painting. It adjusts to 7 different angles perfect for a variety of painting applications and folds completely flat for storage or transportation. The height is also easily adjustable and holds a canvas up to 58cm tall. Approx dimensions of Assembled Easel - Width - 30.5cm, Overall Depth - 41cm, Height - up to 60cm