---
Essential Supplies for University
Author: Dana McGorlick-Appelman Date Posted:4 January 2022
While the exact supplies you'll need for university differ from course to course, there are a few study essentials that will help you get the most out of your degree. Keep reading for our guide to our must-have study supplies.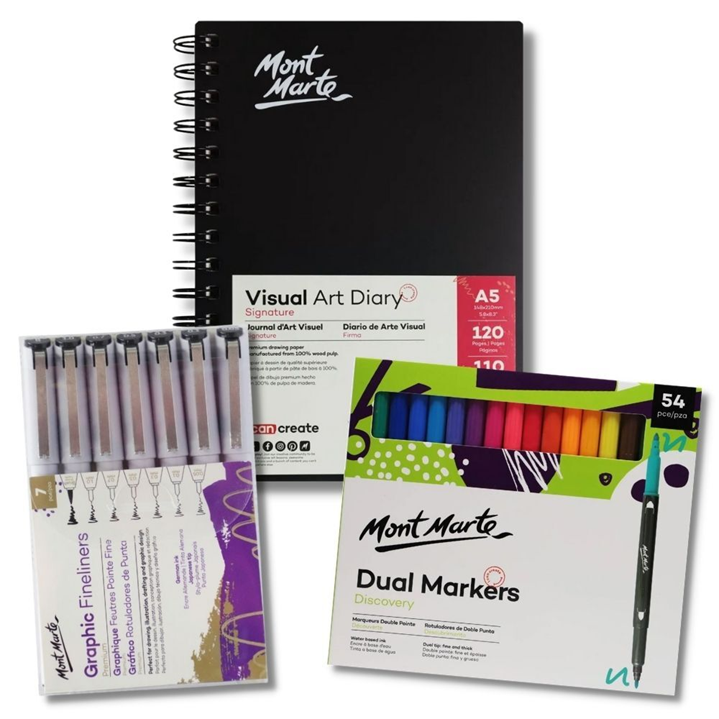 Bullet Journaling was designed to "help you track the past, organize the present, and plan for the future", and this simple kit has everything to get started!
Bullet Journaling helps with organisation, productivity and mindfulness. It can highly assist with daily tasks, appointments, events, checklists, goals, work commitments and much more!
The method of bullet journaling is a visual process, so we have included a 54pc Marker Set for a full range of aesthetic pleasing colours that can be used for highlighting, categorising and doodling.

The fineliner set includes a range of nib sizes which allows for differentiating between headings and different writing techniques.

The A5 Visual Diary journal has 120 pages and is the perfect size for keeping at home or work or taking it on the go. It features a spiral binding so pages can be removed easily without affecting any other sheets.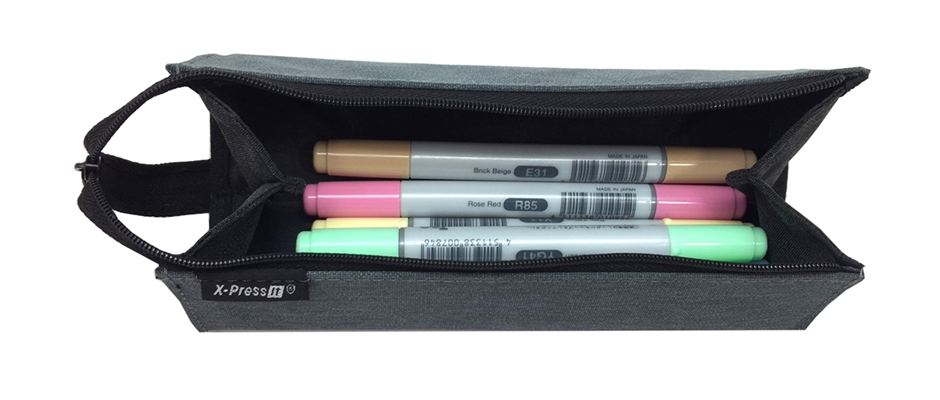 The X-Press It Zipper Tray Case is made with two-toned durable fabric with a sturdy zipper, and is perfectly suited for containing and carrying Copic Markers, Pens or Pencils.
The unique design of the Zipper Tray enables the case to be opened up into the shape of a tray for easy access of your pens.
The case has an inner lining and is also water-resistant to protect your pens. A handle is built into the design of the zipper for easy handling.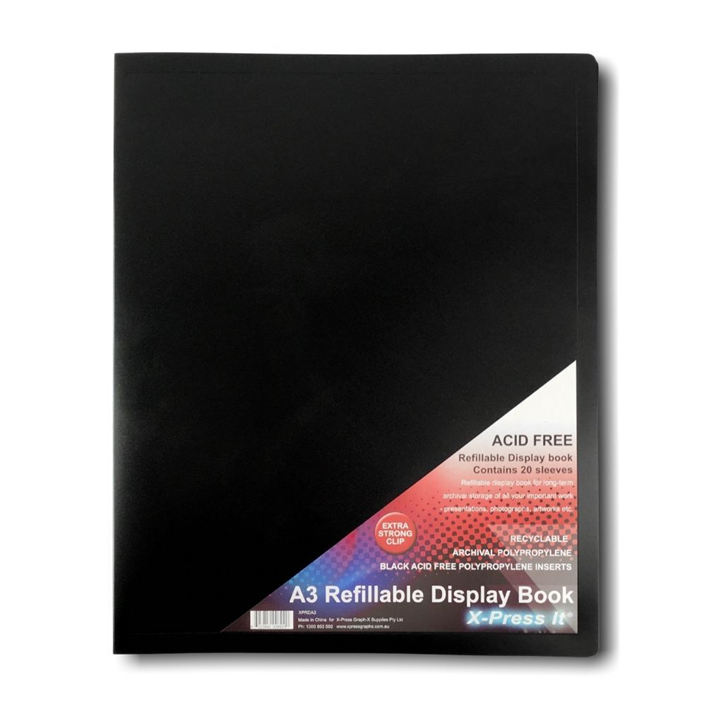 We suggest: X-Press It Refillable Display Folio - Black
X-Press It A3 Refillable Display Book is suitable for presentations, photographs, artworks, important documents and more! They contain 20 refillable sleeves with black polypropylene inserts, and the folio is acid-free and of archival quality.

We suggest: Talens Art Creation Sketchbooks
Talens Art Creation sketchbooks are sturdy, hard-bound sketchbooks perfect for note-taking, drawing, journaling, urban sketching, field studies and more! Ideal for use with pencil, pastel, acrylics, gouache, ink, charcoal, and light washes of wet media. They contain 80 sheets of acid-free, 140 g/m² (90 lbs) paper. These books are perfect for keeping all your notes in one place and has a bookmarker string for marking the page of one's latest work and a book closure band to keep the book closed and compact while carrying.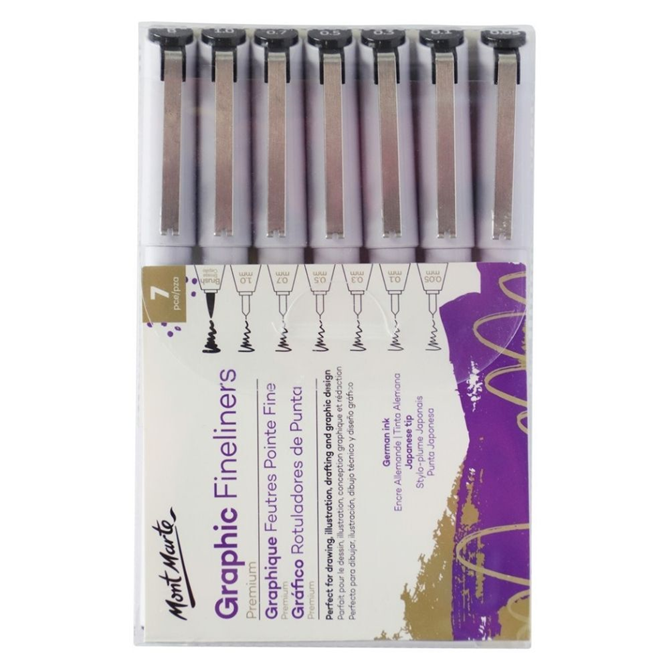 We recommend:
Perfect for illustration, outlining and lettering, the Mont Marte Graphic Fineliners feature fine, firm nibs for creating crisp, precise lines. This pack features 7 graphic fineliners in varying sizes with easy-flow, quick-drying, water-based ink that's completely odour free, so won't emit the fumes an alcohol-based marker will making them safe for artists of all ages. Each fineliner has a soft-grip barrel that's comfortable to hold and allows you to maintain control for precision drawing. Complete with a hard plastic storage case, these fineliners can be easily transported to work, school or the studio and packed away neatly and compactly.
The Uni Pin Fineliner Pens are renowned for their excellent quality. Containing Uni's high-quality Super Ink that's waterproof, fade-proof, lightfast and permanent. The strong steel tip at the base of the pen protects the nib from fraying and spreading maintaining its firm shape for years to come. The round barrel is super smooth and comfortable to hold and is fitted with a snap-lock lid to ensure your pigment ink does not dry out. Ideal for free-hand drawing, writing, outlining or drafting; these versatile pens will stand the test of time and keep your work looking professional and of the highest quality. These fineliners are also perfect for work with watercolours or other liquid-based media as the ink won't smudge. Great for both beginner and professional artists alike, as well as for note-taking and presentations. Contains one each of 0.1, 0.2, 0.3, 0.5 & 0.8mm tip.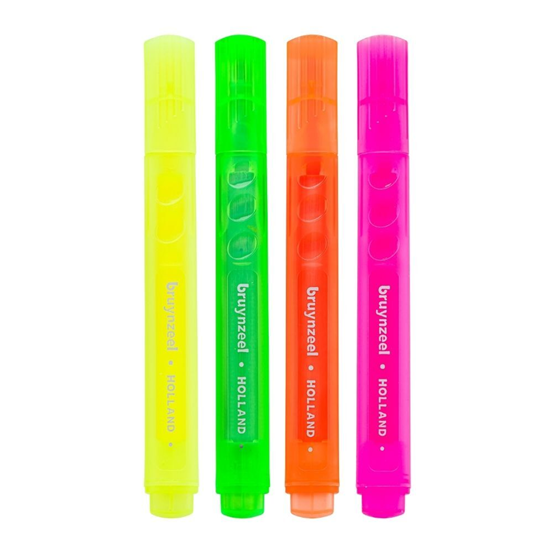 We recommend: Bruynzeel Highlighter Set 4pc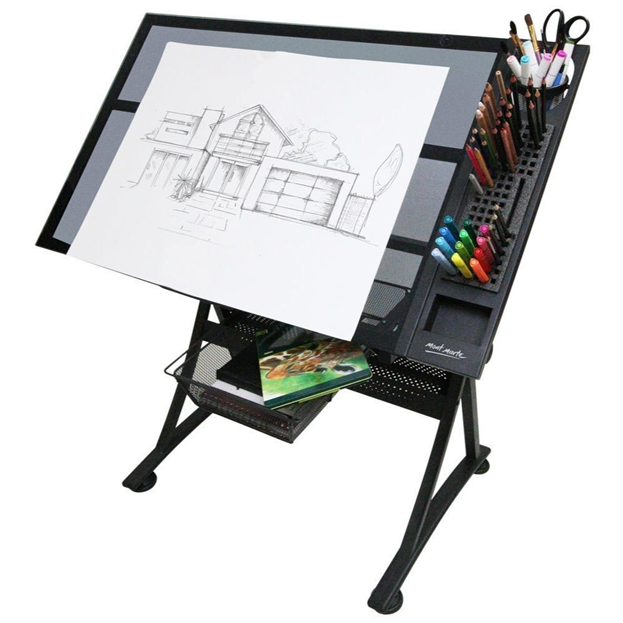 Ultra-stylish and Functional Creative Art Workstation. A workstation that helps keep essentials organised and close at hand!
Revolutionise your creative workspace with the Mont Marte professional-grade art station. Featuring an art desk, plenty of places for your materials and an ergonomic design, it gives you a sturdy and practical space to work.
This versatile art station is suitable for a range of creative disciplines; from art and craft projects to drafting and large-scale jobs such as mapping and architectural work. Adapt it to a standing or sitting position using the ergonomic height-adjustable design.
Featuring a sturdy base, tempered glass easel with a tilt range of 60 degrees, steel frame and iron drawers for storage space, this multi-use art station is practical and built to last.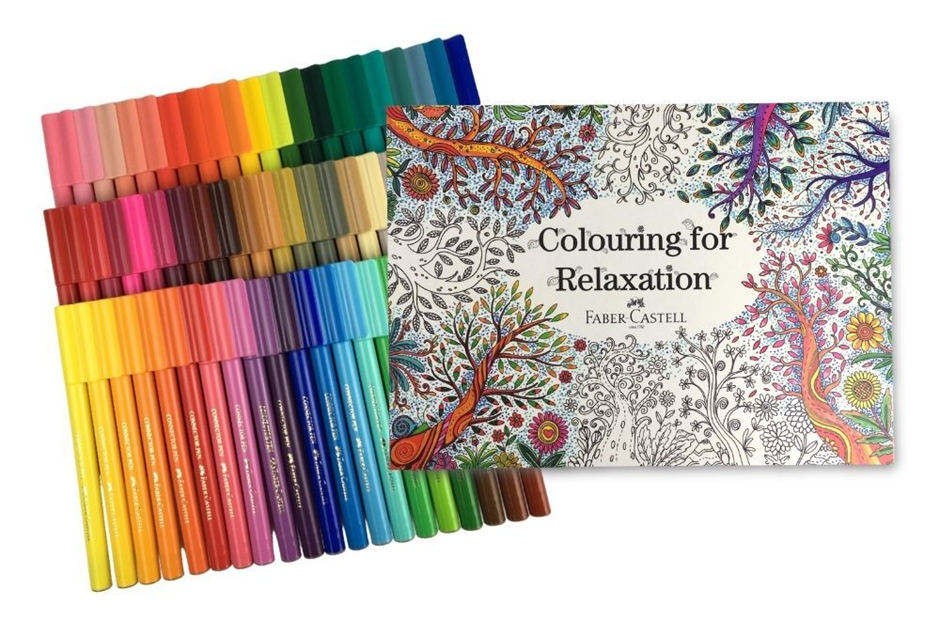 Taking breaks between studying is extremely important, not only to maximise your potential to retain information and results, but also for your mental health.
Featuring Faber Castell's bestselling Connector Pens, the Colouring for Relaxation Gift Set is perfect for gifting the gift of creativity! This gift set is beautifully packaged and includes a 50-page colouring book is full of detailed, whimsical and satisfying designs.
A 50-page colouring book filled with beautiful illustrations

60 Connector Pens to inspire your creativity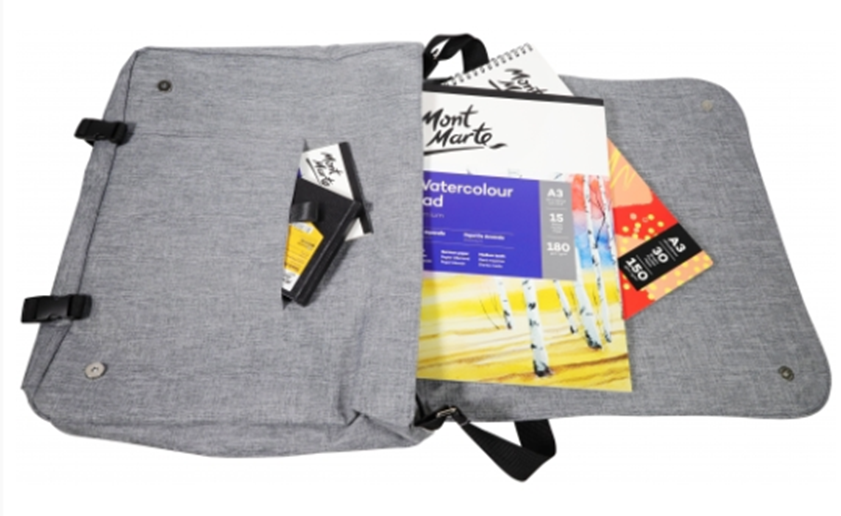 It's easy to get your university supplies from A to B with this Premium Art Satchel.
Made from a soft and durable 300 denier Oxford fabric. It features a Magnetic press-stud closure, Zippered main compartment with padding, Front zippered pocket, Lining in the main compartment and front pocket, Adjustable shoulder strap, 2 adjustable carry loops
We recommend: Copic Markers
Copic Markers are used commonly among graphic artists, designers, also for craft and calligraphy, however, they're great for colour coded note-taking, bullet journalling, presentations and so much more. Perfect for school, uni, work or in the studio, they are fast drying, non-toxic and are available in a wide range of colours, and much of the range is re-fillable, making them an eco-friendly and economical marker choice.
What are your favourite study essentials? Tell us in the comments below!
Got questions? Send us an email to customerservice@artshedonline.com.au and our friendly team will do their best to assist you.
---
Leave a comment