---
Perfect Painters Presents for Christmas!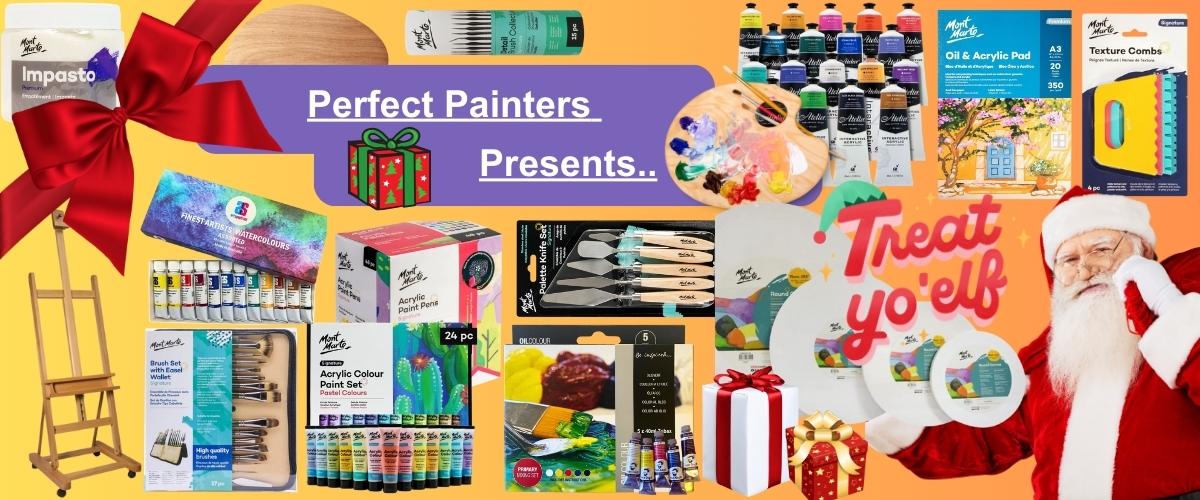 Know an artist who loves to paint? Need to buy them a gift for Xmas, but unsure where to start? Our team have put together a list of Christmas gift ideas that we ourselves (as artists) would love to receive for Christmas. We've covered every budget and level of experience so picking a gift is stress-free. Just find out whether they paint with oil, acrylic or watercolour - and we've done the rest!
See what we recommend below...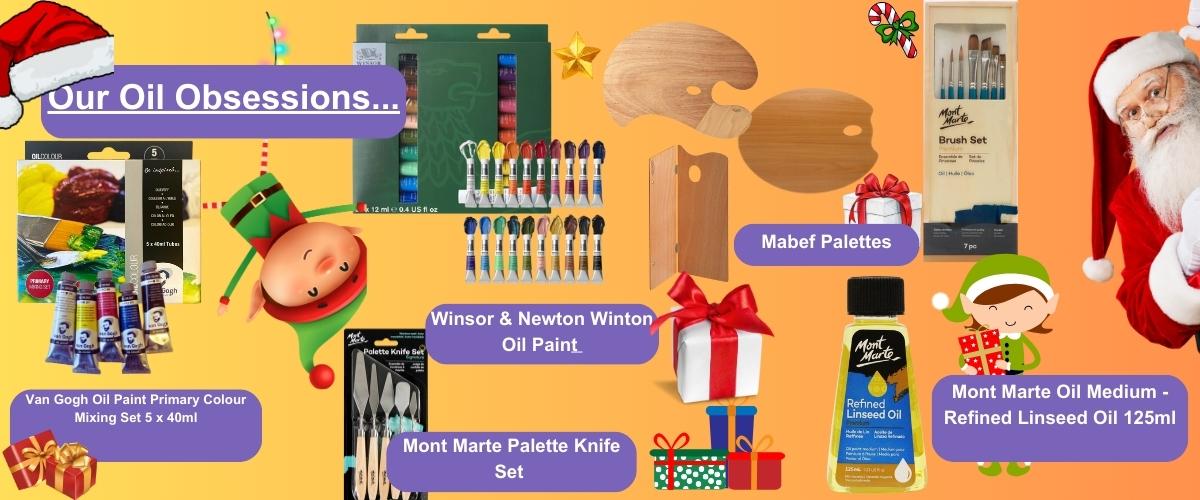 For The Oil Obsessed
Mabef MDF Palettes are good quality and suitable for painting with acrylic and oil paints. They are sturdy enough for regular studio use and are made in Italy to the highest standards. The range of palettes is suitable for both right-handed and left-handed artists, making them a perfect gift.
Winsor and Newton is a known and trusted brand among artists - so it is likely your oil-loving friend will love this gift!
Their Winton Oil Colour is excellent value and perfect for everyday artists, students and beginners learning how to use oil.
Each tube of Winton Oil Paint has a high level of pigmentation to provide solid coverage and mix ability.
Van Gogh Oil Paints have been developed for artists who are searching for quality and exceptional value. With good to excellent lightfastness, the colours remain powerful and brilliant over time. These pure-pigment paints are formulated using pure linseed oil, with the exception of Zinc White and Titanium White which are ground in safflower oil. In addition to the lively colours, you've also chosen high quality oil colours. The fineness, the colour intensity, the high content of pigment and durability contribute to the ultimate expression of your inspiration.
Mont Marte Paint Brush Set - Oil Brushes In Wooden Box 7pc
This Mont Marte Paint Brush Set - Oil Brushes In Wooden Box 7pc is a great introductory set to professional quality brushes. The 2-tone 0.1mm Taklon bristle is strong enough to use with oil paints and heavy-bodied acrylics. These brushes offer a smooth finish and come in a great range of sizes and shapes. Their presentation in a wooden box makes them a quality gift.
This Stainless Steel Palette knife set by Mont Marte is an essential studio accessory. Featuring 5 great-sized and shaped steel palette knives allowing the flexibility to mix paint on various scales and apply paint with the knives to achieve different textures and results - great for oil artists!
Mont Marte Oil Medium - Refined Linseed Oil 125ml
Mont Marte Refined Linseed Oil can be added to Oil Paints to increase the flow and transparency of the paint, while also slowing down the drying process.
This medium is a mid-viscosity oil paint medium and is a great choice for artists looking to create glazes or to create wet on wet techniques.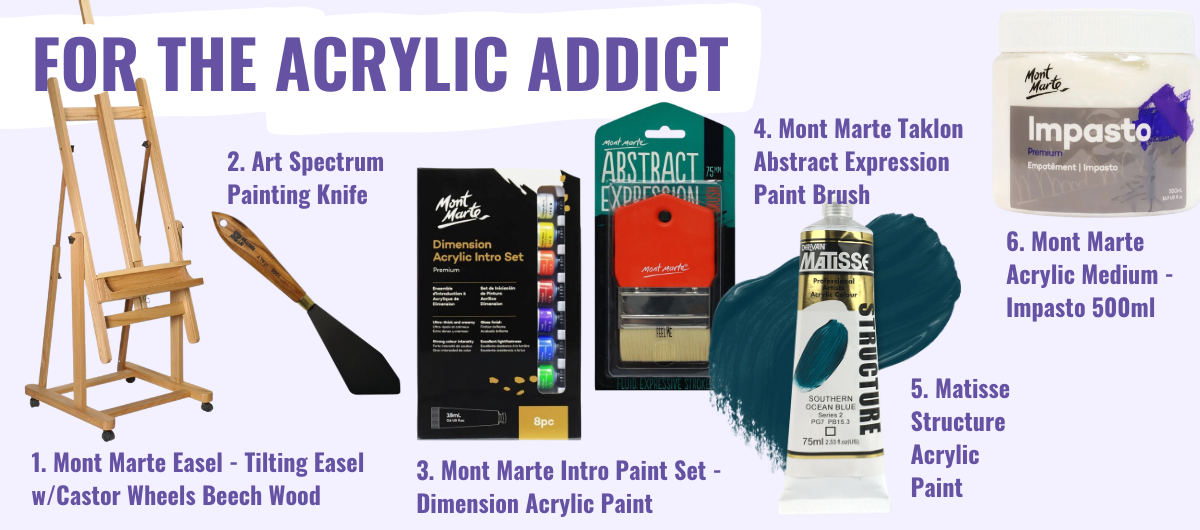 For The Acrylic Addict
Mont Marte Floor Easel - Tilting Studio Easel w/Castor Wheels - Can Lie Flat Beech Wood
This Tilting Studio Easel is an extremely versatile easel suitable for artists producing large-scale artworks. The easel has a large tilt range including the ability to tilt completely flat. This feature enables the easel to be used for watercolours, pastels, gesso, varnish, and glazes. The ability to hold a canvas of up to 207cm makes this easel perfect for artists who create large works of art.
Art Spectrum Painting Knife
It is likely your artist friend will have a lot of paint brushes, so if you want something a little out of the ordinary, gift them these Art Spectrum Painting Knives. They are high-quality professional Palette Knives for paint mixing and paint application. Made in Europe with hand-ground hardened steel blades in a black burnished finish, and with an Olive wood handle, it is held together with a polished brass ferrule. Sounds fancy, but simply, they're a great gift.
Mont Marte Intro Paint Set - Dimension Acrylic Paint 8pc x 18ml
Mont Marte Dimension Acrylic paint is a high-viscosity, fine art paint that offers artists a new "dimension" in painting (see what we did there!). This acrylic's ultra-thick consistency can be applied with a brush, palette knife or shaper to create especially exaggerated texture effects. It then dries hard and holds its shape while still maintaining flexibility and smooth flowability.
Mont Marte Taklon Abstract Expression Paintbrush
The Mont Marte Abstract Expression Brush is perfect for every type of painter but less traditional than the long thin paint brushes we're used to. It can help artists produce fluid expressive strokes, and sharp edges, covering larger areas on the canvas and is amazing for blending. The short, robust Taklon bristles enable each artist to manipulate even the thickest mediums such as heavy-bodied acrylics.
Matisse Structure Acrylic Paint
This is a high-quality artist's acrylic that is widely loved and internationally exhibited professionally. But it is also Australian-made and owned, making it even better in our eyes. 'Structure' means it has a rich, buttery texture, perfect for thick application and creating texture. It can be used straight from the tube or thinned with mediums from the Matisse range, while still holding it's vibrantly pigmented colours. Choose their favourite colour, or yours, and if you're still stuck, go for white as it is the most popular colour.
Mont Marte Acrylic Medium - Impasto 500ml
Impasto is a medium that artists use to add expressive qualities like texture or brush strokes to their work. It is clear drying so it can be painted over, or the colour can be mixed in with Impasto directly before application and will not change the effect of the final colour. Because Impasto is a water-based medium it cannot be mixed with oils but it can be painted over with oils once left to dry. Get impasto as a gift for an acrylic lover who loves to play with texture.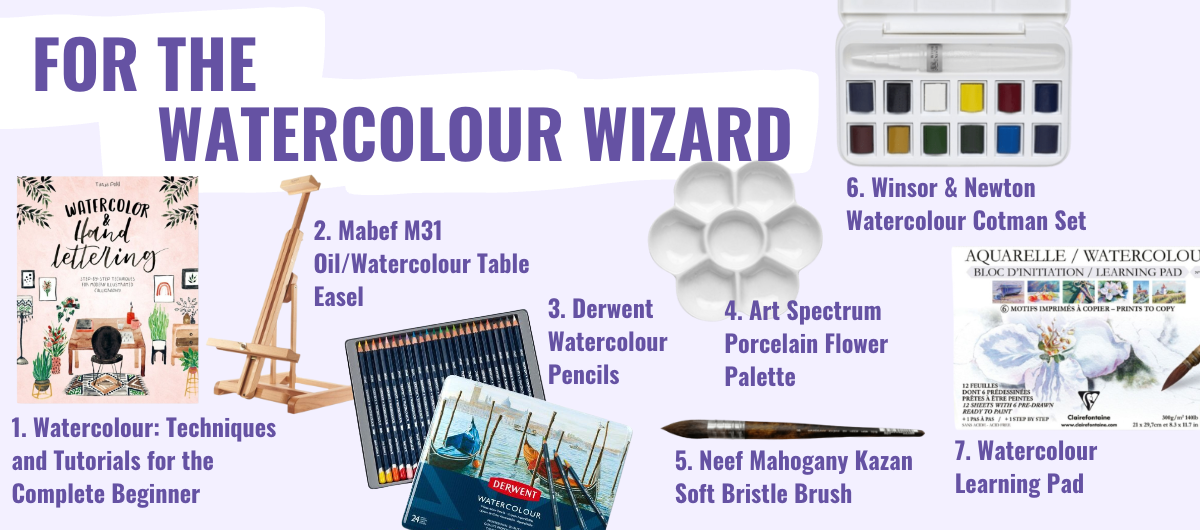 For The Watercolour Wizards
Watercolour: Techniques and Tutorials for the Complete Beginner
This is the perfect book for anyone with an interest in learning how to paint with watercolours!
Professional illustrator and art teacher Paul Clark showcases this beautiful medium in a deeply illustrated book. Great for people who would like to enjoy Watercolour painting, but don't attempt to because they believe they can't paint or simply don't know where to begin.
Mabef M31 Oil/Watercolour Table Easel
Every artist needs an easel! The Mabef M31 Oil/Watercolour Table Easel is a robust easel made from oiled, stain-resistant, Beechwood. The easel can hold canvases up to 100cm with a maximum loading capacity of 2.7Kg. It is also adjustable to lay fully horizontally.
Derwent Watercolour Pencils
Watercolour pencils are a fantastic introduction to the medium, and they're a little easier to use than paints. Derwent makes these great wet or dry watercolour pencils that are soft in texture and easy to blend and layer. They also keep their full intensity however you use them.
Art Spectrum Glazed Porcelain Flower Palette
This palette is ideal for watercolours and mixing paints as it is glazed and effortless to clean. The palette is sturdy and weighty, so will not move around when in use, and its porcelain construction makes it a durable palette alternative. A delightful addition to any artist's studio. The depth of this palette, makes it Ideal for working with watercolours, inks and acrylics.
Neef Mahogany Kazan Series 2013 Premium Synthetic Soft Bristle Brush
Neef proudly introduces its own new development KAZAN synthetic. Not only do they have the softness and suppleness of a natural squirrel but we feel they completely outperform them. Perfect for use with watercolour paints and as a gift for animal-conscious friends.
Winsor & Newton Watercolour
The Cotman Watercolour set is designed specifically with the travelling Artist in mind. Inside the kit you will find 12 high-quality, vibrant Cotman colours and a brush pen with its own water reservoir. The precise synthetic tip feels like your favourite paint brush and fits inside the set which is Pocket-sized with comfortable, rounded corners, there is also a mixing palette inside the lid. Perfect gift!
Watercolour Learning Pad
These pads, with 300gsm Etival watercolour paper, contain 6 sheets of pre-drawn designs and 6 blank sheets. With detailed step-by-step instructions, they are perfect for beginners who want to discover the art of painting with watercolour or for watercolour artists looking to practice their skills.
If you are still unsure at this point what to get them, or know they're extra fussy, grab them an Art Shed Gift Card and give them the gift of choice.
---
Leave a comment