---
Top Christmas Gift Ideas for Painters
Author: Liv Moull Date Posted:1 July 2019
Know an artist who loves to paint? Need to buy them a gift for Xmas? Look no further than our gift picks for painting
Top Christmas Gift Picks for Painting

Painters can be a fussy lot (we know because we are that lot), so to save you from a brush with the wrong gift, our Art Shed elves have put together their Top Gift Picks for Painting to help you pick the perfect painting pressie and get you into that fussy painter's (very) good books. Our staff picks take the time, guess work and hassle out of gift buying and let you get back to the more important things this Christmas like picking the bushiest and best-smelling tree or planning out your Christmas Day buffet tactics. Plus, we've made sure to lay out our list in order of paint type and technique to make this present-buying venture as easy and fuss-free for you as possible. So, if you know your painter has a penchant for one paint type in particular, you can skip right to it!
Acrylic Fluid Art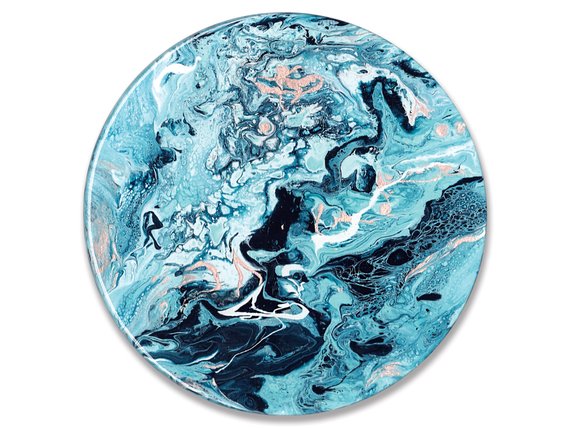 When we think about creative painting, we can't go past the increasingly popular Fluid Art trend (which has actually now transformed much more from a trend to a full-blown stunning and respected art form in itself). To guide you through the mysterious, marbled world of fluid art, we've collated some products we feel are must-haves when it comes to acrylic pouring.
The Mont Marte Premium Acrylic Pouring Paint Range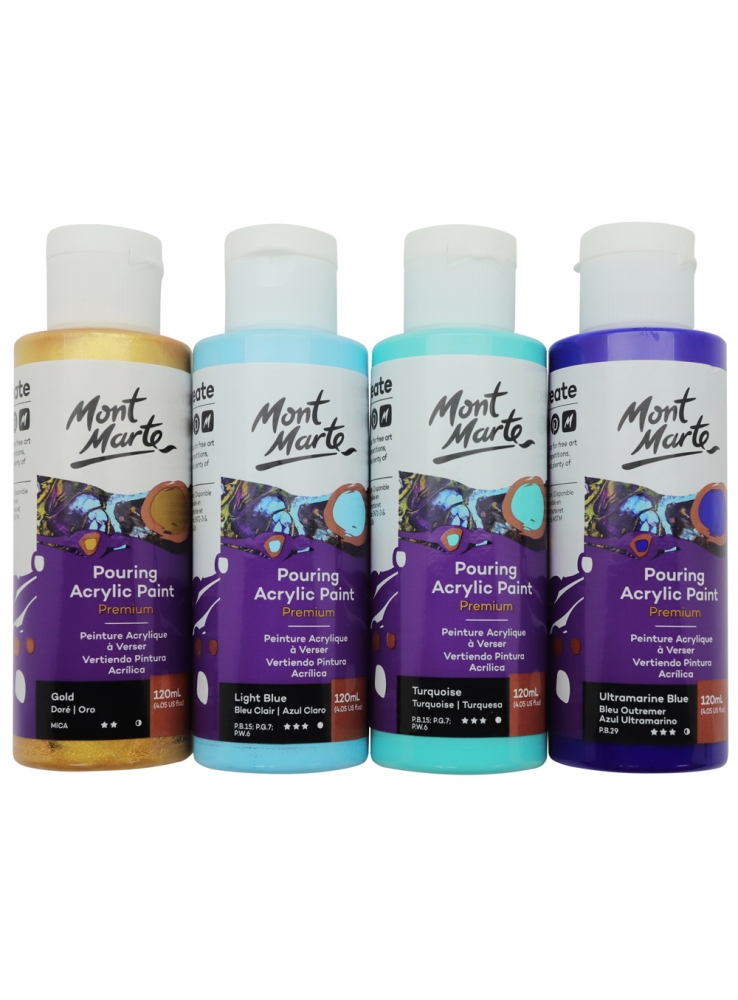 The new range of Mont Marte Premium Acrylic Pouring Paint makes creating fluid art super easy, so is excellent for beginners or those that like to dive in straight in without the fuss of recipes and ratios. Each paint is premixed with pouring medium to ensure perfect flow from the get-go! The range comes with a huge variety of bright, vivid colours as well as pre-picked themed packs in Coral, Golden Beach, Marina and Metallic hues. The range also includes products for finishing touches like the Iridescent Varnish and Foil Paint in Gold, Silver and Iridescent for the magpie in all of us that loves a bit of glimmer and shine.
Make-your-own pouring kit
For those that like a challenge or simply enjoy the from-scratch approach to painting and creating, a DIY pouring kit is the way to go. So, we've come up with some suggestions of great products you can put together to create a first-class fluid art kit:

Floetrol Acrylic Paint Conditioner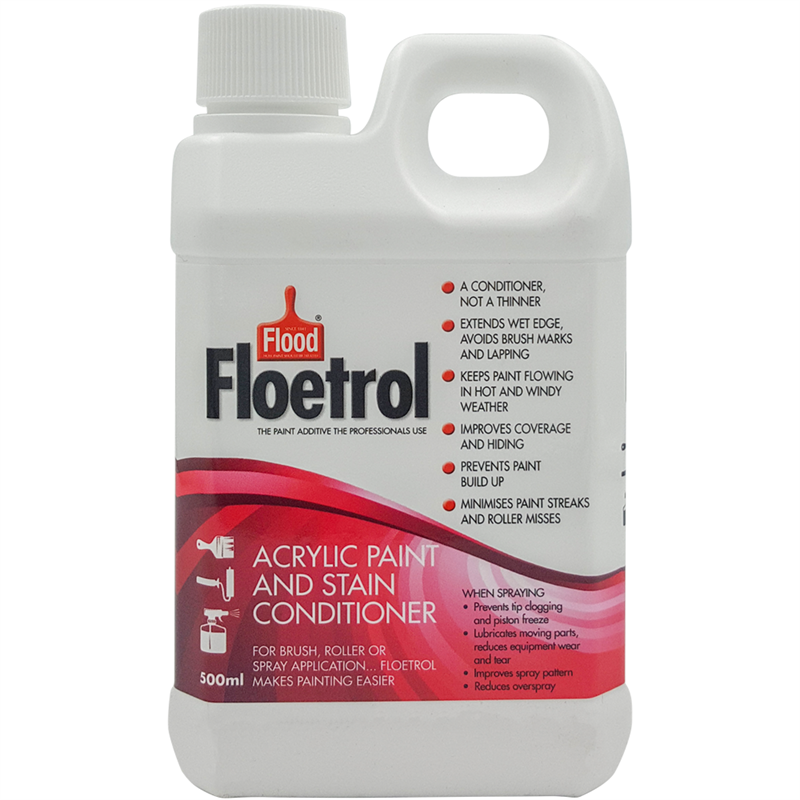 This professional-grade paint conditioner is our little water-based secret weapon when it comes to improving the flow and workability of acrylic paint. What we've dubbed our 'bottle of liquid gold' allows you to make acrylic paints thinner and much easier to pour without sacrificing the integrity, colour or hold of the paint one. little. bit. See? GOLD!
Mont Marte Satin Acrylic Paint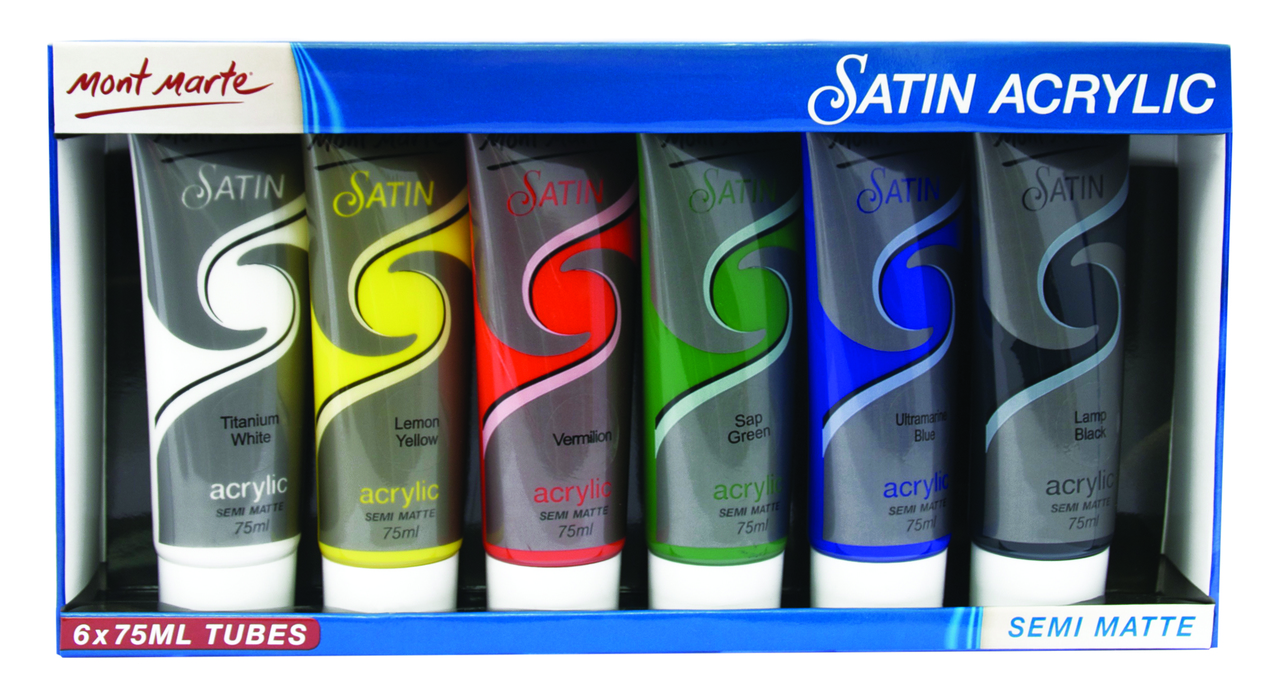 To make said flowing, liquid-gold-like paint, we must of course have the perfect paint to condition. The Mont Marte Satin Acrylic Paint range provides the ideal medium-bodied paint base that's the perfect match for the Floetrol conditioner (they also both like long walks on the beach and pinacoladas, but that's between them). This range features loads of bright colours with premium-quality pigments that will remain strong and brilliant for many happy years of this relationship to come.
The Perfect Surface
In order to make the perfect smooth pour, one must start with the perfect smooth base; because contrary to what is instilled in us from infancy, when it comes to creating fluid art, it's what on the surface that counts. This base can however come in a range of shapes, sizes and materials, so we thought we'd give you a few options to choose from.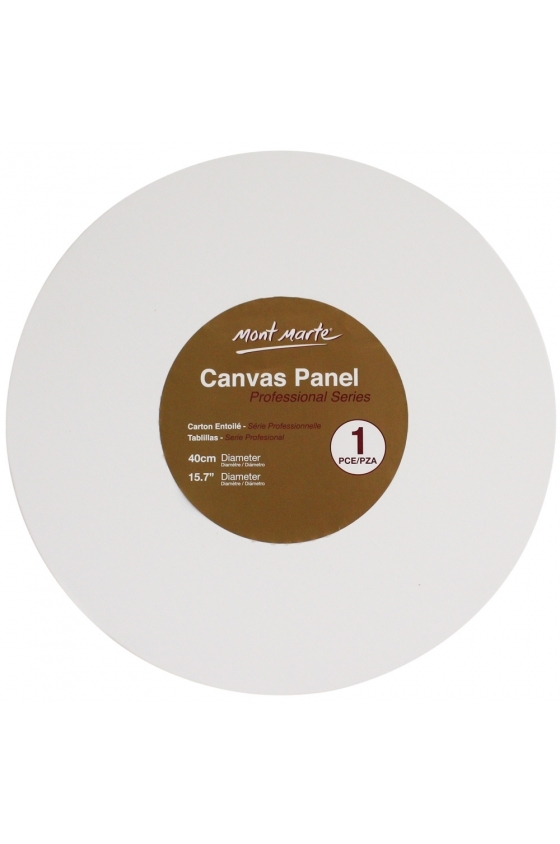 This perfectly circular beauty features a double-primed surface that's perfectly prepped and primed for pouring. The canvas is made from sturdy, solid materials however is lightweight so is perfect for transporting (in a Santa sack, of course) and hanging on walls without risk of falling. The round shape lends itself to creating stunning pours however, may make gift wrapping a little more challenging (sorry).
Mont Marte Premium Wooden Painting Board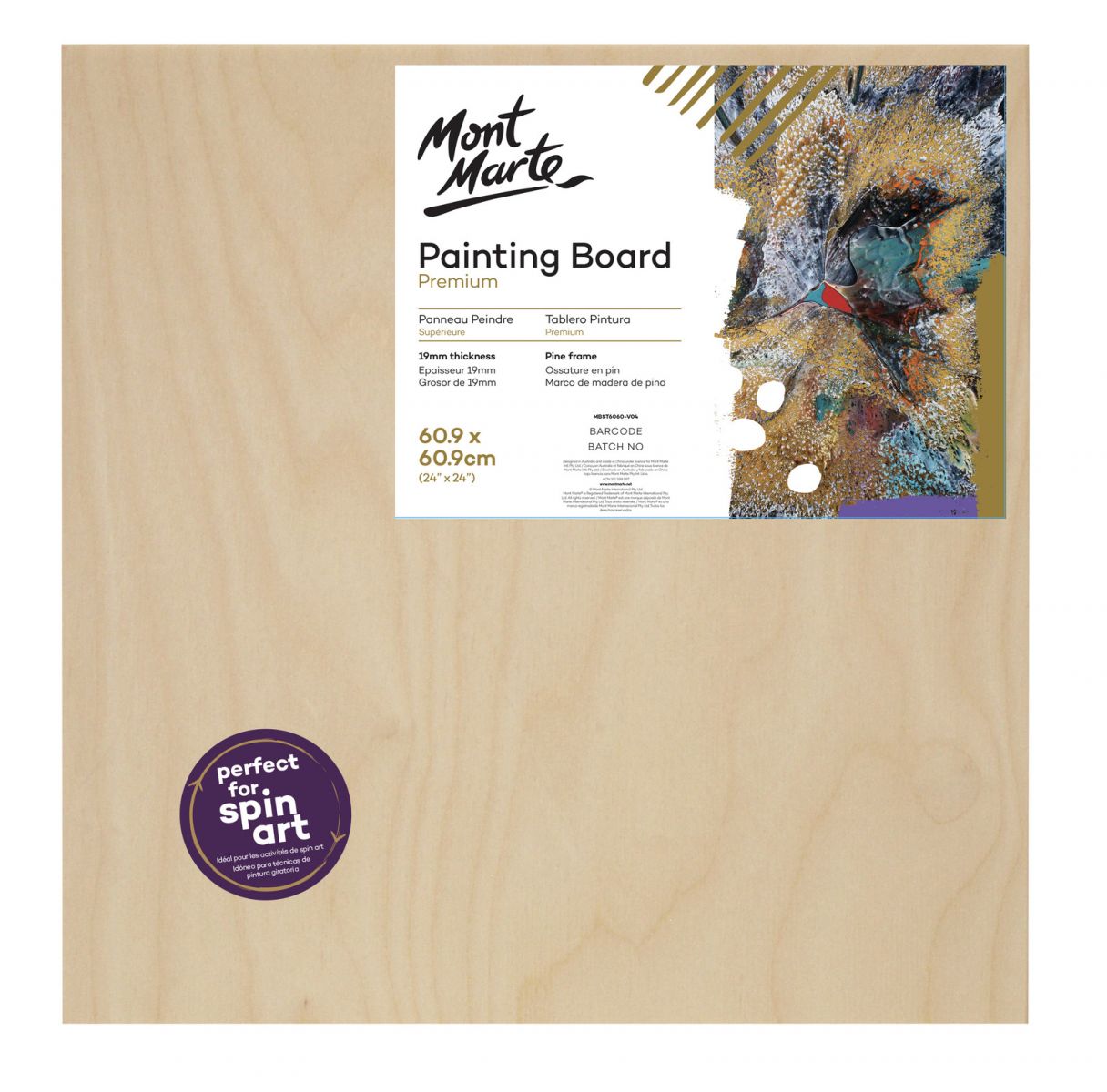 If you like a present that's a little more efficient to wrap (or you're lazy), then the Mont Marte Premium Wooden Painting Board is for you. This super smooth surface enables paint to glide effortlessly and dries with an even finish that is optimal when one wants to achieve that resin-like smooth finish that so many desire when creating fluid art. It's also super lightweight and easy to move around for manipulating the direction of paint flow plus, it will have them guessing what their mysterious square-shaped present under the tree is for weeks; is it a novelty-sized book? Is it a giant bathroom tile? No one knows!
Oil Paints
Oils – the gutsiest paint of them all. This traditional painting technique dates back many a century but is still just as loved by painters today. There are so many amazing oil paint ranges on the market these days, so we've narrowed it down to a few that we think any painter would be thrilled to receive.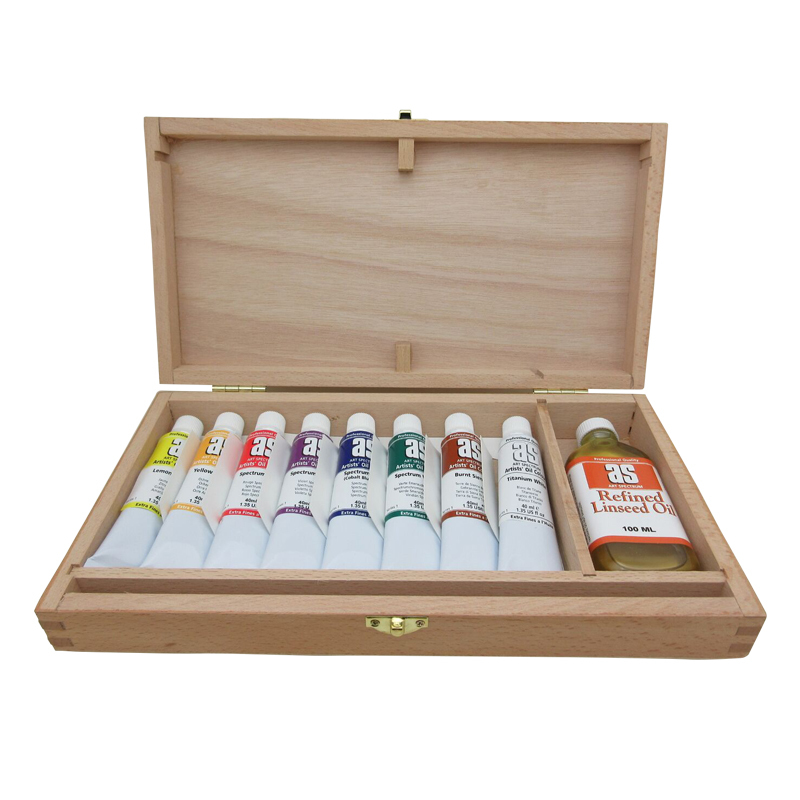 Kicking it off with the crème de la crème, the super swish Art Spectrum Wooden Box Set. This uber-luxurious kit features 8 40ml tubes of premium-quality Art Spectrum Oil Paint in vibrant hues and a 100ml bottle of refined linseed oil, all enclosed in a stunning wooden case that clasps shut for easy transport and compact storage. This professional-grade kit is as functional as it is beautiful and one ultra-special present.

What to get the painter that has everything? Some paint sticks of course! This set features 12 professional-grade oil colours in a convenient stick form that makes oil painting super easy and also enables a painter to put the brush down and change things up a bit. Plus, unlike conventional oil paints, Paintstik Oil Colours dry in just a short 24 hours! This unique kit is a fun departure from your average oils and would make the perfect gift for any painter. When it comes to amazing gifts for painters, you can stick with us!
Watercolour Paints
Micador Watercolour Disc Set – 36pc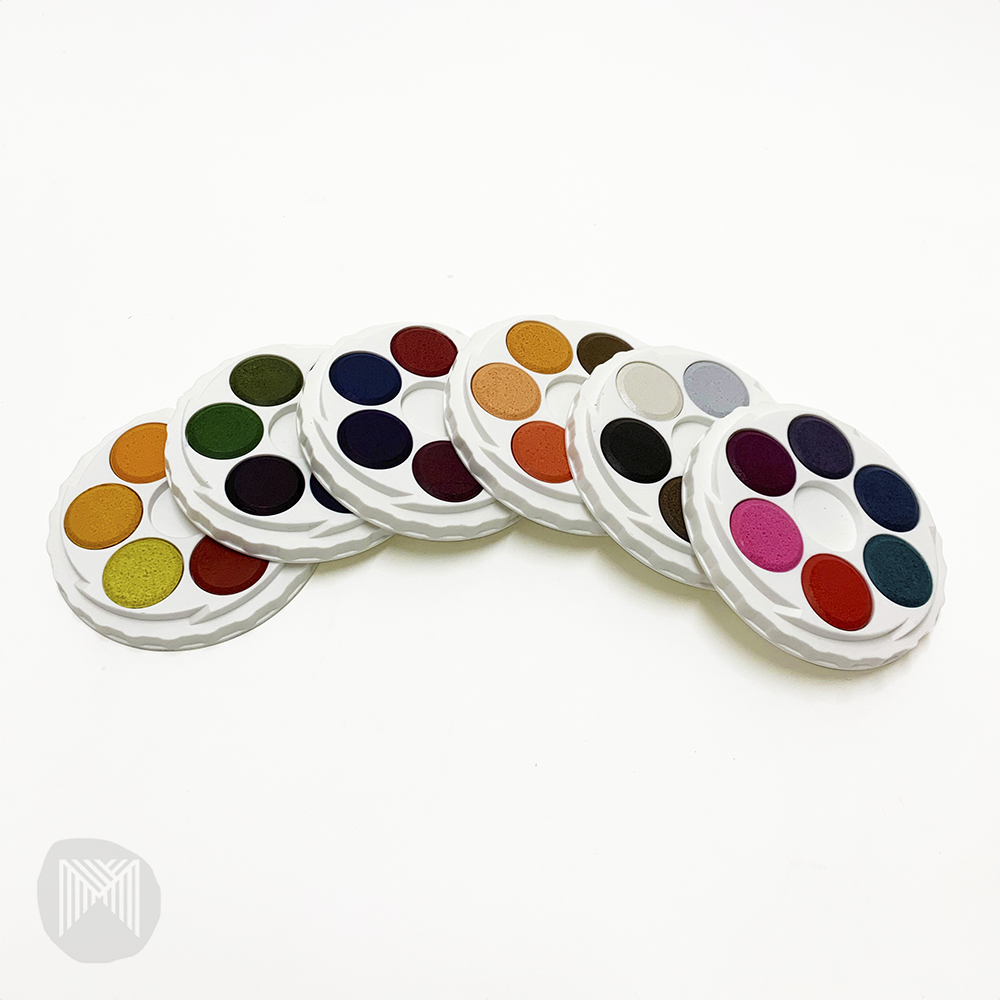 This handy stackable set features 36 assorted hard disc watercolours with excellent pigment volume and brilliant colour. Each pan simply screws and locks in to the other, making this compact kit perfect for the travelling painter or the neat (anal) one that likes to keep a well-ordered working space. Team with the Pentel Aqua Bruhs Set and the Arches A5 Watercolour Pad for the perfect on-the-go-kit present.
Mont Marte Premium Watercolour Paint Set – 36pc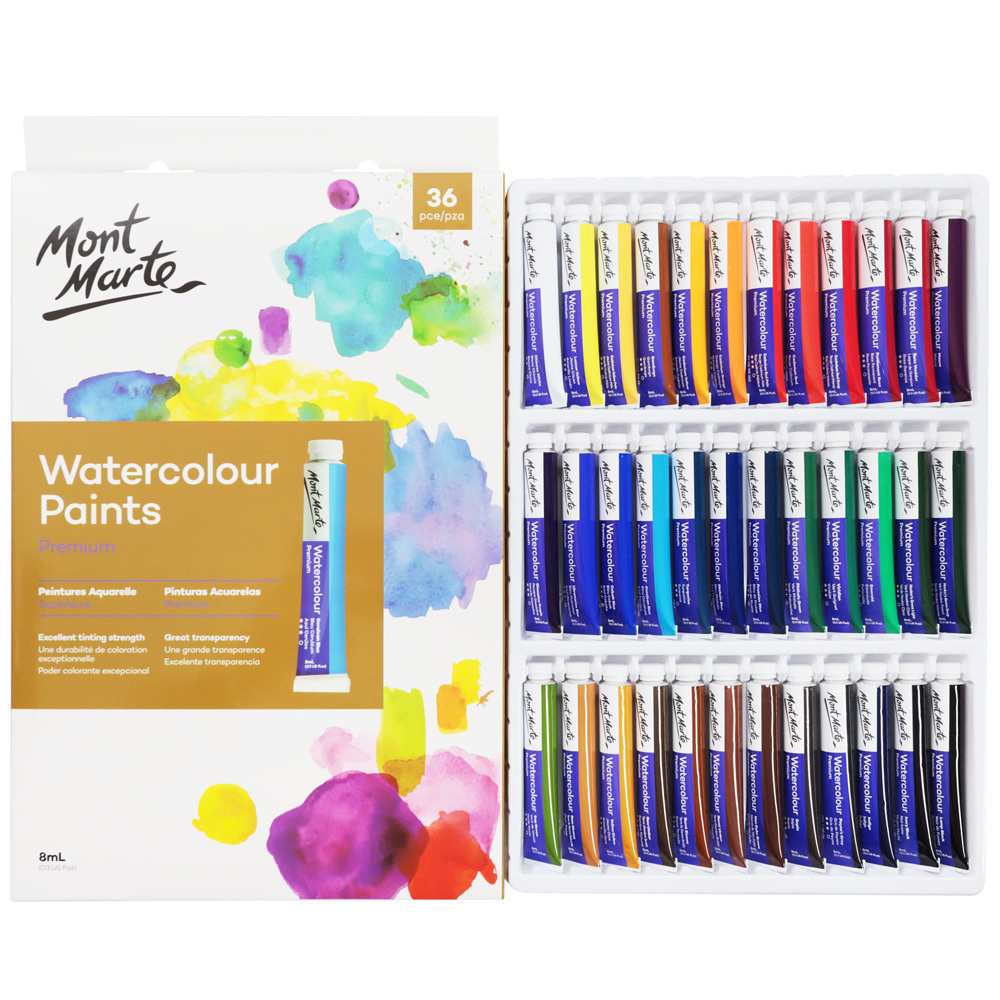 This set from Mont Marte is your perfect classic watercolour paint kit, great for artists of all skill levels. Whether they're a watercolour wizard or new to this enchanting world, this set is sure to suit (and delight). Featuring 36 highly-pigmented watercolours with excellent tinting strength, fantastic transparency when diluted and clean colour mixing, you can't go wrong with this classic.
Brushes
To create magical painted works of art, a painter must of course have the right tools. We have so many excellent brush ranges and to read more extensively about them, shoot over to our Guide to Choosing the Right Paint Brush blog which will run you through the different sizes, shapes and bristle types. For the purposes of keeping this guide as succinct and simple for you though, we've chosen just a couple of sets that we think are the perfect all-rounders.
Mont Marte Mini Detail Paint Brush Set – 5pc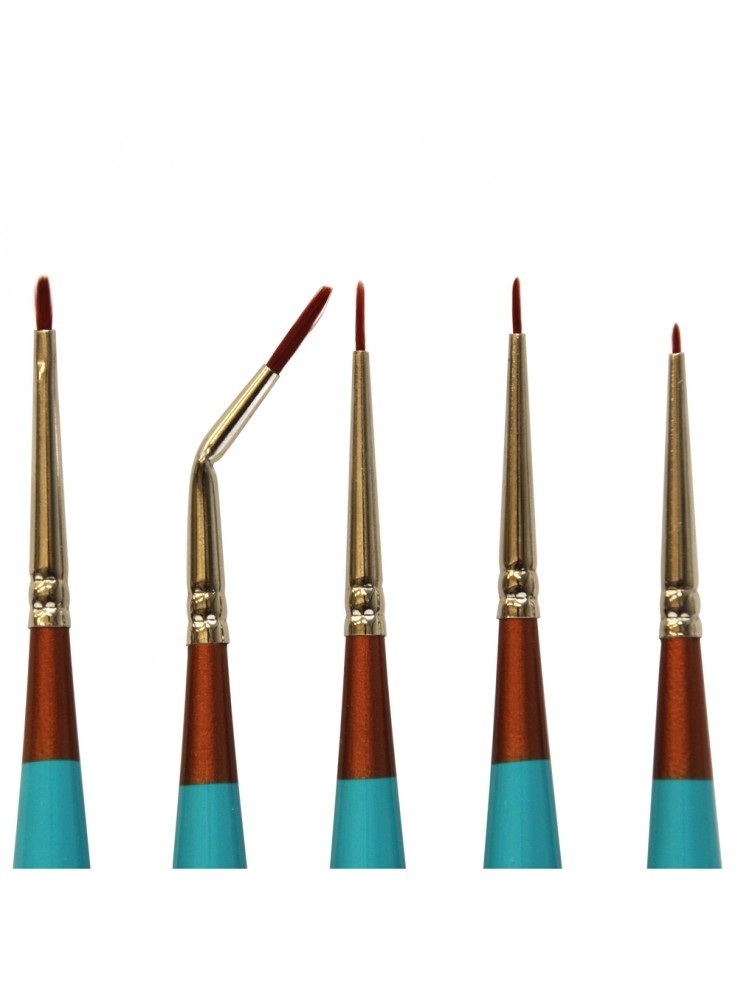 This brush set by Mont Marte is ideal for the painter that likes to work on the finer details. Featuring 5 ultra-fine brushes in varying shapes and sizes, these brushes can be used to create whole pieces or for adding detail and finishing touches with all types of paints and mediums. We won't go into too much detail, but they're an excellent bunch o' brushes that have earned their spot in our top-two brushes-for-presents list.
Mont Marte Premium Brush Wallet Set – 15pc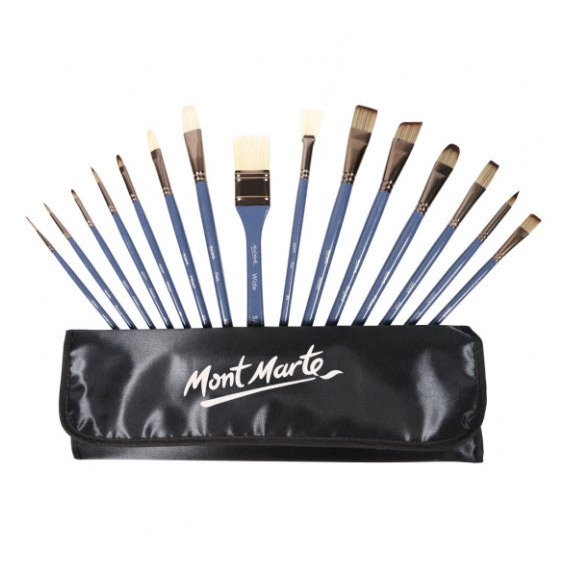 For the ultimate all-rounder, you can't go past this 15-piece premium brush set by Mont Marte. This kit features 15 brushes in varying shapes and sizes in both talkon and hog bristles making them ideal for any paint type or medium. The versatile set is enclosed in a handy wallet with a magnet closure making for easy transport, compact storage and also helps to protect your brushes which will increase their longevity tenfold. Plus, it also makes pressie wrapping a cinch; because who wants to sit there wrapping 15(!) individual paint brushes?!
That's it for our creative and perfect (we think) gifts for painting. If you have any more queries or would like some more information about our products, drop our friendly team of elves a line. Wishing you all a Merry Christmas that's filled with friends, family, delicious food and of course, good presents.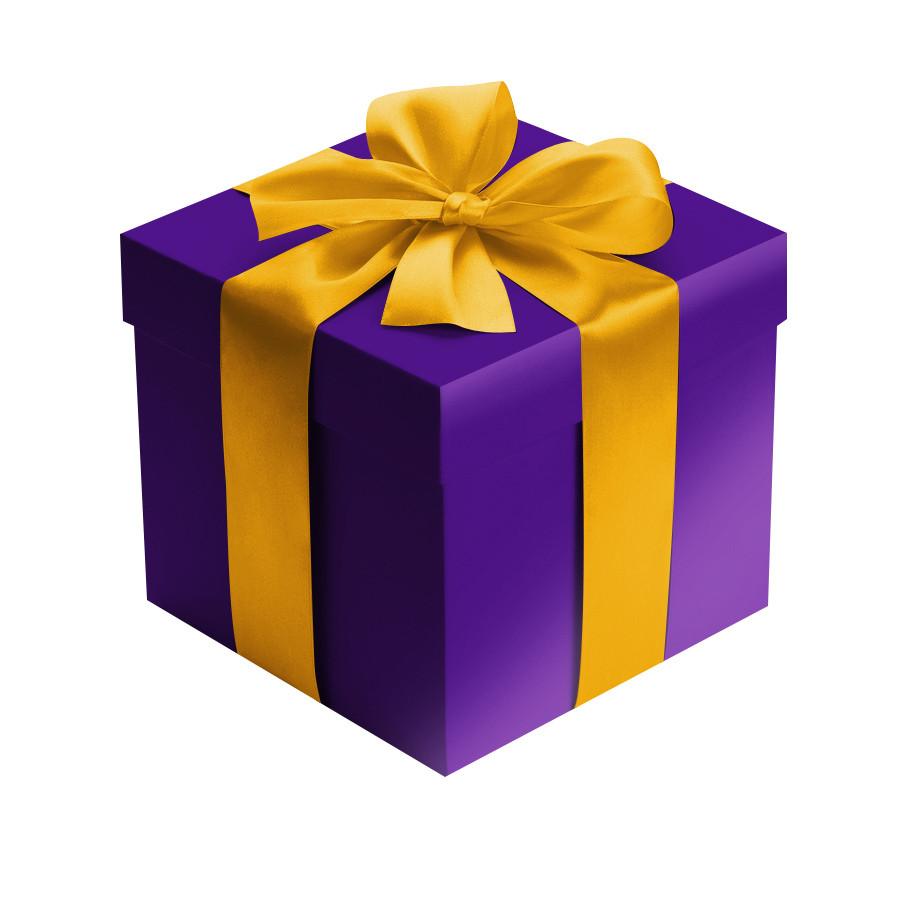 ---
Leave a comment