---
Top Christmas Gift Ideas for Drawers
Author: Art Shed Date Posted:1 November 2022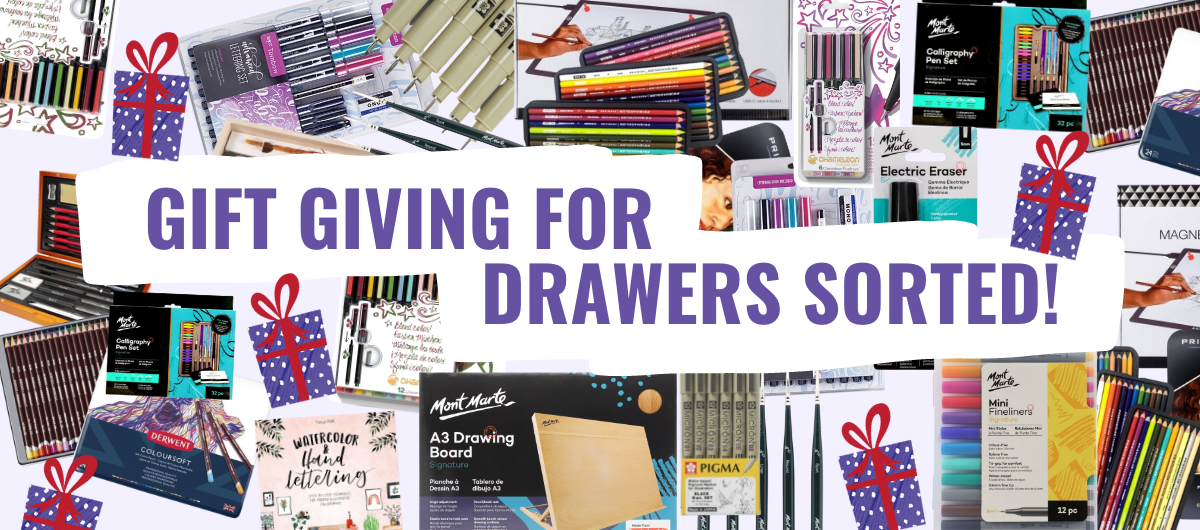 Drawing can be a niche art area and when all pencils start to look the same, knowing what to buy can be confusing. We have enlisted the help of our Art Shed elves to put together their favourite gift ideas for drawers. If you have an artist in your life that is either a seasoned pencil wielder or just diving into the world of drawing, we are sure we have a gift for them.
See what we recommend below...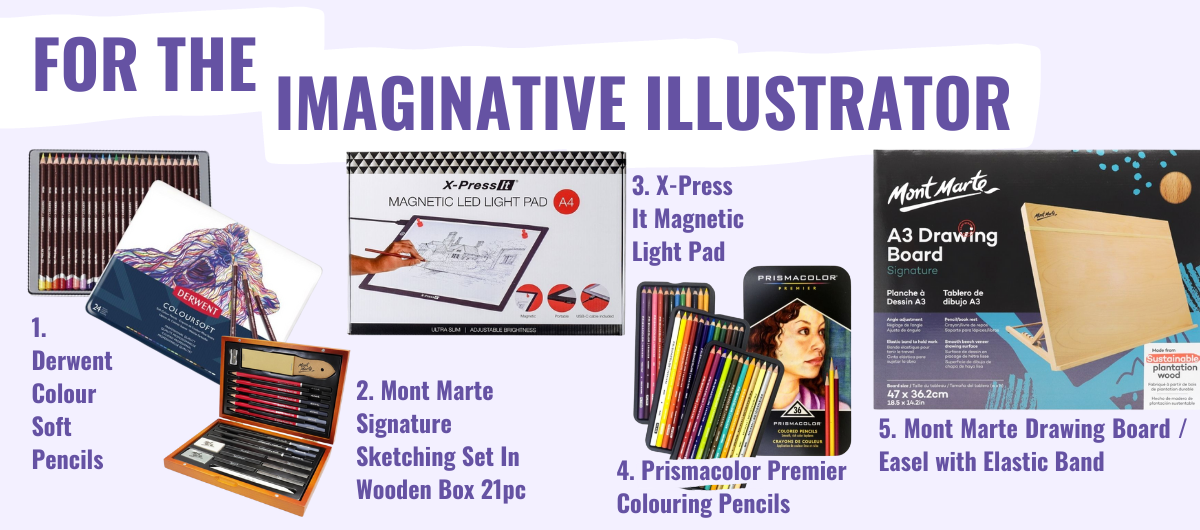 For The Imaginative Illustrator
Derwent Colour Soft Pencils
These beautiful Coloursoft pencils were developed for artists' who prefer a softer textured strip, so they're great for an artist who does a lot of drawing. These soft, velvety pencils can be mixed and blended easily to create an infinite spectrum of rich, vibrant colour.
Mont Marte Signature Sketching Set In Wooden Box 21pc
This set is perfect for a range of skills from small doodling, quick sketching, all the way to beautiful, detailed masterpieces.It has 21 pieces including graphite pencils, sticks, charcoal pencils and sticks, plus loads of accessories for funky effects. This signature set makes the perfect gift or well-deserved treat for yourself.
X-Press It Magnetic Light Pad
X-Press It Magnetic Light Pad is the ideal companion for any graphic designer, artist, or student. With three levels of brightness, and top and side rulers for accurate scaling, the Light Pad is designed for tracing, illustration, and technical drawing. The Light Pad is portable, lightweight, and ultra slim at 6mm thickness with anti-slip feet. Suitable for use with USB adapter, power bank, desk top computer and laptop. The magnetic zone of the lightbox is designed to secure your project with magnets included.
Prismacolor Premier Colouring Pencil
This Prismacolor Premier Colouring Pencil Tin of 24, features an assortment of coloured pencils specifically designed for portrait artwork. They are artist-quality and ideal for every level of expertise. The set includes 24 pencils in a metal tin - perfect for keeping them safe and easy to travel with.
Mont Marte Drawing Board / Easel with Elastic Band
The Mont Marte A3 Drawing Board is an essential piece to have in your studio.
Artists and planners alike love this handy board as it is ideal for sketching, drawing, and painting. Made from a smooth beech wood surface the drawing board comes complete with a built-in pencil rest. The angle adjuster and elastic band offer flexibility for different drawing methods and different scaled projects. The perfect gift if you're not sure what to buy!

For The Creative Calligrapher
Watercolor & Hand Lettering: Step-by-step Techniques for Modern Illustrated Calligraphy
This book is perfect for beginners and everyday artists looking for inspiration and new skills. Self-taught artist Tanja Poltl shares the tips, tricks and know-how she's learned on her creative journey. It contains 20 step-by-step projects including ideas for gift boxes, journals, greeting cards, jar labels, posters, hoop art, table runners, height charts, box frames and more - all beautifully illustrated.
Herbin Dip Pen & 6 Ink Set In Wooden Box
Herbin is one of the oldest names in pen inks in the world and is renowned as one of the highest-quality sealing waxes ever made.
The Herbin Dip Pen & 6 Ink Set In Wooden Box is a beautiful wooden box containing a Spiral Glass Dip Pen and one 10ml bottle of Herbin ink each in Periwinkle Blue, Rose Cyclamen, Wild Ivy, Garnet Red, Land of Fire (brown) and Green Grey. This is a premium, once-in-a-lifetime gift for a special someone.
Tombow Advanced Lettering / Calligraphy Set
This is a thoughtful gift, great for everyday or mid-level artists into lettering and calligraphy. Blend, flourish and embellish letting with lots of handy tips and lessons on creating stunning typography and expanding hand-lettering techniques.
Mont Marte Calligraphy Set - Metal Tin 32pc
This calligraphy set comes with everything a budding artist needs to create a range of lettering styles. The 5 traditional nibs included are ideal for Roman Round Hand, Italic, Gothic, Uncial and more! Plus, beginner artists can grow their skills with the introduction and exercise books inside. Perfect for a curious calligrapher.


For The Detail Dynamo
Chameleon Fineliner Sets
Experience the magic of colour-changing magic before your very eyes with the Chameleon Fineliner Sets. With these unique pens, you can instantly blend colours by simply switching the cap or hopping the top over to another pen - colour blending made super simple and super fun! Also available in Primary Colours, and Nature Colours.
Mont Marte Eraser - Electric Eraser
The Mont Marte Electric eraser makes precision erasing so easy and efficient. Just hold down the eraser button and let the rubber end do all the work. Great for precision work like erasing highlights or erasing larger areas. Features the ergonomic shape for comfort, 30 replacement erasers, please note it takes 2 x AAA batteries which are not supplied.
Mont Marte Paint Brush Set - Mini Detail 5pc
The Mont Marte Mini Detail Brush Set is an essential tool for small-scale projects and detailed artwork. The thick, easy-grip handles allow you to achieve fine detail and are suitable for all types of paints and mediums including acrylic, oil & watercolour.
Sakura Pigma Micron Pen Set 6pc - Black
Ideal for technical drawing or fine detail work, these black Sakura Pigma Micron Fineliner pens feature precision fine points in six different sizes. The archival-quality black ink is permanent and is highly resistant to water, liquid and light.
Mont Marte Fineliner Marker Pen Set - Mini 12pc
For the travelling artist! This set of mini fine pens features 12 beautiful colours, for sketching on location while on a picnic, on holiday or on a road trip! The pens are fragrance-free, Xylene free and water-based.
If you are still unsure at this point what to get them, or know they're extra fussy, grab them an Art Shed Gift Card and give them the gift of choice.
---
Leave a comment