---
Spray Paint Spotlight: Liquitex vs Montana
Author: Tessa Date Posted:28 February 2023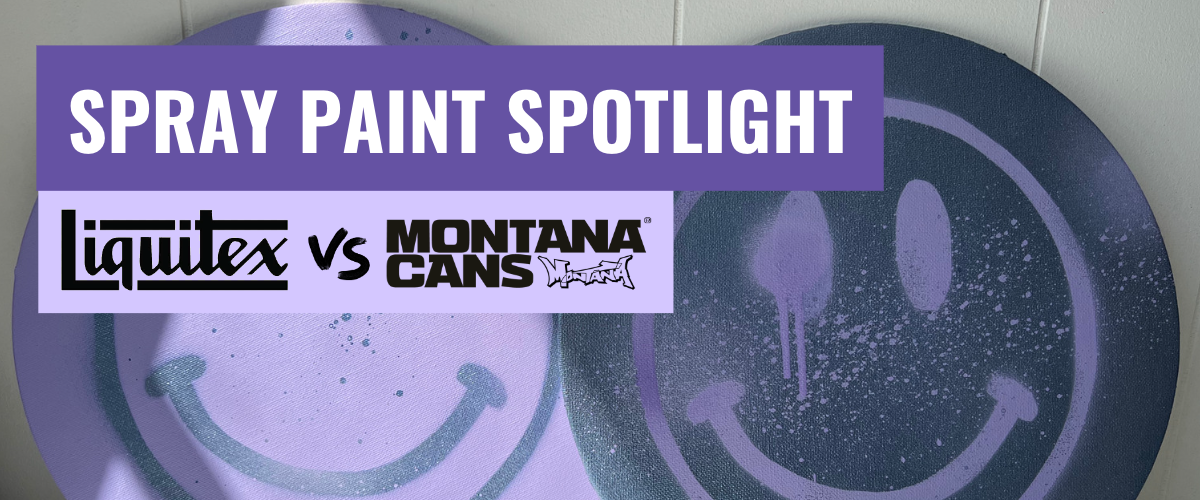 Here at Art Shed we like to play with all the goodies. And we've got a lot of them!! So this week, we thought we'd compare the pair of our best selling spray paints, Liquitex and Montana. Each of these ranges have so much to offer both the professional artist and those hitting the streets and throwing up some graf. So let's get stuck in!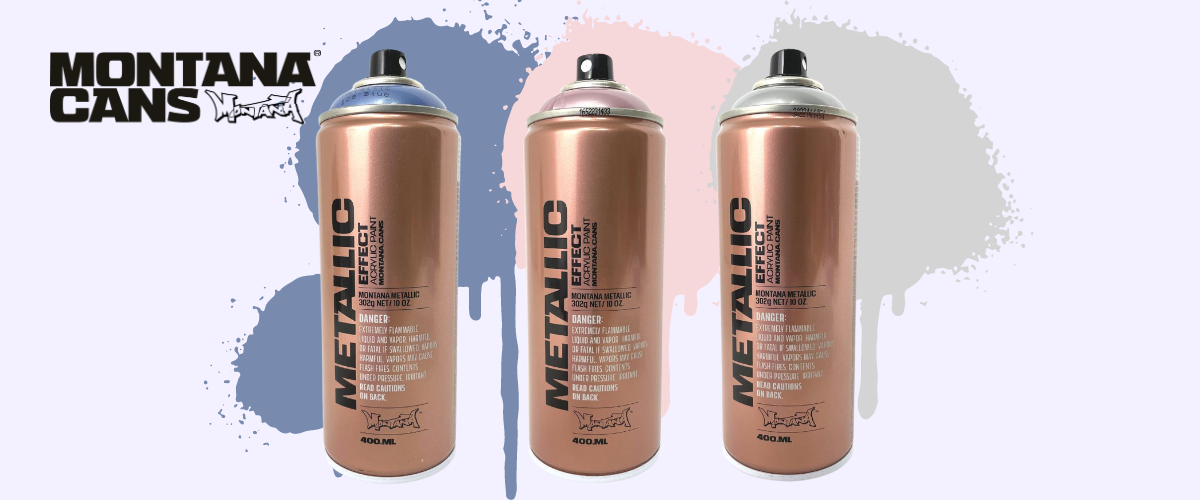 Montana
Montana is the newest addition to our range of spray paints here at the Shed. And we're pretty excited about it! We've added the Metallic range to our growing collection of spray paint products to give our customers even more choice when it comes to painting. The Montana brand is synonymous with street artists all over the world for it's massive range and durability. Let's dive into the nitty gritty:
Montana Metallic Effect Sprays bring state of the art paint technology to traditional metallic effect colours. They are loaded with a Montana Standard cap and provide excellent delivery and reliability under medium pressure output.
Not only are they awesome for application on functional objects such as bikes and furniture, but they can also add a metallic flare to any creative or artistic project on paper, cardboard, primed canvas, wood, glass, metal, ceramics, porcelain, stone, acrylic and other paintable materials.
The Montana sprays are made from an Acrylic-Nitro Combination base, the paint surface dries to a durable semi-gloss finish which is both hard wearing when cured (24+ hours) as well as flexible. Montana Metallic Effect line blends flawlessly with the rest on the Montana range as well as with the Liquitex range we also stock!
Top tips for best results:
For best results shake can vigorously for approximately 3 minutes before use and apply at a distance of 15cm - 20cm to a pre-primed substrate.

Re-shake between intervals to assure settled pigment is re-mixed. To enhance colour result even further, pre-prime substrate with a similar Montana GOLD colour as base.

Apply in thin multiple layers, varying application strokes from vertical to horizontal on each run. Optimum use temperature is between 10 and 15 degrees Celsius.

Drying time is normally around 10 mins for dust dry, 20 minutes for touch dry and 24 hours for total curing. Please note drying times vary subject to room temperature and moisture levels.

To protect your artwork to its fullest, apply Montana spray Varnish in Gloss, Semi-Gloss or Matt once Metallic Effect colours have dried and cured. We do not recommend objects painted with Metallic Effect colours be exposed to high temperatures over 80 degrees Celsius.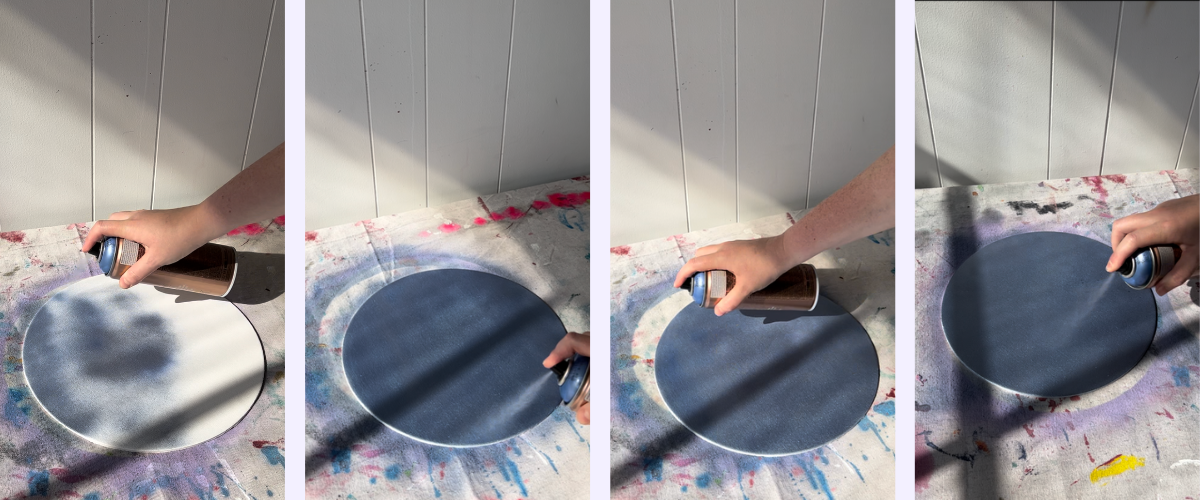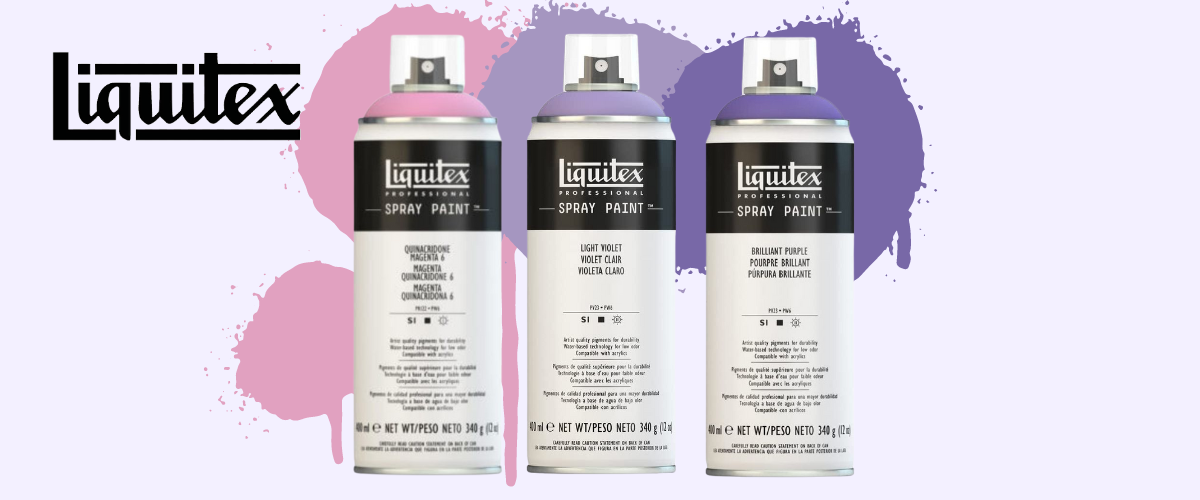 Liquitex
Now we've stocked Liquitex for a little while here and Art Shed, and we're still so in love with the range. If you're looking for suuuuuper pigmented colour then Liquitex is for you! The highly pigmented colours mean this range of spray paints is well suited to professional artists. The range we stock also offers fluorescent colours and iridescent colours.
From Liquitex:
"We've made our spray paint a lot more pleasant and safe to use when working both outside and in. Unlike solvent-heavy sprays, this solvent-light formula gives far less fumes."
"Water-soluble when wet, yet permanent and water-resistant when dry. You get the best of both worlds. Once sprayed, all the water in the paint evaporates quickly, leaving a flexible acrylic film of colour behind. The colour is permanent and doesn't move - which means you can over-paint without bleeding and achieve multi-layered surface effects."
"Using water-based technology means you can take advantage of a slightly longer open time than you get with regular sprays."
Top tips for best results:
Always start with a clean nozzle – paint doesn't flow well through a dirty nozzle. If it's dirty, replace it with a fresh one like these or these

Shake the can for a minute before you start to keep the pigment/binder evenly mixed

Keep it upright as you spray

Apply in short, frequent bursts

After use, spray upside down until nothing comes out, then remove the cap and give it a quick clean (before paint dries) with soap and water or Cap Cleaner - Liquitex 400ml Professional Acrylic Spray - Cap Cleaner

Keep the cap cover on when not in use, to stop paint from drying out
Use it on stretched canvas, card, board, glass, wood, masonry, brick, ceramics and styrofoam.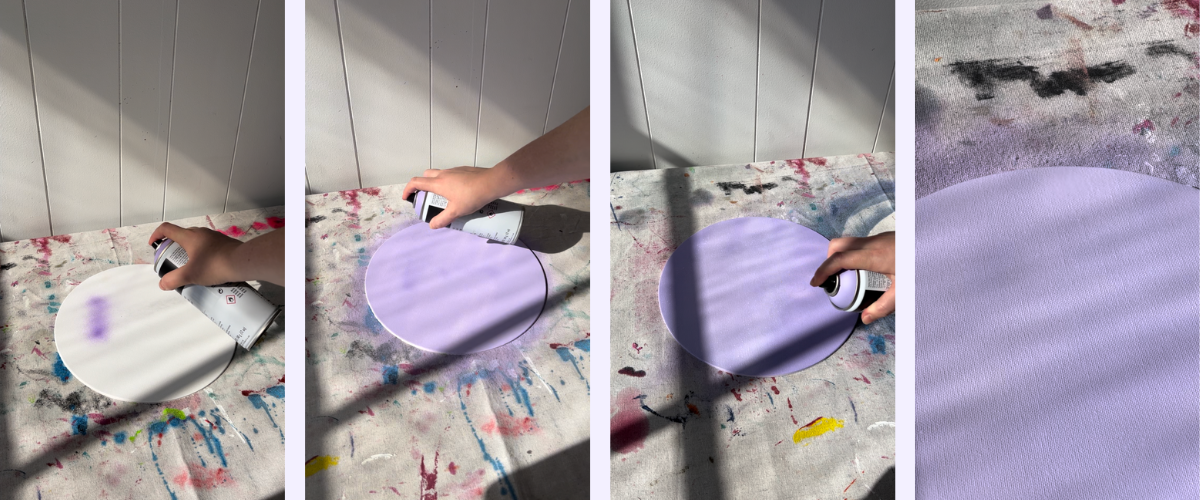 For this project we used Montana Metallic Effect 400ml Spray Paint - Ice Blue and Liquitex 400ml Professional Acrylic Spray Paint - Light Violet and the two colours look so great together. The two products also worked beautifully together as well. We were so stoked with how this turned out!
Come follow us on Instagram @artshedonline to see all the arty projects we get up to!
We hope you enjoyed this blog just as much as we enjoyed creating it!! As always stay creative and have fun.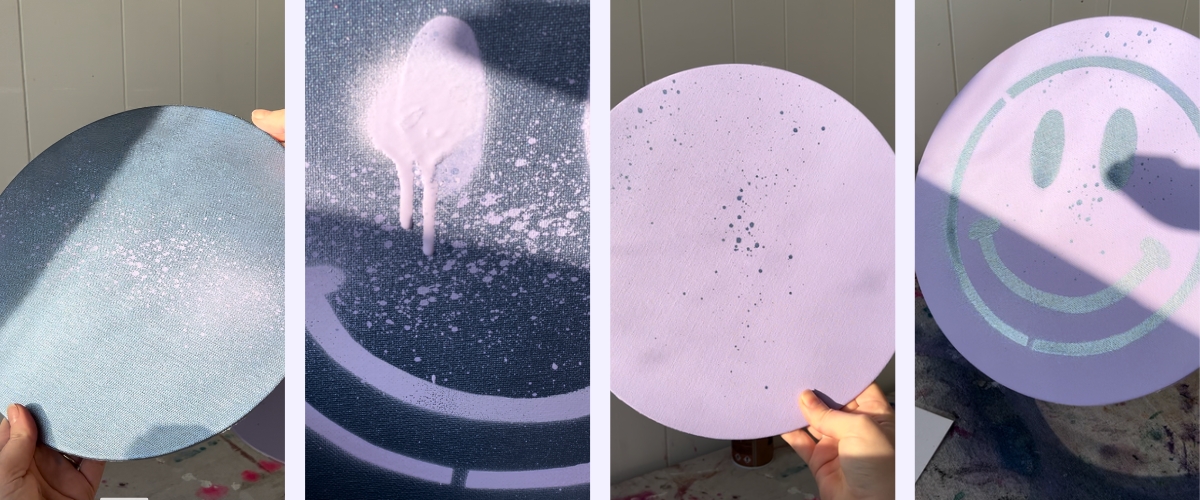 ---
Leave a comment