---
Author: Dana McGorlick-Appelman Date Posted:7 June 2022
In 1947, a Philadelphia businessman, Howard E. Kester, revolutionized the paint industry and founded Krylon, Inc., the first and still largest supplier of aerosol paints in the world. Keep reading to discover Krylon's bestselling varnishes, fixatives and adhesives for artists.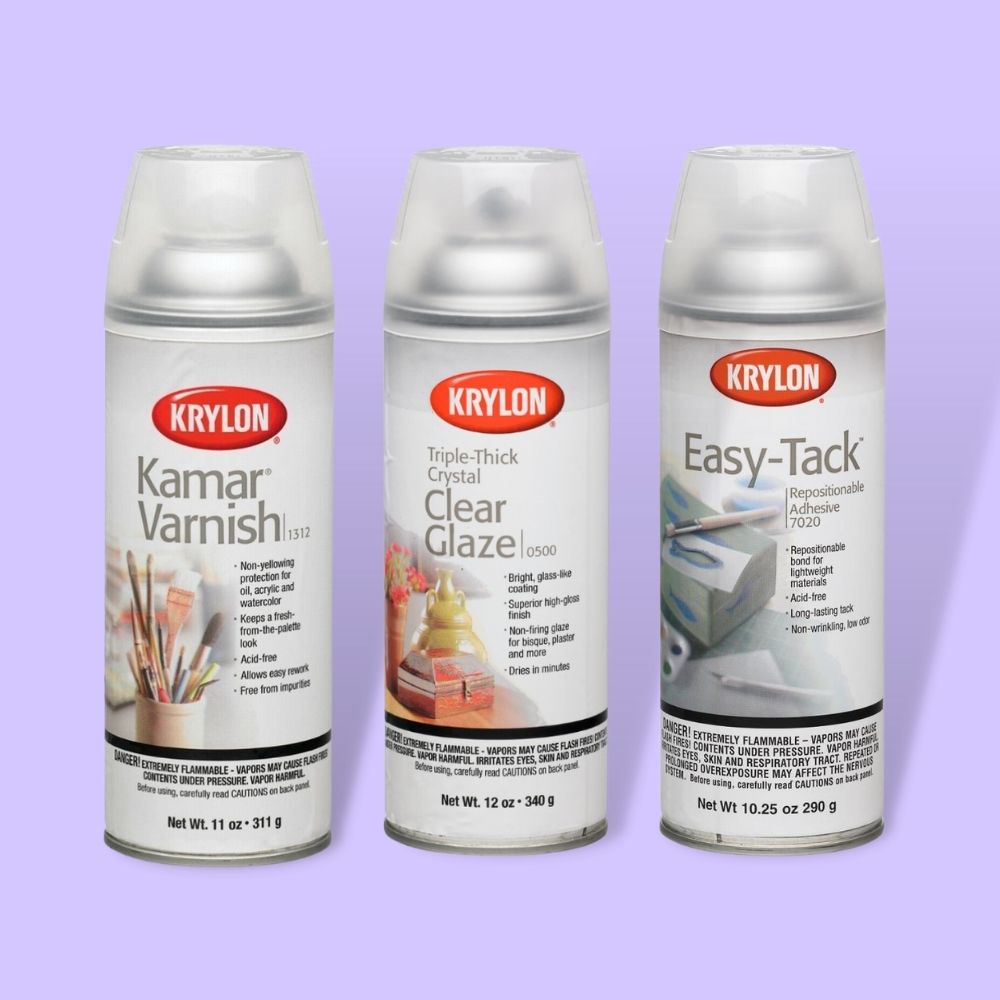 For: protecting your finished work from dirt, fading and moisture.
Available in satin, matte or gloss
Krylon UV Archival Varnish contains Hindered Amine Light Stabilizer (HALS) and UV Absorber (UVA) for maximum UV protection. Ideal for acrylic and oil paints, watercolour, oil pastels, coloured pencils and digital prints.
Advanced, non-yellowing protection against fading, dirt, moisture and discolouration

Contains superior levels of UV light absorbers and stabilizers

Removable for conservation purposes

Dries in 10-15 minutes, handle after 2 hours
For: Protecting your finished work from dirt, fading and moisture with a super high gloss finish, as well as for glazing ceramics and wooden furniture.
Krylon Spray Triple Thick Crystal-Clear Glaze is a permanent, protective coating that dries with a high-gloss glass-like finish. The advanced Triple Thick formula adds three times the glaze of other clear coatings with just one application. This flexible glaze won't crack and will provide a protective gloss layer to a variety of surfaces.
Can be used as a non-firing glaze for ceramics or sprayed over wooden furniture to create a professional-standard gloss finish. Also appropriate for sealing collages, papier mache and dried flowers. Can be applied to paper, plastic, wood, metal, wicker and plaster.
For: protecting your finished work from dirt, fading and yellowing.
Krylon Spray Kamar Varnish can be used to provide a clear, long-lasting protective coat for oil, acrylic and other water-based mediums. The synthetic acrylic formulation of this varnish has been designed to protect like traditional damar varnish without the impurities, and therefore will not yellow over time. Great for use over alcohol ink artworks, oil paintings, acrylic artworks and more.
Dries to touch in 15 minutes and is fully dry in 2 hours. Coverage: 15 – 20 sq ft.
Krylon Spray - Workable Fixatif 311g
For: protecting your pencil, pastel or chalk drawing from smudging.
Krylon Workable Fixatif provides lasting protection to pencil, pastel and chalk drawings. This fixative prevents smudging and wrinkling, is acid-free, archival and offers 15-20 square feet of coverage.
For: protecting your pencil, pastel, charcoal or chalk drawing from smudging and fading.
Krylon Fine Art Fixatif Spray is a low solid fixative that provides invisible protection to fragile dry media without dissolving whites and lights.
It protects against dusting, smudging and fading on pastel, charcoal, pencil chalk and more. It provides both workable and final protection for artworks, and contains UV light absorbers and stabilizer.
Krylon Spray - White Gesso Spray 311g
For: preparing your surface for painting.
Krylon Spray On White Gesso allows for easy and fast coverage of surfaces to be painted on by Artists. Spray Gesso is ideal for gesso priming uneven or unusual surfaces such as objects. Can be used on canvas, wood, wicker, plastic and many more surfaces. Covers roughly 15-20 square feet.
For: Decoupage, scrapbooking and collage
Strong, permanent bond - ideal for bonding lightweight materials. The spray creates an acid-free smooth, flexible, non-wrinkling bond.
Ideal for layouts, paper, papercraft, scrapbooking, decoupage, tissue paper and more! Lightweight items can also be bonded to heavier materials such as wood, ceramics and metal.
Dries clear and to the touch in 30 minutes, handle after 3 hours
For: mounting photographs and artworks onto foamcore.
This Krylon Adhesive Spray is an Easy Tack formula that adheres quickly but remains tacky so you can reposition as needed before it dries. A great neat way of sticking on photographs, mounting artworks onto card or foamcore or adhering fabric items to your scrapbooks or craft projects. Ideal for bonding lightweight materials such as paper, cardboard, fabric and thin wood. The handy spray aerosol makes for clean and easy glue application without making a mess on your surfaces or your hands. Simply press lightly on the nozzle for a light, even distribution of glue. This Krylon Easy Tack is acid-free, long-lasting, non-wrinkling and low odour.
Got questions? Send us an email at customerservice@artshedonline.com.au and our friendly team of artists will do their best to assist you.
Happy creating!
---
Leave a comment