---
Author: Dana McGorlick-Appelman Date Posted:23 September 2021
Kids love art. Art is not only fun and exciting; it also provides each child with the power to express their thoughts and feelings. It also helps children improve their sense of self-esteem, confidence, perceptual abilities, concentration, critical thinking skills, not to mention their creativity and imagination. Children exposed to art have also been shown to have better motor skills and hand-eye coordination. The benefits of art in children's development are endless.
Painting is a great way to help foster your child's creative development and self-expression. To help your budding artist channel their inner painter, you will need:
Tempera, Poster, Finger Paints or Watercolour Paints

Paper or Canvas

Easel

Brushes

Palette

Art Smock

Drop cloth
Paints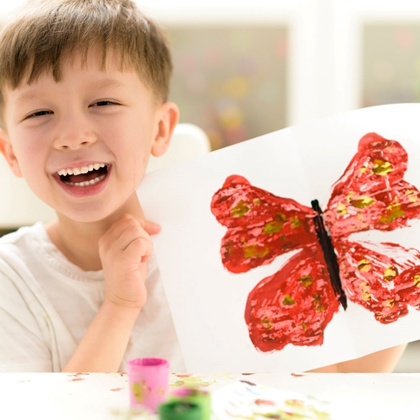 Tempera Paint
Tempera Paints are bold and thick paints that are typically washable and non-permanent, making them perfect for young artists. They can be used on paper, canvas and cardboard, and are typically inexpensive and safe for kids to use.
Mont Marte Kids Poster Paint 500ml
Mont Marte Kids Poster Paint is a 500ml bottle of tempera styled paint. With vibrant colour and a matt finish this fabulous paint is quick to dry, easy to blend and has a great opacity. It's also non-toxic and washable, and easy to use with a clever flip top lid, plus its available in a wide range of colours and sets, perfect for young creative minds.
Mont Marte Kids Tempera Paint Wheel is a 6pc wheel that includes a versatile clip together colour wheel tray, that can also be converted to a vertical stack for easy storage. The solid blocks are easy to use - just moisten the block with your brush and start creating! These blocks of 6 brilliant and opaque colours are ideal for hours and hours of fun for kids of all ages - these blocks just last and last

. Available in Pastel and Bright Colours
Finger Painting
Finger painting helps to develop hand/eye coordination and fine motor skills. It's a great way to introduce kids to painting and encourage creativity. These are some fantastic paint options for finger painting: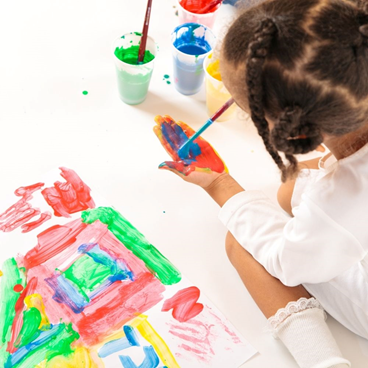 Micador Early Start No Drip Brush or Finger Paint 250ml Safe For Little Kids
These Micador No-drip paints are non-toxic and safe for little artists. They're also fully washable- so no stains! The thick, creamy texture, specially formulated to not drip, and the paint can be used with fingers or a brush. It also contains a non-toxic, bitter taste to keep paint-covered fingers out of mouths. Available in six fun 250ml colours: Orange Sherbet, Grape, Watermelon, Mint, Blue Heaven and Lemon Meringue.
Little artists will love creating with this 23 piece finger paint set. It comes with a huge range of bright paints that are non-toxic, washable and super easy to use! Includes 20 x 35ml (1.18oz) finger paints, 1 x stencil and 2 x foam brushes, Ideal for use at home or in the classroom. These finger paints are non-toxic and washable, and easy to remove from skin using soap and water (use normal laundering to remove paint from most fabrics).
This set of 4 brilliant Finger Paints are terrific for encouraging creativity in young artists.
On top of the pots are foam stamps with 4 cute designs, and the paint washes out easily from most fabrics.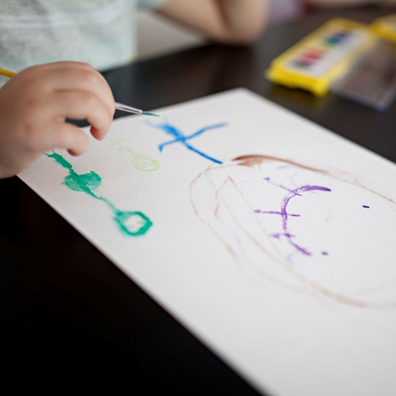 Watercolour Paint for Kids
Watercolour is a type of water-soluble paint, that is slightly transparent in appearance and typically used on paper. Famous artists including Albrecht Durer, Paul Cezanne and Vincent Van Gogh have all experimented with the medium, and the power of watercolours soft and soothing aesthetic quality can now be experimented with by kids with these kid-friendly options:
This set contains a great range of 12 bright colours that easily wash out of clothes. It comes with a palette and brush and makes a great beginner set.
Your little artist will love exploring the world of watercolour painting with this bright and fun set! Includes 12 non-toxic and bright watercolour cakes and a Taklon paintbrush, with an easy-to-use palette design.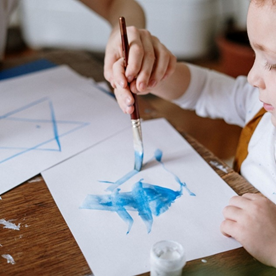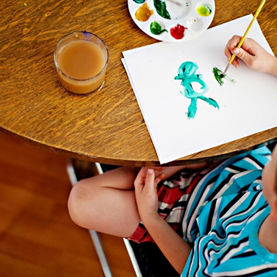 Paper
You can use any paper or canvas pad, however there are some kid friendly options that your little artist is sure to love, including the Mont Marte Kids - Painting Pad
This Mont Marte Kids Painting Pad comes with 25 sheets of painting paper ready to be filled with colourful creations by your budding artist. The sheets are an ultra-sturdy 110gsm so the paint doesn't transfer through and they can be easily removed from the pad for mounting your kid's masterpieces on the fridge and walls. The size of the sheets gives kids room to practice their painting and express themselves. Great for school projects, craft and scrapbooking activities and birthday card making. Available in A4 or A3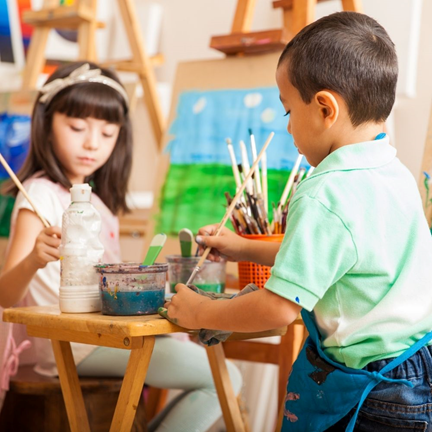 Canvas
Whether you're new to art, want to splash a bit of paint about or need an affordable painting option for the kids, the Mont Marte Single Thick Discovery canvases are perfect to get you started!
These canvases feature 280gsm triple primed cotton and come back stapled so you can get painting straight away. The canvas frames are also made from sustainably sourced pine, whilst also being a cost-effective option, and are perfect for kids getting started on their art journey.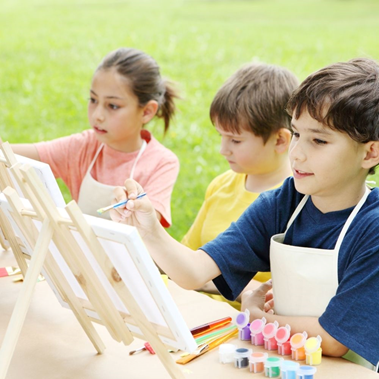 Easels
When it comes to setting up your little artists workspace, you'll definitely want to include their very own easel. Not sure which easel to choose? This Mont Marte Wooden Tabletop easel is perfect for beginner artists, and can be folded up for easy storage once your painting session is complete.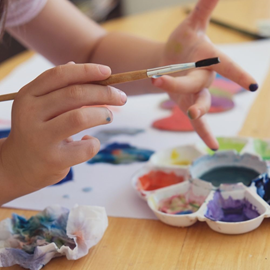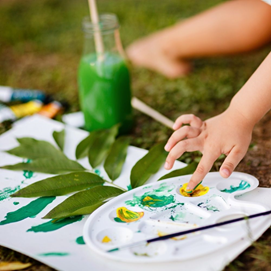 Palette
There are so many different types of painting palettes out there, however when it comes to choosing the right one for your budding Picasso, we recommend either the Mont Marte Palette - Oval Plastic, the Mont Marte Palette - Deep 6 Well Plastic or the Mont Marte Palette - Round Plastic 17cm. These plastic palettes come in a variety of shapes and sizes, but are perfect for colour mixing. They're also budget friendly, making them great for while your little artist is still experimenting with art.
Smocks
A smock is essential with young painters, and will help your little one paint their canvas, not their clothes!
The

Micador Early Start Toddler Art Smocks are

available in Pink and Blue and

are amazing quality, made from phthalates-free EVA fabric- a soft, flexible fabric designed to dispel liquid and make clean-up easy.

The sleeves are made from 100% cotton drill, and are ideal for 18 months - 4 year olds, with an open back that allows for flexible sizing. Perfect for your little Picasso
Brushes
The

Mont Marte Discovery Paint Brush Sets are

perfect for the beginner painter learning taking their first steps to learn how to paint. This brush set is a good stepping stone into experimenting with different brush shapes and sizes in an affordable and efficient way.

These hog bristle brushes can hold a lot of paint, are great for broad strokes through to thin lines
Perfect introduction set

Suitable for a range of mediums

Good for broad strokes

These brushes hold a lot of paint

Thin lines can be created by using the side of the brush

Hog bristles
Mont Marte Kids Chubby Brushes are perfect for little hands. The chunky handles allow great control so kids can make bold confident paint strokes.
The

Micador Early Start Stuff For Painting - Brush Set

is another perfect

starter kit for your little artist. Including 2 bristle brushes and 3 sponge brushes of different textures, it allows kids to explore different techniques, patterns and textures you can achieve with paint. The small plastic handles are perfect for little hands and durable for long-lasting, frequent use.
Other useful accessories
The Mont Marte Twin Compartment Brush Washer is an invaluable accessory for beginners and professional artists alike, and provides a quick and convenient way to clean and dry your brushes. It is a practical accessory for acrylic and watercolour painting, featuring 12 holes on the rim for holding brushes upright to dry, and will also help your little one keep their workspace clean. The lid can also be used as a palette.
This Splash Mat is ideal for covering tables or floors during activities such as painting and drawing. The mat wipes clean with a cloth, making clean up a breeze! The mat covers an area of 90cm x 110cm and the amazing quality means that it will last for years! Plus, the cute illustrations help kids learn how to draw.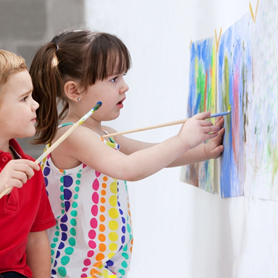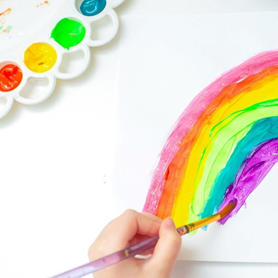 Don't forget to show us your little Picasso's artwork by tagging us on Instagram @artshedonline for your chance to be featured!
Got questions? Send us an email at customerservice@artshedonline.com.au and our friendly team of artists will do their best to assist you.
Happy creating!
---
Leave a comment