---
Blue Monster Face Paint Tutorial
Author: Dana McGorlick-Appelman Date Posted:27 October 2021
Looking for a kid-friendly last-minute Halloween look for spooky season?
We asked our resident professional makeup artist and art shed team member Kate to create an easy-to-follow Blue Monster face painting look that is perfect for Halloween, kids parties and more!
Mont Marte Kids Face Painting Crayons in Neon
Mont Marte Gallery Series Acrylic Brushes in varied sizes and shapes
How to create a blue monster face paint look in 7 easy steps
Step 1. Outline some monster teeth on one side of the face either using a white eyeliner pencil or using a small Taklon paint brush and the white from the Mont Marte Face n Body Bright palette.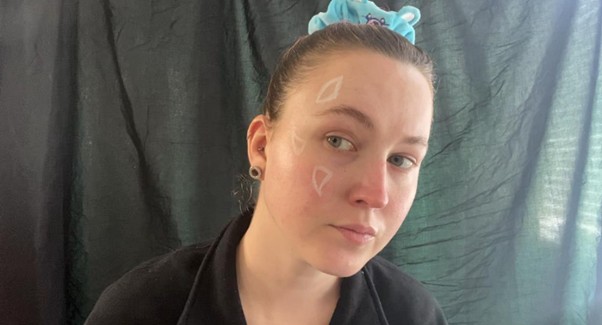 Step 2. Using the blue from the Mont Marte Face n Body Palette in Bright, outline and fill in a blue burst shape around the eye and onto cheek, avoiding the white teeth designs.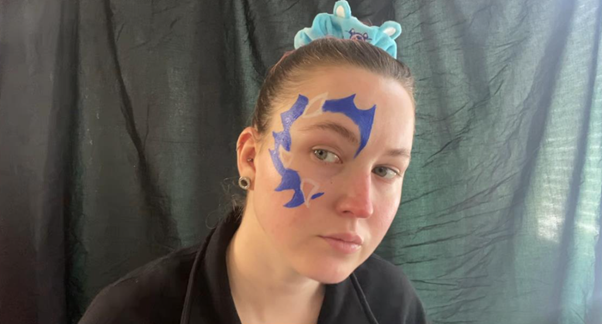 Step 3. On the inside of the blue burst shape, use more of the blue with from the Mont Marte Kids face Painting Palette in Bright, and start shaping out sharp curved angles.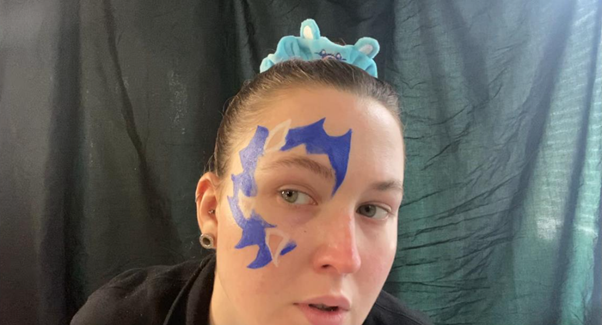 Step 4. Mix the blue and white colours from the Mont Marte Face n Body palette in Bright, and fill in the inside of the blue monster shape, avoiding the eye and eyelid.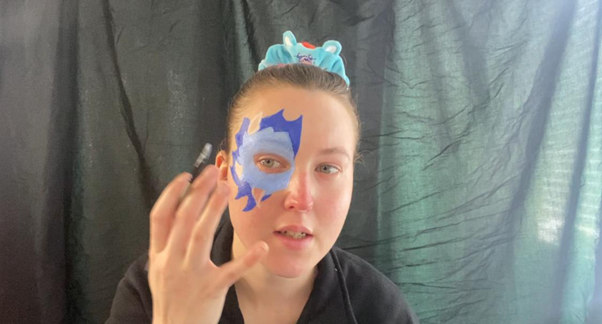 Step 5. Next go in with the blue shade from the Kids Face Painting Crayon in Neon and apply it to the undereye and on the eyelid. Top it off by mixing the blue and white shades in the Kids Face Painting palette in Bright. You can now also fill in the teeth designs using the white shade from the Face n Body palette in Bright.
Step 6. Now to blend! Using a brush, blend out the light blue into the dark blue to soften the edges.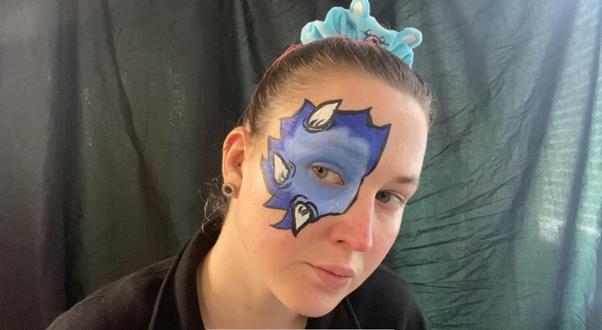 Step 7. Now, taking the black from the Face n Body palette in Bright, go around the monster shape and teeth and add details in.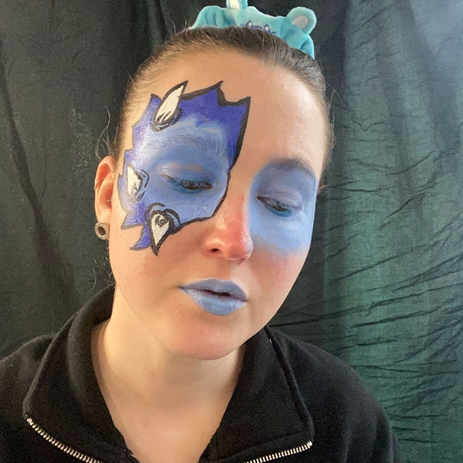 For a finishing touch or an alternate look, you can go in directly to the blue and white shades in the Kids Face Painting palette in Bright. Using the sponge by TAG, swipe/dab across the other eye to the side of face where hairline begins. You can also apply blue to the lips to complete the look!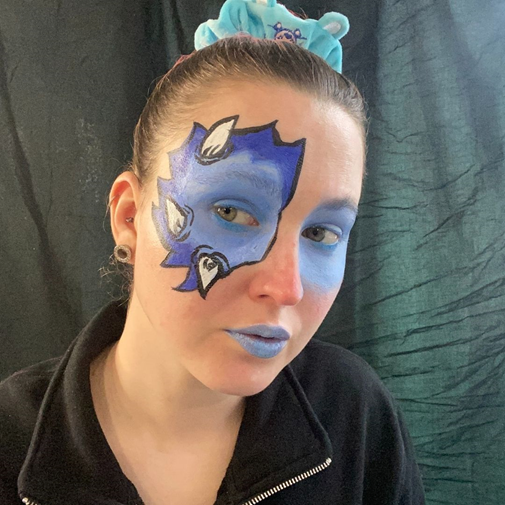 Want to see the tutorial in action? Watch the Tiktok video here.
About the Artist:
Kate Ryan is a makeup artist based in Melbourne, Australia. Kate has a unique flair, honed with an attention to detail that strives her to consistently enhance beauty and create something original.
She has experience working on films, music videos, editorial, bridal and event makeups. She's highly driven and passionate about the makeup and hair industry which shows in her work.
Through her taught skills and gained experience she also has a knowledge in SFX makeup, wigs & hair.
Kate see's makeup for what it is, an art form. You can find Kate:
On Instagram - @kateryanmua
Through her website - www.kateryanmua.com
Or on TikTok - @bambiandpixie
A massive thank you to Kate for creating this awesome look and tutorial!
Don't forget to show us your Face Paint looks by tagging us on Instagram @artshedonline for your chance to be featured!
Got questions? Send us an email at customerservice@artshedonline.com.au and our friendly team of artists will do their best to assist you.
Happy creating, and have a spooky Halloween!
---
Leave a comment