---
DIY Handmade Christmas Projects for an Arty Christmas - Part 1
Author: Tessa Maddock Date Posted:10 November 2022
Creative Ideas for an Arty Christmas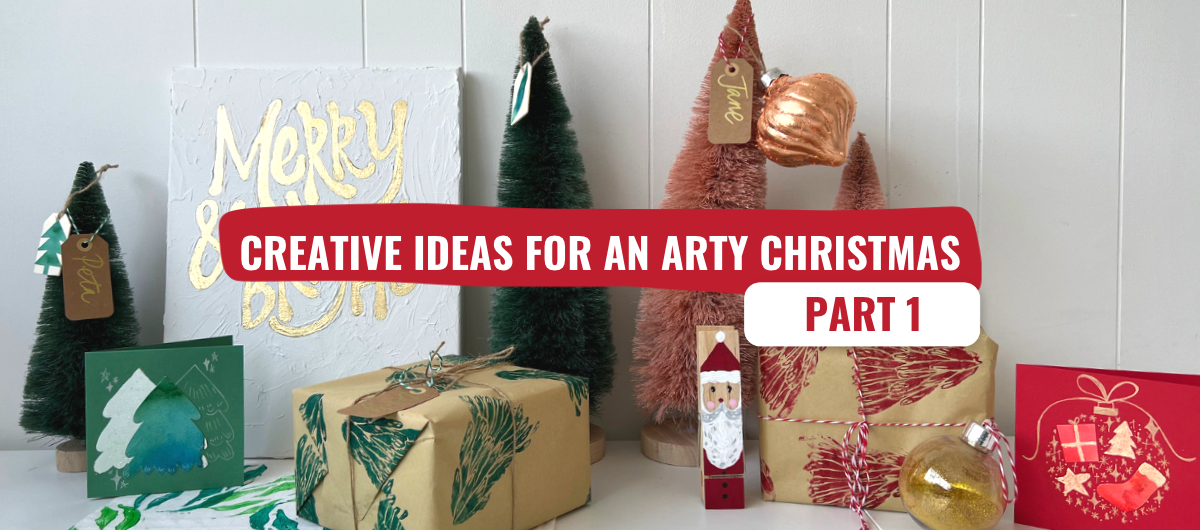 We've curated some easy Christmas crafty projects for you to try this festive season. Get out the glitter and gold - we're going hard on the sparkle to maximise the joy this year!! From simple gold lettered kraft swing tags, to luxe Christmas artwork and painted santa stocking holder pegs - we've got a fun project for you and the whole family to enjoy making!!
1. Jumbo Hand Painted Santa Peg
Let's kick things off with the big man himself! Old Saint Nick. For this project we used Mont Marte Signature Acrylic Paint Set - 48pc x 36ml, Mont Marte Signature Paint Brush Set - Artist Brushes In Easel Wallet 17pc, Portacraft Christmas Twine - 3 Pack and Wooden Clothes Pegs - Jumbo Natural

Now the 48pc set might seem excessive but there are so many amazing colours in this set and it's such great value for money, once you start playing with these acrylics, you won't be able to stop!

I sketched out a little Santa design on our peg and got painting with a size 3 round taklon brush from the Mont Marte Artist's Brush Wallet, switching to a size 4 angular brush to cover the larger areas. I used Crimson, Lamp Black and Titanium White to create this design. To make the grey in Santa's beard I mixed a small amount of Lamp Black with Titanium White and for the pink cheeks I mixed a small amount of Crimson with Titanium White.

Once your Santa peg has dried you can use him to peg up Christmas cards or stockings along some Christmas twine on your mantle or fridge - where ever you want to spread some Christmas cheer in your home!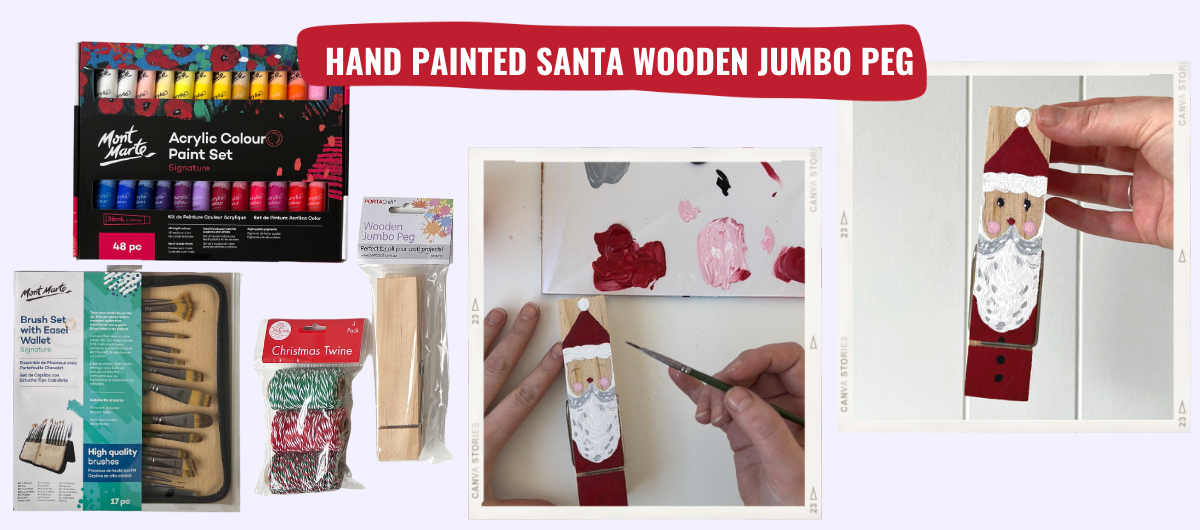 2. Copper Leaf Bauble Christmas Ornament

Next up - The Copper Bauble! This is a really simple hack that will make these plastic baubles look luxe for less!! All you need is a pack of Mont Marte Copper Leaf 14 x 14cm 25 Sheet (or we also stock gold and silver) a Portacraft DIY Clear Plastic Fancy Bauble - 10cm, some Mont Marte Leafing Size 60ml and that handy Mont Marte Signature Paint Brush Set - Artist Brushes In Easel Wallet 17pc. I also used a bit of Portacraft Twine - Natural to hang up the bauble once I was done!

Using a soft taklon brush, cover the bauble in leafing size, wait for 25 minutes for the size to become tacky then gently lay down the copper leafing. I used another soft bristle brush to push the leafing into all the nooks and crannies of the bauble.

I would recommend also using a Krylon Spray - Triple Thick Crystal Clear Glaze 340g to seal the leafing for an extra layer of protection. Attach the twine to the bauble top and you're done! I was really happy with out this turned out!! It almost looks like an antique ornament.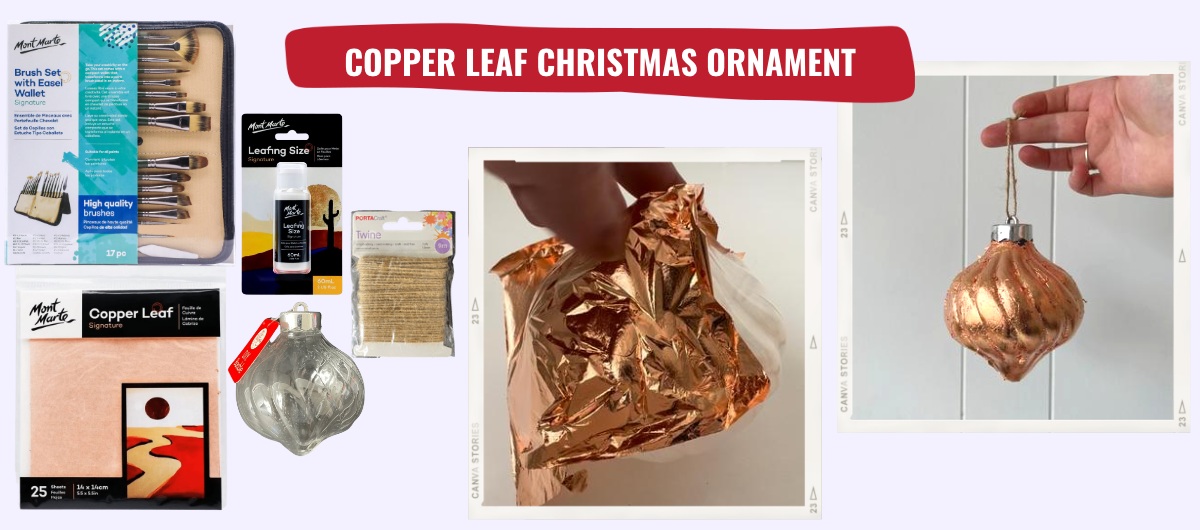 3. Gold Glitter Filled Bauble

This is another easy little decor hack to add some extra sparkle to your Christmas! And it's super fun to do. Just make sure you don't end up getting glitter EVERYWHERE like I did, especially when I realised there was a hole in the top of the bauble cap!

Take a bottle of magic Glitter Shaker 200g - Gold and a Portacraft DIY Clear Plastic Bauble - 8cm and fill her up! It's really that easy!

I used a piece of card to make a funnel so I didn't get too much glitter everywhere but if you have an actual funnel handy that might be even easier again!! Now, so you don't make the same mistake I did, take a bit of card and cut a little square to fit inside the bauble cap and block the hole. That way all your glitter won't spill out when you're spinning it around in a hazy moment of Christmas delirium.

Hang your glitter filled globe up proudly with some decorative Portacraft Christmas Twine - 3 Pack BOOM another fun simple decoration for you and the kids to enjoy!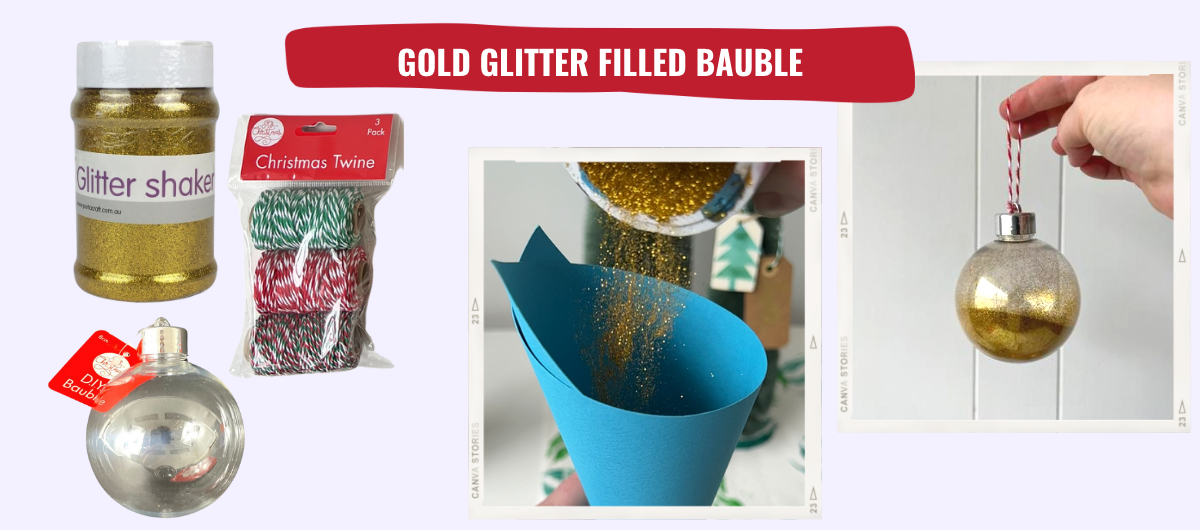 4. Simple Gold Name Tags

These kraft tags are so versatile! You can use them for so many things this festive season; label gifts, use them as placement cards for the Christmas Day table or claim your wine glass so no one steals a sip of your prosecco - the options are endless.

I used Portacraft Kraft Tags - 15 Pack but we also have Portacraft Chalk Tags - 8 Pack for a moodier setting. I chose Mont Marte Acrylic Paint Pens Dual Tip Gold 2pc to fit with the gold theme. Finished of with a bit of Portacraft Christmas Twine - 3 Pack and these simple but effective labels are good to go!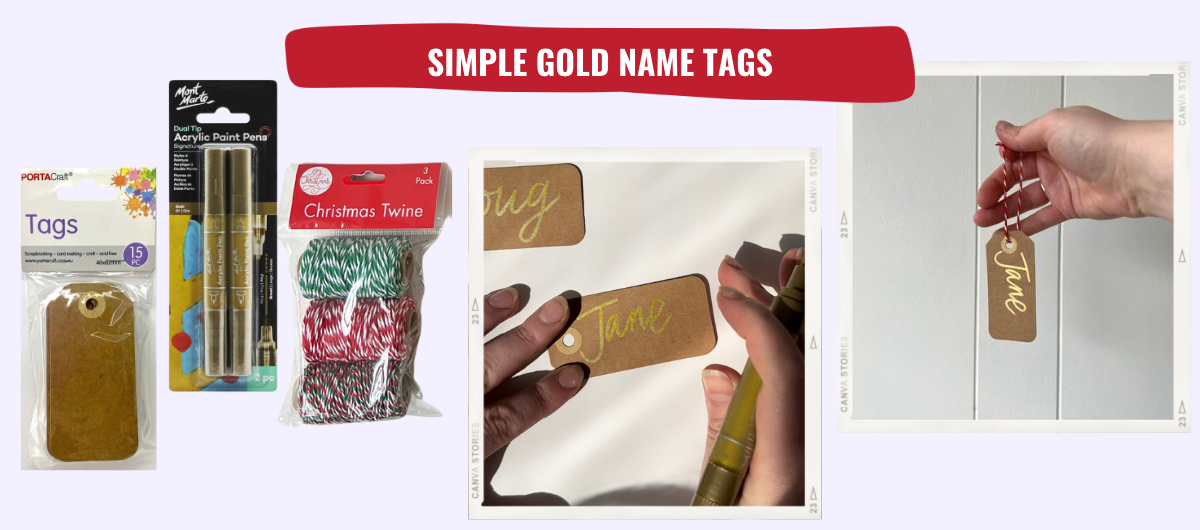 5. DIY Printed Wrapping Paper

Last but not least - Don't forget the presents!! Perhaps you've bought an epic Mont Marte Signature Essentials Mixed Media Art Set In Wooden Case 174pc for someone this Christmas but it needs some gift wrapping! Why not go the extra mile and make it yourself?!

For this project we pulled out all the stops and made our own Christmas Tree stamp - and believe me, I'm going to use it to print on everything. Grab yourself Essdee Lino Cutting & Printing Starter Kit and maybe some extra Renoir Ezy Carve Printing Block A5 14 x 21cm because this lino cutting business is addictive. I grabbed a roll of Portacraft Kraft Wrap Roll 70cm and some Derivan Block Ink 250ml - Red.

Sketch up your design and then once you're happy transfer it to the lino, you can do this by sketching a layer of graphite down on the back of your design and then laying that side down on the lino and tracing over your design. Otherwise you can draw straight on to the Ezy Carve Lino. Cut out your design and start printing! I mixed a tiny bit of black ink with the red to make it a slightly deeper crimson red. Make sure you re-ink your stamp each time as the kraft paper can start to come away if it's too dry.

I used Portacraft Christmas Twine - 3 Pack to tie up a little bow around my gift and to attach a name tag to. All in all I think it looks pretty cute!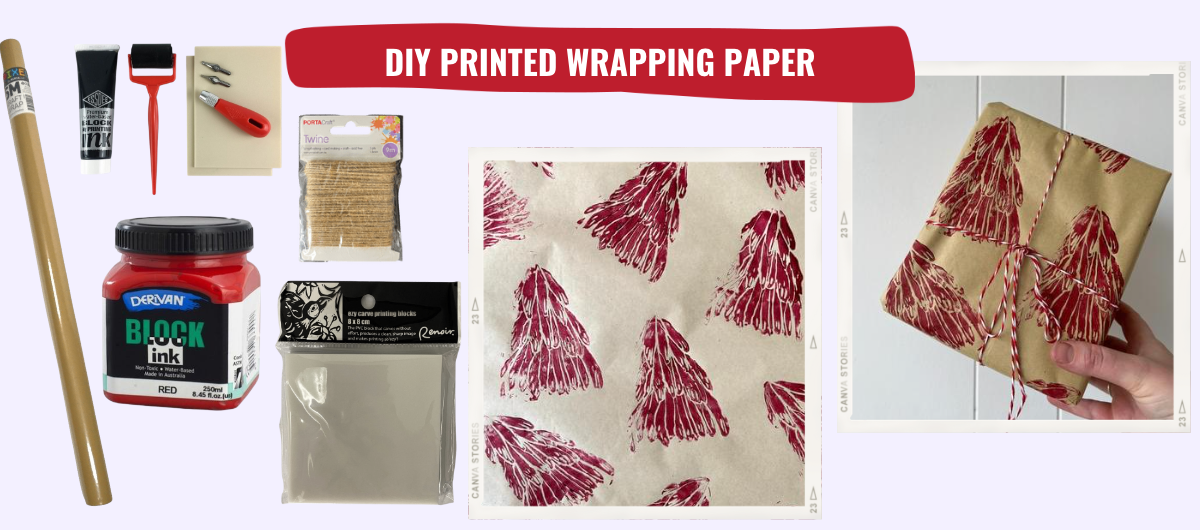 Will you try some of this Christmas crafts these year?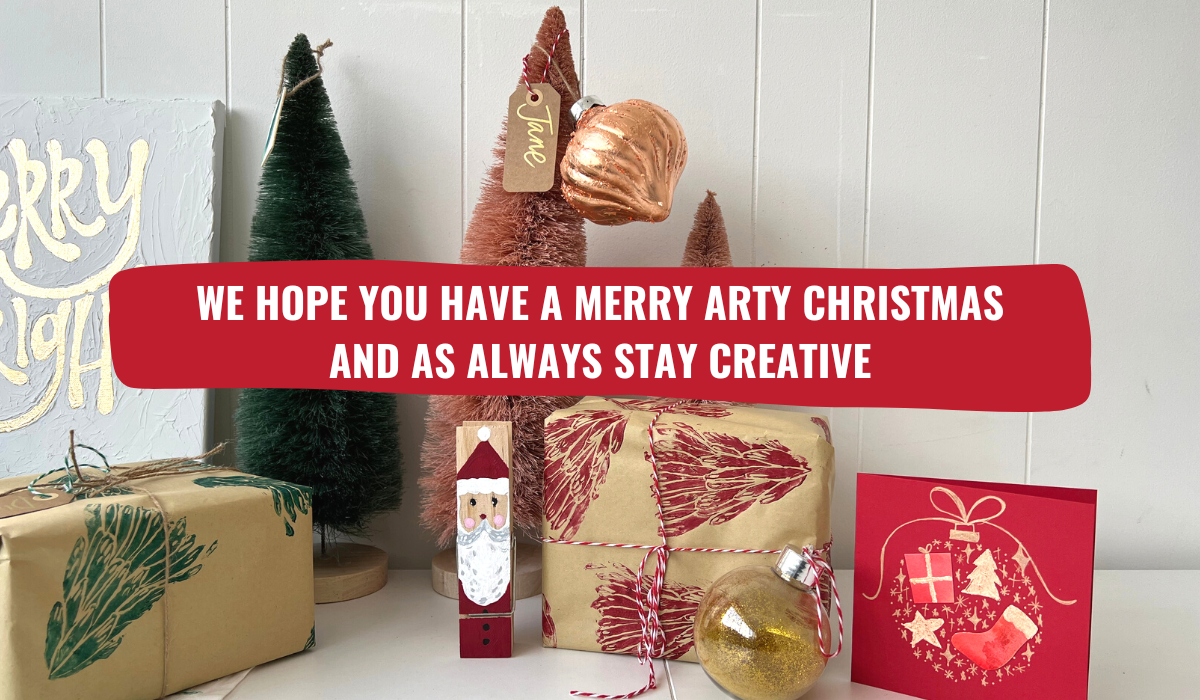 ---
Leave a comment