---
Author: Dana McGorlick-Appelman Date Posted:22 December 2021
If you haven't already heard of Boom Gel, you'll wish you had sooner.
This eco-friendly, non-toxic brand has taken the fluid art world by storm!
So, what exactly is Boom Gel? Boom gel is a multipurpose, Australian made and owned stain. The beauty of boom gel stain lies in its versatility. It can be applied to a multitude of surfaces, including canvas, timber, glass, ceramic and fabric and many others, making it perfect for personalising pieces you already own, as well as creating stunning, swirling works of art that are sure to dazzle and delight.
Made and owned by Cass and Brett, boom is bottled, labelled, and sealed by hand by Cass, her husband and daughter in law in Mandurah, Western Australia. This small family team work hard to ensure each and every bottle is of exceptional quality.
When they're not hand bottling Boom from their home in WA, Cass and Brett also love interacting with boom gel users across their multiple social media platforms (you can find their Facebook group here, a supportive space for boom gel stain fans to share their artworks and share tips and tricks).
We spoke to Cass about what she loves most about Boom Gel:
"On a personal level, I am so fortunate as now I work from home. The most rewarding part of being the owner of Boom Gel Stain is hearing how much other's love Boom, literally I get goosebumps. Words can't express my gratitude."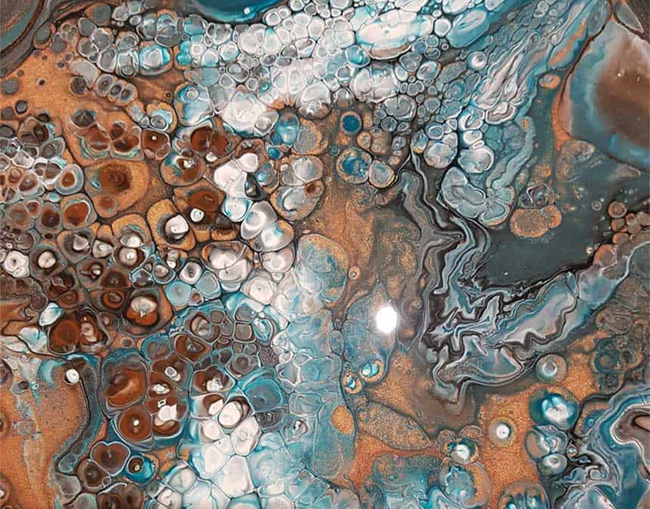 Suitable for all levels of abilities, from complete fluid art beginners to seasoned pros, boom gel can easily be applied to surfaces using brushes, sponges, or even hands. The easy-to-use nature of the product means anyone can create amazing, beautiful and unique custom works of art. It's also super easy to clean, simply wash with warm soapy water and you're ready to move on to your next project.
Watch Boom Gel in action here!
A guide to Boom Gel Products
Boom Gel Stain is a non-toxic stain that can be used on nearly any surface. This multipurpose product can be used to upcycle timber, ceramics, glass, fabric and canvas. It creates stunning fluid patterns when used with fluid art techniques, and is a fantastic eco-friendly alternative to traditional acrylic pouring methods. It's available in a wide range of colours, from hues inspired by the Australian landscape, to shimmering metallics and stunning pearlescent shades. The stunning range of colours are also mixable, making the creative possibilities endless.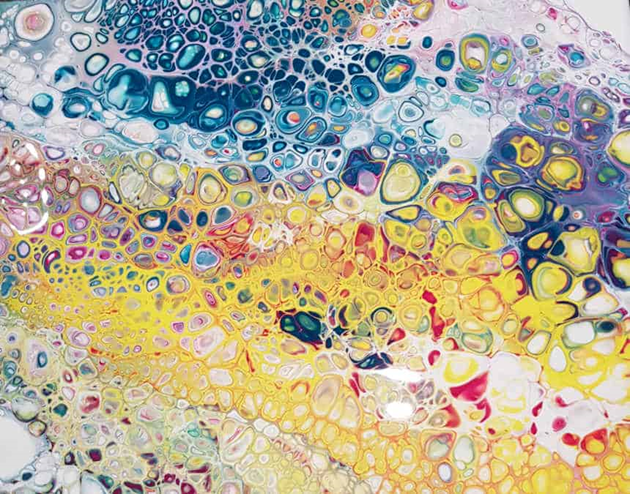 The Boom Booster cell enhancer is an alcohol-based additive that can be combined with your Boom Gel Stain to create and increase the formation of cells within an artwork.
The Boom Gel Texture Gel Medium is the perfect product for adding dimension and texture to your works. This opaque off-white gel is thick yet super flexible even when dry. It can be applied to various substrates or other texturizing agents such as stones or sand.
Its thick consistency is great for impasto techniques and can also be used to create moulds or stencils. It's a non-toxic formula that's water-based for easy clean up.
This medium has been formulated specifically for use with Boom Gel Stains but can be used with acrylic paints and other mediums.
Boom Gel Clear Flow Medium is designed to act as a carrier agent in fluid art. The clear flow medium enables you to create fluidity and movement in your gel or paint without disrupting the colour, opacity or integrity and dries completely clear so the vibrant colour of your paint or gel can shine through.
This medium has been formulated specifically for use with Boom Gel Stains but can be used with acrylic paints and other mediums.
Boom Gel Gloss Sealer can be used as a final coat on your Boom Gel Stain Artworks - as a final varnish.
Want to keep up to date with Boom Gel?
Check them out on Pinterest here: https://www.pinterest.com.au/brettcass/boom-gel-stain/
Follow them on Instagram: @boomgelstain
You can also find them on YouTube at Cass'Creations Boom Gel Stain
Don't forget to show us your boom gel creation by tagging us on Instagram @artshedonline for your chance to be featured!
Got questions? Send us an email at customerservice@artshedonline.com.au and our friendly team of artists will do their best to assist you.
Happy creating!
---
Leave a comment