---
How to: Dirty Pour Fluid Art Technique
Author: Dana McGorlick-Appelman Date Posted:9 November 2021
Looking for a super easy art project? This Dirty Pour Fluid Art technique is a fantastic option for beginner artists!

Hey everybody! It's Alysse from Art Shed.
Today I'm going to teach you how to do a dirty pour.
To start off any acrylic pouring, you'll need a surface to paint on, so I'm using a canvas
Next for my paint, I'll be using a mixture of our Mont Marte studio acrylics and satin acrylics. I'll be mixing this in with Floetrol. I'll be using Titanium white, Magenta, Ultramarine blue, and Turquoise. You could even choose to use premixed pouring paints.
In the boom gel stain, I'll be using the pearlescent teal
Next, you'll need something to mix up your paint with your pouring paints in. I'm just using some plastic cups and some Popsicle sticks.
Because I want cells in this painting, I am using Silicone oil
I like to start off my work surface by raising up my canvas. I like to just use some extra cups that I have laying around and putting it onto each corner of my canvas. This will allow any excess paint to fall off the edges of my painting now to the paint mixing.
I like to start off by pouring a bit of my paint into separate cups so I can mix them with my pouring medium. Next, I add my Floetrol. I like to start off with about half paint to half Floetrol. Then I mix it together and making sure I get any lumps out. Then I keep adding Floetrol until I get to about three quarters of my Floetrol to about a quarter of my paint.
Because I want a few cells in this painting. I'm adding a couple of drops of Silicon oil to my teal and my magenta, making sure I mix it all together.
If you want lots of cells, you can add it to all of your colours.
The next step is to get an extra cup and start pouring your mixed paints, one on top of the other to help prevent your paints from mixing together too much. I like to always pull my paints down the edge of the cup, so it pulls in slowly. This will help you lay them nicely.
As you can see, the boom gel is actually a little bit too thick. And in hindsight, I should have mixed it in with more Floetrol.
It's always a good idea to try and get your paints to the same consistency. This will help prevent cracking
The next thing you need to do is just put your cup over onto your canvas and let it sit for a few seconds. You can already see the cells forming from that Silicon oil.
Now you just need to tilt your paint each corner when doing this, it's always a good idea to go to one corner first, then bring your pool of paint back to the centre and then keep going to each corner.
An issue that I've run into for this painting was that I didn't actually use enough paint. And I also left the boom gel a little bit too thick.
You can see that the paint isn't moving that smoothly and it's kind of pulling and ruining all of their cells that I wanted to avoid this. Just make sure that you get all of your paint to the same consistency and to use enough paint to cover the canvas, but it still looks cool nonetheless.
Now I'm just making sure I get all of my edges and really just have fun with it.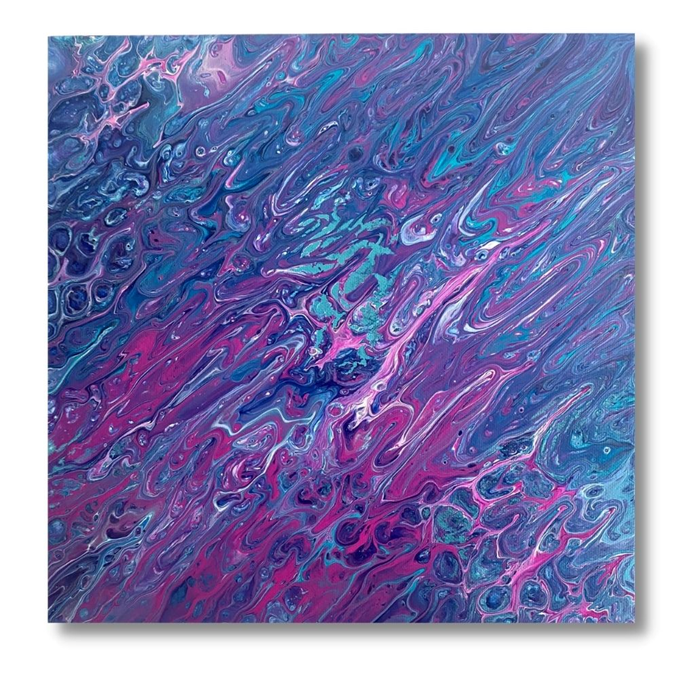 Materials List:
You will need:
Mont Marte Professional Series Double Thick Canvas
Mont Marte Pouring Paint in the colours:
Titanium white

Magenta

Ultramarine blue

Turquoise

Silicone Oil

Plastic Cups Pop Sticks
Optional:
Mont Marte Signature and Satin Acrylic Paint in your choice of colours (mix with floetrol for pouring consistency)

Floetrol

Boom Gel
Don't forget to show us your dirty pour by tagging us on Instagram @artshedonline for your chance to be featured!
Got questions? Send us an email at customerservice@artshedonline.com.au and our friendly team of artists will do their best to assist you.
Happy creating!
---
Leave a comment