---
How to choose the right Pencil Set for your art practice



Choosing the right Pencil Set for you.
Here at Art Shed, we know how much fun sketching, drawing, illustrating or simply colouring can be. One of the many benefits of art is that it can be done for relaxing or commission pieces for our more serious artists. This is why Art Shed stocks a great expansive range of Pencil Sets from some of the world's most famous Art Brands from Mont Marte, Faber Castell, Prismacolor, Derwent, and Cretacolour, just to name a few.
Each of these brands has an exquisite range catering to all levels of artists, from beginner to intermediate and advanced artists who commission their Artworks. Art Shed stocks products suited for everyone!


Choosing your pencils for your artwork can come down to too many things. You may have a specific brand that you know and love or you could be ready to dive into something new and try a new brand or media type. Our Pencil range has you covered!
Our range includes sets containing Pastel Pencils, Color Pencils, Graphite Pencils, or Watercolor Pencil from our chosen leading brands.
So, let's discuss the variations amongst each Brand and their range to see how best to apply these Pencils to your Art Works.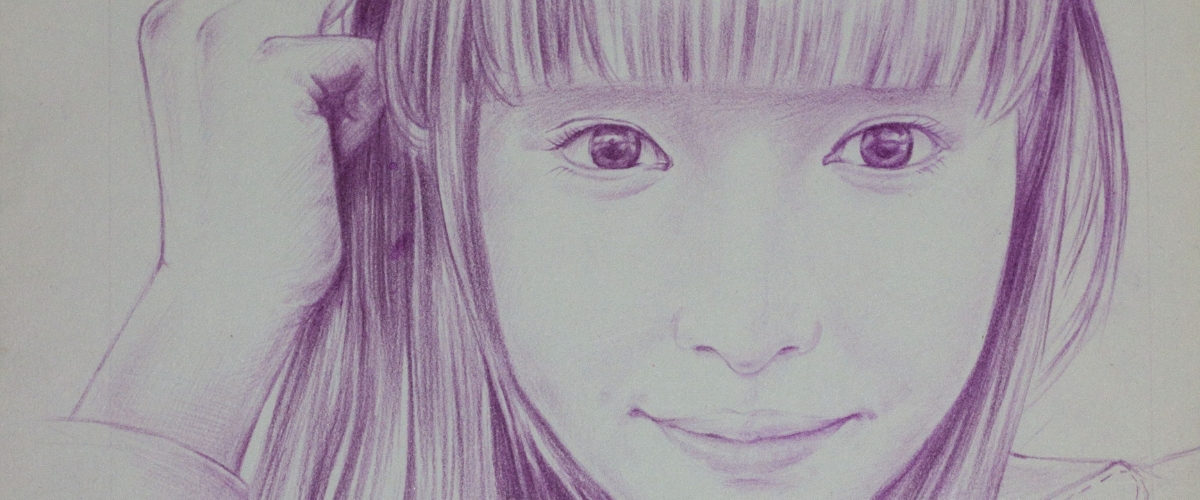 Our First Stop Sketching and Monochrome.

Whether you're creating your newest masterpiece, or just doodling a quick sketch the monochrome colours of black, white, sanguine and sepia can be found in life drawing classes at almost every art school.
They bring pictures to life with vitality and expression.

This is an old tradition of figure drawing that dates back to the Renaissance, enhanced with white and with shadows deepened with black. Faber-Castell's Pitt monochrome crayons hark back to this long tradition of figure drawing, which is why the crayons designed for sketching are harder than conventional pastel crayons. For this reason, the lines do not disappear completely when smudged.
The sanguine and sepia crayons are supplemented by oil-free and oil-based drawing pencils for sketching and details.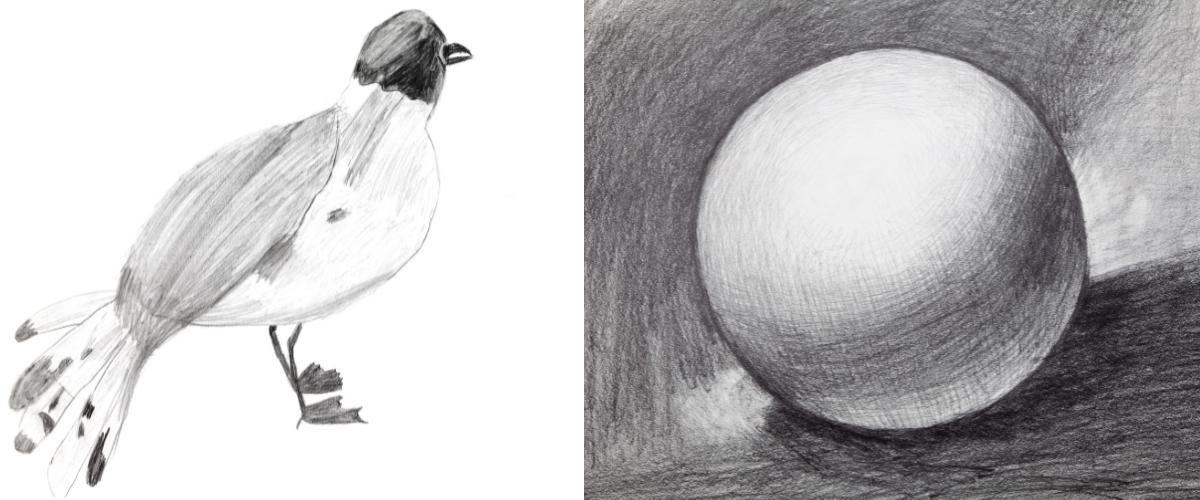 For that artist that would like to step into the world of sketching and monochrome, here are a few sets we suggest for you.


These sets feature a range of products, ideal for a variety of sketching styles and experimentation with different techniques.
A perfect set more suitable for a beginner to explore you can't go past the Mont Marte Signature Drawing Set - 24pce.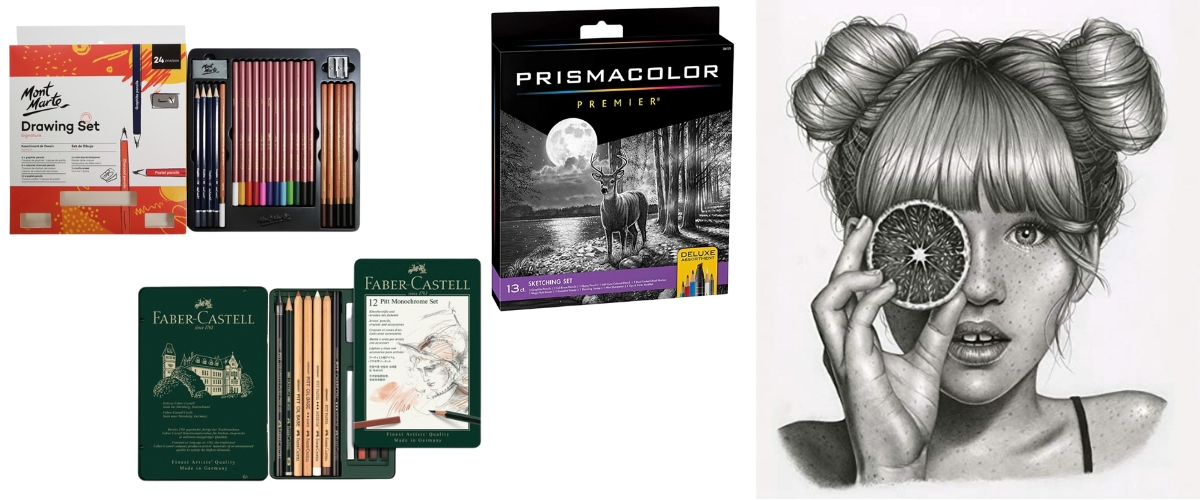 Pencil Sets For The Watercolour Enthusiast




Some Artists might know about Watercolour Pencils already, but for those of you who are starting out Let's explore a little further.
Water Colour Pencils are easy and convenient to use, paints a little less so.
These high-quality colour pencil options give you the best of both worlds.
Simply sketch out your design and gently stroke your Watercolour brush over it to create your desired effect.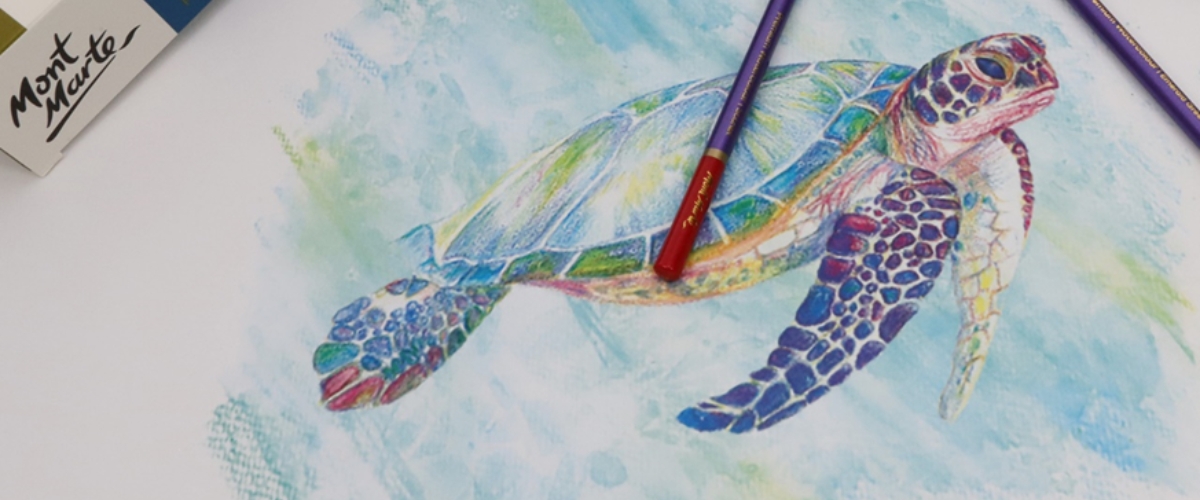 Mont Marte Premium Watercolour Pencils 72 Piece In Wooden Box


The Mont Marte premium watercolour pencil set provides a perfectly curated spectrum of colour for artists.
Use it for sketching, drawing or detailing designs, then apply water with a brush to soften colours and add watercolour effects.
The elegantly designed, lacquered wooden box isn't all about looks.


This practical case features a magnetic close and internal magnet strip to keep your watercolour pencils secure during transport. Keeping your pencils in place allows you to stay organised and protects them from damage to extend their life.
Explore your potential and create beautiful artwork with our premium watercolour set.


If you are looking for something a little smaller with the same high-quality pencil pigments you need to check out the
Mont Marte Premium Pencil Set - Watercolour Pencils In Tin 36pc.
With a range of vibrant colours, this premium watercolour set is bound to become your favourite.
It even comes with a brush so that you have everything you need to start creating.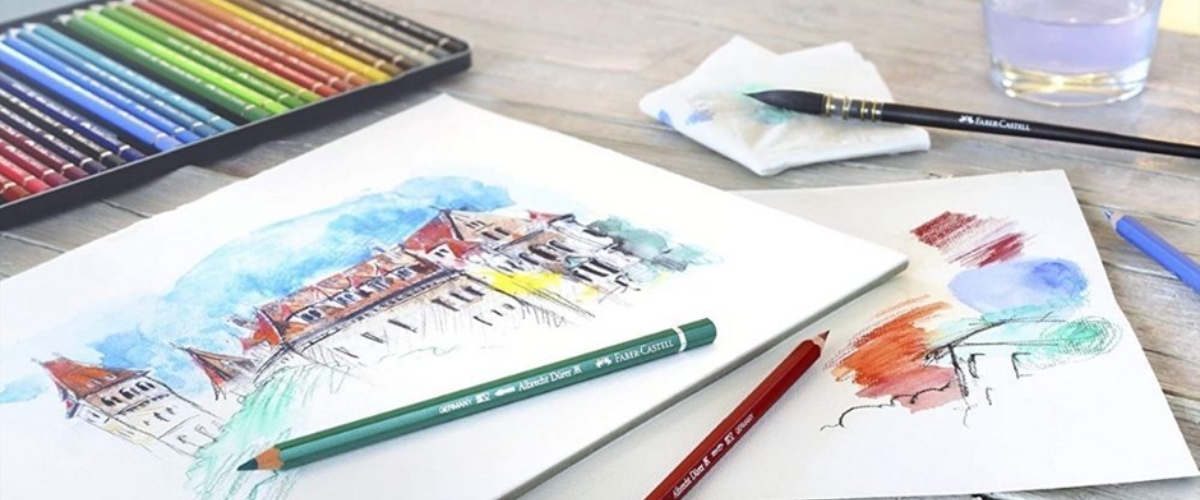 Faber Castell Albrecht Dürer artists' watercolour pencils


This range provides artists with great versatility of expression when drawing, shading and painting in watercolours.
High-quality materials, combined with over 250 years of experience, have resulted in watercolour pencils that produce unsurpassed watercolour effects and vibrancy.

The coloured surface can be transformed with only a few fine or broad-brush strokes to reveal the full and unique power of the colours. Depending on the paper being used, the pigments can be completely dissolved, and will then behave in the same way as classic watercolour paints.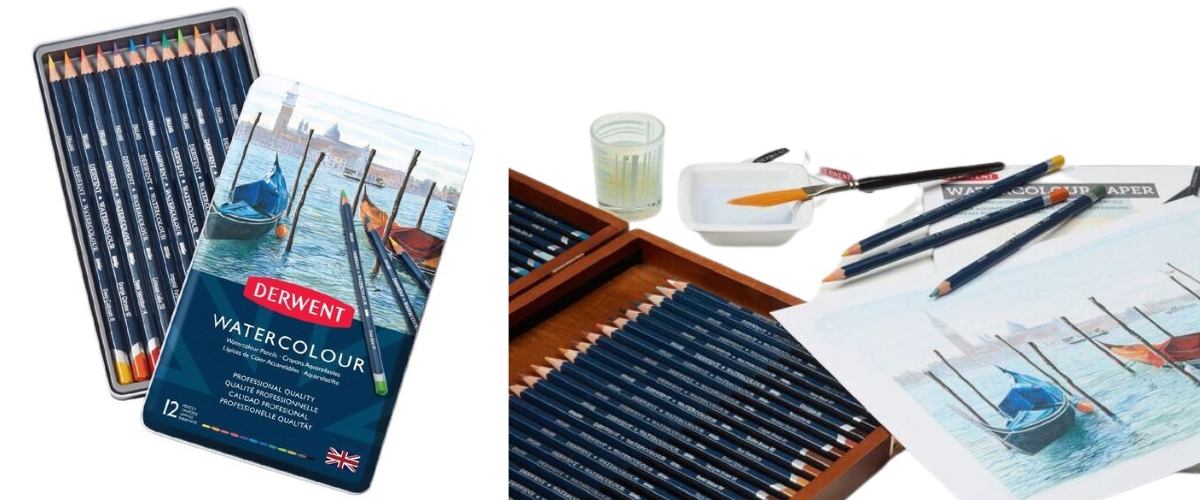 Derwent Watercolour Pencils can be used wet or dry, on wet or dry paper, to achieve a wide variety of effects.
Very High Quality in pigments and soft in texture so easy to blend and layer.
Derwent Watercolour Pencils retain their full intensity however you use them.
For sheer versatility, Derwent Watercolour is unmatched.
Prismacolour Watercolour Pencils

Prismacolor Watercolour pencils can be used either wet or dry for varying effects.
These artist-quality pencils are perfect for every level of expertise and are made from high-quality pigments for rich colour saturation. Definitely an Art Shed favourite!
Pencil Sets for those who LOVE the colour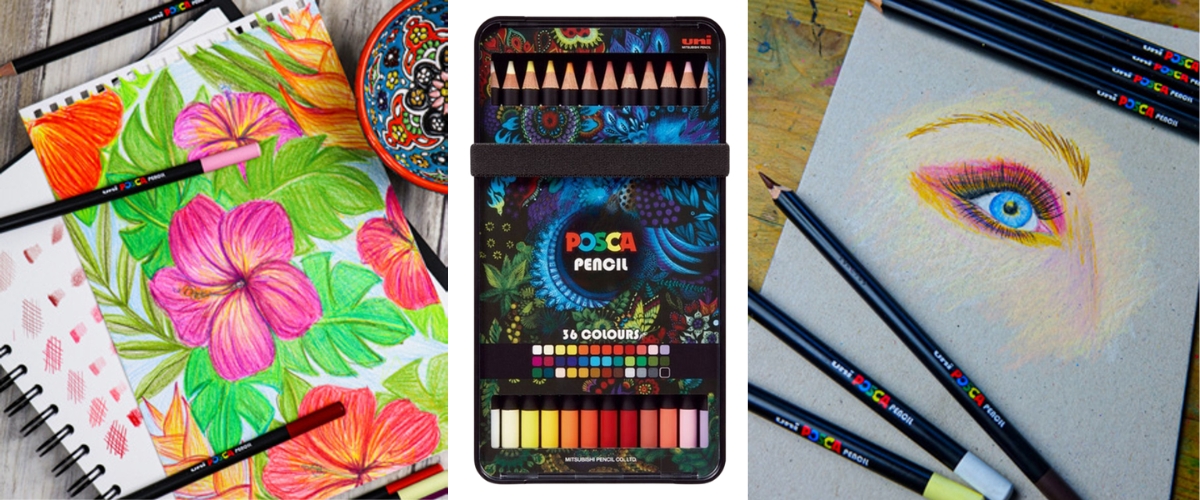 Posca Colouring Pencil Of 36pce

Introducing Posca's 36pc Colouring Pencil set! Their unique formula contains more oil than wax, producing vibrant and exciting colours. With a smooth finish, Posca colour pencils sharpen perfectly and don't crumble or break with heavy pressure.

The pencils work on light and dark papers and can be used with both water and turpentine to achieve a range of effects.

Artist quality pencils

Pencils do not crumble or break under heavy pressure.

Intense, ultra-vivid colours

Works on light and dark papers, as well as the canvas

Can be used with both water and turpentine to achieve a range of effects

Pencils are made from Wax, Talc, Pigment & Resin

Colours included: White, Yellow, Bright Yellow, Orange, Green, Khaki Green, Light Blue, Navy Blue, Prussian Blue, Fuchsia, Dark Red, Red, Vermillion, Dark Olive, Ochre, Brown, Dark Brown, Light Gray, Black, Lemon Yellow, Ash Brown, Emerald Green, Blue, Lilac, Mauve, Gray, Blue Green, Ivory, Light Pink, Fresh Green, Light Orange, Dark Gray, Coral Pink, Green Tea, Pine Green, and Light Ochre.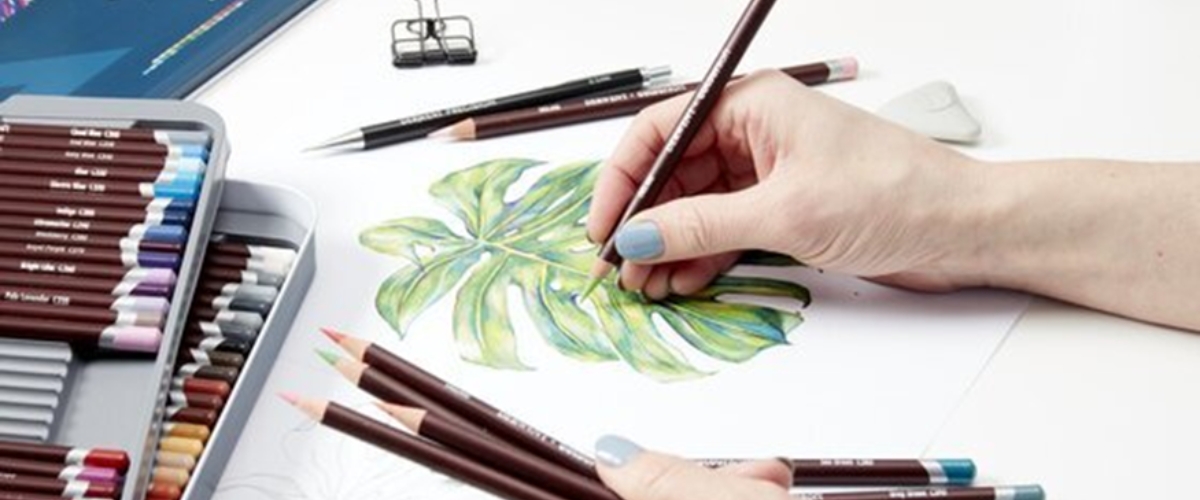 Derwent Coloursoft Colouring Pencil


The soft textured strip in Coloursoft pencils is perfect for quick, easy lay-down of large blocks of colour.
The large, 4mm colour strip is housed in a strong and durable 8mm Cedarwood barrel.
Coloursoft pencils are acid-free, do not bloom easily and have superior lightfast ratings to similar brands of soft textured pencils.

Artist-quality coloured pencils for every level of expertise.
These coloured pencils contain high-quality pigments for rich colour saturation with soft, thick cores to create a smooth colour laydown for superior blending and shading.

The thick leads resist breakage and are light resistant and waterproof so you can enjoy your drawings and sketches for years.
Available in Derwent Coloursoft Colouring Pencil Tin Of 72, Derwent Coloursoft Colouring Pencil Tin Of 36 and Derwent Coloursoft Colouring Pencil Tin Of 24.
Pencil Sets for the Graphite Traditionalist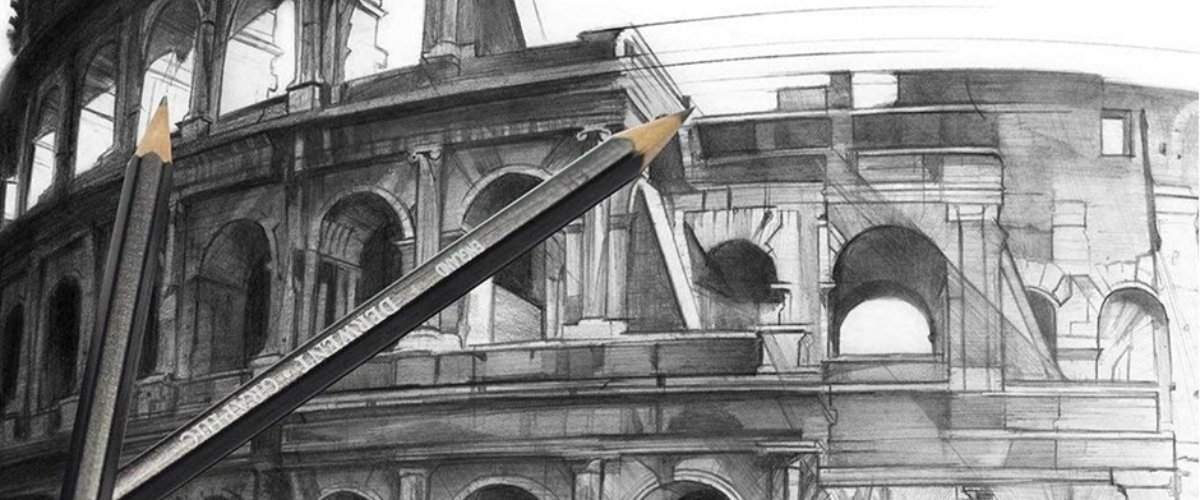 A good graphite drawing starts with a good graphite pencil!
This soft set is ideal for expressive sketches and portraiture.
Derwent Graphite Pencils contain the finest graphite to create a strong and graduated line, strong to the core.
Faber Castell Pitt Mixed Media Set - Graphite 11pce


The "green pencil from Faber", which was already mentioned with approval by Van Gogh and Goethe, has now become part of everyday life. The 16 different grades of hardness range from a delicate grey hue to a deep graphite black, and offer artists a wide range of possibilities.

The Pitt Graphite Pure leads are ideal for creating contrasts and shading extended areas. These pencils offer unparalleled possibilities for spontaneous expression, creating different effects based on the pressure applied and the grade of hardness. The Pitt graphite crayons are an ideal and very economical medium for working on very large sketches and areas.
Pencil Sets for the Charcoal Enthusiast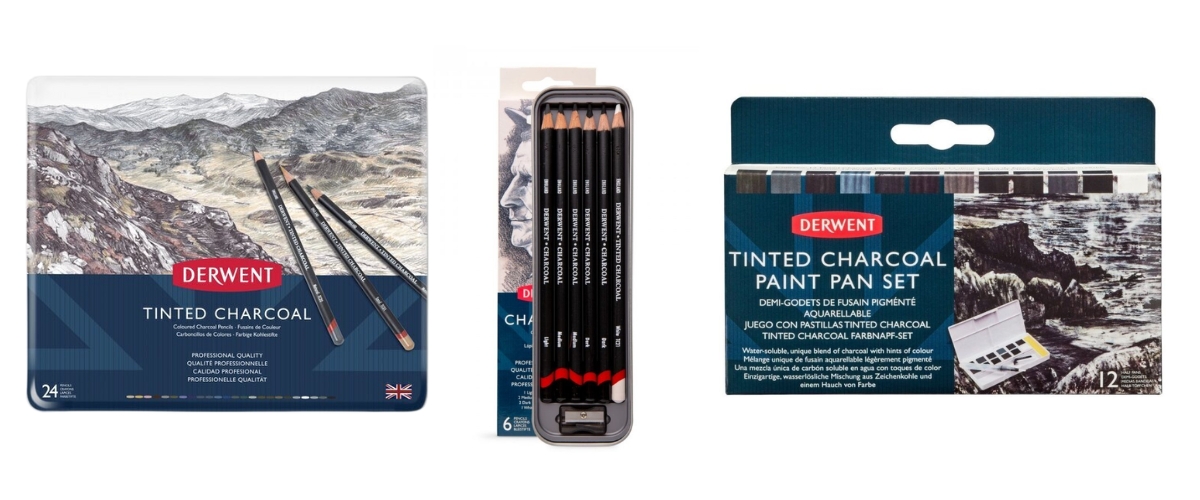 Derwent Tinted Charcoal Pencil


Tinted Charcoal offers the dramatic beauty of traditional charcoal with a gentle hint of colour.
Natural charcoal particles have been mixed with the finest clays and then encased in wood to produce a wonderfully expressive drawing tool.

The unique deep and light colour tones of charcoal in pencil form make the medium clean and easy to use but provide all the drama and impact expected from charcoal.
The colours smudge and blend beautifully to produce deep, rich and diverse tones, making Tinted Charcoal ideal for all types of portraiture and landscape studies.

Coloured Charcoal is available in 4 earthy colours that have been favoured by masters for centuries.
Originally sketches were produced as studies for paintings.
Now drawing with these materials is recognised as a fine medium in its own right.
These pencils will capture the warmth of a wide range of subject matter including still life, landscapes, and life drawing. Create warm tones in your sketches and illustrations,
Great set for beginners
Pencil Sets for those who love Pastels



Faber Castell Pitt Pastel Pencil


The Pitt pastel pencils contain a high level of pigment but are wax and oil-free, and are perfectly suited for fine details in pastels. Just like the Polychromos pastel crayons they can be easily smudged to create fine colour transitions and perfectly complement the pastel crayons. Only minimal fixing is required, ensuring that the pastel drawings retain their vividness of colour.


Artists pastel pencil

High-quality acid-free pigments in bright colours, unsurpassed lightfastness

Vibrant colour laydown

Perfect for smudging

Thick 4.3 mm lead

Suitable for use with fixatives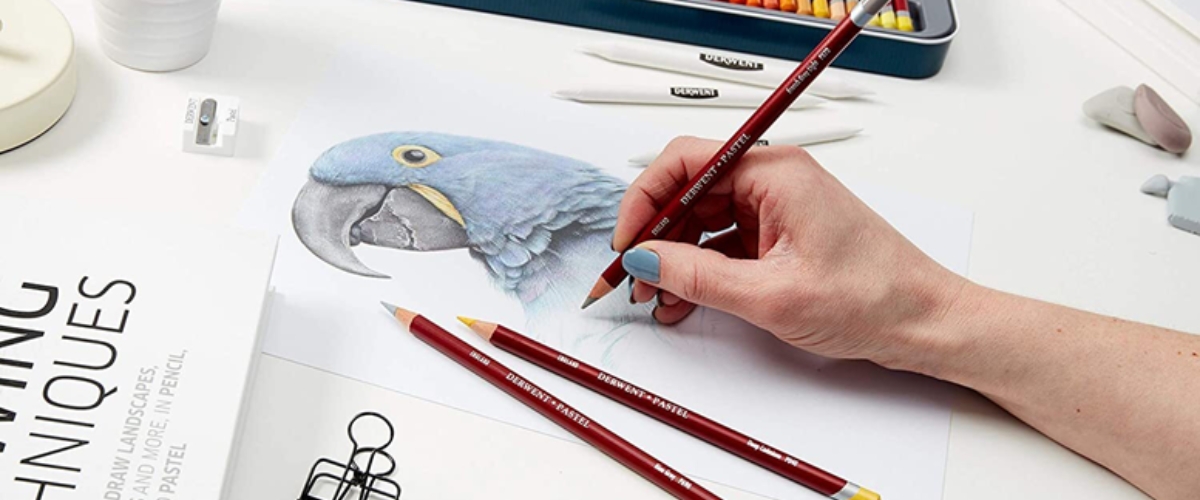 Derwent Pastel Pencils have the same expressive qualities as Derwent hard pastels in a more controlled pencil. These professional-quality pencils are ideal for use as an individual medium or for detailing in combination with pastel work.
Naturally water-soluble, they complement the pastel blocks perfectly without the mess. They have a soft, powdery texture for a soft, velvety finish and are ideal for mixing and blending. Each pencil is tabbed with its colour and is pre-sharpened for immediate use.
Pastels are usually all about getting your hands dirty but not with Derwent Pastel Pencils. The wide colour strip is powdery and soft so mixing and blending is really easy and because it's encased in wood you get the pastel effect without the mess (if you can resist using your fingers to blend!)
The smooth, round barrels are 8.0 mm wide and made from California incense cedar wood which combines maximum control with ease of use to create the best drawings and sketches.
Mont Marte Signature Colour Pastel Illustration Set 37pce

Create vibrant artwork with our Colour Pastel Illustration Set 37pc!
Inside this mixed media art set is a range of pigmented drawing tools, including pastel pencils, charcoals and sketch pencils that offer a smooth application, making them a breeze to use across a variety of projects.
You'll also find other essentials like a sharpener, erasers and three different paper types so that you can draw straight away.
This set is a great gift that has everything for those just getting into pastels or for experienced artists that want to add to their collection.
Suitable for a range of drawing, sketching and illustrating projects

Great gift set with all essential tools included

Non-toxic
Pencil Sets for the Seasoned Artist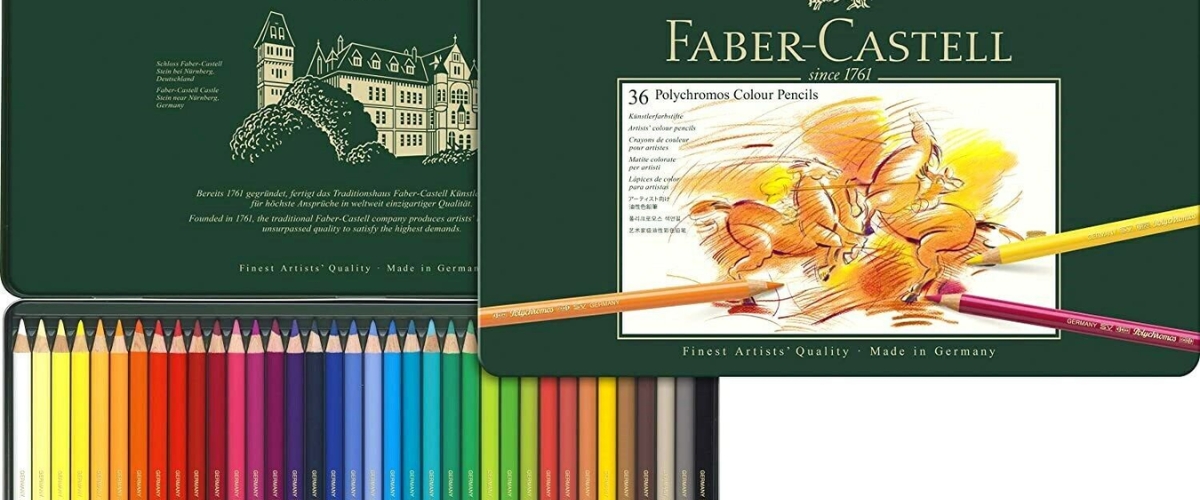 Faber Castell Polychromos Colour Pencils

Polychromos artists' pencils are valued internationally by professionals for their unsurpassed quality. The high-quality standards of the Polychromos coloured pencils shine through, whether they are used for graphics, artistic free style or for the exact rendition of plans.
Unsurpassed Lightfastness - Each Polychromos pencil contains the highest quality pigments for permanent colour and unsurpassed lightfastness (resistance to fading).

Easy to blend - Buttery smooth colour laydown, Polychromos Pencils feature oil-based leads that can be easily blended for layered effects, highlights and transitions without the concern of waxy bloom that results with wax-based pencils

Break-resistant leads - Polychromos Pencils feature thick 3.8 mm leads that are break and water-resistant.

Leads are SV-bonded the entire length of the barrel resulting in easy sharpening and longer-lasting art materials

High-quality acid-free pigments in bright colours, unsurpassed lightfastness

Soft, vibrant colour laydown

Water-resistant and smudge-proof

Thick 3.8 mm lead

High break resistance due to secure bonding process (SV)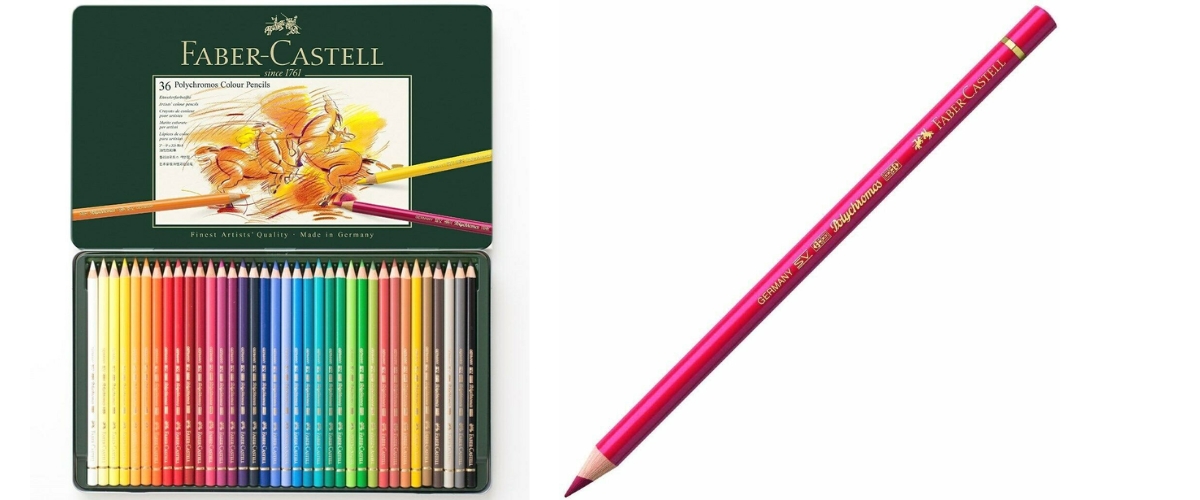 Derwent Lightfast Colouring Pencils

Have been formulated with a revolutionary 100% lightfast make-up ensuring your colours will remain brilliant and bright without fading; keeping your artworks looking their best for years to come.
This durable tin contains 24 Lightfast Pencils in a range of stunning and versatile colours.

Pencil Sets for Portrait Artists




Derwent Coloursoft Skintone 6pc

Derwent Colorsoft pencils are soft, smooth, and velvety. Comfortable in hand, they produce thick, soft lines.
The Skintone line is ideal for a bold contemporary still life to portraiture and more detailed work like fashion illustration and landscapes.
Colours sharpen to a fine point and are highly blendable.
The strong core glides smoothly over a wide variety of drawing surfaces. Due to their softness, you'll be able to work much faster.
The hard 4mm core allows for a crisper edge and better control, which produces better results than most other skin tone lines. Colour soft pencils are acid-free and tested for lightfastness.
A colour tab at the top of the pencil matches the core colour for easy identification. And, they're pre-sharpened, so you can get to work right away!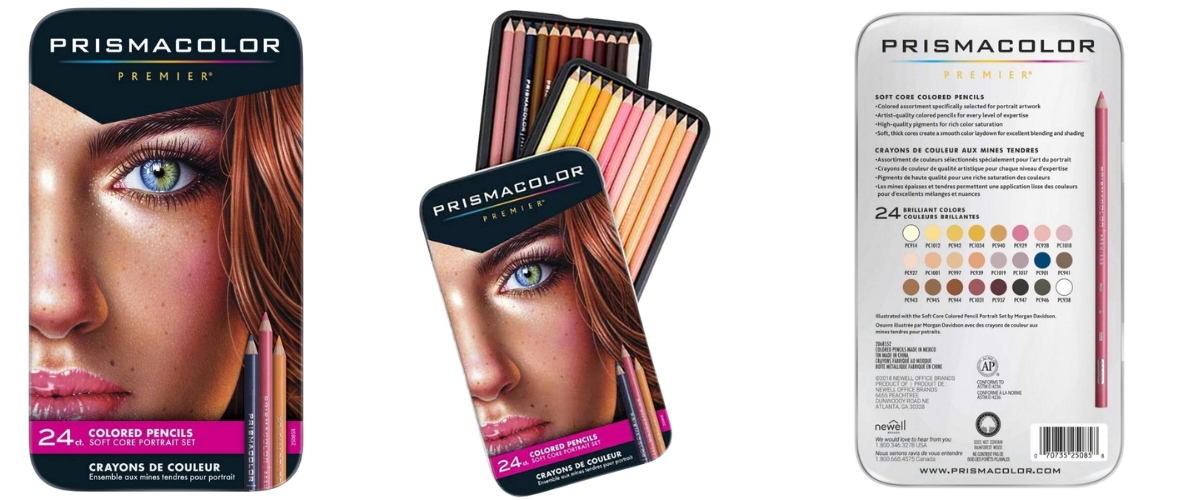 Prismacolor Premier Colouring Pencil Tin Of 24 - Portrait


This Prismacolor Premier Colouring Pencil Tin Of 24 features an assortment of coloured pencils specifically designed for portrait artwork.
They are artist-quality and ideal for every level of expertise.
The pencils have high-quality pigment for rich colour saturation and the soft, thick cores create a smooth colour laydown.
The set includes 24 pencils and a metal tin - perfect for keeping your pencils safe and easy to travel with.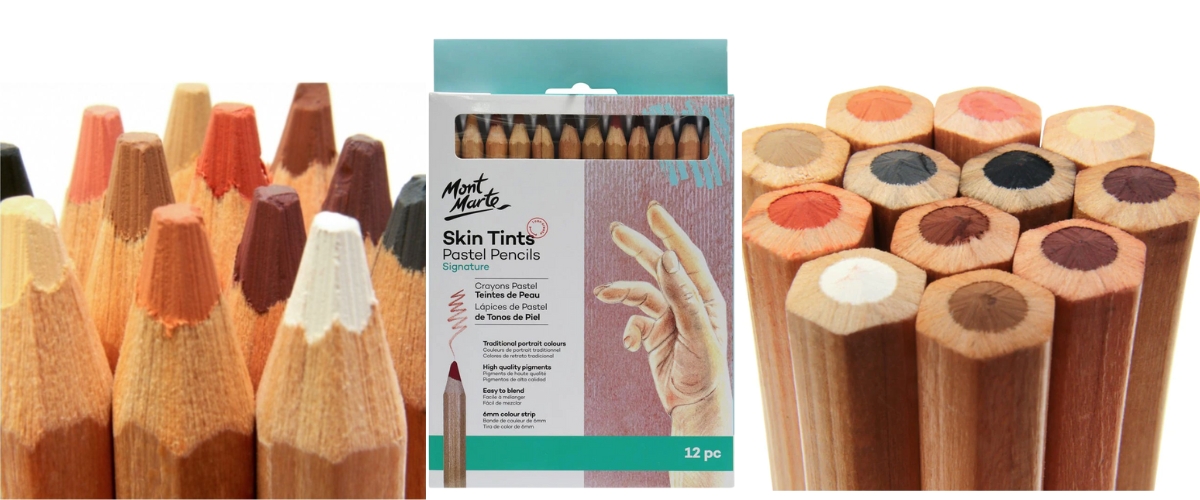 Mont Marte Pastel Pencils - Skin Tints 12pc


Create amazing portrait drawings with these natural skin-tone pastel pencils.
12 colours

Natural Wood Pencils

Traditional Portrait Colours

High-Quality Pigments
Cretacolour Studio Pastel Pencil Set - Portrait 8pc

Cretacolor's products are internationally recognised as being of very high quality, with high colour intensity, rich colour laydown and superior lightfastness.
The ideal complement to the other Cretacolor Studio Line pastel pencil sets, Cretacolor Artists' Studio Line Pastel Pencil Set contains the basic colours needed for figure drawing.
Each pastel pencil is enveloped in a protective case of cedar.
Rich pigmentation and high lightfastness guarantee brilliant results. Fixing is required. Pencils are pre-sharpened. Each pencil set is conveniently packaged in cardboard boxes.

il set of 8 Coloured Pencils.
Metallic Pencils for those who love all things shiny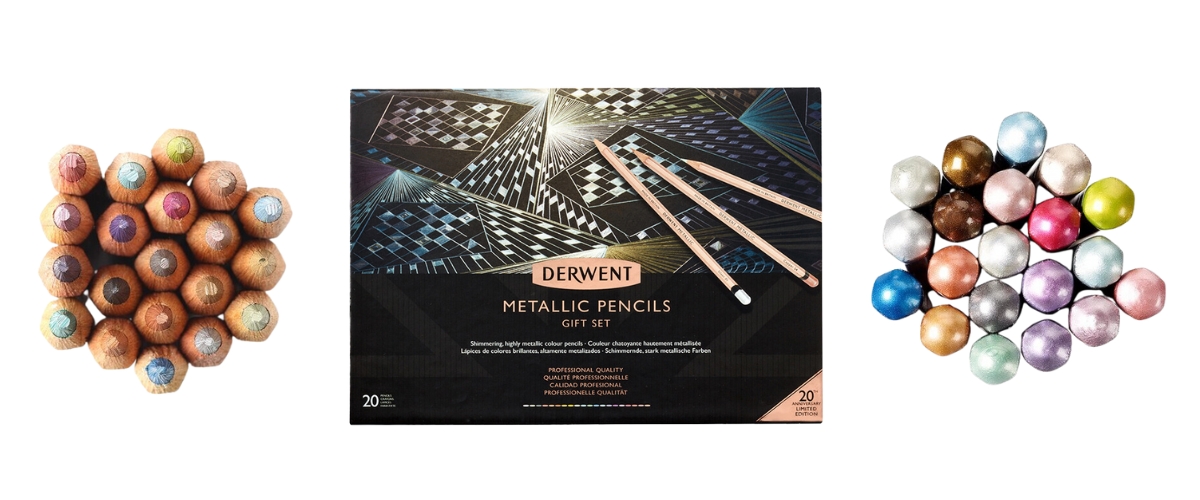 Derwent Metallic Colouring Pencil

Introduce a little sparkle to your sketches and drawings with these bright, highly reflective pencils.
They work best on a dark background (try Mont Marte's Black Page Sketch Books) and can be used on their own or with other media to add brilliant definition and glowing highlights.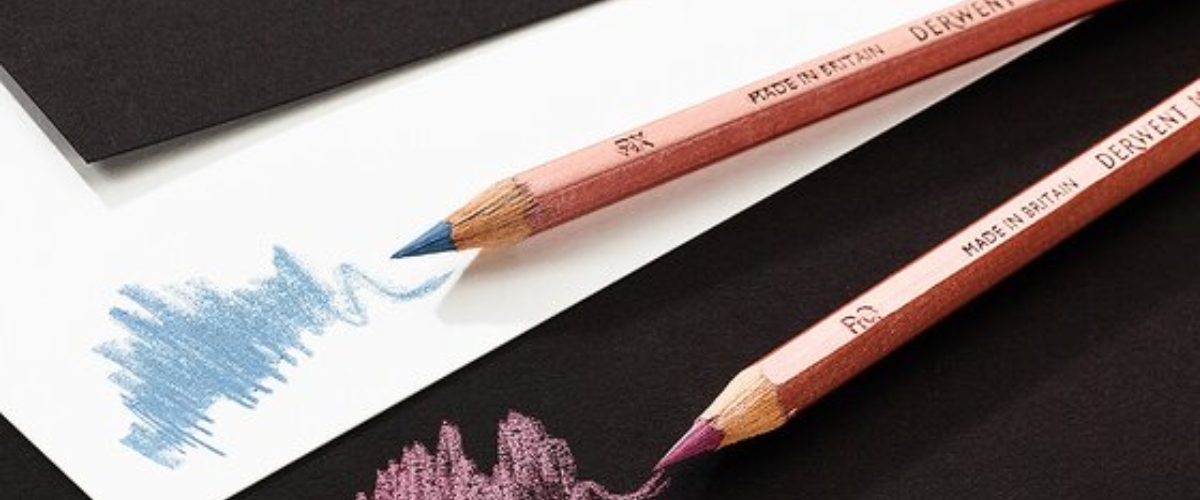 Derwent Metallic pencils are water-soluble, so you can also create interesting lines and wash effects.
Great for all kinds of creative projects.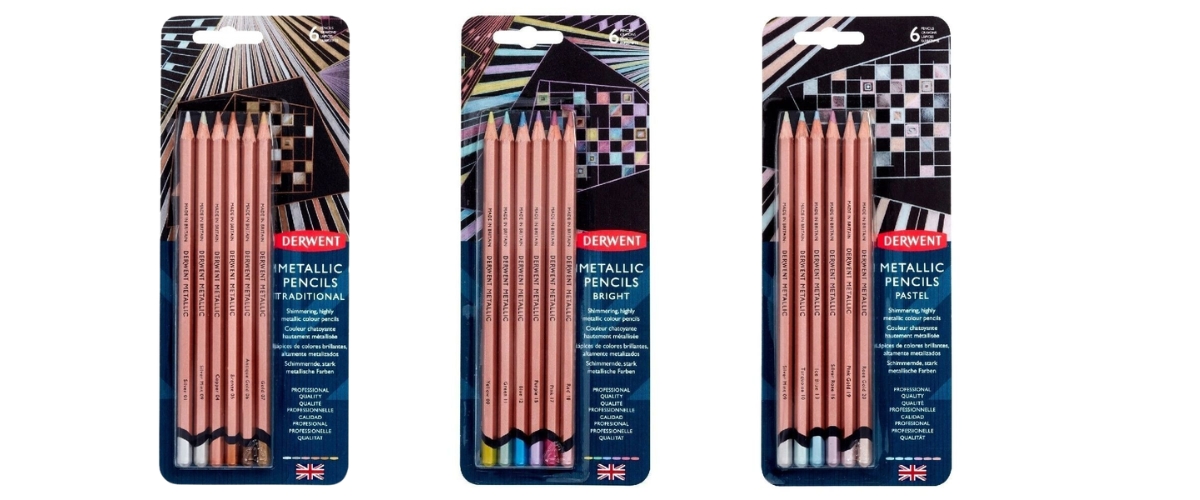 If you have any topics you'd like to learn more about drop us a line with some blog suggestions.
Plus, don't forget you can watch video tutorials on our YouTube channel https://www.youtube.com/user/artshedonline.
Happy creating!
F | @artshedonline I | @artshedonline
---
Leave a comment