---
A Guide to the different types of pens
Author: Dana McGorlick-Appelman Date Posted:22 April 2022
There are so many different types of pens out there which can make it super difficult to know which pen is the right one for you and your creative project. Keep reading to discover our top pen picks for a variety of writing and design needs.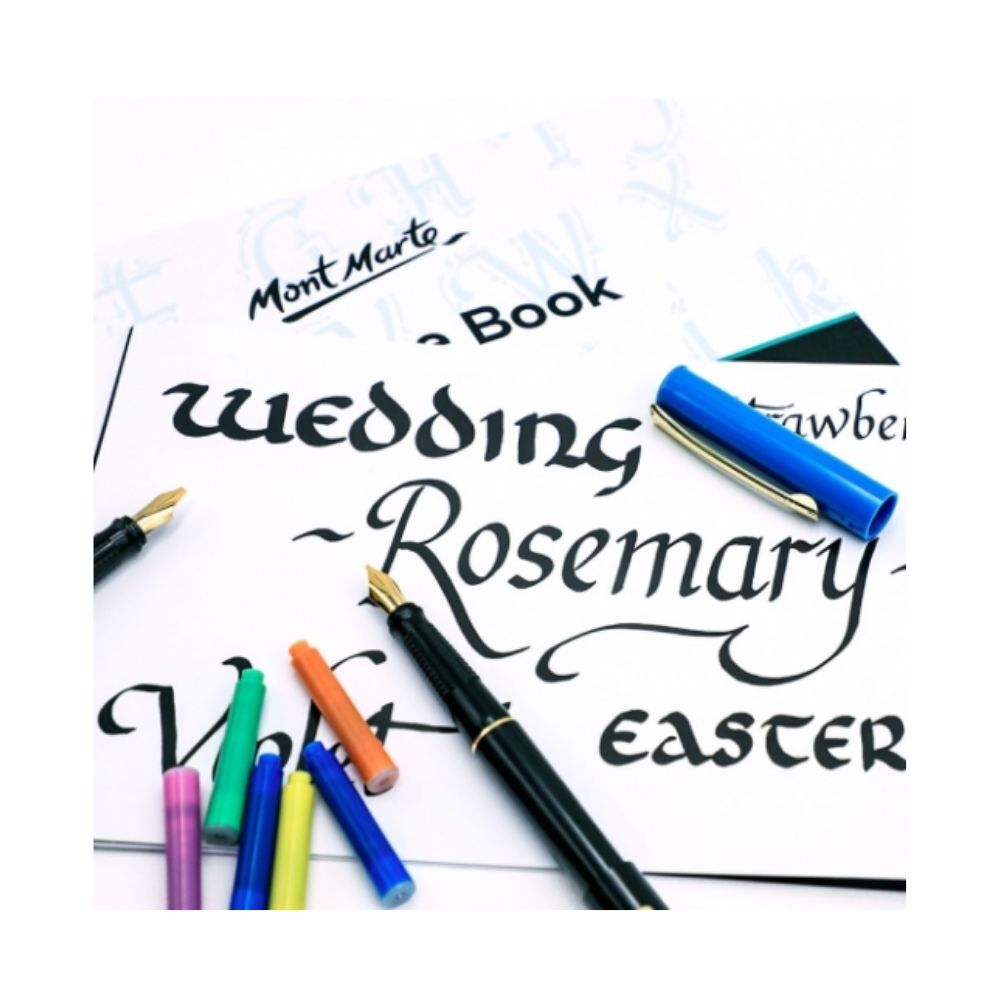 Calligraphy pens
Calligraphy is a skilful art form that requires speciality pens and inks to create beautiful hand lettering. Some of our favourite calligraphy pens include:
Copic Multiliner Calligraphy Pens are a must-have tool for artists and illustrators. The fine point of this small brush lends itself to detail drawing with precision and ease and the highly-pigmented ink creates bold, definitive lines. It is perfect for outlining coloured images for stand-out pieces or for architects or draftsman when it comes to line work that requires clear, concise pen work. It is waterproof and bleed-proof so will stay in place even when in contact with water. Its acid-free formulation means it will not alter your drawing surface in any way or discolour over time.
Available in a variety of vivid inked colours, the water-based ink is great for both writers and artists. The fiber tipped end glides smoothly on the page allowing for stylized writing, or for expressive illustration techniques. 83% of the plastic components are also made from recycled material.
This ultra-fine brush pen is ideal for detailed works requiring vibrant colours such as manga and creative writing techniques. The brush pen has a flexible brush tip and contains water-based ink. When varying pressure is applied you can modify the line width of your pen marks from 0.1mm to 3.0mm.
Tombow Fudenosuke pens are a colourful range of pigmented water-based ink pens that are great for bullet journaling, calligraphy, hand lettering, designs and drawing.
Faber Castell Pitt Artist Pen Set - Hand Lettering 9pc
Ink drawings have a very long artistic tradition. This has always been an interesting medium for artists and graphic artists, it lends drawings expression and durability and can also be combined with many other drawing techniques.
Faber-Castell has combined all the advantages of artist's inks with the benefits of a modern, easy-to-use pen - the Pitt Artist Pen. The pigmented and very lightfast drawing ink is ideal for sketches, drawings, layouts, fashion design and illustration.
All you need for hand lettering: a graphite pencil for preliminary sketches, Pitt Artist Pen Fineliner for outlines, fine details and decorations as well as Pitt
Artist Pens with brush tip for lettering, swings and fill-ins

Includes a hand lettering guide with instructions and many tips
Sakura Calligraphy Pens are a unique and durable lettering art tool that produces crisp edges and sharp hairlines. This disposable pen has a hard nylon nib that withstands heavy pressure and constant use, and still provides a reliable, smooth ink flow from edge to edge. The Archival ink contained within these pens is waterproof and fade-resistant on most paper substrates.
Sakura Calligrapher is designed specifically for calligraphers and lettering artists of all skill levels. Unlike most calligrapher markers whose tips wear down with use, resulting in inconsistent, increasingly heavy marks, these pens maintain their ability to continually create crisp, flowing lines and letterforms.
Mont Marte Calligraphy Set - Metal Tin 32pc
This calligraphy set comes with everything you need to create a range of lettering styles. The 5 traditional nibs included are ideal for Roman Round Hand, Italic, Gothic, Uncial and more! Plus, grow your skills with the introduction and exercise books inside.
4 x Calligraphy Pens

5 x Nib Grades

20 x Ink cartridges in various colours

Ink Pen Pump

Introduction booklet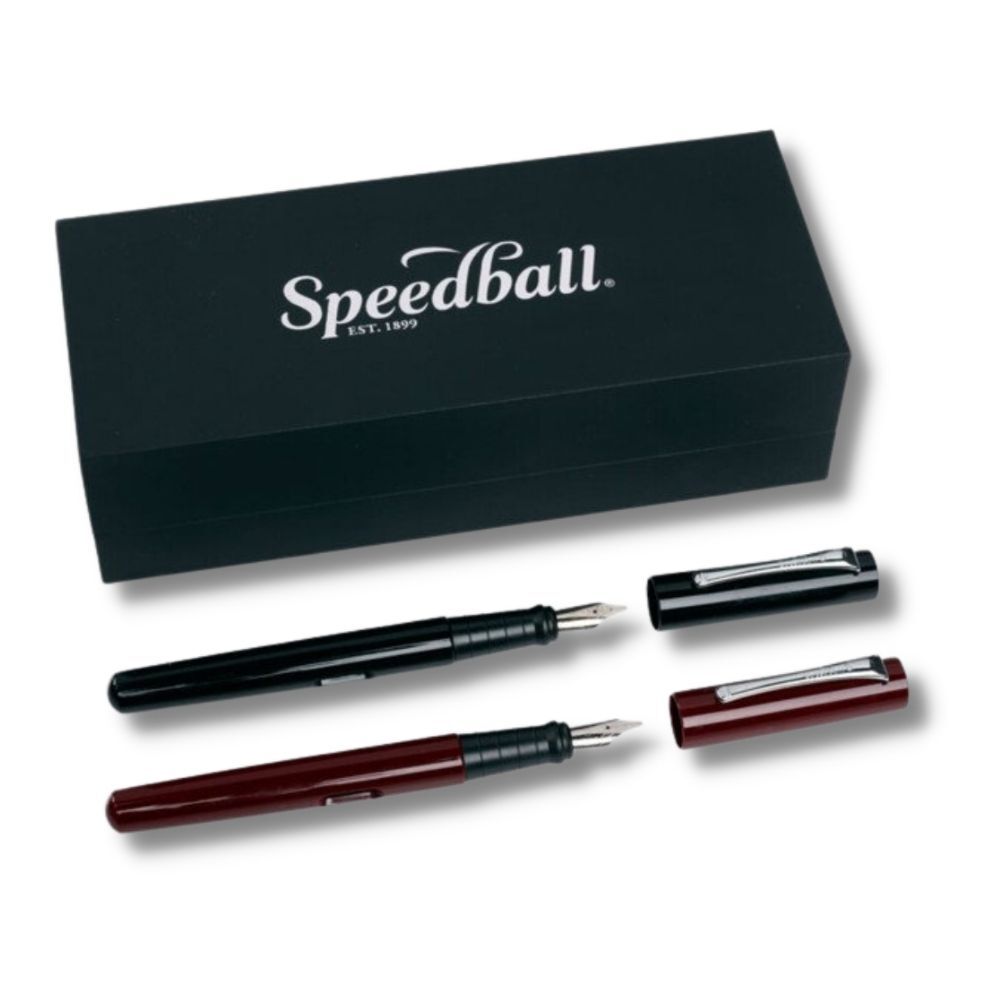 Fountain pens
Fountain pens make for great gifts for beginning calligraphers or avid writers and are also great for creating greeting cards & invitations, calligraphy projects, and for awards & certificates. Compared to a standard ballpoint pen, fountain pens use a metal nib with a liquid-based ink that doesn't dry as quickly, meaning the ink flows more smoothly, improving your handwriting.
This set of 11 calligraphy tools features a fountain pen; three easily adaptable nib choices; six large ink cartridges measuring 2-7/8 inch each-- two black, two blue, one red and one green; and one fountain pen ink converter. Cretacolor's Calligraphy Handwriting Set is nested in an elegant black box for easy storage, and includes a calligraphy guide along with exercise sheets to practise your technique!
This Fountain Pen gift set contains one each Speedball's Calligraphy Fountain Pen in Burgundy and Black, one each of the pen nibs fine 1.1mm and medium 1.5mm plus two black ink pen cartridges. This set would make a beautiful gift for the writer, calligrapher or creative in your life who'll be sure to treasure these for years to come.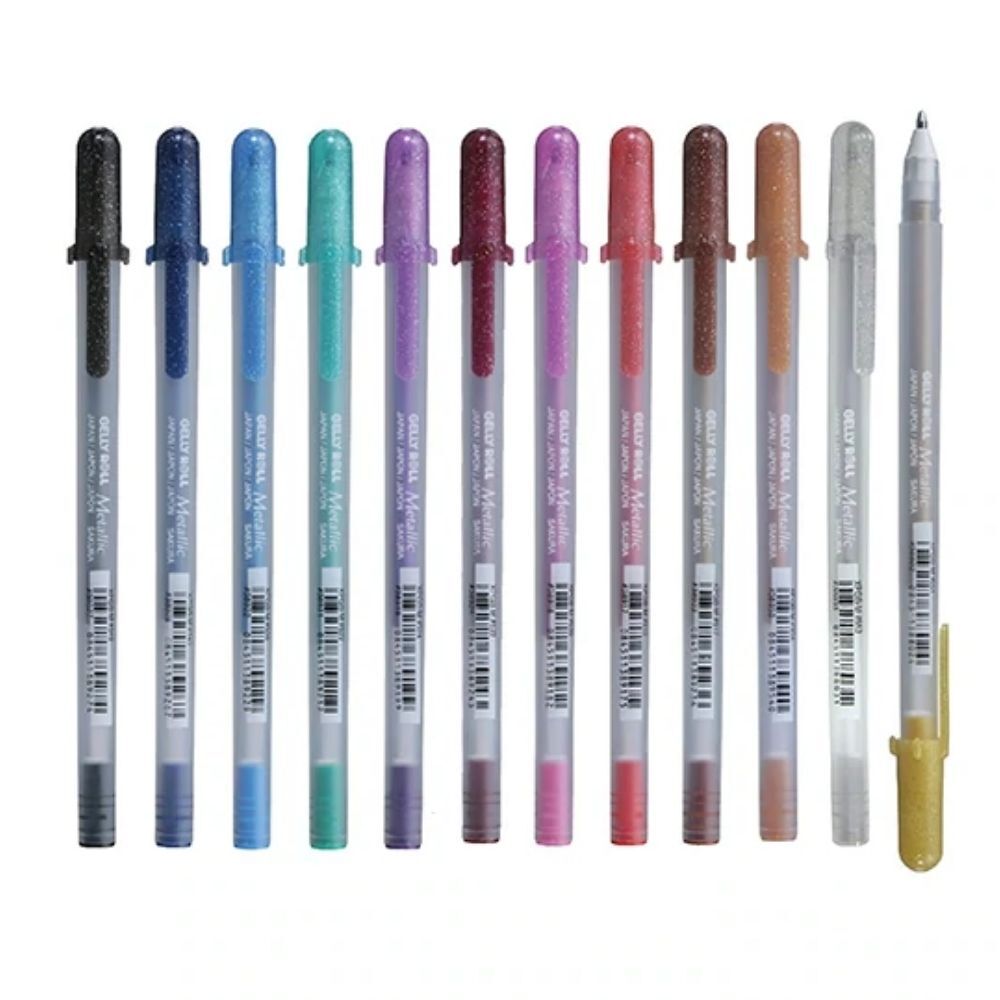 Gel Pens
Gel pens offer a unique 3-dimensional, glossy, colourful, bright and water-resistant ink can be used for accents on jewellery, glass, ceramics and any papercraft activity including card making, rubberstamping and scrapbooking. We love the Sakura Gelly roll Pens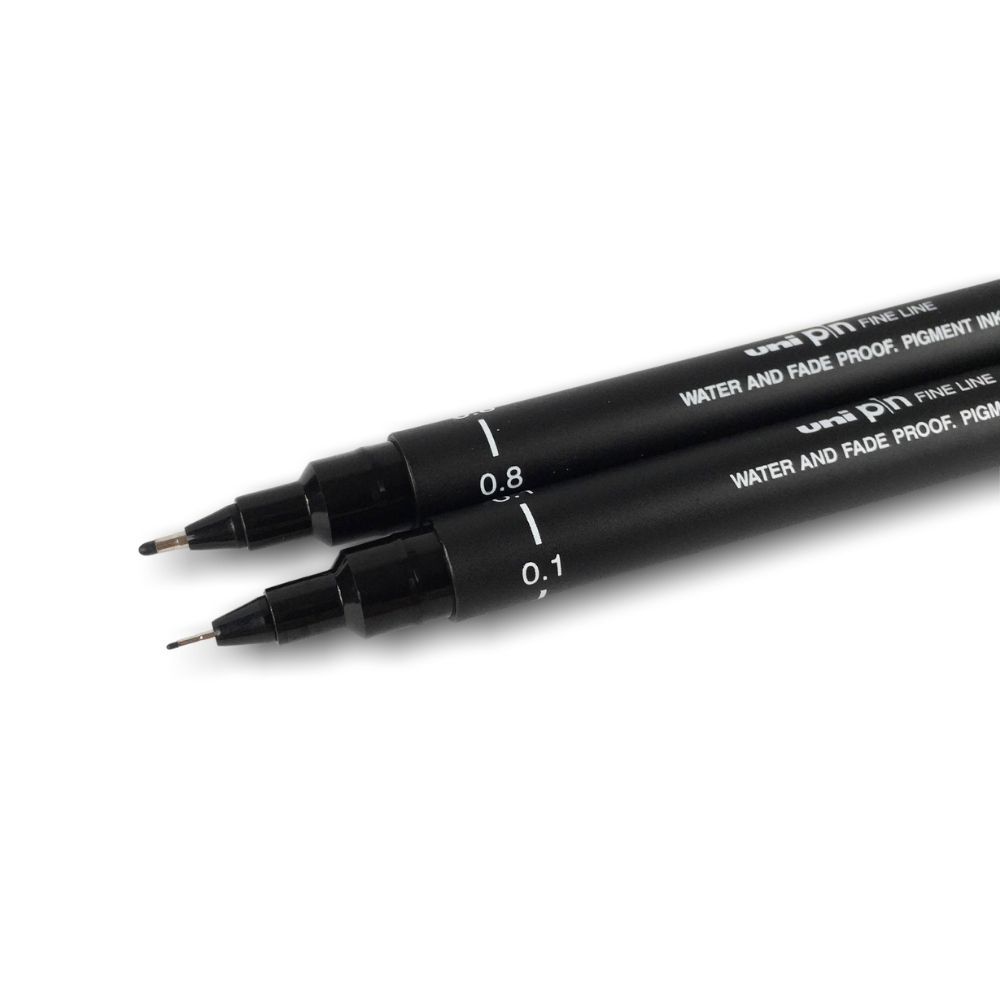 Fineliners
Loved by both artists and writers alike, fineliners are perfect for detailed drawings, notetaking, bullet journaling, sketching, drafting and technical drawing.
Sakura Pigma Micron drawing pen was the first disposable technical pen to use archival pigment ink and has become the defining standard for reliable, permanent, archival quality ink.
Ideal for technical drawing or fine detail work, Sakura Pigma Micron Fineliner pens are highly resistant to water, liquid and light. The archival quality Ink dries quickly & does not bleed, and is also fade-resistant and waterproof (making them ideal for use with watercolour paints)
The Uni Pin Fineliner Pens are renowned for their excellent quality among artists of all skill levels. These pens feature high-quality Super Ink that's waterproof, fade-proof, lightfast and permanent. The strong steel tip at the base of the pen protects the nib from fraying and spreading maintaining its firm shape for years to come. The round barrel is super smooth and comfortable to hold and is fitted with a snap-lock lid to ensure your pigment ink does not dry out. Ideal for free-hand drawing, writing, outlining or drafting; these versatile pens will stand the test of time and keep your work looking professional and of the highest quality. These fineliners are also perfect for work with watercolours or other liquid-based media as the ink won't smudge.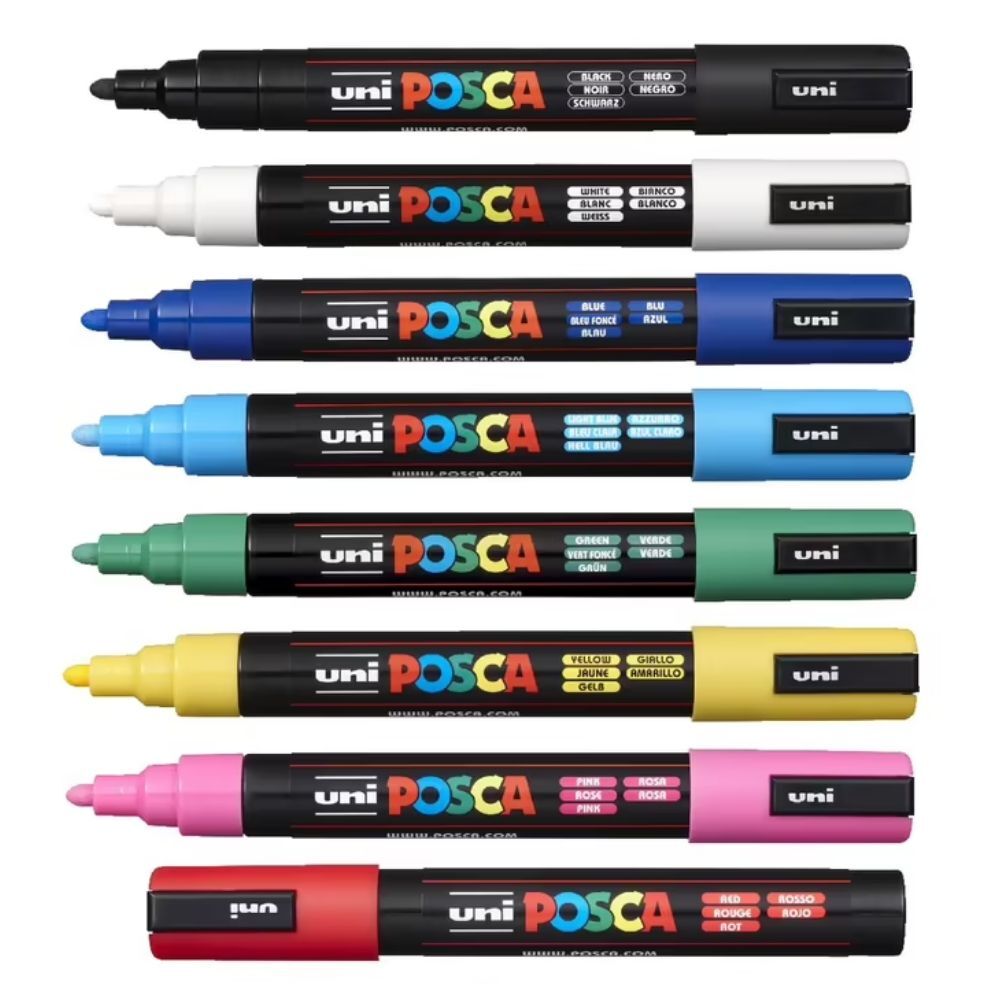 Paint Markers
Paint markers are great for writing and designing on almost any surface. Paint markers are quick-drying and are permanent once dry. Colours can be layered on surfaces including wood, fabric, leather, glass, ceramics, paper, plastic, metals, rocks, and canvas. The bold, rich and opaque colour that paint markers provide makes them great for hand lettering, journaling, illustrations, and art and craft projects. When using paint markers, remember to ensure your surface is clean and dry. Shake the marker well, and then press the tip down several times to get the paint flowing.
The free-flowing lucid ink of Posca Pens is a water-based formula that's quick-drying and waterproof and can write with ease on virtually any surface. Its ink is permanent on non-porous surfaces and removable on smooth surfaces such as glass, metal or plastic.
Whilst its ink is dense and vibrant, it does not bleed through paper.
POSCA Paint Marker Pen feature-rich pigmented ink and a unique valve mechanism that guarantees a perfect seal for the marker and conserves the paint over time
Mont Marte Acrylic Paint markers feature a smooth flowing paint that can write on almost any surface and can also be used over dry acrylic, gouache and watercolour paintings. They are acid-free, and water-based paint that creates smooth and flowing lines. Waterproof once dry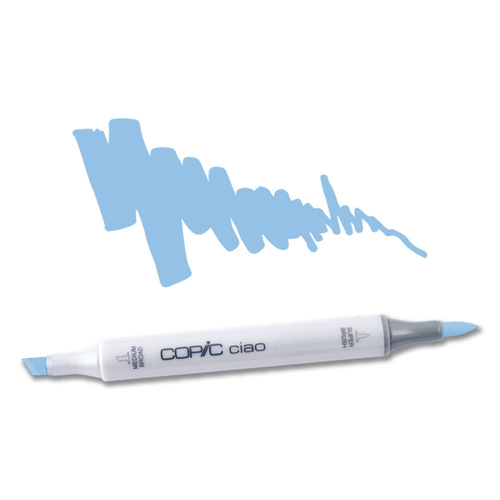 Alcohol Ink Markers
Alcohol markers are loved by artists and designers alike. The permanent ink and vast colour range make them ideal for graphic arts, design, fine arts, renderings, craft and calligraphy.
Chameleon markers are great for creating seamless colour gradations, multiple tones, shading, shadows and highlights. Made with professional quality alcohol-based ink, they are also refillable and have replaceable nibs. They are permanent on most surfaces (including fabrics, glass, plastic and wood), and are compatible with all other alcohol-based pens and inks.
These Premium Dual Tip Art Markers feature professional quality alcohol ink, making them ideal for artists and designers. They feature an acid-free and non-toxic alcohol-based ink and are dual-ended with both a fine and chisel tip. The rounded triangular barrel also makes it easy to hold and stops it from rolling away. Available in a range of stunning colours, the ink is both waterproof and permanent on surfaces such as paper, cardboard, and canvas.
Copic products are the epitomy of quality when it comes to art and design markers and pens. Copic Dual tip Markers feature alcohol ink and are also refillable, making them great for the bank and better for the environment. They are fast-drying, non-toxic and available in an extraordinary colour range. The Sketch, Caio and original markers are dual-ended, allowing for a wide variety of marks and effects.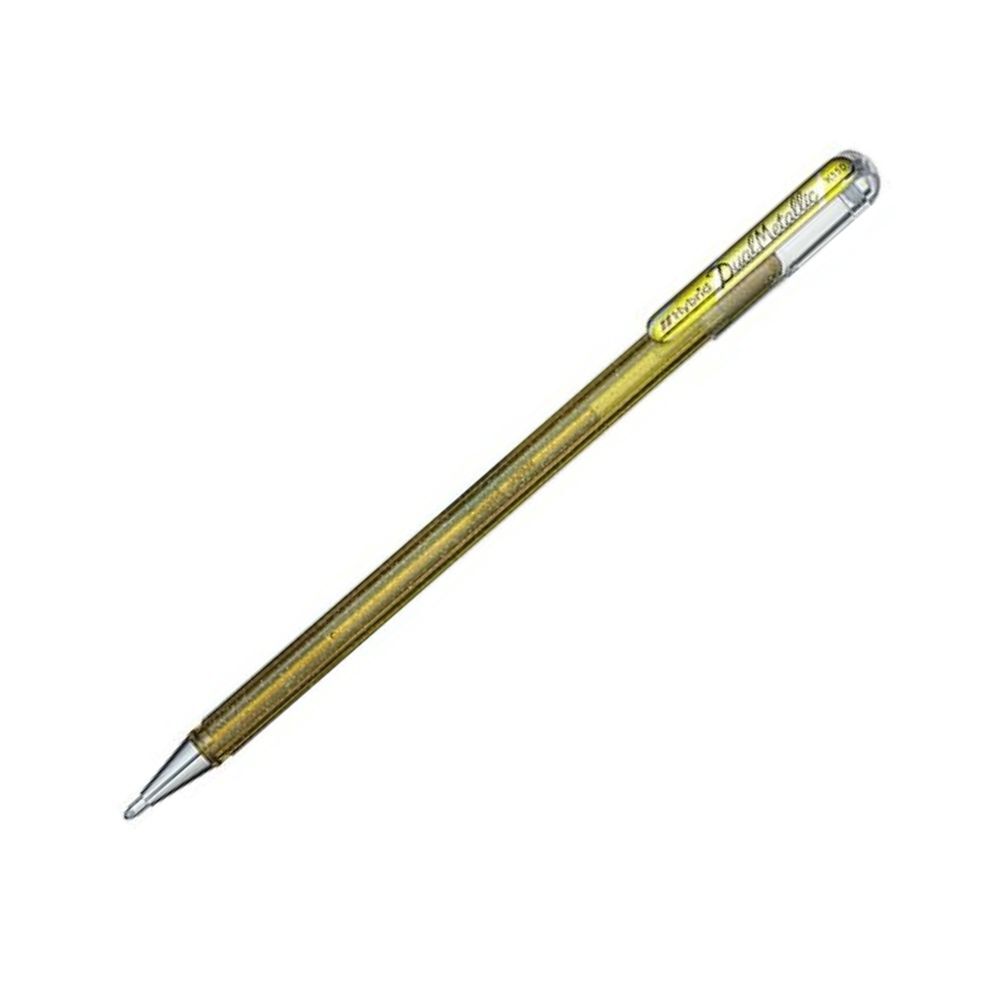 Metallic pens
Metallic pens are perfect for when you want to add a bit of shine to your work and are ideal for artwork, card-making, and bullet journaling. These pens are stunning on light or dark coloured paper.
Pentel Hybrid Dual Metallic pens contain ultra-smooth flowing pigment ink. The plastic barrel is fitted with a rubber grip on the base for optimum control and comfort. Use to decorate and write on cards or scrapbooks for a beautiful metallic sheen. The unique "pocket-proof" system prevents unwanted pen marks. The durable metal tip in 1mm delivers medium lines.
The Sakura Gelly Roll Metallic gel pens feature vibrant metallic colours and archival-quality ink that is chemically stable, waterproof and fade-resistant. They don't smear, feather, or bleed-through on most paper types. They show the best effects on black paper and can also be used on white paper.
The gelly roll gel ink formula was first launched by Sakura in the 1980s. This special ink formula features rich, vivid gel ink providing a smooth writing experience.
0.4 mm line width

Made in Japan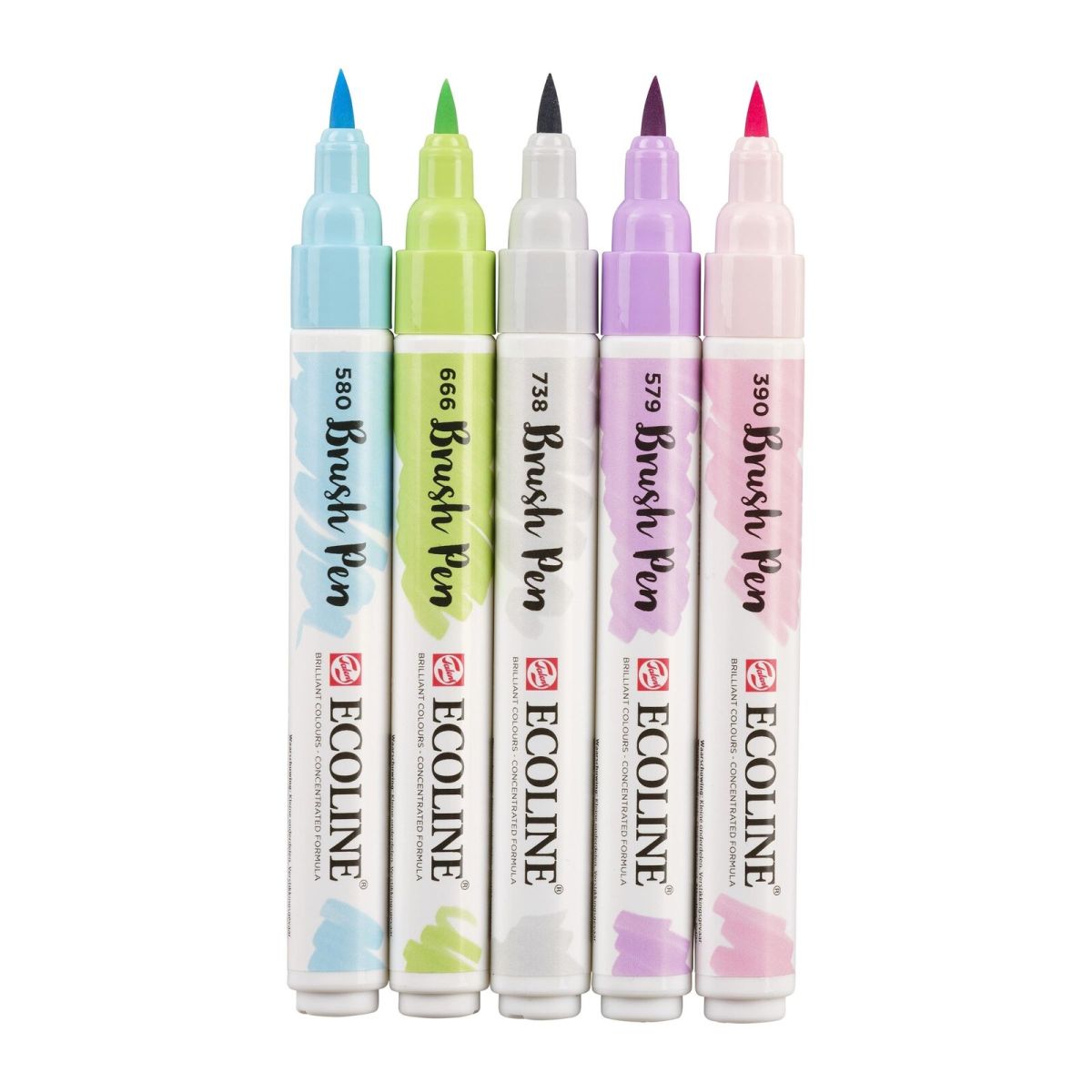 Watercolour pens
Watercolour pens are perfect for greeting a watercolour effect without having to mix colours, making them great for artists on the move. Watercolour brush pens are perfect for creating illustrations, for hand lettering or even in mixed media artworks.
These watercolour brush pens come pre-filled with Liquid Watercolour Paint which produces a vibrant, watercolour effect. The Royal Talens Ecoline Brush Pen is based on dyes and Gum arabic, making the colours beautifully bright and brilliant. You can also decrease the intensity of the colour by thinning with water, like traditional watercolour paint.
Each pen features a flexible brush nib which feels like a traditional paintbrush, yet the round, pen-style barrel makes them easy to hold and use. You can use them on a variety of paper types, including drawing papers and watercolour paper.
Forgotten to put the cap back on? A dried brush tip can be easily saved by moistening it with some water.
What's your go-to pen? Tell us in the comments below.
Got questions? Email us at customerservice@artshedonline.com.au and our friendly team of artists will do their best to assist you.
Happy creating!
---
Leave a comment