---
DIY Tote Bag Designs with Fabric Paint
Author: Dana McGorlick-Appelman Date Posted:5 August 2021
Do you want to learn how to use Fabric Paint to create your own customised tote bags, cushion covers, t-shirts, and more? Then this blog is for you! There are so many types of fabric art out there, and it can be hard to know where to start. Keep reading to discover how to create your very own designs and custom fabric pieces.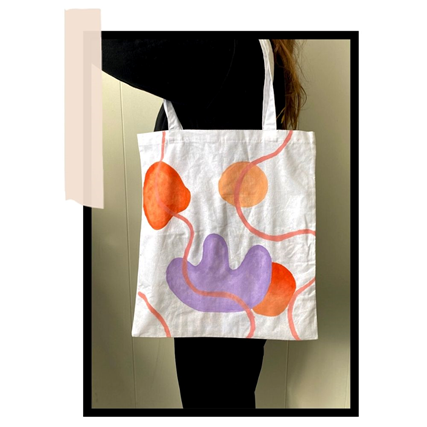 You will need:
Tote bag/ cushion cover/ t-shirt

Fabric Paints (These ones from Mont Marte are great for starting out)

Iron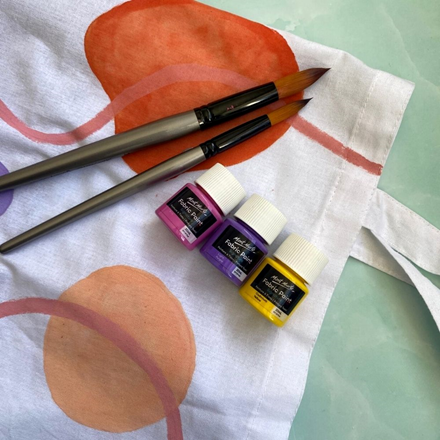 Tutorial:
Wash and dry your fabric

Place a barrier such as cardboard or baking paper between the two sides to prevent paint from bleeding through

Create your artwork on the fabric with a paintbrush or sponge.

Let it dry completely

Once dry, place a cloth over the design and iron for 3-5 minutes at 100C (212F) to fix your artwork

To wash, turn garment inside out and wash on a cold cycle

Style your piece however you like!
Fabric Paint Tips:
You can also mix colours to create an endless colour palette

Avoid building up thick layers of paint as this is prone to cracking

Clean up with warm soapy water while wet.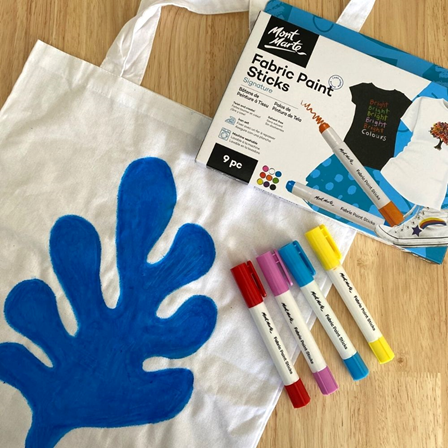 Mont Marte Fabric Paint Sticks
The Twistable Fabric Paint Sticks are another great fabric option for large expanses of colour, and are great for kids. These vibrant colours can be applied to shirts, bags, fabric shoes, cotton cushion covers, and more!
How to use Mont Marte Fabric Paint Sticks:
Place cardboard behind the fabric

Decorate the fabric with your design

Once dry, place a sheet of paper on top of the fabric and iron for 3-4 minutes to fix your artwork

Washing: Turn garment inside-out and use a cold cycle
If you're looking for a ready to go fabric art set to create your very own tote bag, look no further than the Mont Marte 22 piece Fabric Art Set. This set includes 9 fabric paint sticks, 6 fabric markers, and 6 Puffy fabric paints and 1 canvas tote bag
How to use the fabric markers:
Place cardboard behind the fabric

Draw your design onto the fabric and let it dry for 24 hours (minimum)

Place a sheet of paper on top of the decorated fabric and iron for 3-4 minutes to 'fix' your artwork

Washing: Turn garment inside-out and use a cold cycle
How to use the Puffy Fabric Paints:
Squeeze pen gently and apply to fabric

Let it dry for 6 hours (minimum)

Apply heat with hair dryer for approximately 1 minute to set

Hand wash in warm water with a mild detergent. Don't not iron over design.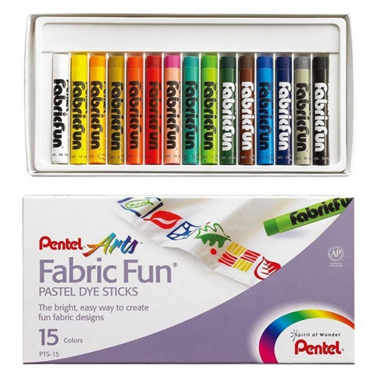 Pentel Fabric Fun Pastel Dye Sticks
Pentel Fabric Fun is a non-toxic, fabric dyeing pastel set. These are bright, intense colours in soft stick form.
How to use Pentels Fabric Fun Pastel Dye Sticks:
First wash fabric with a mild detergent or soap. Make sure the fabric has no traces of dye, anti-static fluid or conditioner in it. Rinse is thoroughly in clean water only.

Put greaseproof paper or thick cardboard beneath the fabric (for t-shirts and tote bags between the front and back). Stretch the fabric, ensuring there are no creases for easier painting.

For best results, work to a plan of your design and if possible, draw in one direction only.

When you've finished cover fabric with grease proof paper and iron it for 5 minutes at the correct temperature for the fabric

If you make a mistake, you can wash the fabric at 30-40 degrees Celsius to remove most traces (depending on the material). The design is only fixed when it comes into contact with an iron or another direct heat source. Do not use wool or wool-blend materials or fabric that requires chemical cleaning. Care should be exercised when using nylon or silk. For best results, use on natural, absorbent fabric such as cotton.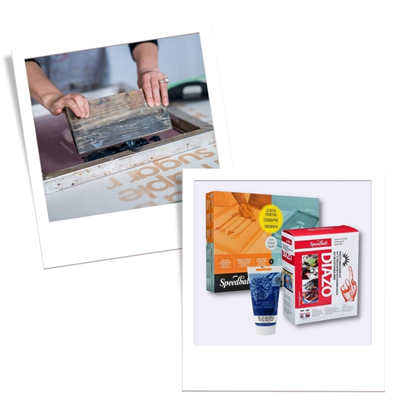 You can also add an array of designs to clothes, cushions, doonas and more via Screenprinting!
Screen printing, also known as silkscreen printing or serigraphy, is a widely used technique that involves printing, often onto fabric or paper, by pressing ink through a stencilled mesh screen with a squeegee to imprint a design.
You've probably even used or worn something screen-printed at some point, as the process can be used to create artwork and posters on clothes, fabrics, canvases, plastic, glass, metal or wood with specialised inks. It is an efficient means of producing vivid, intense colour replications of a design multiple times on various garments or papers, and is great for creating vibrant designs in bulk by hand on T-shirts, tote bags, flags, banners, jackets, signs, scarves and more!
You can read more about Screen Printing here.
You can find screenprinting supplies here.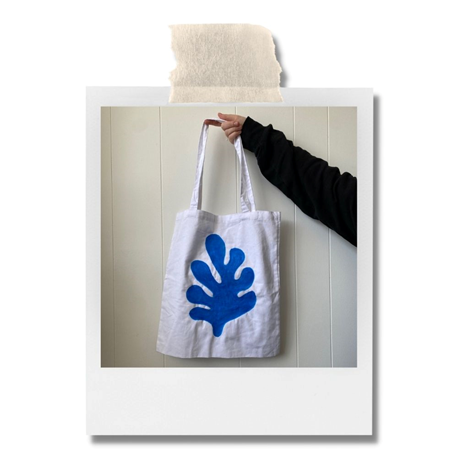 Don't forget to show us your Fabric Art creations by tagging us on Instagram @artshedonline for your chance to be featured!
Got questions? Send us an email at customerservice@artshedonline.com.au and our friendly team of artists will do their best to assist you.
Happy creating!
---
Leave a comment