---
Author: Dana McGorlick-Appelman Date Posted:4 August 2021
Looking for a fun, easy, home DIY to freshen up your space? Then you'll definitely want to give these DIY pot plant designs a go. This activity is great for kids and adults alike, and will help give your indoor and outdoor spaces a personal touch. Keep reading to learn how to create your very own decorative pots using Satin Acrylic Paints and Jo Sonja Varnish.
DIY Pot Plant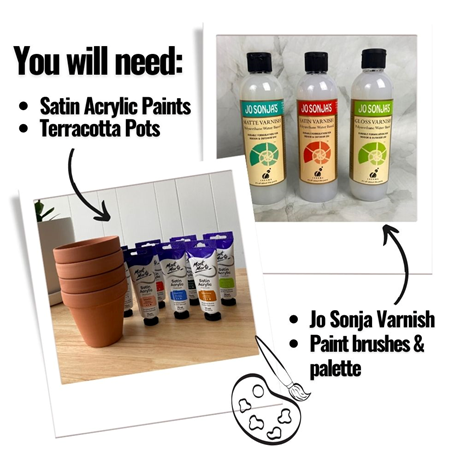 You will need:
Mont Marte Satin acrylic paints: These acrylic paints feature great coverage and a semi-matte finish, with a smooth consistency. They are rich in pigment and have a very good lightfastness, meaning the colours will remain strong for years to come. They can also be diluted with water or mediums for watercolour techniques. They also come in a fantastic range of colours!
Terracotta Pots

Jo Sonja varnish in Matte, Satin or Gloss, depending on your desired finish.

A drop Sheet to protect your workspace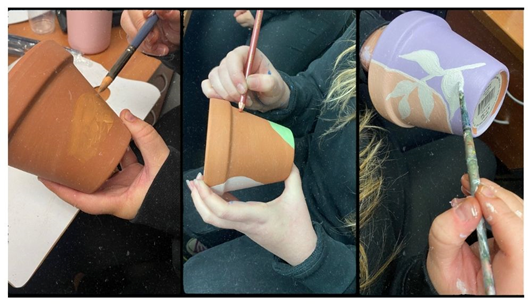 Tutorial:
Prep your workspace with the drop sheet, picking out your acrylic paint colours and mapping out design on paper or on the terracotta pot with a pencil

Using a paintbrush, apply the satin acrylic paints to the pot in your chosen design, building layer by layer until you are happy with the design.

Allow to dry completely and wash your paint brushes with brush cleaner and water.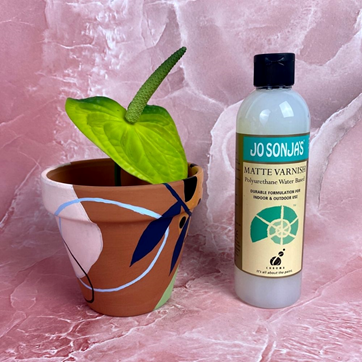 4. Grab your bottle of Jo Sonja Varnish and shake gently. We used the Jo Sonja Matte Varnish, as they are a durable Polyurethane Water Based varnish that is clear, non-yellowing and suitable for indoor and outdoor use.
5. Apply thin layers of the varnish in a criss-cross motion, using a soft but firm brush.
6. Allow the varnished pot to air dry a minimum of an hour before applying additional coats. The drying time will depend on the climate and humidity of the room.
7. Allow the varnish to cure for 2 weeks before use.
8. Style your pots around the home or outdoors with plants of your choosing!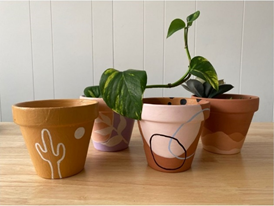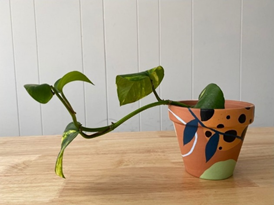 Want to create a design on ceramic, porcelain, china, or glass? Opt for Mont Marte Ceramic Paints! This set comes in eight vibrant colours included can be easily mixed together to achieve an endless palette of colour options - and can be diluted with water if you require areas with more translucency.
How to use ceramic paint:
Make sure the surface is dry and clean

Create your design with a paintbrush or sponge.

Allow it to dry completely (24 hours)

Once dry, heat in the oven for approximately 30 mins at 140 degrees Celsius to fix temperature may vary depending on oven- testing is recommended). Avoid washing for 24 hours.

Gentle hand wash to clean. Do not soak.
Decorative use only. Not recommended for surfaces that are used or food or drinks.
Not suitable for microwave ovens or dishwashers.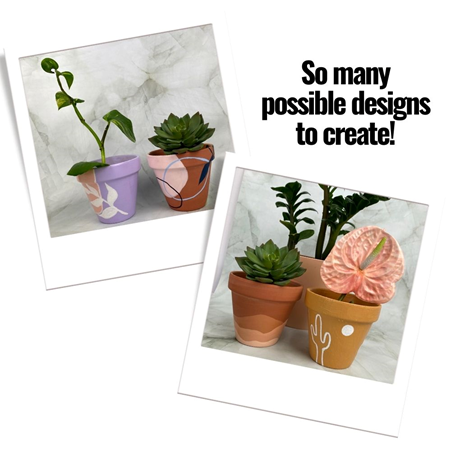 Don't forget to show us your Decorative Pots and how you styled them by tagging us on Instagram @artshedonline for your chance to be featured!
Got questions? Send us an email at customerservice@artshedonline.com.au and our friendly team of artists will do their best to assist you.
Happy creating!
---
Leave a comment