---
Christmas Gift for All Creatives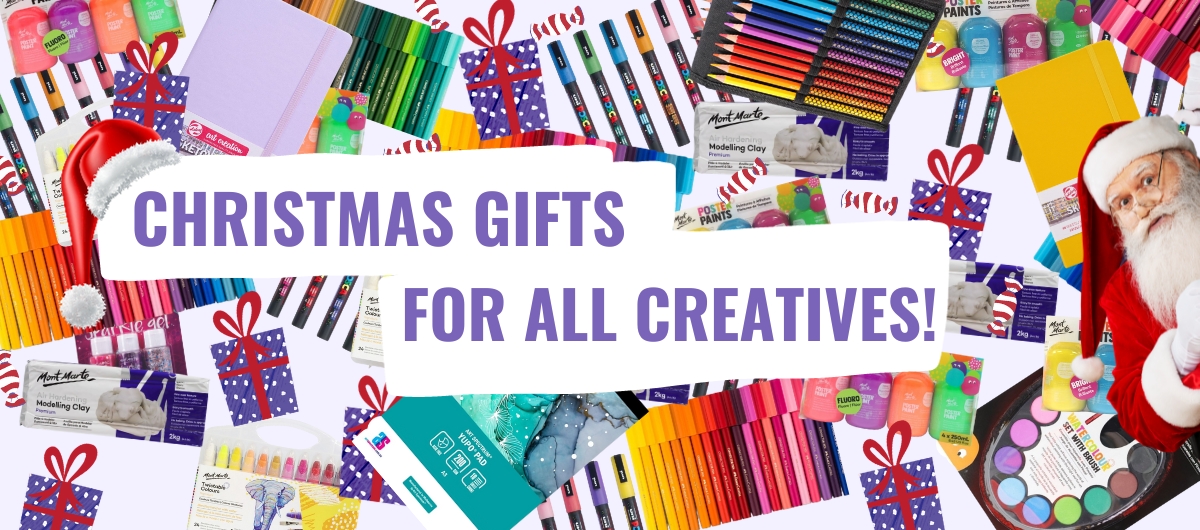 Christmas is coming and our Art Shed Elves are excited!

We all know art is a fantastic choice for a gift and can create some great memories for everyone who gets creative.
Our elves have put together some great suggestions to help you choose the right gift for your lucky person.
Art is such a broad hobby and we can cater to all ages and experiences, if you shopping for a beginner, intermediate or advanced artist we have you covered in all specialties! Also, we can not forget our Picasso's of the future our kids!

For The Bold Beginner
If you know a budding artist who wants to take their skills to the next level, these gift ideas will certainly have their eyes sparkling like a Christmas tree!

Mont Marte Signature Drawing and Illustration Set in Tin 51pc


This great-value carry case contains an all-in-one portable art studio! Explore your inner artist with an amazing range of illustration tools and equipment, ideal for drawing or making art while travelling. Draw and colour with pencils and charcoal, then use the creative tools for blending and shading. Suitable as a gift for any artist, for mixed media art, sketching, drawing, colouring, and portraiture.

*Adult supervision is recommended as this set includes a sharp knife.
Paint by Numbers Kits

Our paint-by-numbers kits are suitable for all experienced painters from advanced artists to beginners who would like a painting challenge. Paint by Numbers is a great option for relaxation and downtime. Having the freedom of knowing your picture will look fantastic and the ease of not having to worry about composition or colours can make painting a lot more enjoyable for some.
More benefits to this relaxing hobby actually encourage creativity and motor skills, with beautiful artwork taking shape as you paint each numbered section. Included are instructions and some tips to get the best results of your painting.



Jasart Acrylic Paint Wooden Box Set - 20pc

Our 20pc Jasart Acrylic Wooden Box Set is the perfect introductory set for beginner acrylic painters, with a variety of acrylic paints and accessories housed in a compact, portable and beautiful wooden box. This set makes a fantastic gift for beginner artists, or creative friends and family.



Our Range of Sketch Books

A good reliable Sketch book is like candy for the artist!
They are perfect for drawing, journaling, urban sketching, field studies and more!
Ideal for use with pencil, pastel, acrylics, gouache, ink, charcoal, and light washes of wet media.
A fantastic addition to any artist's gift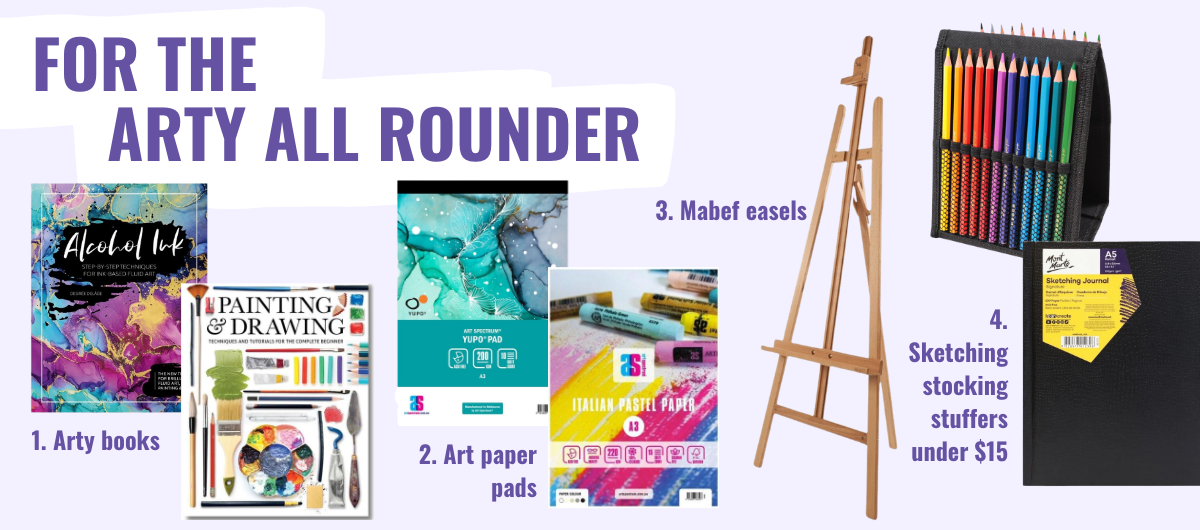 For The Arty All–Rounder
Art Books for Creative Souls

Browse the Art Shed library for some inspiring and thoughtful gifts for any creative person. From drawing and painting basics, collage and inks, to lettering and mixed media.
High End/Luxury Easels

Delight the painter in your life with a high-quality easel from Mabef. Featuring a large range of premium easels for the studio or mobile artist who paints outside, they come with easy-to-assemble instructions and a lifetime warranty.

For The Curious Child
Kids Mega Craft 84 Piece Pack

This Kids Mega Craft Pack includes a variety of awesome arty stuff for kids made by Mont Marte. The pack includes more than 84 pieces and is a great value bundle of products to add to the craft cupboard. The excitement on their little faces on Christmas morning as they imagine all the endless creative projects they can create with this pack will be priceless!
Kids Art & Craft Gift Set Bundle

These kids set is an ideal gift idea for children ages 2-4. It features a range of products to keep young children entertained and to explore new activities including painting, play dough, crayons and chalk. The items come packaged in a well-presented box, perfect for gifting or storing in between uses.

The products can be used both outdoors and indoors, so they are perfect for sunny outside playtime, or rainy indoor boredom busters.
Art Activity Book: STEM Starters for Kids

Art can inspire STEM, just as science, technology, engineering and maths can inspire art. Together these subjects are called STEAM.
Learn about it in this book. Budding artists and young scientists alike can discover just how much they have in common by reading the simple explanations and doing the beautifully illustrated activities on each page. Start a lifelong passion for STEAM subjects and make our lives better in ways nobody has even thought of yet.
Jasart Tie Dye Mystical Set

Transform T-shirts, tote bags, cushion covers and more with this Jasart Tie Dye Kit! This set includes everything needed for tie-dye and makes the perfect crafternoon activity. Comes with easy-to-follow instructions, tips and techniques. Simply add your own fabric, cotton t-shirt or bag and get creative! Makes a unique gift for crafty kids.
Mont Marte Kids - Watercolour Set With Brush 14pc

Your little artist will love exploring the world of watercolour painting with this bright and fun set! Comes with 12 bright non-toxic watercolour paints, a Taklon paintbrush, easy-to-use palette design. Great for kids!

For The Spirited Sculptor



Sculpting is a medium that can be enjoyed by many artists regardless of experience.
If you know a Artist looking to get their hands dirty (or maybe your self) then we have all the tools for you to choose and make
Fun fact, sculpting is considered to be a great option for those who seek a hobby with various health benefits, can you get a cooler gift than that?
Sculpting has been known to assist with reducing anxiety, assist motor skills and work both sides of your brain!


Mabef M36 Sculpture Trestle

The Mabef M36 Sculpture Trestle is a robust sculptor's stand made from oiled, stain-resistant, Beechwood. Ideal for work with clay, terra-cotta, and ceramics. The trestle can hold a maximum loading capacity of 40 kg. This is a great premium gift.
Mont Marte Sculpting - Pottery Banding Wheel 18cm

A pottery banding wheel is a gift most potters didn't know they needed until they got one. They allow smooth turning of the artwork so that you can hand build and decorate 3D projects without a hitch.

This one is suitable for pottery, ceramics, sculptures and spin art, it is Ideal for hand-building and decorating. It features a sturdy design with a cast iron body and aluminium base.
Mont Marte Sculpting - Clay Tool Set 11pc

This set contains a fantastic variety of tools suitable for use with clay. They may be used while the clay is still moist or on greenware (unfired air-dried clay) to carve, cut and clean. This clay tool set may also be used with polymer clay. Each tool is made from clear varnished hardwood handles with durable steel blades.
Still unsure what to get them? Give them the gift of choice with an Art Shed Gift Voucher.
---
Leave a comment