---
Back To School: The Ultimate Supply List for Educators and Art Teachers
Author: Dana McGorlick-Appelman Date Posted:4 January 2022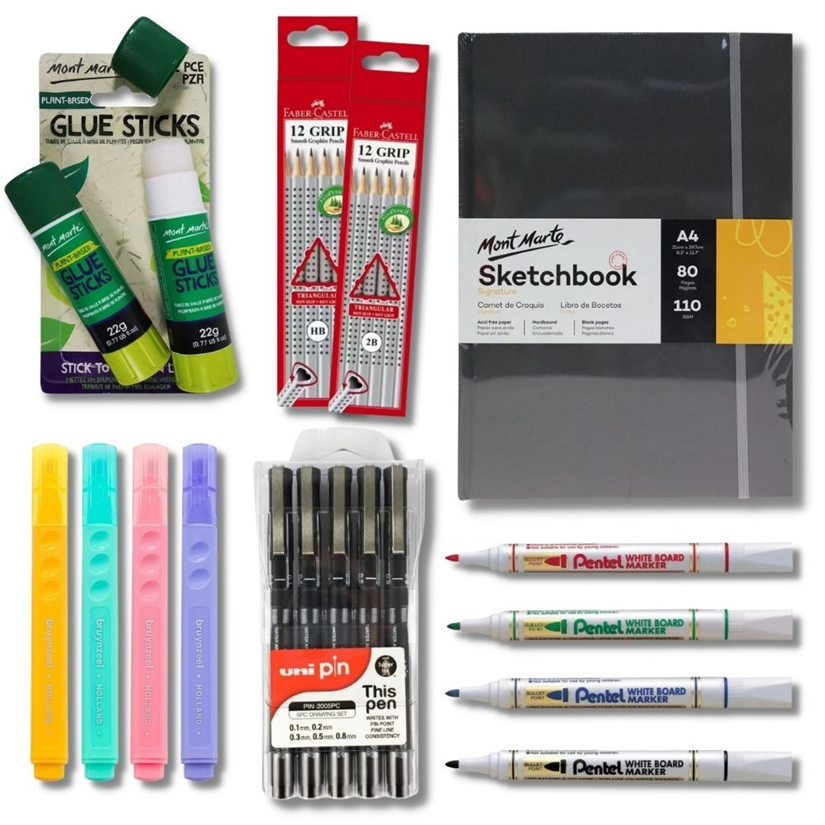 Teachers will be organised and prepared for the year ahead with this essentials bundle! Stock up on everything you need for the classroom or your home office, at a discounted price.

Pentel Whiteboard Marker Bullet Point
Perfect for everyday use, this Pentel Whiteboard Marker has a bullet point fibre nib that's filled with vibrant, highly-pigmented ink that draws on easily and doesn't run. The fine-point nib is 1.9mm in size for medium dense line work. Can draw on most whiteboard, plastic or glass surfaces and rubs off easily.
Available in Black, Green, Red, Blue
This Heavy-Duty Artist's Apron is perfect for protecting clothing from paint stains etc. One size fits all and the neck strap is adjustable to suit all body sizes. There is a large pocket on the chest and lower pockets for brushes, pencils and other art tools.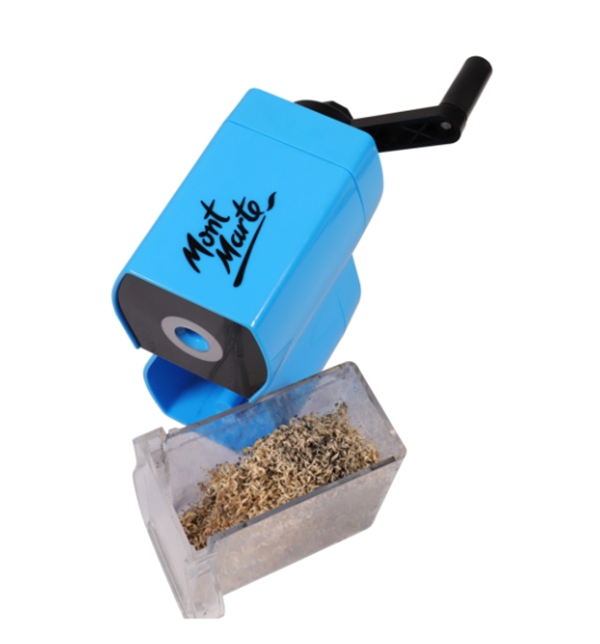 Sharpen pencils in an instant with this easy-to-use mechanical sharpener. This unique sharpener brings your pencils to an elongated sharp point for sketching and drawing, and is perfect for the classroom.
The sharpener is suitable for charcoal, pastel, colour and graphite pencils, and features a large shavings compartment.

Make your creative space beautiful and neat with the Mont Marte Signature Design Studio Tidy.
The Signature Studio Tidy features 82 compartments (64 regular and 18 large) that fits your markers, pens and pencils. This studio tidy is easy to assemble, washable and sits comfortably on desks or studio shelves.
By keeping your materials and working space neat and organised, you too can have an organised mind, allowing your creative ideas to flow.
We recommend: Faber Castell Grip 2001 Graphite Pencil 12 Pack – Available in 2B and HB
Write and draw in comfort with the Faber-Castell Grip Graphite Pencils! They feature an ergonomic triangular design with a dotted grip, which is ideal for the classroom.
The leads are specially bonded to prevent breakage, and they are FSC certified so you can be sure your purchase supports healthy forests and protects wildlife
This standard 60cm Stainless Steel Metric/Imperial Ruler is a multipurpose tool ideal for school, work or home. Its solid metal edge helps you to draw straight, definitive lines every time. It is durable and will not break or wear over time even with daily use. It has two units of measurement for precise, exact measuring. It's double-sided, comes with a protective pouch, and features a hanging hold for easy storage.
Also available in 30cm.

The Mont Marte Creative Eraser Set contains 4 erasers. There is one each of a jumbo eraser, a hard eraser, a soft eraser and a black eraser. The jumbo eraser is great for large drawings and can be used to lift off highlights with charcoal or graphite. The hard eraser is perfect for harder surfaces such as tracing paper. The soft eraser is ideal for more delicate papers where abrading may be an issue. The black eraser is excellent when used on black paper and will not leave marks that white erasers have a tendency to leave. All of these erasers remove graphite and charcoal cleanly and are an excellent addition to your kit.

We recommend: Bruynzeel Highlighter Set 4pc - Pastel
Colourful set of highlighters, ideal for notes and highlighting important information.
Carefully selected colours

Reliable Bruynzeel quality

Made in Holland

Triangular shape for a good grip

For thick and thin lines

Highlight and underline with 1 marker

Water-based pigmented ink
Mont Marte Craft Glue bonds most porous surfaces such as paper, wood and fabric.
It's great for a wide variety of craft projects and dries quickly to a clear finish.
Wash from clothes in warm soapy water before glue has dried.
Replace cap after use.
The large 1L size makes it perfect for classroom use.
The Mont Marte Signature Acrylic Paint is the perfect all-rounder for acrylic painting. This versatile paint has great flow, provides excellent extended coverage and is water-based so makes for super easy clean up. The ultra-large 2L size makes it perfect for covering large areas and is very popular among schools and studios due to the vast amount of paint, great value and the easy-pump nozzle that makes for easy paint distribution between students.
The Signature Acrylic range comes in a variety of bright, vivid colours that can be used on their own or mixed together to create new colours.
Features:
Ultra-large 2L size

Excellent for use in schools

Fitted with an easy-pump nozzle

Comes in a variety of colours
Chroma 2 is a densely pigmented creamy paint, ideal for primary, secondary school and student use.
The paint doesn't form a hard skin when it dries which makes it easy to clean out of brushes and other equipment.
High-quality student paint

Does not set completely hard when dry

Easy Clean-Up

Perfect for silk screen, lino block, and mono printing.

Dries quickly

Warm & cool primary colours

2 litre bottles fit Chroma Paint Dispenser

Non-toxic

Non- lightfast

Chroma 2 has a smooth consistency and a slightly longer open time which makes it perfect for silk screen, lino block and mono printing.
Can be used for painting on paper, cardboard, canvas, canvas board, wood, glass etc.
Combined with mediums for collage and mixed media.

Dive into the world of painting with the Mont Marte Signature Acrylic Paint Set. This set comes with 12 great colours that dry quickly to a semi-matte finish. Whether you're a student or an artist, create something new today!
This set of 500ml bottles is perfect for schools and art classes looking for large quantities of essential colours, or for the artist who uses a lot of paint.
Mont Marte has taken the guesswork out of it for you by bundling these colours together, making your class preparation easier than ever. The easy to squeeze bottles can simply be decanted into smaller containers and distributed around the class.
12 x 500ml bottles

Creamy texture

Good coverage

Suitable for most painting surfaces

Dries to a semi-matte finish
What are your classroom essentials?
Got questions? Send us an email at customerservice@artshedonline.com.au
---
Leave a comment