---
How to choose your acrylic paint
Author: Dana McGorlick-Appelman Date Posted:5 April 2022
Welcome to the wonderful world of Acrylic paint! There are so many Acrylic Paint options for both beginners and seasoned creatives. Keep reading to discover which acrylic paint is right for your project.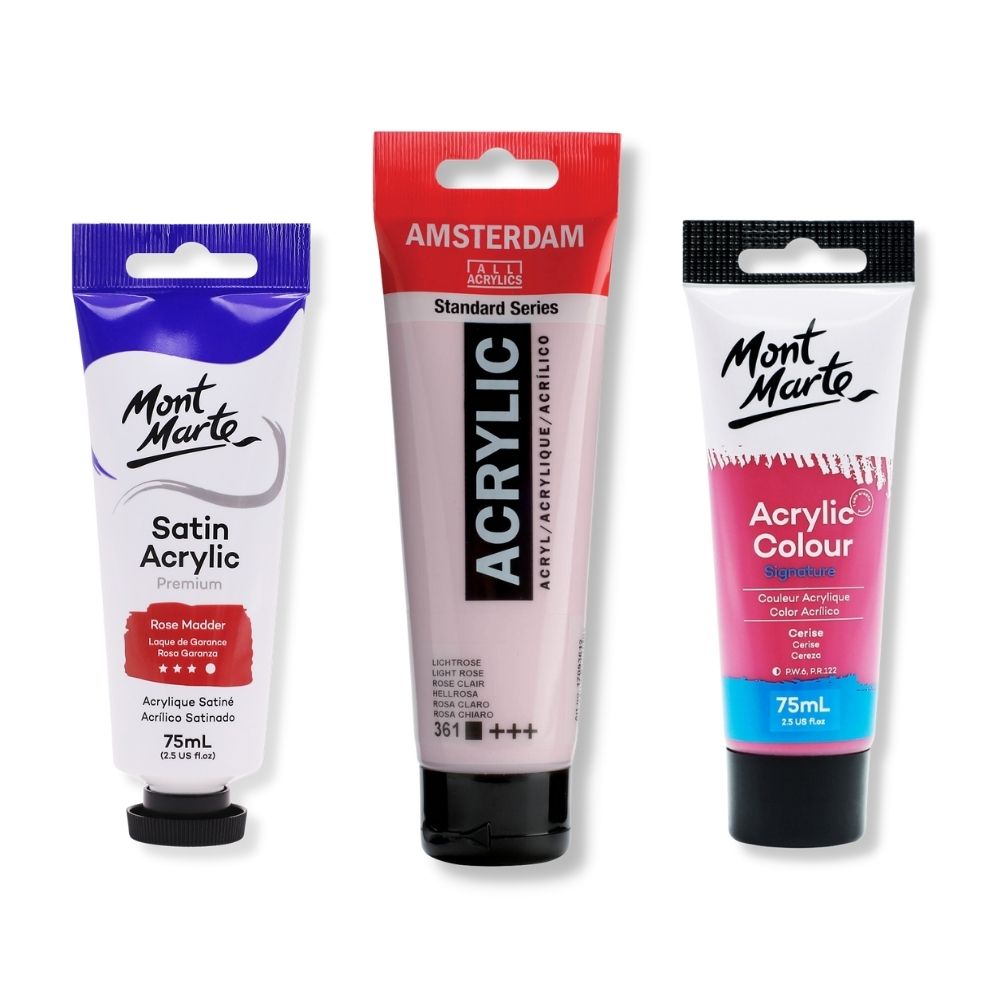 Beginner-friendly acrylic paints with a smooth finish
For when: You're starting out with acrylic paints, or looking for a classic, smooth acrylic paint.
Mont Marte Signature Acrylic paint comes in a wide range of colours, it is a smooth and fast-drying water-based acrylic paint ideal for creating affordable artworks and trialling techniques.
Signature Acrylic paint is a great introductory paint for students and beginners, it is mixable and provides great coverage on the canvas.
The 75ml tubes are very affordable and provide a great entry point for someone wanting to learn how to paint.
Mont Marte Premium Satin Acrylics have a silky-smooth texture and rich pigments that give you endless colour mixing possibilities. These artist-quality paints also feature a very good lightfast rating to keep your artworks looking their best for a lifetime.
Key features:
Rich pigments for clean colour mixing and strong colour intensity

Great coverage and a semi-matte finish

Smooth, medium viscosity consistency

Very good lightfastness: Satin Acrylics have a lightfast rating of 6 or above (equivalent to ASTM2). This means that under museum lighting conditions, the pigment will remain unchanged for 50-100 years

Can be diluted with water or acrylic mediums for glazing or watercolour techniques

Available in a range of colours
Amsterdam 120ml acrylic paints are fantastic paint for beginners, intermediate and seasoned and professional artists alike. With a broad range of colours and a high degree of lightfastness, these paints offer durable, pure, and non-fading pigments that adhere beautifully to a variety of surfaces.
The binding agent is made from 100% acrylic resin to maintain exceptional colour results and pigments for decades to come. This paint applies smoothly and can be mixed and thinned with water or acrylic mediums and is even suitable for wall painting as they are alkali resistant. Amsterdam acrylics are quick-drying and ton-toxic, and thin layers can dry within half an hour. Easily clean up after painting with soap and water, and the tubes are recyclable once empty.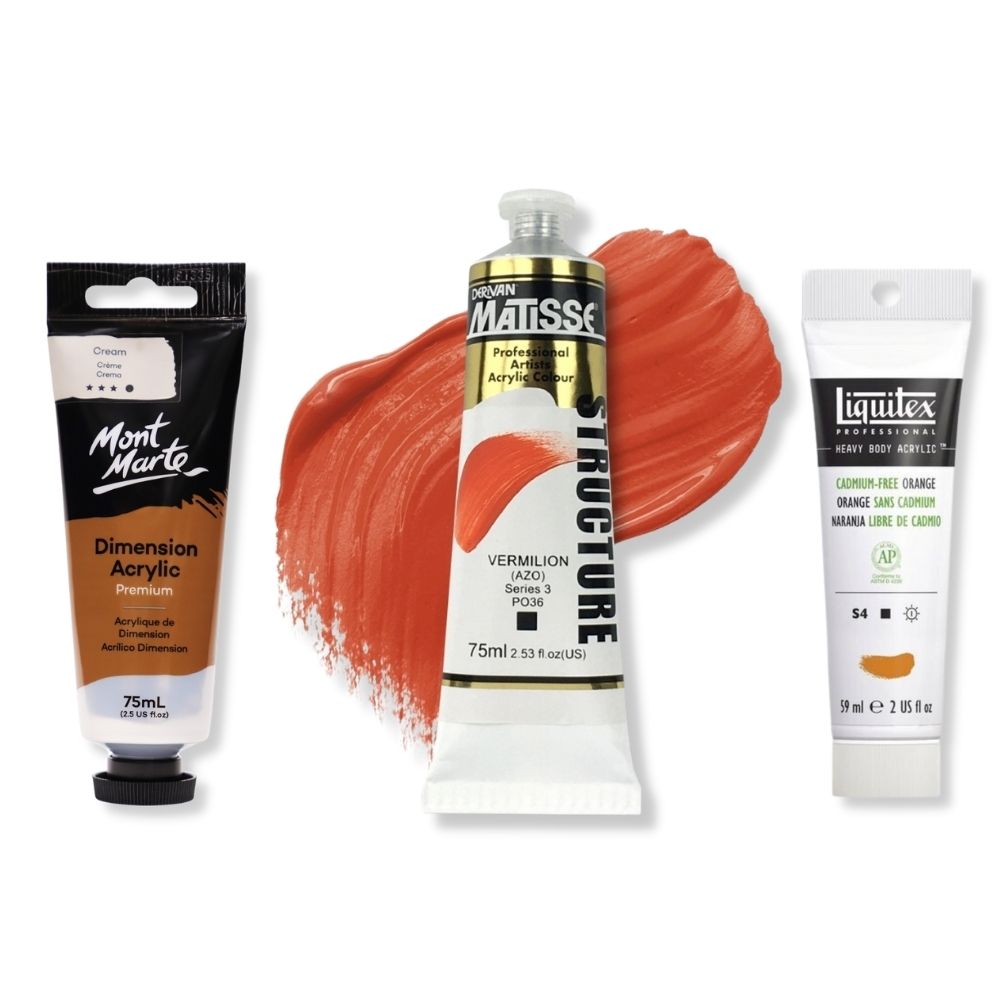 Heavy bodied/ thick viscosity acrylic paints
For when: you want to create texture and thick brushstrokes.
Liquitex Heavy Body Artist Acrylic Paint, previously referred to as High Viscosity, has a thick consistency for traditional art techniques using brushes or knives, as well as for experimental, mixed media, collage and printmaking applications. Impasto applications retain crisp brush stroke and knife marks. The high pigment load produces rich, brilliant, permanent colour. An exceptional quality acrylic paint that is ideal for professional artists.
Key Features:
Exceptionally smooth, thick buttery consistency

Retains brush strokes and palette knife marks

Great for thick/impasto applications and painting techniques

Flexible when dry; thick films remain free of cracks and chips

Compatible with Liquitex spray paints and paint markers

Professional quality paint
Matisse Structure Acrylic Paint is a high-quality Artists' Acrylic loved by Artists' in Australia and Globally. Structure's formula makes it a rich buttery impasto acrylic paint and it is the ideal choice of paint when thick gestural application is desired. Structure can be used straight from the tube and applied thickly with a brush or palette knife, or can be thinned with mediums from the Matisse range, while still retaining its vibrant highly pigmented colours.
The Matisse range is developed and produced in Australia using the finest quality pigments and ingredients, all of which have lightfastness ratings of ASTM I or II, they are in turn archival in quality allowing artists to paint with confidence.
Key Features:
Great for thick, gestural paint applications

Can be thinned with mediums

Highly pigmented

Lightfast pigments
This acrylic's ultra thick consistency can be applied with brush, palette knife or shaper to create especially exaggerated texture effects. It dries hard and holds shape while still maintaining flexibility and smooth flowability.
It can be diluted with water or acrylic mediums for glazing or watercolour techniques. With dilution, the pigment still holds strong colour intensity. Excellent lightfastness and premium quality pigment means colour strength will stay brilliant for longer. The DIMENSION series is available in a range of vivid colours which dry to a radiant gloss finish.
Key Features:
High Viscosity

Gloss Finish

Strong Colour Intensity

Excellent Lightfastness

Premium Quality Pigment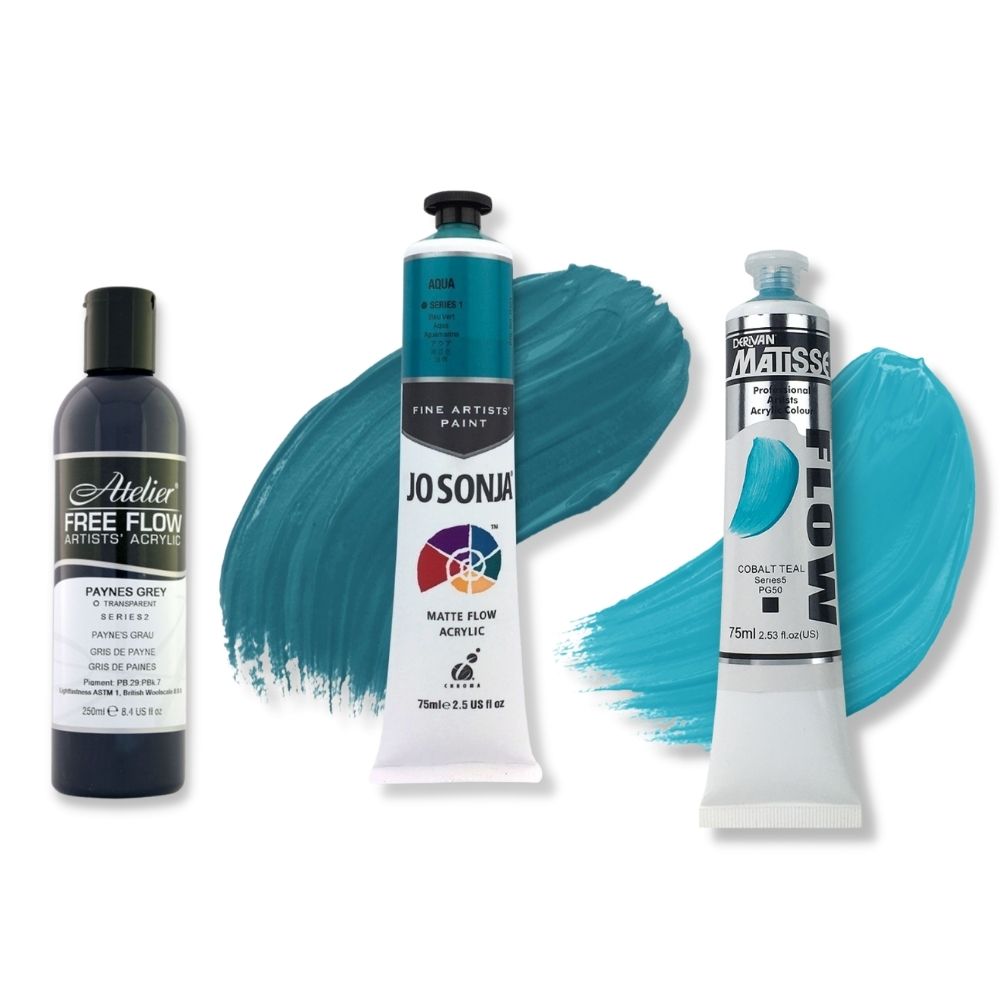 Thin viscosity acrylic paints
For when: you want a smooth, flat finish with lightfast pigments
Jo Sonja's Artists' Colours are true professional quality acrylic paints created specifically for decorative art.
These easy-to-use paints and are two to three times stronger than bottled craft colours. As well as being permanent, these lightfast and highly pigmented paints reveal a beautiful smooth finish and are fantastic for detailed work, and are great for beginner and seasoned artists alike.
Combine these paints with Jo Sonja's mediums to paint onto wood, metal, fabric and glass.
Key features:
Great for decorative art

Smooth, Matte finish

Lightfast and highly pigmented
Matisse Flow Acrylic Paint is a high-quality Artists' Acrylic with a thinner viscosity than other paints such as the Matisse Structure formula. Flow Acrylic's free-flowing consistency allows for smooth extended brush strokes and smooth application to large areas. The Matisse range is developed and produced in Australia using the finest quality pigments and ingredients, all of which have lightfastness ratings of ASTM I or II, they are in turn archival in quality allowing artists to paint with confidence.
Flow and Structure Formulas are also compatible with the full range of Matisse mediums including the Matisse Impasto medium for adding texture and body to the paint, or the Matisse Acrylic Painting Medium which is a low viscosity binder for adding flow and increasing transparency of the paint colours +many more!
Thin viscosity, ideal for flat, smooth paint application

Lightfast
Maximum pigment load and excellent lightfastness. Very fluid consistency with a velvet matte finish with rich and vibrant colour. A versatile substitute for ink, watercolour or gouache. Use for flat, even paint application & fine details
Excellent lightfastness

Very fluid consistency

Flat, velvet matte finish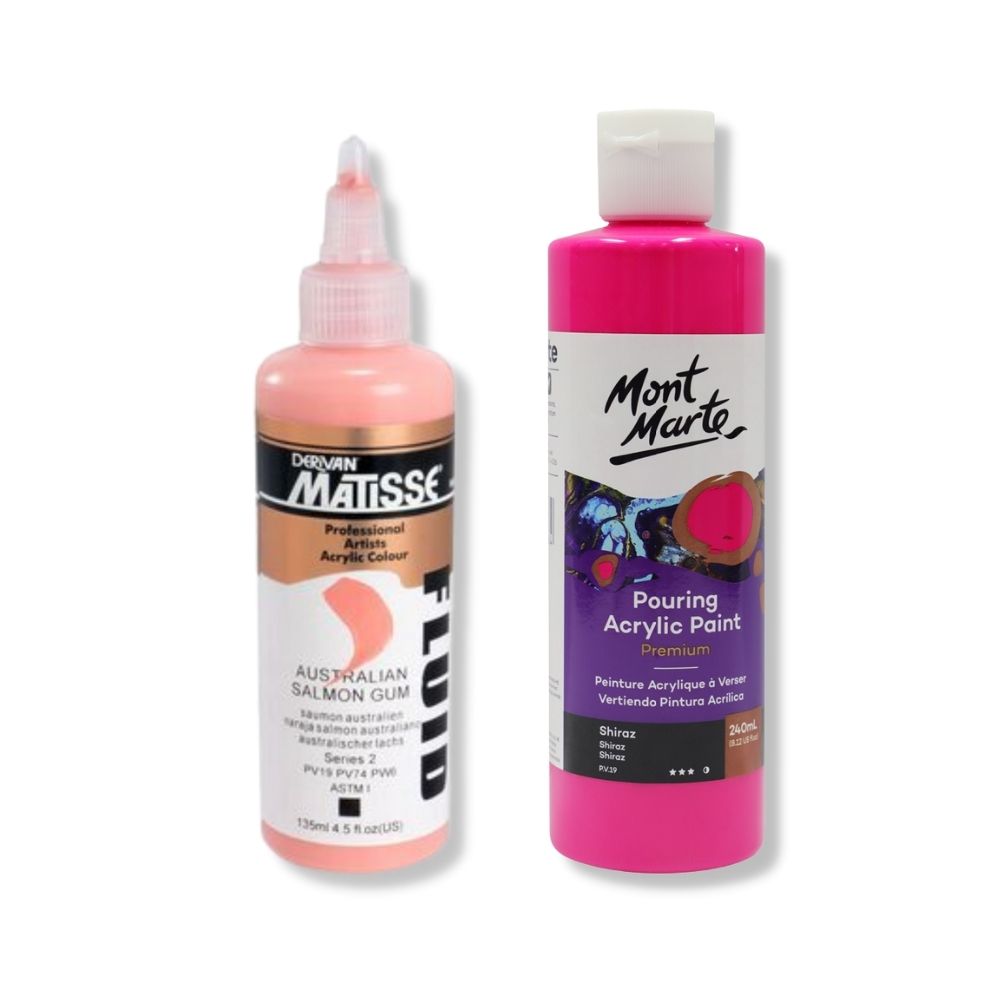 Fluid acrylic paints
For when: You want a super runny acrylic for pouring or to cover large surface areas.
Mont Marte Pre-mixed Pouring Paints
Mont Marte Premium Pouring Acrylic Paints are perfect for acrylic pour art. This ultra-flowy paint is pre-mixed for you so you don't need to focus on recipes and ratios and can get straight to creating! This easy-to-use product comes in a variety of bright, highly-pigmented colours and a lucid, easy-pour formula that flows seamlessly creating stunning marbled effects.
Premixed and ready to pour!

Highly pigmented
Matisse Fluid Acrylic is a high-quality acrylic paint with a fluid, liquid consistency. It is a highly-pigmented paint with an ASTM lightfast rating of I or II and opaque viscosity making them one of the best quality and most densely formulated acrylic paints on the market. Even with its dense viscosity, the Matisse Fluid Acrylic still remains flowing and liquid making it ideal for smooth extended brush strokes and easy application for large surface areas.
It is compatible with all Matisse acrylic paints and mediums and its fluid consistency and fine Application nozzle allows for precise drop-by-drop addition, ensuring you create the perfect blend every time.
Mix with a small amount of water to achieve stunning colour gradation or simply apply straight from the bottle for a vibrant bright colour.
Key features:
Highly pigmented

Lightfast

Opaque

Fluid, liquid consistency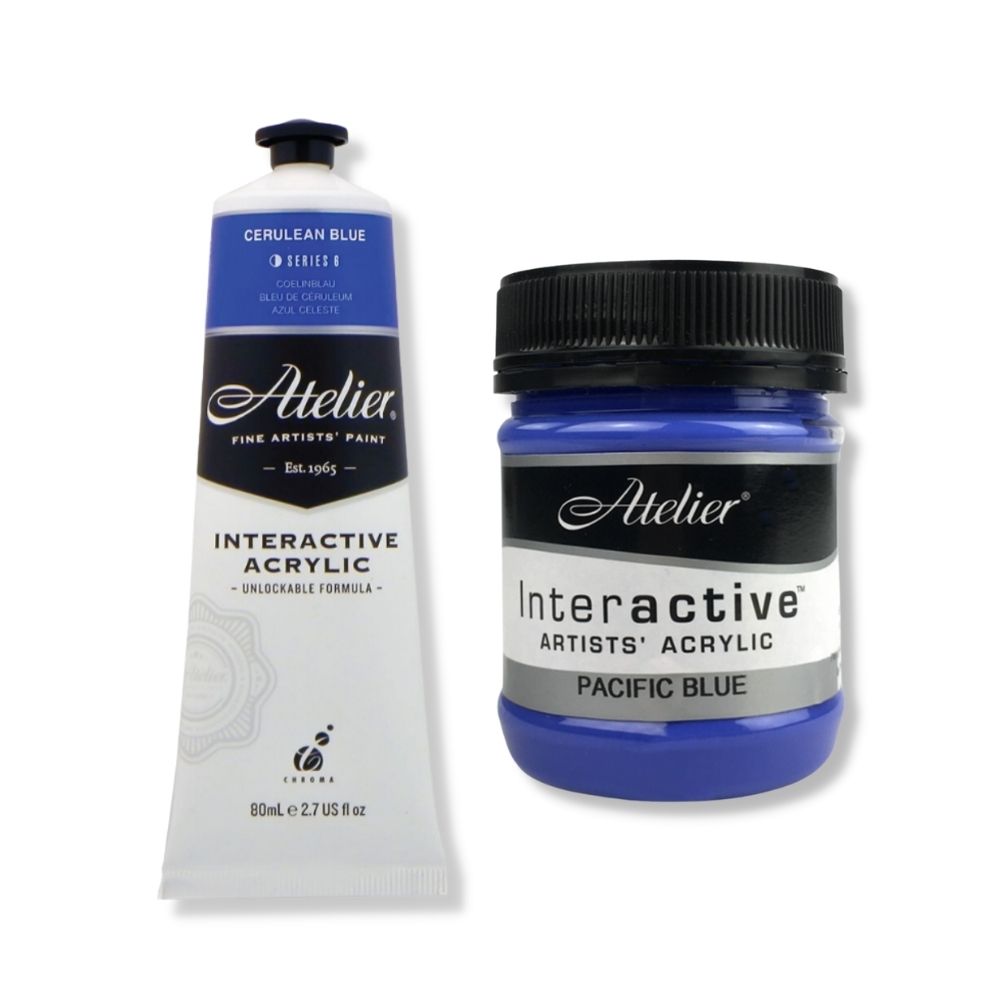 Interactive acrylic paints
For when: You want a professional quality paint with great blending capabilities.
A professional artists' acrylic paint. Heavy bodied, high in pigment load, lightfast and contains pigments of the finest quality.
Atelier Interactive handles just like a conventional acrylic, making it a popular choice for normal fast drying techniques and slow drying techniques – However it does have other exclusive options… when you want them.
Atelier Interactive is the world's first acrylic paint that gives you a new option; Controlled Drying Techniques. You can 'delay' the drying process and 'control' the paint's open time for as long as you want, simply with water, from a few minutes to hours you have the control. Whenever you are ready you can then choose when it will dry rapidly again simply by withholding water. It's that simple - and only possible with Interactive's patented formula.
When you choose - Atelier Interactive lets you control the open time, from minutes, to hours with water, or for days with an unlocking formula! – It's so helpful! There is another unique benefit… Atelier Interactive's patented formula allows you to magically re-activate touch-dry paint using Atelier Unlocking Formula to once again return to wet-in-wet blending techniques!
Key features:
Professional artist quality

Heavy bodied

Lightfast

Pigments of the finest quality

Features controlled drying techniques, meaning you can delay the drying time, making it ideal for blending. Can also be reactivated with the Atelier Unlocking formula for wet-in-wet blending
Don't forget to show us your art by tagging us on Instagram @artshedonline for your chance to be featured!
Got questions? Send us an email at customerservice@artshedonline.com.au and our friendly team of artists will do their best to assist you.
Have fun, and happy creating!
---
Comments (1)
LOOOOVE MATISSE STRUCTURE!!!!

By:

Cristina

on 21 January 2023

Going back to acrylic paint after spending a year with oils took a bit of getting used to. Especially since I also went from using cheap beginners quality to professional/better quality. I found the liquitex heavy body dries super quickly... bit too quick, although their mediums are amazing (Slow drying gel medium is a must) so I went with Matisse structure and I love it so much!!! Both brands work well together too!





Art Shed Online Response
That's great to hear Cristina, thanks for the feedback!
---
Leave a comment