---
15 Essentials every artist needs in their studio
Author: Dana McGorlick-Appelman Date Posted:20 December 2021
Wondering how to create the perfect art studio setup?
Having an organised space is essential for every artist, leaving more room for your creative ideas to flow.
If you're looking for creative essentials to add to your studio, we've got you covered.
Keep reading to discover the must-have materials artists love to keep their workspace neat and the creativity flowing!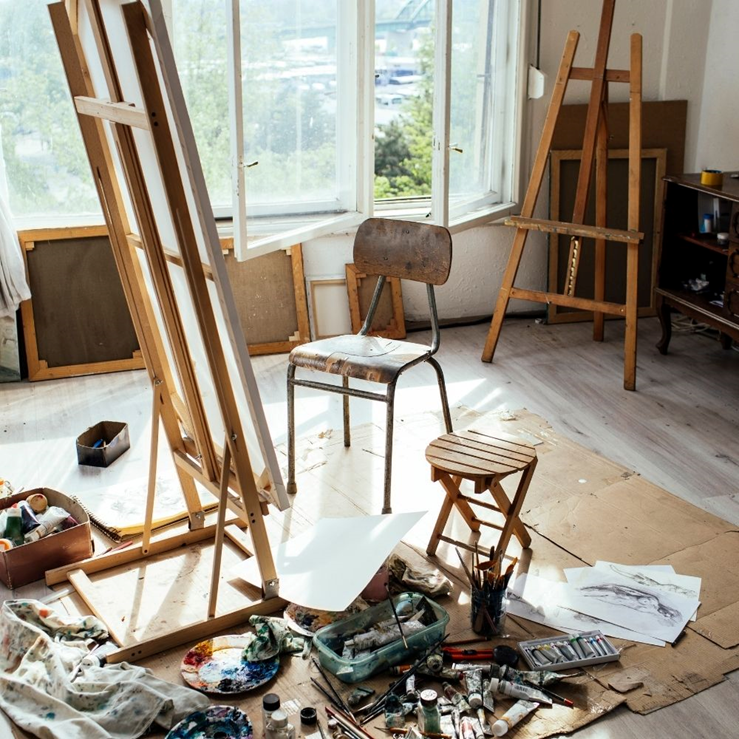 Easel
Every painter needs a good quality easel. Not sure which easel is right for you?
The large-scale painter:
This Tilting Studio Easel is an extremely versatile easel suitable for artists producing large-scale artworks. The easel has a large tilt range including the ability to tilt completely flat. This feature enables the easel to be used for watercolours, pastels, gesso, varnish, and glazes. The easel is constructed with a sturdy square base, easily adjusted central column and a trigger action height adjustment. Castor wheels allow the easel to be moved around the studio and can be locked into place when you catch the perfect angle of light.
Mabef's M02 beechwood easel is a beautiful and functional piece of equipment for working on multiple large canvases at the same time. Featuring a double mast, the M02 easel is capable of holding two canvases next to each other. Alternatively, the double mast can be used to hold a single larger canvas up to 99cm x 235cm
The built-in crank mechanism allows you to adjust the height at which your work is held with ease, there's no need to remove work beforehand making the process quick and simple. The inclination of the masts can also be adjusted manually to face towards or away from you as you work.
Wheels on the bottom of the easel make it easy to move work around your studio and rubber stoppers keep it in place while you're working. A shelf under the canvas holder gives instant access to any tools or materials you are using while a drawer underneath safely holds any other materials such as bottles or paints.
For display:
Put your artworks on show at home, in the studio or at an exhibition with this versatile display easel. This sturdy display easel is made with pine giving it a clean no-nonsense appearance.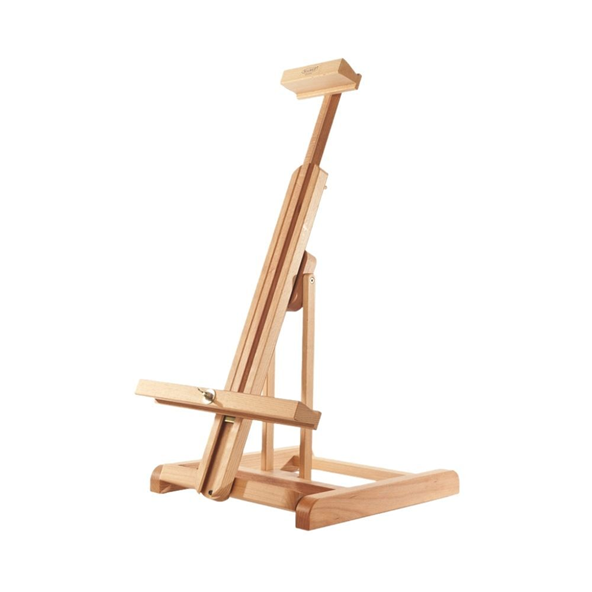 The Watercolour artist:
The Mabef M31 Oil/Watercolour Table Easel is a robust easel made from oiled, stain resistant, Beechwood. The easel can hold canvases up to 100cm, making it perfect for working with both watercolour and oils.
The illustrator:
The Mont Marte A2 Drawing Board is an essential piece to have in your studio. Artists and planners alike love this handy board as it is ideal for sketching, drawing, and painting. Made from a smooth beech wood surface the drawing board comes complete with a built-in pencil rest. The angle adjuster and elastic band offer flexibility for different drawing methods and different scaled projects.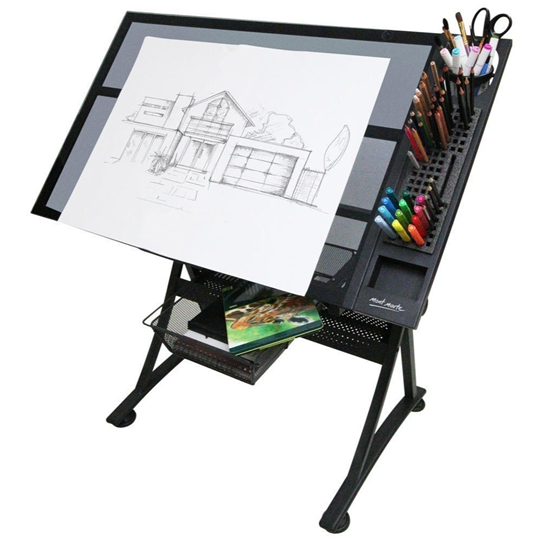 Another great studio addition is the Mont Marte Creative Art Station. Featuring an art desk, plenty of places for your materials and an ergonomic design, it gives you a sturdy and practical space to work.
This versatile art station is suitable for a range of creative disciplines; from art and craft projects to drafting and large-scale jobs such as mapping and architectural work. Adapt it to a standing or sitting position using the ergonomic height adjustable design.
Featuring a sturdy base, tempered glass easel with a tilt range of 60 degrees, steel frame and iron drawers for storage space, this multi-use art station is practical and built to last.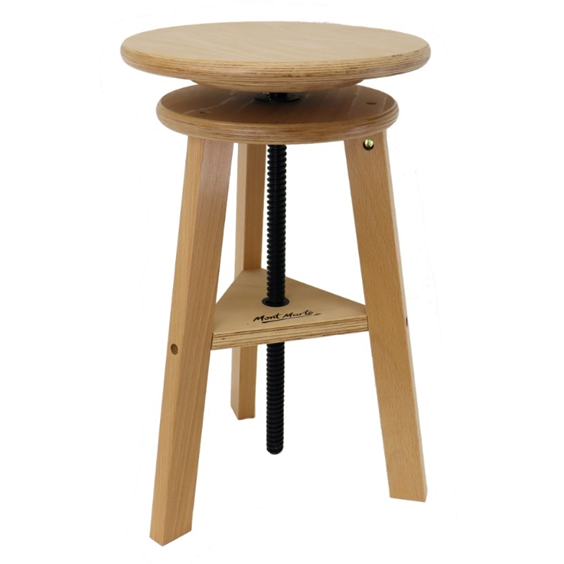 Adjustable stool
An adjustable stool is a must for working at a desk or easel. This Mont Marte Signature Easel Stool is made of Beech Wood and is a classic accompaniment to any artist's painting ensemble.
With its swivel height adjusted seat, the stool is ideal for artists working between a variety of different sized surfaces and can be adjusted between 48 - 65cm.
The stools rounded, beech wood edges and plated steel hardware provide a sleek, professional look, appealing to those looking for a practical yet stylish companion to their easel set up. Stools are particularly useful when painting for long periods of time, keeping you comfortable so you can create for longer!

Multi- Purpose Storage Box
There are so many different storage box options to store your paints, pencils, pastels and more. Some fantastic options include:
This is a great all-rounder storage box for all your art/craft supplies

. Made from

polished Beechwood, with brass plated clips and a leather carry handle

, it features a large bottom drawer for pads and brushes, the top two draws open out for easy access.
Mont Marte 3 Drawer Pastel Storage Box:
The Mont Marte Pastel Box is constructed from beautiful Beechwood and is ideal for keeping pastels clean and protected. The 2 top drawers include fixed compartments that provide convenient storage for all types of pastels and other art materials. The large bottom drawer contains no compartments and is suitable for paints, brushes and accessories.
The Mabef wooden storage boxes are ideal for safely storing and transporting your art supplies. The box is constructed of oiled, stain-resistant beechwood and features tin lined drawers for easy cleaning.

The drawers also feature

adjustable metal dividers to customize the compartments for brushes, paints and other supplies.
Studio Tidy
This Mont Marte studio tidy is amazing for keeping your brushes and pencils neat. It is comprised of 96 compartments so you can organise and store your various art tools, it holds most brushes, pens, markers and pencils making them easy to see and access when you are in the creative zone!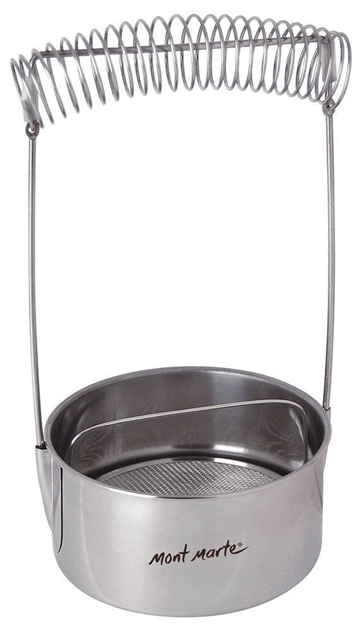 Brush washer
A Brush washer is essential for any painter. The Mont Marte Stainless Steel Brush Washer is an invaluable accessory for artists and provides a quick and convenient way to clean and dry your brushes. The stainless-steel spiral handle suspends brushes in turpentine or water, protecting brush bristles to give them a longer life. This spiral also allows brushes to be suspended in air to dry when the washer is empty. The mesh screen in the bottom of the washer provides a semi abrasive surface to clean brushes and also allows sediment to settle in the base so water or turpentine can be reused for cleaning, making it especially useful for oil painters.
Apron
An apron is a must for any artist. This Mont Marte Artist Apron (Heavy Duty Calico) is perfect for protecting clothing from paint stains. One size fits all, and the neck strap is adjustable to suit all body sizes. There is a large pocket on the chest and lower pockets for brushes, pencils and other art tools.
Drop cloth
Keep your space clean and paint spill-free with a plastic-backed, canvas dropcloth. Leakproof plastic backing helps stop paint spills from damaging floors, carpets and furniture. This Unipro Drop cloth is made from Heavy-duty trade quality canvas and is Reusable.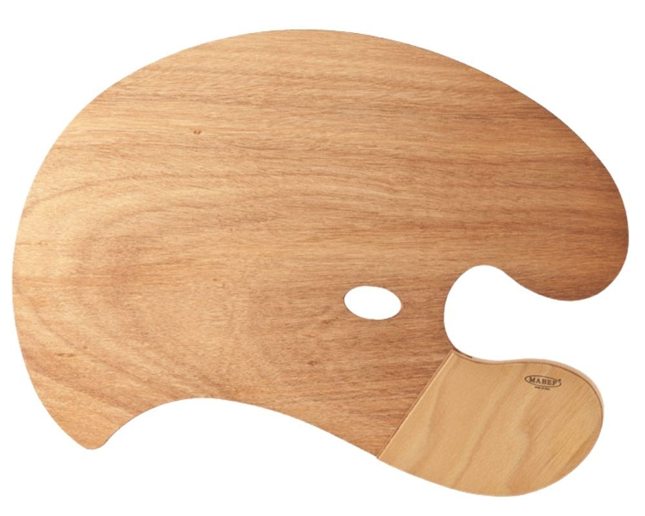 Artist's palette
Every painter needs a palette. There are so many types of palettes out there and which one is right for you depends on your mediums of choice. When working with oils, opt for a wooden, MDF or disposable palette, for watercolour and gouache, opt for porcelain, and for acrylics, an easy clean palette is a game-changer.
Mabef MDF Palettes are good quality and suitable for painting with acrylic and oil paints. They are sturdy enough for regular studio use, and are made in Italy to the highest standards. The range of palettes are all suitable for both right-handed and left-handed artists.
This Easy Clean Wood Palette is laminated with a stain-resistant surface to make clean-up a breeze. Made from warp-resistant hardwood so your paints won't drip off the surface. The thumbhole provides the easy handling ability of a traditional style palette.
The Mont Marte Tear Off Paper Palette consists of 36 sheets of wax-coated paper. The thumbhole allows easy handling and is glued on 3 sides to reduce movement of the sheets. Easy to clean up by simply tearing off the sheet and throwing away.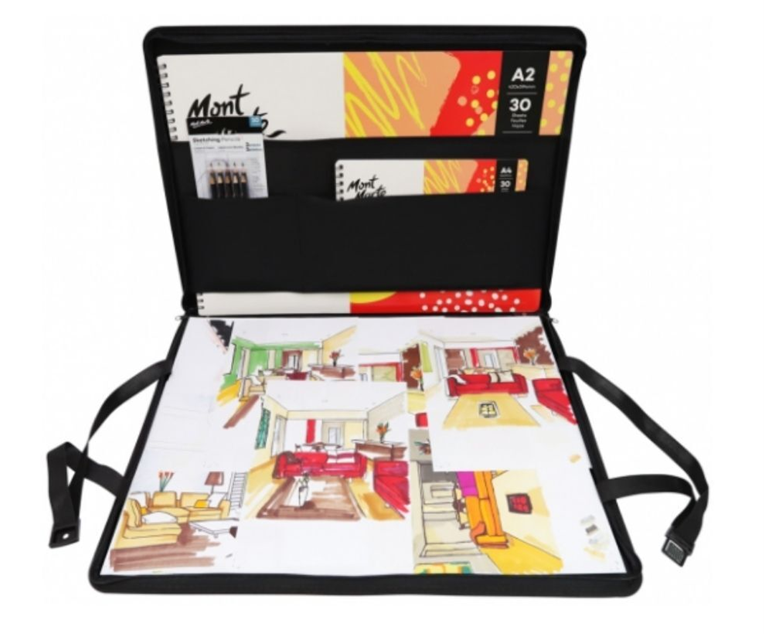 Portfolio
A Portfolio is essential for storing and transporting works on paper.
The Mont Marte Signature Art Portfolio A2

features a sleek design with 3 internal pockets and an elastic strap to keep your work secure when you're on the move.
The X-Press It Pleated Art Folio - A3 is

archival quality, acid-free. This pleated (gusseted) folio that will lay flat. Has easy close flap and comfortable padded carry handle.
X-Press It Kraft Folio

these folios act as a great way to protect and group your drawings or paintings on loose canvas.

Unipro Clear Plastic Bucket and Lid 1.2 litre
This clear plastic bucket is essential for Artists working with larger quantities of paint, meaning you can mix your colour in the bucket so you don't need to try to remix down the track. The seal of the bucket is very secure enabling your paint to remain wet for longer. These buckets also make a great brush washing container, or just for storage around the studio.
Staff Tip from Art Shed Tom:
I personally use this bucket in my studio as a brush washer when working with oil paint, it is the perfect size for keeping a handful of brushes in whilst working on a painting. I frequently rinse the brush in turps which I keep in the container and then wipe dry with a rag so as to avoid cross-contamination and muddy mixing.
After I have finished for the day I remove the brushes and wash them thoroughly with Chroma Incredible Brush cleaner, and then put the lid back on the turps filled bucket to control the turps fumes.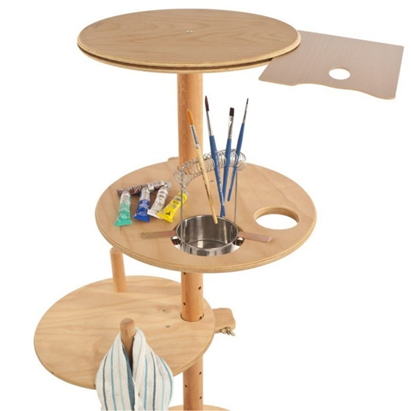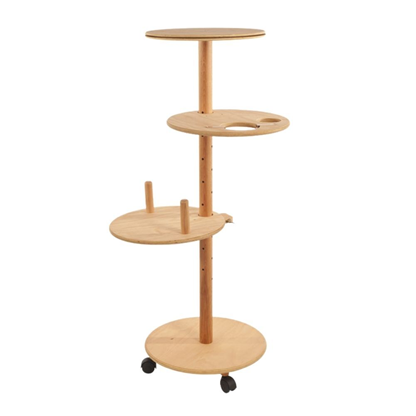 Multilevel Artist Support
The Mabef M47 Multilevel Artist Support is the perfect studio accessories solution! Constructed of oiled beechwood/plywood it features shelves for holding palettes, cups of water, paper towel and your art supplies. It features caster wheels for easy movability within your space.
The Artist Support is 120cm H x 44cm W and can hold up to 5kg.
2 adjustable shelves and one fixed for holding painting accessories

Top shelf features palette support

The middle shelf features 2 holes for brush washers and clips for use with smaller diameters

The bottom shelf with 2 paper rolls holders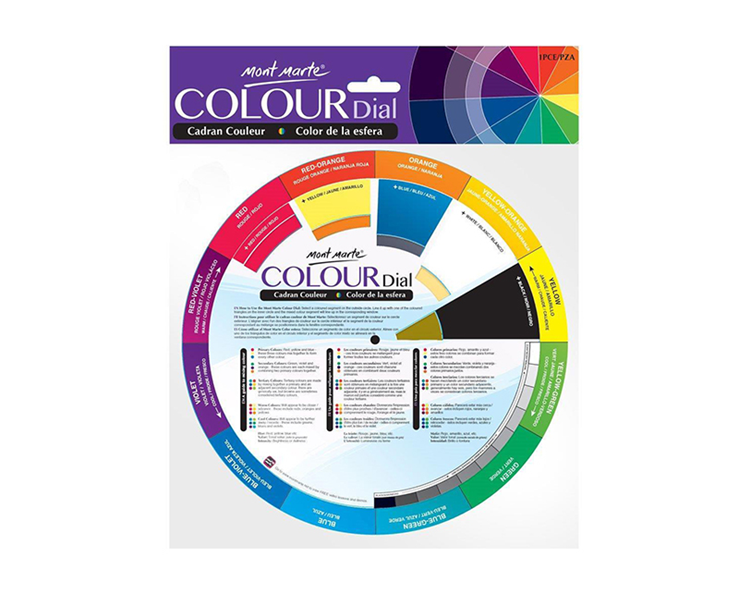 Colour Wheel
Understanding the colour wheel and colour theory is fundamental for any artist of any skill level. This Mont Marte Mini Colour Dial makes learning about colours and colour mixing a breeze - simply select your colour, line it up with another and see the colours you can make.
As well as helping you with colour choice and colour mixing, this dial teaches you about primary, secondary and tertiary colours as well as hues, values and intensity. This double-sided wheel features a colour mixing guide on one side and shows colour relationships and harmonious combinations on the reverse.
Its mini size makes for compact storage or easy transport to and from school, work or the studio.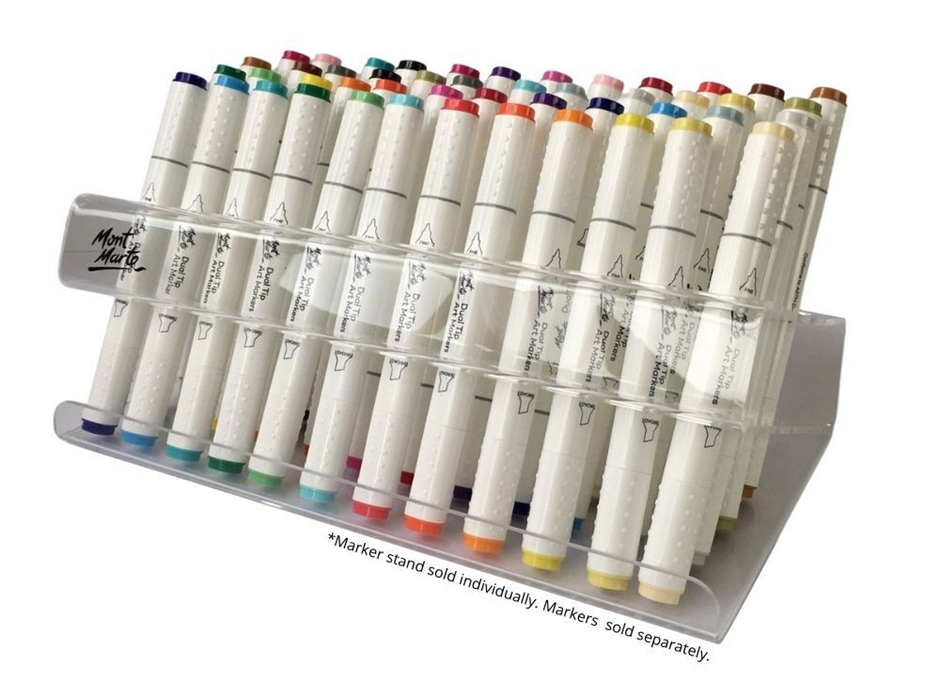 Marker Stand
Put your marker collection on display and keep your workspace beautifully organised with this

Mont Marte Storage - Slanted Marker Stand 60 Slot

Marker Stand. Featuring a whopping 60 compartments this super functional stand is great for pen, pencil and marker storage. The tiered design makes it easy to view and select colours so you can get back to creating faster. Its compact design means you can keep your markers in easy reach.

Pencil roll
Looking for the perfect on the go storage solution for your drawing supplies? This

Faber Castell Art & Graphic Pencil Roll:

is the ideal companion to any location artist, student or designer. Featuring a simple black canvas design, the pencil roll is sleek and easily washable and ideal for travel or on location sketching.

Sketchpad
Every artist needs a sketchbook to help them store inspiration and sketch out their ideas.
Mont Marte Sketch Pads have 25 sheets of 150gsm, acid-free, smooth textured paper.
This paper is a wonderfully versatile medium which can be used with a huge range of sketching media and craft projects.
This sketch pad's paper is a crisp, bright white and has very fine-toothed texture suited to graphite pencils, coloured pencils, pens, charcoal, soft pastels, hard pastels, oil pastels and more! The sheets are tape bound which makes removing them quick and easy. The sheets are also supported by a 2mm thick backing board.
Mont Marte Sketch Pads give a helping hand to the beginner artist with practical drawing tips on the inside cover. Available in A5, A3 and A4
Talens Art Creation Sketchbooks
Talens Art Creation sketchbooks are sturdy, hard-bound sketchbooks perfect for drawing, journaling, urban sketching, field studies and more! Ideal for use with pencil, pastel, acrylics, gouache, ink, charcoal, and light washes of wet media. They contain 80 sheets of acid-free, 140 g/m² (90 lbs) paper
The books are perfect for keeping all sketches in one place and has a bookmarker string for marking the page of one's latest work and a book closure band to keep the book closed and compact while carrying.
An Art Shed exclusive! This high-quality Visual Diary is perfect for all dry mediums including graphite sketching and drawing, coloured pencil work, charcoal and fine-liners. Keep all your inspiration in one place, and easy to take on the go! The sturdy 110gsm paper gives a firm blank canvas for sketching and writing with a luxurious quality feel and it is acid-free so it won't tarnish or discolour over time. The wire spiral binding allows pages to be removed easily and allows a completely flat surface to be worked on.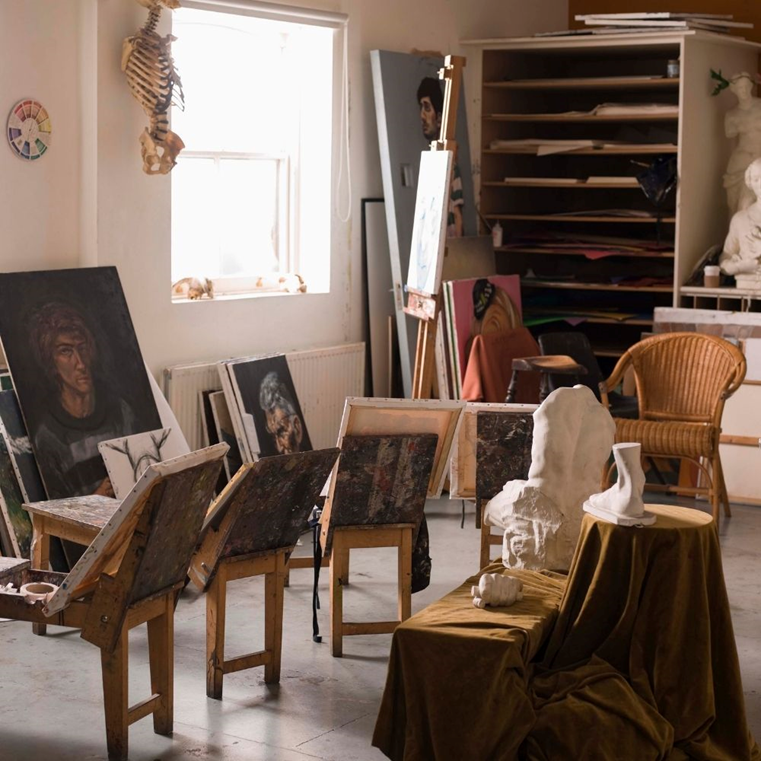 What are your studio essentials?
Show us your studio set up by tagging us on Instagram @artshedonline for your chance to be featured!
Got questions? Send us an email at customerservice@artshedonline.com.au and our friendly team of artists will do their best to assist you.
Happy creating!
---
Leave a comment