---
Christmas Gift Ideas for every creative
Author: Dana McGorlick-Appelman Date Posted:18 November 2021
There is truly no better feeling than surprising a loved one with a gift that you know they'll really adore.
With Christmas around the corner, we've compiled some go-to gift ideas. Whether they're into painting, watercolour, sculpting or calligraphy, we've got something creative for everyone.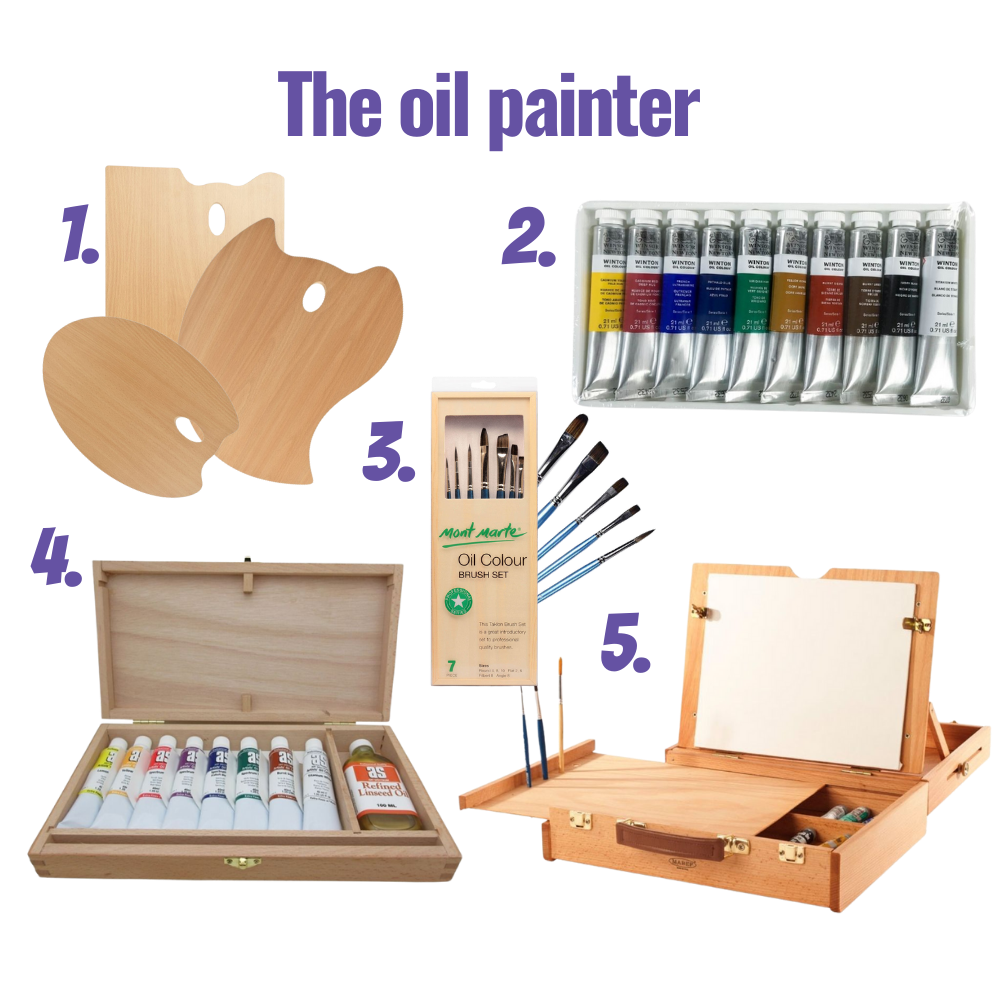 Mabef MDF Palettes are good quality and suitable for painting with acrylic and oil paints. They are sturdy enough for regular studio use, and are made in Italy to the highest standards. The range of palettes are all suitable for both right-handed and left-handed artists.

2. Winsor & Newton Winton Oil Colour Set 10pc x 21ml
Winton Oil Colour delivers excellent value and high quality for trusted performance. Winton Oil colours have been developed by Winsor and Newton to be able to offer a reasonably priced oil paint at a high quality. Each tube of Winton Oil Paint has a high level of pigmentation to provide solid coverage and mix ability. These Oil colours can be effectively mixed to create a wide spectrum of colour options, and can be safely intermixed with Winsor and Newton Artists Oil Paint among other oil paints.

3. Mont Marte Paint Brush Set - Oil Brushes In Wooden Box 7pc
This 7 piece Taklon Oil Brush Set is a great introductory set to professional quality brushes. The 2-tone 0.1mm Taklon bristle is strong enough to use with oil paints and heavy-bodied acrylics. These brushes offer a smooth finish and come in a great range of sizes and shapes, including Round 4,8 & 10, Flat 2 & 6, Filbert 8 and Angle 8

4. Art Spectrum Wooden Box Set - 8 x 40ml Oil Paint Tubes & 100ml Refined Linseed Oil
This Oil Paint set from Art Spectrum comes in a luxurious wooden box featuring 8 vibrant tubes of Art Spectrum Oil Paint in 40ml tubes and 100ml bottle of refined linseed oil. Art Spectrum Oil Paints are Australia Made and owned and are renowned for their high quality and are used by Artists around the world. Neatly presented in a hinged and clasped beach wood box, this paint set make a great gift for any artistic individual.
This set includes 8 x 40ml tube of Art Spectrum Professional Oil Paint in the colours Lemon Yellow, Spectrum Red, Spectrum Blue, Spectrum Violet, Spectrum Viridian, Yellow Ochre, Burnt Sienna, and Titanium White.

5. Mabef M105 Pochade Box - 30 x 38cm (12 x 15 Inch)
This Mabef M105 Pochade Box is a fantastic addition to any oil painters practice. Constructed of oiled, stain-resistant beech wood, it features a sliding palette with 5 holes for holding brushes, 2 supports that can take 2 canvas boards, and 3 compartments for storage paints, brushes, etc.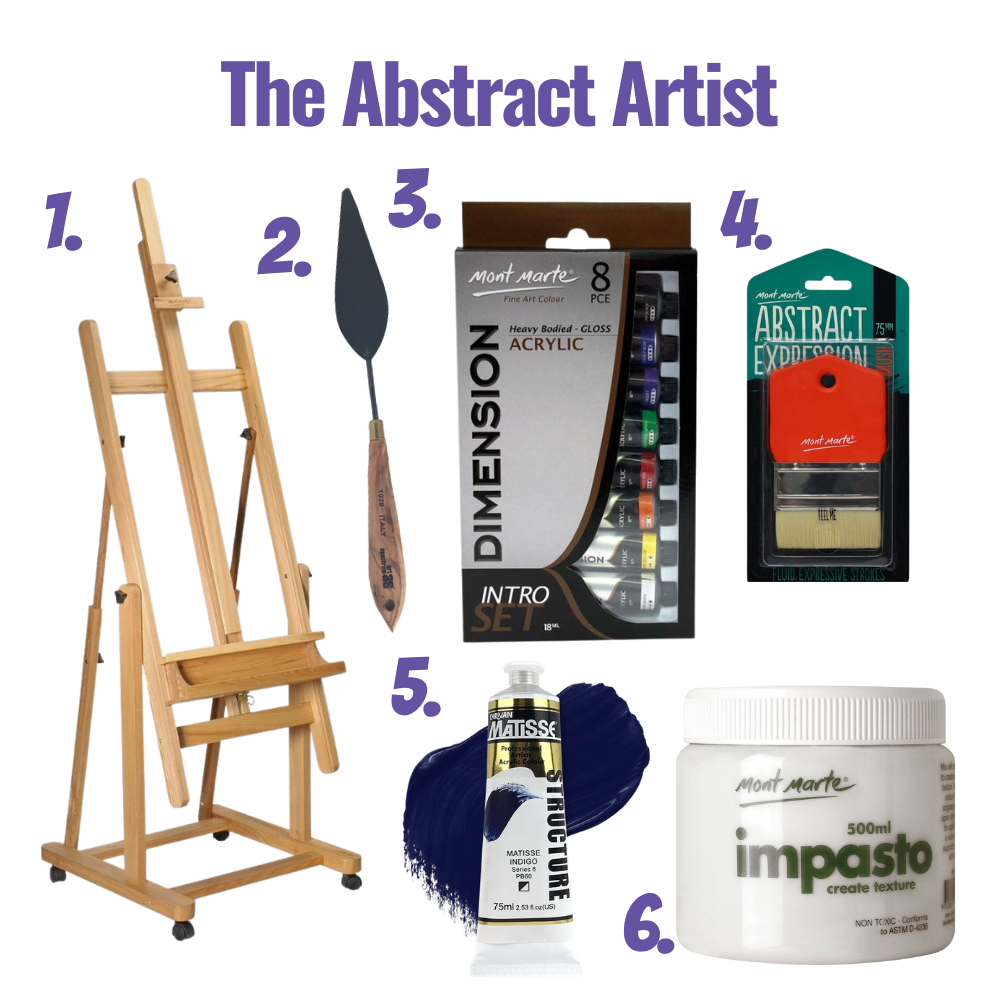 This Tilting Studio Easel is an extremely versatile easel suitable for artists producing large-scale artworks. The easel has a large tilt range including the ability to tilt completely flat. This feature enables the easel to be used for watercolours, pastels, gesso, varnish, and glazes. The easel is constructed with a sturdy square base, easily adjusted central column and a trigger action height adjustment. Castor wheels allow the easel to be moved around the studio and can be locked into place when you catch the perfect angle of light. The ability to hold a canvas of up to 207cm makes this easel perfect for abstract painting.

2. Art Spectrum Painting Knife
Art Spectrum Painting Knives are a high-quality professional Palette Knife for paint mixing and paint application. These sleek knives are made in Europe with hand ground hardened steel blades in a black burnished finish. The handle itself is made of Olive wood and is held together with a polished brass ferrule. The wooden handle fit comfortably in the artists hand, while the steel blade has an ideal amount of flexibility making paint mixing and application smooth. Blade lengths vary and are approximately 6-8cm long.

3. Mont Marte Intro Paint Set - Dimension Acrylic Paint 8pc x 18ml
Mont Marte Dimension Acrylic paint is a high viscosity, fine art paint that offers artists a new dimension in painting. This acrylic's ultra-thick consistency can be applied with brush, palette knife or shaper to create especially exaggerated texture effects. Dries hard and holds shape while still maintaining flexibility and smooth flowability. With dilution, the pigment still holds strong colour intensity. Excellent light-fastness and premium quality pigment means colour strength will stay brilliant for longer. The Dimension series is available in a range of vivid colours which dry to a radiant gloss finish.

4. Mont Marte Taklon Abstract Expression Paint Brush
The Mont Marte Abstract Expression Brush is perfect for every painter, suitable for producing fluid expressive strokes, sharp edges, covering larger areas on the canvas, and amazing for blending. The ergonomic non-slip handle allows for hours of easy application in your studio. The short, robust Taklon bristles enable each artist to manipulate even the thickest mediums such as heavy-bodied acrylics.

5. Matisse Structure Acrylic Paint
Matisse Structure Acrylic Paint is a high-quality Artists' Acrylic Owned and Made in Australia, and widely loved by Australian and International Artists' painting and exhibiting professionally. Structure's formula makes it a rich buttery impasto acrylic paint and it is the ideal choice of paint when thick gestural application is desired. Structure can be used straight from the tube and applied thickly with a brush or palette knife, or can be thinned with mediums from the Matisse range, while still retaining is vibrant highly pigmented colours.

6. Mont Marte Acrylic Medium - Impasto 500ml
Mont Marte Impasto is a clear drying medium used to create texture and retain brush strokes. Impasto can be mixed with acrylics directly and will not change the effect of the final colour. Because Impasto is a water-based medium it cannot be mixed with oils but it can be painted over with oils once left to dry. Impasto adds an expressive quality to artworks and has the ability to bring painting into the third dimension.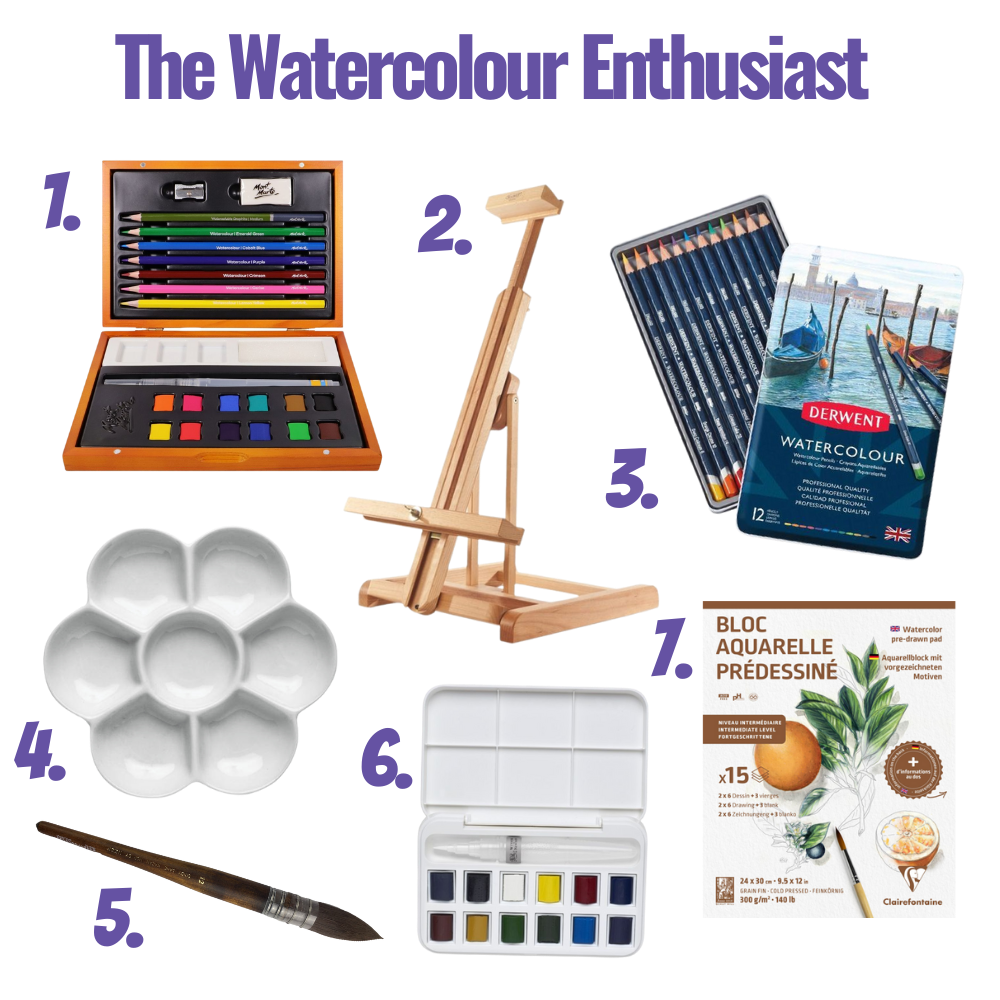 1. Mont Marte Signature Paint Set - Watercolour Art Set 24pc
Paint, draw and create with this Signature Watercolour Art Set. From pencils to watercolour cakes, it comes with everything you need to practice your skills or make a masterpiece. This set is ideal for travelling, on the go or taking to and from classes, with the storage box and everything in one place!

2. Mabef M31 Oil/Watercolour Table Easel
The Mabef M31 Oil/Watercolour Table Easel is a robust easel made from oiled, stain resistant, Beechwood. The easel can hold canvases up to 100cm with a maximum loading capacity of 2.7Kg.

3. Derwent Watercolour Pencils
Pencils are easy and convenient to use, paints a little less so. But there's a high-quality colour pencil that you can paint with as well, so you can enjoy the best of both worlds. Derwent Watercolour can be used wet or dry, on wet or dry paper, to achieve a wide variety of effects. Soft in texture so easy to blend and layer. Derwent Watercolour Pencils retain their full intensity however you use them.

4. Art Spectrum Glazed Porcelain Flower Palette
This palette is ideal for watercolours and mixing paints as it is glazed and extremely easy to clean. The palette is sturdy and weighty, so will not move around when in use, and its porcelain construction makes it a durable palette alternative. A delightful addition to any artist's studio. Ideal for working with watercolours, inks and acrylics.

5. Neef Mahogany Kazan Series 2013 Premium Synthetic Soft Bristle Brush
Neef proudly introduces its own new development KAZAN synthetic. Not only do they have the softness and suppleness of a natural squirrel but we feel they completely out perform them. Perfect for use with watercolour paints.

6. Winsor & Newton Watercolour
The Cotman Watercolour set is designed specifically with the travelling Artist in mind. Inside the kit you will find 12 high-quality, vibrant Cotman colours and a brush pen with its own water reservoir. The precise synthetic tip that feels like your favourite paint brush and fits inside the set which is Pocket-sized with comfortable, rounded corners, there is also a mixing palette inside the lid.
These pads, with 300gsm Etival watercolour paper, contain 6 sheets of pre-drawn designs and 6 blank sheets. With detailed step-by-step instructions, they are perfect for beginners who want to discover the art of painting with watercolour or for watercolour artists looking to practice their skills.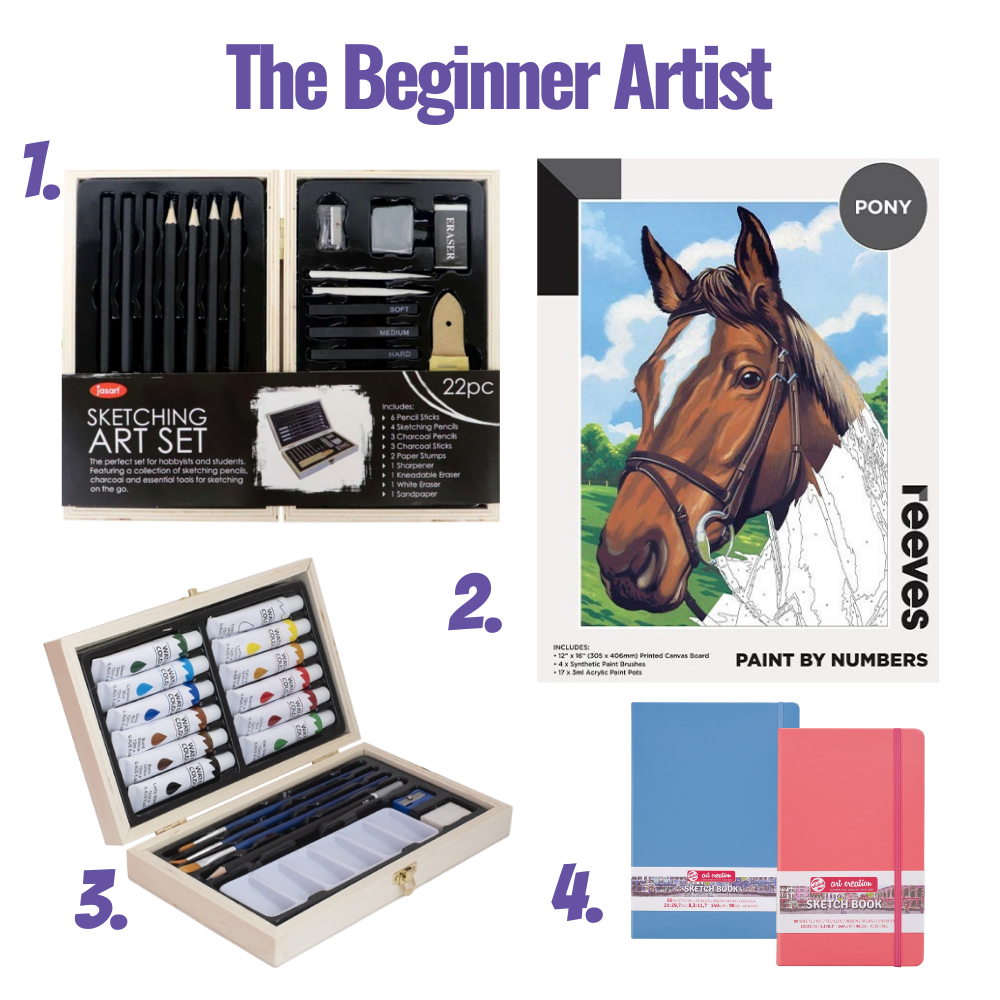 This set is perfect for beginner sketchers and professional artists alike. Its compact size and secure clasp locks make the set perfect for the artist on the go. With a variety of drawing tools housed in a beautiful wooden box, this set would make a lovely gift for a creative friend, or for yourself!

2. Reeves Paint by Numbers Kit
The paint-by-numbers kits are suitable for intermediate painters or beginners who would like a painting challenge. The Reeves Artist Acrylic Paint By Numbers Playful Dolphins design is a great stress reliever and lets you get your art on. Also included are instructions and some tips to get you going, so don't worry if you're new to painting!
This relaxing hobby encourages creativity and motor skills, with a beautiful artwork taking shape as you paint each numbered section. Reeves Paint By Numbers Sets also make an excellent gift for friends and loved ones – not only can they enjoy some mindful painting sessions, but they will also end up with a gorgeous artwork worthy of hanging.

3. Jasart Acrylic Paint Wooden Box Set - 20pc
This 20pc Jasart Acrylic Wooden Box Set is the perfect introductory set for beginner acrylic painters, with a variety of acrylic paints and accessories housed in a compact, portable and beautiful wooden box. This set makes a fantastic gift for beginner artists, or creative friends and family.

4. Talens Art Creation Sketch Books
Talens Art Creation sketchbooks are sturdy, hard-bound sketchbooks perfect for drawing, journaling, urban sketching, field studies and more! Ideal for use with pencil, pastel, acrylics, gouache, ink, charcoal, and light washes of wet media. They contain 80 sheets of acid-free, 140 g/m² (90 lbs) paper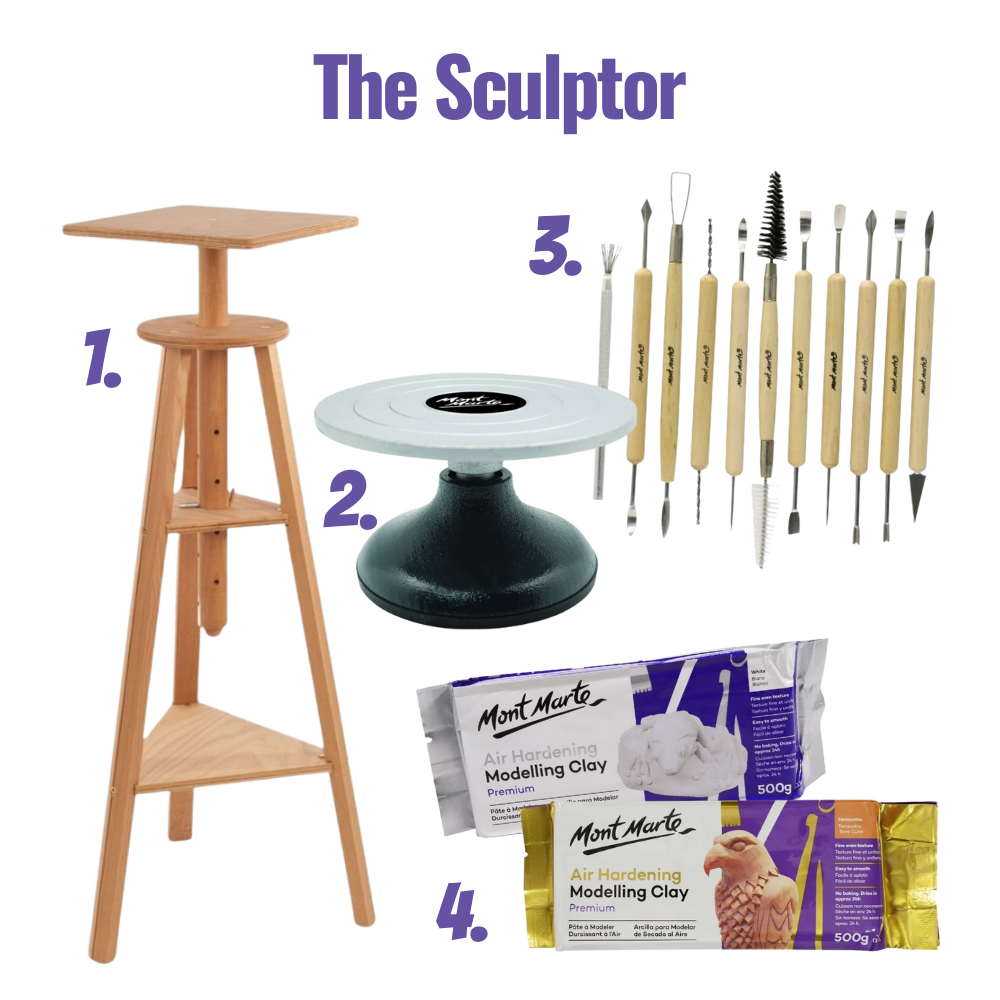 The Mabef M36 Sculpture Trestle is a robust sculptor's stand made from oiled, stain resistant, Beechwood. Ideal for work with clay, terra-cotta, ceramics. The trestle can hold a maximum loading capacity of 40Kg.

2. Mont Marte Sculpting - Pottery Banding Wheel 18cm
This Signature Pottery Banding Wheel features smooth turning so that you can hand build and decorate your 3D projects without a hitch. Suitable for pottery, ceramics, sculptures and spin art, it is Ideal for hand-building and decorating. Features a smooth turning to view work from all sides, and a sturdy design with a cast iron body and aluminium base.

3. Mont Marte Sculpting - Clay Tool Set 11pc
This set contains a fantastic variety of tools suitable for use with clay. They may be used while the clay is still moist or on greenware (unfired air dried clay) to carve, cut and clean. This clay tool set may also be used with polymer clay. Each tool is made from clear varnished hardwood handles with durable steel blades.

4. Mont Marte Air Hardening Modelling Clay
Mont Marte Air Hardening Clay is the perfect choice for professional modellers, artists and students alike. This heavy-bodied clay is pliable after kneading, and because it is slow drying you can take your time forming it into your desired design. The clay is suited to free form sculpting and can be sanded, drilled, painted or vanished once dry. Almost any decorative object can be created with imagination. Dries in around 24hrs to earthenware hardness (depending on thickness). Traditional pottery techniques can be used together with non-traditional methods such as stamping or adding objects to your work. Standard pottery tools can be used with Mont Marte Air Hardening Modelling Clay.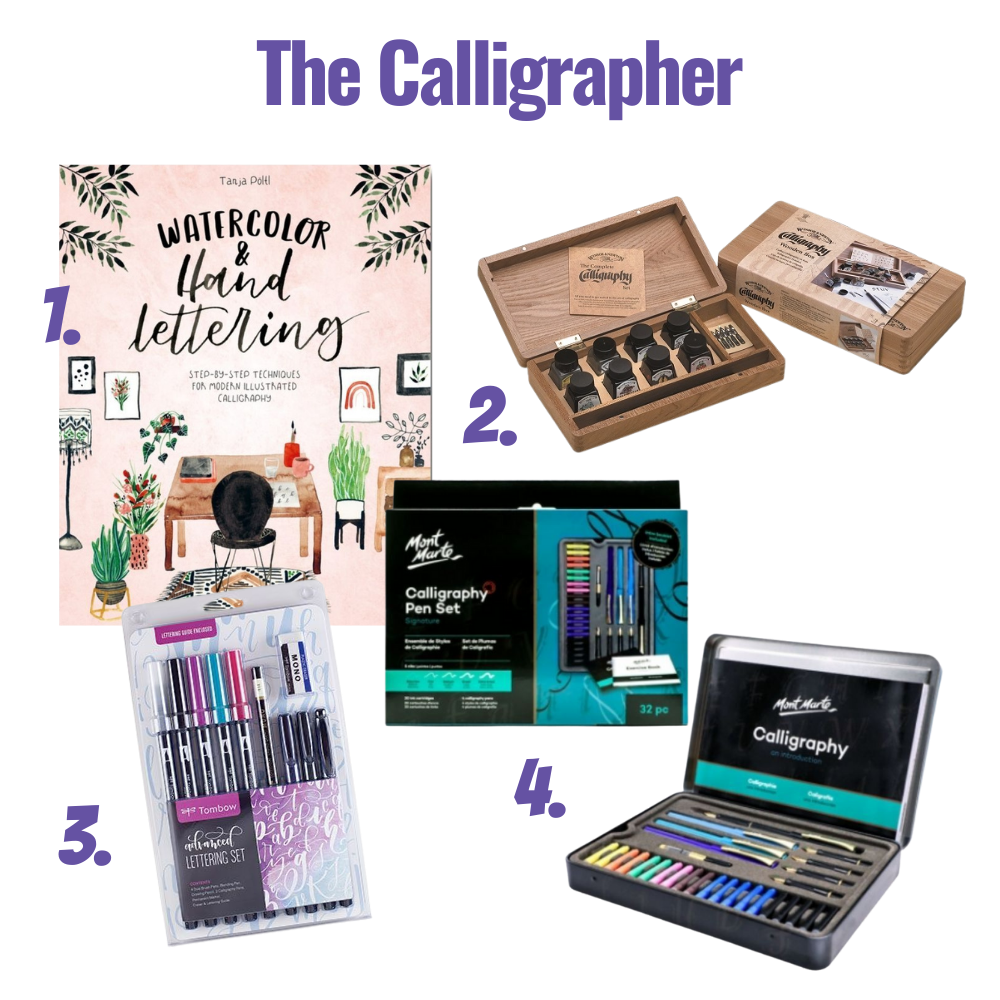 1. Watercolor & Hand Lettering: Step-by-step Techniques for Modern Illustrated Calligraphy
Combine watercolour with lettering to create beautiful art and gifts!
Self-taught artist Tanja Poltl shares the tips, tricks and know-how she's learned on her creative journey so that you can fast-track your skills. Discover the materials you'll need in terms of paints, brushes, paper and pens, then get started with Tanja's exercises to learn the basic techniques of watercolour painting and hand lettering.
20 step-by step projects include ideas for gift boxes, journals, greeting cards, jar labels, posters, hoop art, table runners, height charts, box frames and more - all beautifully illustrated in a modern yet timeless style.

2. Winsor & Newton Calligraphy Ink Wooden Box Set 14pc
The Winsor & Newton Calligraphy Wooden Box draws on this company's expertise with colours dating back to the early 19th century, and experience with inks that began in the 1890s. Winsor & Newton Calligraphy Inks are brilliant and lightfast, and made with single pigments wherever that's possible. They are non-waterproof to ensure that flow is even when used with a traditional dip pen or fountain pen.
The Winsor & Newton Calligraphy Wooden Box provides a fine introduction to this rewarding artform, with everything you need to get going, including an instruction leaflet, housed in a durable box with magnetic latches. This beautifully finished set offers a selection of calligraphy items in an attractive wooden box, with space for storage of inks and nibs.

3. Tombow Advanced Lettering / Calligraphy Set
The Tombow Advanced Lettering and Calligraphy Set helps you take your lettering and calligraphy to the next level with everything you need to get started blending, flourishing and embellishing your lettering. Enclosed is a brochure with lots of handy tips and lessons on creating stunning typography and expanding your hand-lettering techniques.

4. Mont Marte Calligraphy Set - Metal Tin 32pc
This calligraphy set come with everything you need to create a range of lettering styles. The 5 traditional nibs included are ideal for Roman Round Hand, Italic, Gothic, Uncial and more! Plus, grow your skills with the introduction and exercise books inside.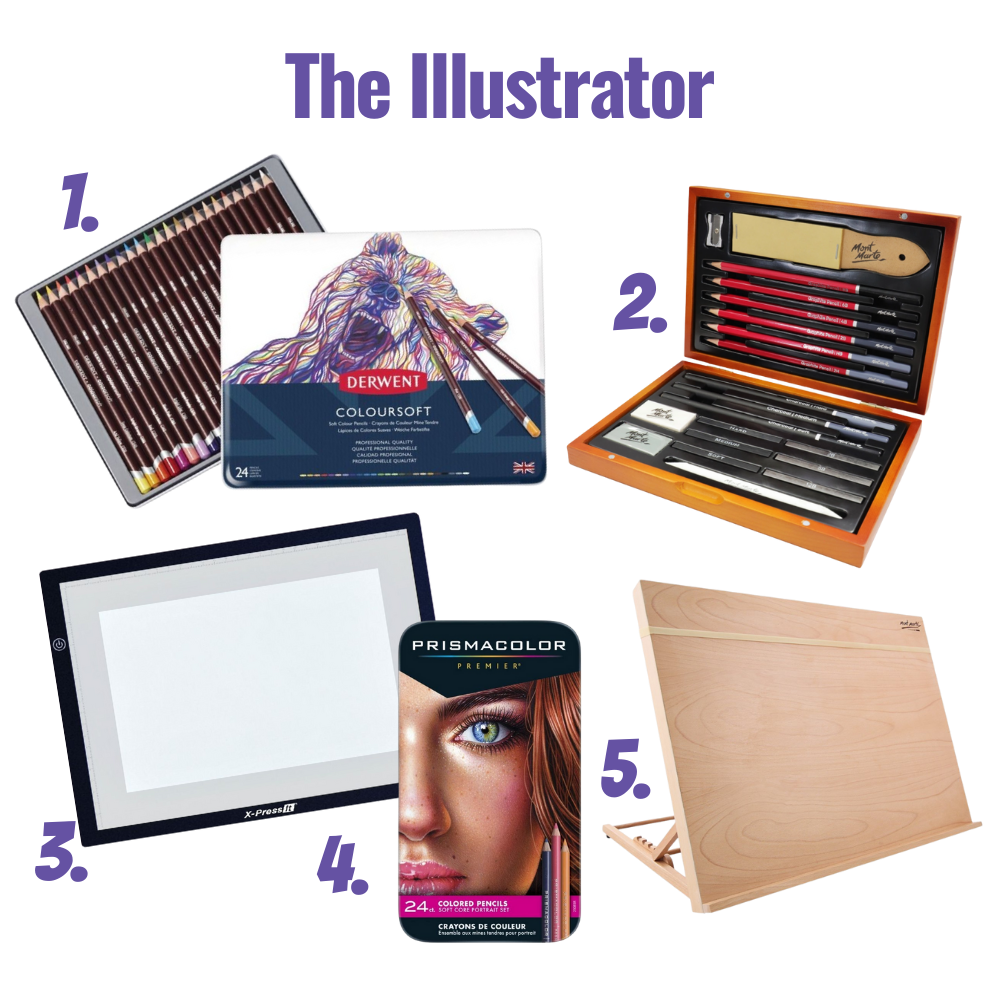 1. Derwent Colour Soft Pencils
The Coloursoft pencils were developed for artists' who prefer a softer textured strip. These soft, velvety pencils can be mixed and blended easily to create an infinite spectrum of rich, vibrant colour. The large, 4mm colour strip is housed in a strong and durable 8mm Cedarwood barrel allowing it to be sharpened to a fine point for detailed illustrations.
Coloursoft pencils are acid-free, do not bloom easily and have superior lightfast ratings to similar brands of soft textured pencils. The Aubergine coloured, matt-coated barrel features a colour coded end and silver imprint detailing range, colour name, and number.

2. Mont Marte Signature Sketching Set In Wooden Box 21pc
Whether you're creating your next masterpiece, or just doodling a quick sketch, the Mont Marte Signature Sketching set comes with everything you need. Though it may look compact, this fantastic set contains 21 pieces of premium sketching tools to get you drawing, in the studio or on the go!
Enclosed in the high-quality solid pine box are a diverse mix of graphite pencils and sticks, charcoal pencils and sticks plus loads of accessories for funky effects. This signature set makes the perfect gift or well-deserved treat for yourself.

3. X-Press It Magnetic Light Pad
X-Press It Magnetic Light Pad is the ideal companion to any graphic designer, artist, or student. With three levels of brightness, and top and side rulers for accurate scaling, the Light Pad is designed for tracing, illustration, and technical drawing. The Light Pad is portable, lightweight, and ultra slim at 6mm thickness with anti-slip feet. Suitable for use with USB adapter, power bank, desk top computer and laptop. The magnetic zone of the lightbox is designed to secure your project with magnets included.

4. Prismacolor Premier Colouring Pencil
This Prismacolor Premier Colouring Pencil Tin Of 24 features an assortment of coloured pencils specifically designed for portrait artwork. They are artist quality and ideal for every level of expertise.
The pencils have high-quality pigment for rich colour saturation and the soft, thick cores create a smooth colour laydown.
Set includes 24 pencils and a metal tin - perfect for keeping your pencils safe and easy to travel with.

5. Mont Marte Drawing Board / Easel with Elastic Band
The Mont Marte A3 Drawing Board is an essential piece to have in your studio.
Artists and planners alike love this handy board as it is ideal for sketching, drawing, and painting. Made from a smooth beech wood surface the drawing board comes complete with a built in pencil rest. The angle adjuster and elastic band offer flexibility for different drawing methods and different scaled projects.
This board is also a great addition to your colouring collection.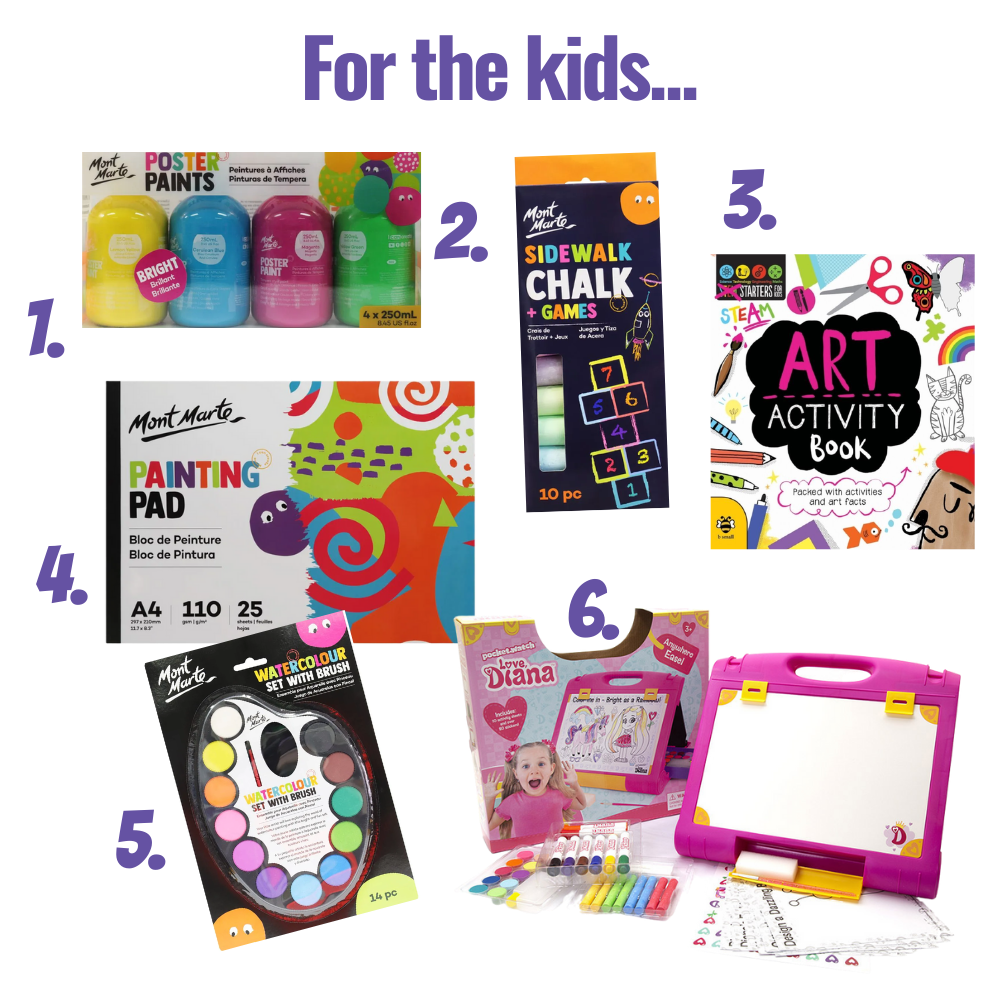 Mont Marte's Poster Paint is a tempera styled paint and is ideal for school students and art groups. With vibrant colour and a matte finish this fabulous paint is quick to dry.

2. Mont Marte Kids - Colour Sidewalk Chalk and Games 10pc
Mont Marte Kids Colour Sidewalk chalk comes in 10 awesome colours. Create artworks on your driveway or paths (concrete or asphalt). Enjoy the fresh air whilst being creative.

3. Art Activity Book: STEM Starters for Kids
Art can inspire STEM, just as science, technology, engineering and maths can inspire art. Together these subjects are called STEAM.
Budding artists and young scientists alike can discover just how much they have in common by reading the simple explanations and doing the beautifully illustrated activities on each page. Start a lifelong passion for STEAM subjects and make our lives better in ways nobody has even thought of yet.

4. Mont Marte Kids Painting Pad
This Mont Marte Kids Painting Pad comes with 25 sheets of painting paper ready to be filled with colourful creations by your budding artist. The sheets are an ultra-sturdy 110gsm so the paint doesn't transfer through and they can be easily removed from the pad for mounting your kid's masterpieces on the fridge and walls.
The size of the sheets gives kids room to practice their painting and express themselves. Great for school projects, craft and scrapbooking activities and birthday card making.

5. Mont Marte Kids - Watercolour Set With Brush 14pc
Your little artist will love exploring the world of watercolour painting with this bright and fun set! 12 bright watercolour cakes, Taklon paintbrush, Easy-to-use palette design, Non-Toxic and Great for kids!

6. Love, Diana Anywhere Easel Paint and Draw Art Set
A take-anywhere art easel full of quality products to paint and draw with!
Carry case converts into a desk easel. Art materials are stored in drawers and compartments within the carry case.
What's on your Christmas wish list?
Got questions? Send us an email at customerservice@artshedonline.com.au and our friendly team of artists will do their best to assist you.
Happy creating!
---
Leave a comment